Honey Lager
| Whistler Brewing Company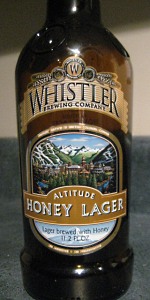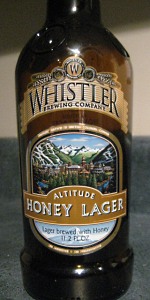 BEER INFO
Brewed by:
Whistler Brewing Company
British Columbia
,
Canada
whistlerbeer.com
Style:
American Adjunct Lager
Alcohol by volume (ABV):
5.00%
Availability:
Year-round
Notes / Commercial Description:
Rebranded as Bear Paw Honey Lager.
Added by wordemupg on 01-05-2010
This beer is retired; no longer brewed.
HISTOGRAM
Ratings: 13 | Reviews: 9
Reviews by wordemupg:

3.58
/5
rDev
+13.7%
look: 4 | smell: 3.5 | taste: 3.5 | feel: 4 | overall: 3.5
330ml bottle poured into pint glass jan4 2010
A clear golden orange with a thumbs worth of thick off white head that falls quickly and leaves a ring of lace
S honey and sweet grains and maybe some corn and toffee
T fairly sweet and some hops I could not smell but its not too far from the smell
M light to medium bodied with good carbonation giving it a creamy feel perhaps a highlight for this beer
D not a bad beer overall worth trying, I would drink this again
Yet to determine if I would buy another 12pack mixer from these guys for this is the first one I've tried out of the pack. I don't mind the sweetness of this beer it's pretty mellow and not as crazy as some similar beers I've tried in the past
726 characters
More User Reviews:
3.33
/5
rDev
+5.7%
look: 3.5 | smell: 3 | taste: 3.5 | feel: 3 | overall: 3.5
330ml embossed dark brown (yay!) bottle.
This beer pours a clear, bright medium amber colour, with a half finger of thin soapy off-white head, which slinks away without fanfare, leaving some low splotches of lace around the glass in its wake. It smells of sweet musty, cereal malt, some mild floral honey, and earthy hops. The taste is soft bready malt, more subtle, plain honey, and somewhat bitter weedy hops. The carbonation is moderate, rearing up here and there, the body light, but seemingly lent a little heft by, well, goopy honey. Smoothness loses out to an over-reaching astringent, off-dry finish.
Not bad, as Canadian honey beers go, but I'm sure the plainness and strange tug at the end would preclude ordering more than a couple.
745 characters

2.71
/5
rDev
-14%
look: 4 | smell: 3 | taste: 2 | feel: 2.5 | overall: 3.5
Poured a 330-ml bottle into a draught glass.
Appearance - honey-gold colour with a 1/2-inch somewhat sustaining foam head. Moderate carbonation.
Smell - sweet smell, some cream, some corn. Faint barley malt smell beneath it all.
Taste - very sweet up front, then some malt and then a sickly sweet finish that is endless. Like someone poured the corn syrup in a massive dose.
Mouthfeel - fairly even overall although too sweet for my palate.
Drinkability - like other offerings from this brewery it is overall quite mediocre. I wouldn't go on the hunt for this beer and would only select it among the lowest of contenders.
626 characters

3.5
/5
rDev
+11.1%
look: 3.5 | smell: 3.5 | taste: 3.5 | feel: 3.5 | overall: 3.5
Poured from 330mL bottle into a pint glass.
Appearance: rich orange hue with two fingers of somewhat quickly dissipating head. Lace is left in big clumps on the side of the glass.
Smell: light, sweet malt with hints of grain and a slight citrusy tartness. Not bad, actually.
Taste: again, light and sweet. Flavor is slightly caramelly, and there's a sweet floral aspect. I'm not sure if this is the honey, malt, hops or what, but it's not too bad.
Mouthfeel: medium-light body with decent carbonation. Nothing special, but not bad.
Drinkability: relatively tasty and refreshing, though a bit sweet. I'm not sure if it is the honey or what which qualifies this as an adjunct lager, but to me it's really something different than what I think of when I think of that style. This was a non-stellar but perfectly acceptable beer.
830 characters
3.35
/5
rDev
+6.3%
look: 3 | smell: 3 | taste: 4 | feel: 2.5 | overall: 3
I've had most of the Whistler line-up, but this is my first formal review.
A - Pours a nice golden copper colour, finger of head with little retention and no real lacing.
S - Pretty mild, but sweet caramel malts, touch of leafy hops and sweet honey on the finish.
T - Decent offering for the taste buds, with sweet honey and a hint of vanilla coming through. Not jam packed with flavour, but the honey was detectable and bready malts lingered on the tongue.
M - A tad watery, but goes down smooth and finishes with a touch of dryness.
D - Overall, this stuff is pretty tasty and was easily drinkable. Nothing overly memorable, but I would never turn one down if offered.
675 characters


3.51
/5
rDev
+11.4%
look: 4 | smell: 3 | taste: 3.5 | feel: 3.5 | overall: 4
Whistler Brewing Company--Altitude Honey Lager--Lager brewed with Honey--2010 11.2 oz. Bottle. 5.00% ABV. 15 IBU's? (4.0 / 5.0) Amber Lager--Honey. Rich dense lacy thick off white head. Clear bright rich deep amber color. Enticing appearance. Mild hop light sweet fruit malt front. Malty mild sweet clover honey apple caramel mild fruit smooth amber lager body. Clean smooth mild hop lingering sweetbread end. Surprisingly rich. Sampled 9/4/2010. 6-Pack $5.49.
460 characters

3.58
/5
rDev
+13.7%
look: 4 | smell: 3.5 | taste: 3.5 | feel: 4 | overall: 3.5
Also known as Altitude Honey Lager, this is part of a new mixed summer 12 pack. Pours a dark gold with a white head. Smells a little like honey with a fair amount of malt and some hops. Decent beer that is really a Vienna lager with a honey finish though not too sweet. Nice full mouthfeel that works for the beer. Much more complex than the standard lager.
357 characters


2.33
/5
rDev
-26%
look: 4.5 | smell: 4 | taste: 1.5 | feel: 1 | overall: 2
A - Pours a nice, clear rusty color. Darkest under the head, hints of straw at the bottom of the glass. Head is appealing and foamy with average retention.
S - Crisp malts over a warm honey aroma. Molasses, oatmeal, earth. I have to sniff out the hops.
T - Too much honey. This is a big shame - this lager is well-crafted in every other respect. My pet peeve is when flavor additions are too strong, which seems to be the case pretty often. When used as a sugar source in brewing, honey should leave little or no sweetness or honey character. This, however, is almost like I opened up a nice amber lager and just stirred in half a cup of honey. Anyway, there's a good malty base followed by just enough hop finish to make it slightly dry, but they have just sabotaged this one with over-zealousness.
M - Literally feels like your mouth has been coated with honey. After my first drink I thought I might have accidentally hocked a loogie. Good carbonation and pretty good finish, but not enough to make it pleasant.
D - Medium body, but not sessionable because of the mouthfeel and taste.
To any other brewers out there - SUBTLETY IS GOLDEN!
1,146 characters
3.05
/5
rDev
-3.2%
look: 3 | smell: 3 | taste: 3 | feel: 3 | overall: 3.25
Definitely lives up to what it claims as a honey beer aroma and smooth taste that is really consistent.
I can see it as an entry level craft beer if you're a regular Budweiser or other "lighter" beer kind of guy. For the guy who regularly likes IPAs and very strong beer, this is not for you. If you're looking for that craft flavor minus the kick you in face kind of stout, this is for you.
Personally, I feel it could be slightly a bit stronger and bolder and tad bit more of the honey note, and this would be a masterpiece. But, it's like meh.
It certainly pairs really well hamburgers or beef in general.
618 characters
Honey Lager from Whistler Brewing Company
Beer rating:
3.15
out of
5
with
13
ratings