Whiskey Jack Ale
| Whistler Brewing Company
BA SCORE
78
okay
14
Reviews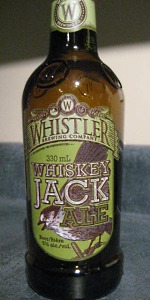 BEER INFO
Brewed by:
Whistler Brewing Company
British Columbia
,
Canada
whistlerbeer.com
Style:
English Pale Ale
Alcohol by volume (ABV):
5.00%
Availability:
Year-round
Notes / Commercial Description:
This proprietary dark-amber recipe is dry-hopped with English Kent hops for a true craft beer experience. Warm, copper colour. A well-rounded mouthfeel with subtle bittering. A perfectly balanced session ale.
Added by canucklehead on 05-18-2011
Reviews: 14 | Ratings: 50

2.85
/5
rDev
-12.3%
look: 3 | smell: 3 | taste: 2.75 | feel: 3 | overall: 2.75
Pretty much an ordinary brew in most ways, however, as it warms up it heads towards tasting like wet cardboard. Has an odd chemical character. Starts off okay with a sweet malty-toffee thing going on. Clear whiskey coloured brew under a short head, no lace or anything else going on. Not really for me.
302 characters

3.2
/5
rDev
-1.5%
look: 3.5 | smell: 3.5 | taste: 3 | feel: 3 | overall: 3.25
330 mL bottle, the last remaining from a Whistler Brewing mixed 12-pack sampler that I picked up at TBS about two weeks ago. Served well-chilled.
Pours a crystal clear reddish amber colour, with one finger of frothy off white-coloured foam floating atop. It dissipates steadily over the next two minutes or so, leaving a modest collar along with some soapy patches of froth on the surface; minimal lacing. A little too dark for an English pale - I reckon it's more of an American (Canadian) red ale, if anything. Nothing of real note to report on the nose... very subdued, with notes of bready grains, biscuit, caramel and mild, tea-leafy hop character. OK thus far.
The taste follows the aroma, both in terms of its comprising elements and the resultant lack of complexity. Fairly malt-forward, with caramelized sugar and toffee sweetness interacting with the bready, grainy malt backbone. Light orchard fruit sweetness, followed by more leafy, earthy hop bitterness of the sort you'd find in an English-style pub ale. Finishes with a hint of lingering malt sweetness. Light-bodied, with carbonation levels that are about right for an American amber, but a little too crisp, lively and biting for an English pale.
Final Grade: 3.2, a C+. Whistler Brewing's Whiskey Jack Ale is an uninspired, plain sort of red ale that borders upon mediocrity, if not managing to outright exemplify it. It lacks technical flaws, but the bland, somewhat saccharine flavour profile mostly just rubs me the wrong way. Though it might possibly work as an introductory craft beer, it's still a forgettable product and probably my least-favourite of the four different brews included in the sampler (the others being their Powder Mountain Lager, Bear Paw Honey Lager and Paradise Valley Grapefruit).
1,780 characters

3.52
/5
rDev
+8.3%
look: 3.75 | smell: 3.5 | taste: 3.5 | feel: 3.5 | overall: 3.5
3-14-16 - From a bottle at La Cantina in Whistler Village. A fine pale ale to enjoy after a day skiing on Whistler Mountain. Basic ale that was very drinkable. Only had one to wash down my pulled pork burrito (awesome!). Nice beer to the WBC. I hope to try more later on.
276 characters
3.22
/5
rDev
-0.9%
look: 3.75 | smell: 3 | taste: 3 | feel: 3.75 | overall: 3.5
A nice beer but not a huge amount of aroma. Maintained its head and has a creamy feel to it. Taste is a little sweet with caramel notes but the lack of hop bite means it is a little under-par.
192 characters

3.28
/5
rDev
+0.9%
look: 3.75 | smell: 3.25 | taste: 3.25 | feel: 3.25 | overall: 3.25
A: Sweet malt, caramel like with a slightly earthy hop aroma.
A: Copper color, that has a head that quickly dissipates to a thin-ish film.
T: Malt forward with a caramel, earthy quality, very slight hop bitterness on the finish.
M: Light bodied with moderate carbonation.
O: While billed as an English Pale, it's basically an American Amber, using English hops. The beer has an aroma and flavor that is malt forward. Unfortunately, coupled with super earthy hops, the combination is less than fantastic.
513 characters
3.26
/5
rDev
+0.3%
look: 4 | smell: 3.5 | taste: 3 | feel: 3.25 | overall: 3.25
with the name, expecting an Innes & gunn type of beer but,
it's a "red ale"
L : very nice looking beer, clear mahogany, tight small bubble head dissipates quickly
S : caramel, sweet malt, almost fruity
T: caramel malt sweetness, very light, nice light malty-hop after taste
M : crisp, light, fizzy carbonation, watery
O : easy drinking, (good gateway beer for "Coors lovers")
376 characters
3.42
/5
rDev
+5.2%
look: 3.5 | smell: 3.25 | taste: 3.5 | feel: 3.25 | overall: 3.5
I like Whiskey Jacks, but I prefer to call them Canada Jays. I believe that this was billed as a "rye pale ale" at one time, but Whistler dropped the rye designation. Like the bird it is named after, it really doesn't matter what you call this beer. It's OK. There is a bit of caramel malt and some very faint hops. It's not overly memorable, but I would turn one down if it showed up in my hand.
396 characters

3.34
/5
rDev
+2.8%
look: 3.25 | smell: 3.5 | taste: 3.25 | feel: 3.5 | overall: 3.25
New name, and a new can, from Whistler.
Pours dark amber, with small but dense light beige head. Rather thin in both aroma and flavor. Grainy smell with a touch of hops. Taste of some caramel malt, some graininess, and some bitterness at the end, but subdued.
Medium body, soft carbonation.
Just Ok, not much going on here.
Tried on-tap, one of the only non-big-beer options.
As above, decent enough, but pretty subdued and mild in smell and taste.
453 characters
2.81
/5
rDev
-13.5%
look: 3 | smell: 2.5 | taste: 2.75 | feel: 3.25 | overall: 3
Served in a chilled pint glass
Appearance: dark amber color. Minimal lacing on pour, head dissipated rather quickly.
Smell: lacking. Esther notes, slightly pine. Pick up more on the bready notes
Taste: notes of corn, almond, and toast sourdough. Minimal hop flavor, slight citrus notes of unripe peach.
Mouthfeel: crisp, slight stickiness. Minimal alcohol backing, no noticeable burn
Overall: disappointing. Lacking an identity. While just a pale ale, it missed the mark on the style with very minimal hop flavor. Very easy to drink though
545 characters
3.25
/5
rDev 0%
look: 3.5 | smell: 3.5 | taste: 3 | feel: 3 | overall: 3.5
330ml bottle. My mind, when hearing the word 'whiskey', in reference to beer, jumps by default to the barrel treatment sort. No such luck here, as apparently the marketing, and perhaps other, folks at Whistler prefer their bird-watching instead.
This beer pours a clear, bright medium copper amber hue, with three fingers of puffy, loosely foamy, and fizzy ecru head, which settles quickly and steadily, leaving a bit of sudsy mitochondrial lace in places around the glass.
It smells of mildly biscuity caramel malt, a bit of dry wheat cracker, a soft orchard fruitiness, and earthy, somewhat musty hops. The taste is semi-sweet, blandly fruity caramel malt, some further wet cracker notes, a touch of wan citrus pith, a slight metallic edge, and more weakly bitter earthy, musty hops.
The carbonation is average overall, if a bit frizzante here and there, the body an anemic medium weight, and a tad too pithy to proclaim as outright smooth. It finishes fairly off-dry, the caramel malt still large and in charge, though tempered by an edgy, flinty nature, as opposed to the proclaimed bitter hop suspects.
Not a bad Canadian amber ale, but just a bit too sweet and subsequently unbalanced to seriously be considered as an APA - the hops, if they were indeed there to begin with, seem to have just up and flew away, in the manner of the titular 'winged friends'.
1,369 characters

3.12
/5
rDev
-4%
look: 3 | smell: 3.5 | taste: 3 | feel: 3 | overall: 3
341ml bottle poured into pint glass 21/10/11
A dark amber with bubbles popping up from everywhere but little for head or lace
S faint but it smells like some English hops with a little citrus twist, some butterscotch and bread crust
T what I smell but toned down a bit and and pretty malty
M thick enough but it goes a little flat in your mouth
O not all that close to an APA, needs more hops and I`d be surprised if they were American
pretty average stuff, no problems drinking a few of them but I doubt I`d bother again
532 characters
2.76
/5
rDev
-15.1%
look: 3.5 | smell: 2.5 | taste: 3 | feel: 2.5 | overall: 2.5
A - clear cedar red-brown, average head dissipated to a random covering with some lacing
S - odour is very mild, caramel and bready malts, not much detectable
T - biscuity and light caramel maltiness, some light grassy and metallic notes, a bit of a syrupy artificial sweetness on the finish
M - medium to thin body, not much hop characteristic here, lingering sweetness
O - more like a brown ale than a pale, easy drinking enough but just not representative of the style, disappointed
485 characters
2.52
/5
rDev
-22.5%
look: 4 | smell: 2 | taste: 2.5 | feel: 3 | overall: 2.5
Pours clear and bright; a sort of redish brown. 2-3 fingers of head - didn't last very long.
Certainly tends toward the darker side of pale ales.
Right out of the gate I smelled burnt sugar, or roasted marshmallows, and that impression carried through to the taste. The bottle says "A perfectly ballanced brew.", but the malt really dominated this beer. Sort of cloying.
I can't even recommend it for people who really like malty beers, due to its...oddness. Burned sugar.
I'd never buy it again.
501 characters

4
/5
rDev
+23.1%
look: 4 | smell: 4 | taste: 4 | feel: 4 | overall: 4
Just picked up a cool mixed 12 pack from Whistler Brewing, looks like a retro suitcase complete with period stickers. The Whiskey Jack ale is most likely the rebranded pale ale. The colour is on the darker side with a huge head. Nose is slightly malty but with hops coming through after it warms up. Solid mouthfeel with a malt presence but enough hops to make it interesting. More complex than say GI or OK Springs Pale Ale and bigger on the finish. I think this has a bigger mouthfeel than the original pale ale . good stuff
526 characters
Whiskey Jack Ale from Whistler Brewing Company
3.25
out of
5
based on
50
ratings.