Tuborg Classic
| Tuborgs Bryggerier A/S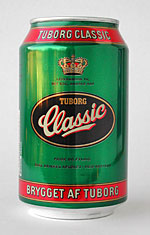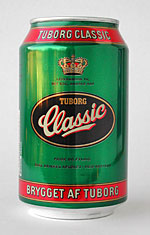 BEER INFO
Brewed by:
Tuborgs Bryggerier A/S
Denmark
tuborg.com
Style:
Vienna Lager
Alcohol by volume (ABV):
4.60%
Availability:
Year-round
Notes / Commercial Description:
None provided.
Reviews: 15 | Ratings: 64

2.54
/5
rDev
-15.1%
look: 2.75 | smell: 2.5 | taste: 2.5 | feel: 2.75 | overall: 2.5
330 ml can into shaker.
A- Golden, honey color. Clarity is great, but the white head dies.
S- Grassy/grain, some sweetness in the nose. A bit fruity, with some earthy/and mildly spicy hops.
T- Light grain and grass. Again, light hop with earthy characteristics.
M- Body is light, with a crisp finish.
O- Maybe a slight step above Tuborg Grøn. A little more flavor and aroma. Still light, don't-care-what-I'm-drinking kinda beer.
436 characters
2.56
/5
rDev
-14.4%
look: 1.25 | smell: 2.75 | taste: 2.75 | feel: 2.25 | overall: 2.5
330ml bottle from kiosk in Copenhagen (10.50 Dkr):
This one was a fairly basic Vienna style lager but at the same time it definitely exceeded my expectations given I had thought it was another pale lager when I cracked the bottle open; especially consider it was described as a "Traditional Pilsner' on the bottle. Thankfully it was a little better than what I'd thought going in, there was some nice sweetness & a few basic malts to keep things interesting without it being a classic.
485 characters
3.84
/5
rDev
+28.4%
look: 4 | smell: 3.75 | taste: 3.75 | feel: 4 | overall: 4
Purchased in Iceland, where the label said it was made with real Icelandic water. I think this is a different version, brewed at Egil.
Anyhow, it was a very solid example of a Euro pils. Fresh, crisp barley with mild grain complexities and no esters. The nearest referent I can muster is Heineken, only this has a much more pronounced hop bite as it finishes.
364 characters

3.38
/5
rDev
+13%
look: 3.5 | smell: 3 | taste: 3.5 | feel: 3.5 | overall: 3.5
Had a pint of this on-tap while travelling in Denmark on a patio in the shade in downtown Copenhagen. Cost was 50 Danish kroner. Served cold into an unmarked pint glass.
Appearance - a rich coppery amber color. Rather clear with few bubbles. Minimal head too. Still a very appetizing beer on a warm summers day.
Smell - minimal aromas, some lager yeasty aromatics, and some mild malts, maybe with a trace of caramel.
Taste - crisp, mildly bitter with some malt influence throughout every sip. Hop presence is very low, but still comes of crisp and clean.
Mouthfeel - smooth and clean yet not too refined that would cause the beer to lose its edge. Mildly dry finish and medium carbonation throughout.
Overall - better than I expected. Missing some of the bigger hop presence of other Vienna lagers I've had (Boston lager) this still delivered a very tasty and satisfying punch. Maybe slightly enhanced by the fact this was on a patio on vacation in Denmark on a beautiful summer day, but this is something I would repeat if available enact home.
1,051 characters
3
/5
rDev
+0.3%
look: 3 | smell: 3 | taste: 3 | feel: 3 | overall: 3
Tuborg Classic…..on tap at hotel bar in First Hotel Vesterbro….Copenhagen
Appearance-dark gold color with a very large defined white foamy head with large carbonation, the head stays around for a second but then dies down.
Smell-grainy with a balanced profile of malted wheat and some piney hops, not that aromatic, light alcohol
Taste/Mouthfeel-crisp profile with a light to medium mouthfeel, again light but balanced, bits of breadyness, light hops on the tongue, grainyness and alcohol mix. Nothing special at all, not offensive either.
Overall-better than Carlsberg and regular Tuborg among the main Danish macros, that's about all that can be said for it.
671 characters
2.76
/5
rDev
-7.7%
look: 3.5 | smell: 2.5 | taste: 2.5 | feel: 3.5 | overall: 3
On a main strip of bars in Copenhagen, just outside of the square, we stopped at a cafe along the canal to try some of the local offerings. They didn't have my first choice, so I pointed to Tuborg Classic, listed as a pilsner on the menu, but to my chagrin when it arrived, actually a Euro Pale Lager.
The color is a deeper brownish-hued amber, topped off by a 2-finger column of pure white foam. Completely clear, crisply bodied, and decently carbonated, there are a few streamers that rise as it sits, but no other obstructions appear in the body of the beer.
The nose is pretty standard adjunct lager. Grainy with hints of corn, there are virtually no hop aromas, just a balanced lack of sweetness to show for their addition to the kettle. The taste is disappointing, as well, as the adjunct flavors translate fully onto the palate. There are some hints of caramel, maybe a touch of toffee, but nothing too notable.
Generally good on the palate, the texture is well done despite the beer's shortcomings. Not a bad option, but there are definitely better in the city.
1,072 characters
3.88
/5
rDev
+29.8%
look: 4 | smell: 3.5 | taste: 4 | feel: 4 | overall: 4
Tuborg Classic has a thick, slightly off-white head, and a very clear, deep golden appearance, with some bubbles streaming up the glass. A decent amount of lacing is left behind. The aroma is bready, but some water and hops can be picked up. Taste is predominantly of bread, with an underlying faint hop spice. Mouth-feel is light and watery, and Tuborg Classic finishes refreshing and semi-dry. Overall, this is a pretty good beer to try; it was sent to me from Denmark.
RJT
476 characters
2.6
/5
rDev
-13%
look: 2 | smell: 2 | taste: 2 | feel: 4 | overall: 4
On tap at Vagabondo in Cph Denmark
A - Pale golden color but frankly not much color to the beer.
S - Bananas, grain, alcohol (getting hints of Natural Light here)
T - Yuengling watered down with seltzer water. Not much flavor to speak of.
M - Perfectly fine, like drinking naturally carbonated spring water.
D - Meh. Could drink a lot but wouldn't choose to.
360 characters
2.76
/5
rDev
-7.7%
look: 4 | smell: 3 | taste: 2.5 | feel: 3 | overall: 2.5
Pours a clear dark golden color, almost amber. There is a large two finger bright white frothy head sitting on top. There is decent retention and some lace.
the aroma has a slight bitter hop, kind of grassy. It is also slightly metallic.
Taste is nothing special. A nutty, cereal like maltiness and is only slightly bitter.
Mouthfeel is thin to medium bodied with good carbonation.
Drinkability is moderate. Low alcohol and simple flavor makes this beer easy to consume, but the lack of flavor is discouraging.
515 characters
3.9
/5
rDev
+30.4%
look: 3.5 | smell: 3.5 | taste: 3.5 | feel: 4.5 | overall: 5
A: Dark golden brown in color with no sustained head.
S: Smells of 90% malt and 10% hops. Nothing too special
T: Mainly a malt taste lacking any significant hop complexity.
M: Will leave a slight film on tongue after prolonged drinking.
D: Great party/event beer because it is easy to consume.
298 characters
2.73
/5
rDev
-8.7%
look: 2.5 | smell: 2 | taste: 3 | feel: 3 | overall: 3
feel like I need to rate this beer in context-- this is by far the best of the shitty danish macros. it's a tiny bit malty, which is just enough to keep me from falling asleep on the bar. since 99% of the time in copenhagen it was either this or carlsberg, it may deserve an even higher score than I gave it.
309 characters
3.53
/5
rDev
+18.1%
look: 4 | smell: 3.5 | taste: 3.5 | feel: 3.5 | overall: 3.5
The Tuborg has a very clear yellow-gold colour. The head is snow white and very compact.
It smells like hop with some malt tones.
The same goes for the taste. A plain hop taste with some bitter and malt snears here and there. Still quite crisp.
The aftertaste has some unpleasant oxidising tones.
This is a very plain beer. It is a beer, that's why it is called a beer and nothing more.
Ut Vivat, Crescat, Floreat!
422 characters
3.2
/5
rDev
+7%
look: 3 | smell: 3 | taste: 3 | feel: 3 | overall: 4
The colour is yellow with a tint of gold; the white foam is quite compact, but it dissolves quickly.
The smell is medium strong with a bittersweet feel. There are notes of malt, aroma hops (somewhat artificial) and salt.
The carbonation is fresh and not too sharp.
The taste got a distinct taste of white bread and diacetyl, giving it a robust body. There is some sweetness (toffee?) with a burned note. The finishing flavour got a dry touch of dark rye bread. In the aftertaste, I noticed a rather mild bitterness and some sweet malt.
A "Classic" in Denmark is a lager that got some more body and a little more gold in the colour. I found this one better than most of the standard Danish pale lagers.
716 characters

3.18
/5
rDev
+6.4%
look: 3 | smell: 2.5 | taste: 3.5 | feel: 3 | overall: 3.5
Aroma: A dusty malt nose with some floral notes
Appearance: Bright sparkling light blonde
Flavor: A mild clean taste with a slight bitter end. Overall; just not much there.
Mouthfeel: Light and bubbly
Overall Impression: A light flavored beer that would make a decent session beer. Has a bitter hang that lasts a bit. Not bad, but don't cross state lines to experience.
379 characters
1
/5
rDev
-66.6%
look: 1 | smell: 1 | taste: 1 | feel: 1 | overall: 1
One of the truely awful beers that i have come across. Tasted like vomit, sweet bland and offensive, puke in abottle. I'm not sure if it had anything to do with the bar not looking after there beerlines, but it was really unpleasnt. Well, Tuborgs other beers are rubbish, so i'll put that down as the reason.
308 characters
Tuborg Classic from Tuborgs Bryggerier A/S
Beer rating:
2.99
out of
5
with
64
ratings