Dismiss Notice
Extreme Beer Fest:Los Angeles
Join us December 9th in Los Angeles for the ultimate throwdown of craft beer creativity!
Learn more...
Dismiss Notice
Essex Ale House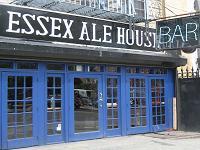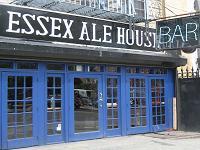 PLACE INFO
Type:
Bar
179 Essex Street
New York
,
New York
, 10002
United States
(212) 505-6027
// CLOSED //
Notes:
No notes at this time.
Added by miskatonic on 08-03-2006
PLACE STATS
Reviews:

13

Ratings:

pDev:

5.49%
HISTOGRAM
Ratings: 13 | Reviews: 13
Reviews by PopeDX:

4.58
/5
rDev
+9.3%
vibe: 4 | quality: 4.5 | service: 5 | selection: 4.5
We quite accidentally stumbled across the Hot Oral Sex* after discovering that the Hop Devil doesn't open until later in the afternoon. We were going to make the trek down to New Beer then hop a train to Brooklyn. We're on A Avenue about to turn onto 1st St. and I see a Chay-may and Sierra Nevada sign. We see "Delerium Nöel now on tap" written on the window door and the bartender comes out and puts the ubiquitous standing chalkboard outside. We go on in...
Stop one (and an unplanned one at that) on Holiday NYC Pub Crawl 2006.
Quite literally a hole in the wall, with a few tables and a small L bar to one side. Very cool, though. Reminded me of being in Europe, oddly enough, just because of its size and, uh, hole-in-the-wallness. Cool beer signs dot the walls all around. Taps are to the side of the bar and in back, which made talking with the very cool nice bartender (I wish I were better with names) much easier.
12ish taps, all craft imports and micros save Guinness. 3 Chouffes, and harder-to-find ones at that...N'ice, Houblon and Gnomette II. Between the two of us we had all three, all were fantastic and fresh. Karen also had the Bender Bräu, their house beer, a lager made by Saratoga. It was buttery, but she likes buttery beer, so it wasn't a bad thing.
No food...hell, they could barely fit a bathroom in the place. It's also near New Beer, which is a good thing.
Upon leaving we get in a short conversation with Jetsbeer, of whom we had the pleasure of making the acquaintance minutes earlier. And holy shit, is that Phil right there? Didn't recognize him without him being next to Steve...
*That's a Nerds 2 joke, kudos to all that got the reference.
1,696 characters
More User Reviews:
4.3
/5
rDev
+2.6%
vibe: 4 | quality: 4.5 | service: 4 | selection: 4.5
The Essex Ale House is another great addition to the Manhattan beer bar scene. I decided to hit this place up after work on a Tuesday night by myself to see if the reviews are true. The places looks a bit like a dive from the outside, and to be honest, it is...but in a good way. This always detracts the crowd you don't want to see in the lower east side. Not to mention they dont serve any liquor! A godsend for us beer dorks.
Upon entering I noticed the large amounts of beer paraphernalia on the walls. Good signs so far. I sat at the bar which encompasses the right hand wall as you walk in. I also then noticed that they had lots of different glassware and a good selection of bottles which you can see through the glass doored mini fridges that sit upon the counter. Again, good signs! I noticed a chalkboard sign that was stored near the front door that touted that they have over 90 beers. There were about 10-12 taps that were in good variety, a Smuttynose, two Bear Republic, Sierra Nevada ESB, St Bernardus Abt 12, Avery Reverend, La Chouffe, and a few more I can't remember.
The bar tender was friendly and poured my beers with confidence. I sat and watched TV, heard some good dive bar juke box tunes, and overheard interesting conversations as well. The crowd dissipated and eventually I was the only person there until some friends showed up. What a great place. Totally unpretentious and cozy. Prices were decent for Manhattan, and they have a buy one get one free deal for some beers during happy hour which lasts until 8pm. I will definitely be going back here when I have the chance.
1,611 characters
4.3
/5
rDev
+2.6%
vibe: 4 | quality: 4.5 | service: 4.5 | selection: 4
**Edit: The Essex Ale House is CLOSED. My friends and I made a trip there 2 weeks ago...it is no more. R.I.P.**
The Lower East Side in New York City has arrived as a beer destination. Leading the charge is the Essex Ale House, a welcome new addition to the area, and to those of us who enjoy quality beer...
Formerly 12", a nightclub, the Essex Ale House was re-born as a beer haven a few months ago. Just south of the East Village, this bar is in a great location for a combined East Village/Lower East Side pub crawl (Hop Devil Grill, d.b.a., Standings, Stanton Publick House, all within walking distance).
The space is quite small, nothing more than a room that seats about 12 people at the bar and a couple of dozen others at surrounding tables. The purple (mauve?) walls add an interesting feel, as does the area-appropriate jukebox...some punk, alt rock, classic metal, etc...
12 taps. Good stuff. A nice mix of American micros and imports...examples include Sierra Nevada Harvest, as well as a wonderful St. Bernardus Abt 12...
About 50 bottles...like the taps, listed on blackboards along the far wall. The bottles are grouped by country, and all prices are listed as well. Pricing is reasonable for the area, but if you want to really have a fantastic time, get there for happy hour...
Every day, Monday to Sunday, 3-8 pm. Happy Hour. And no ordinary $1 off deal...except on the imports. But, ah, the domestics...2 for 1. That's right, buy a 22 oz Arrogant Bastard for $5, get one free. For real. All American bottles and drafts are 2 for 1 from 3:00 to 8:00, every day. Hallelujah!
The service, whether it's from William (the red-bearded owner), or one of the lovely ladies, is attentive and friendly. There's no food served here on a regular basis, but Katz's Deli is right around the corner (highly recommended), and there's a bajillion other places to eat within walking distance...
Take the time to stop by the Essex Ale House first chance you get...particularly during the aforementioned happy hour. You won't be disappointed...
**Stony's Biscuit** - The 2 for 1 special is supposed to be for the same beer...for example, buy 1 Rogue Dead Guy Ale, get 1 Dead Guy Ale free. However, if you're behaving yourself, you should be able to get any other same-priced domestic beer you want as your freebie instead...ask nicely and ye shall receive...
**Edit (3/9/07)** - Ok, not every single domestic beer is 2 for 1. If it's a hard-to-get selection, say Avery Maharajah, you just get the dollar off during happy hour. But you know, who cares? This is a place worthy of your patronage. Go.
2,606 characters

4.14
/5
rDev
-1.2%
vibe: 4 | quality: 4 | service: 5 | selection: 3.5
We tried this place for the first time last Saturday. I was very impressed. We had just come from a very crowded d.b.a. and Essex was a welcome stop. They have a decent selection of beers on tap, as noted by others. And actually a pretty eclectic mix.
I'm not sure what other reviewers are expecting as far as atmosphere though. I thought it was great. It's a small cozy place without a lot of distractions. Simple chalkboards on the far wall show what's on tap and in bottles. No blaring sports on tv or thumping dance music. There was a jukebox with decent (if limited) selections. I was told a new music system was going in. But overall I felt very comfortable. Like a local pub should be. There was plenty of opportunity to talk with other patrons and the bartenders.
Which brings me to the best part: the staff and the service! Everyone was extremely friendly and helpful. It was great to have people working that obviously enjoyed their jobs and knew what they were doing. Having a great bartender in a small cozy place like this puts it right at the top of the list for me.
Take JerseyJim's advice below and head for d.b.a. if you want more atmosphere and a bigger more happening crowd. That'll leave Essex Ale House just that much more enjoyable for me!
1,270 characters
4.08
/5
rDev
-2.6%
vibe: 3.5 | quality: 4 | service: 4.5 | selection: 4
Stop #2 on the infamous birthday bar crawl for The Slanderous One and Mary Mary Quite Contrary. I hadn't been yet, so was pleased to see it on the agenda.
Arrived around 1:30 PM on a Saturday afternoon to a roomful of already-buzzed beer warriors. A very small room. I mean, literally. One approximately square room. A bar with eight or so seats to the right, a long table/bar hybrid in the middle of the room for communal seating, and a few other stools and shelves for drinks scattered around the outside of the room. Lots of beer posters, signs, etc. on the walls. A couple of towers of taps scattered around behind the bar area, along with a few fridges full of good beer.
I assumed the bartender would be overwhelmed by us, but she was great -- super fast, attentive, and friendly -- although she did have fair warning that we were coming, apparently.
A small but extremely tight draft selection, including treats like Houblon Chouffe, St. Bernardus Abt 12, Allagsh Wit, Arcadia's Old Ale, Victory Harvest Pils, Ommegang 3 Philosophers, Chelsea Hop Harvest, Magic Hat Jinx and Night of the Living Dead ... with a couple of standards mixed in, like Guinness and SNPA. Captain Lawrence Liquid Gold was on deck.
Bottle selection equally modest in size but nicely assembled, with several Belgians, including a couple of the Trappists, some American micro standards (Stone, North Coast, Rogue, Victory, Smutty), and a few interesting not-so-standards (a Uerige Sticke, for instance).
I had a Houblon Chouffe (awesome), and Allagash Wit (tasty, but a bit pricey at $6 for 12 oz. -- although I was later informed that this was an honest mistake by the bartender), and a St. Bernardus 12 (awesome). And I wonder why I was drunk by 4 PM on this bar crawl. Anyway...
Intimate, good tunes, nice beer selection. Ultimately it will be the atmosphere and/or service that makes or breaks this place. Definitely worth a visit.
1,925 characters
3.94
/5
rDev
-6%
vibe: 3.5 | quality: 4 | service: 4 | selection: 4
Had a meeting nearby and was convinced by someone that Eye should venture down this way afterwards. I'd been by once before but found it closed late in the afternoon on a Sunday, which I thought was curious. Now, two days later, a return visit finds it to be all kegerators and konstruction, the place having just opened. Been there since a time or three, it's sprucin' up some…
Tight little room with an "L" shaped bar seating 8 with a wood unit bar back with glassware and pitchers, a Chouffe figurine and other things above, and a pair of small glass front fridges displaying some bottles to each side of the taps. 3 raised bar tables and another 4 low ones against the far wall, nicely candlelit (Wait!! That shit's all gone now. They've all been replaced by a long raised bar table seating about 10). Walls painted 2 tone blue, or at least that how it looks in this light, and in this drink, them adorned with framed photos for sale (Nope!! They's a-be gone too). The front wall is made up of paneled windows that open out onto Essex Street. Drop lamps over the bar, track spots to the rear, a ceiling fan, a pair of TV's above and a jukebox in the corner.
12 taps spread out over 2 towers of 3 apiece on the bar back and another one holding 6 on the end of the "L". It's a good mix, 1/2 micros (Magic Hat Double IPA, Allagash White, Victory Prima Pils, Mendocino Red Tail, DogFishHead Aprihop, Sierra Nevada Pale Ale), and 1/2 imports (Houblon Chouffe, St. Bernardus Abt 12, Chimay Cinq Cents, Weihenstephaner Hefe, Guinness, Stella).
Roughly 5 and a half dozen bottles listed on a length of chalk board above the front a-ways (and thats gone too. Tap and bottle selections on a rear wall big board). The biggest chunk of the lot were American micros (Stone, Magic Hat, Victory, Rogue, North Coast, Anchor, Sierra Nevada, Shipyard), and then Belgians (Orval, Delirium, Kwak, Lucifer, Chimay, Rochefort, Duvel), English, German and then the usual questionable beers of the world. They've had a couple of promos under their belt now, and the place is shaping up nicely, beer manager's on his game which is never a bad thing. Off to a good start here, a welcome addition to the neighborhood.
2,209 characters
4.01
/5
rDev
-4.3%
vibe: 3 | quality: 4 | service: 4.5 | selection: 4
The atmosphere needs work, but they're new, so I'm not going to hold it against them too much. The place is basically a 20' x 20' box. The wall facing the bar has a bunch of typical beer/brewery signs on it. The walls are sort of a purplish color, which I'm not crazy about. There's a long communal table through the middle of the place that probably seats 20 or so. The bar sat about 12 I think. There seemed to be clutter lying around the bar towards the back of the room.
12 taps. There are a handfull of small coolers for bottles, some with glass fronts, some without. The bottle selection looked solid. The tap selection was solid as well. I had a Lagunitas Freak Out, an Avery Maharaja, an Ayinger Octoberfest and a Houblon Chouffe. Also on tap were SNPA, Guiness, Erdinger Octoberfest, Victory Prima Pils, Sly Fox Saisson, Allagash White and Bluepoint Hoptical Illusion.
The bartender was friendly, good for conversation and knew his beers. He was clearly working to improve the place and seeking feedback from patrons.
I don't think they had a food menu, but they did provide freee knockwurst and bratwurst for Octoberfest, so that was nice.
Some of the taps had a 2-for-1 going. Overall I thought the pricing was reasonable.
One thing I thought was cool was that a guy and girl who were also at the bar last night were talking about another beer event and I heard them mention the name of a NY BA that I recognized, so I think they were BAs too. I failed to ask if in fact they were, but I wish I had. It was also cool that the bartender asked if anyone had read "The Brewmasters Table" and all of us had and then joked about the "horse blanket" and "barnyardy" smells Garret Oliver talks about in some Geuzes. Always good to be surrounded by other beer enthusiasts.
1,792 characters

3.74
/5
rDev
-10.7%
vibe: 3 | quality: 4 | service: 3.5 | selection: 4
I was over this way and stopped in for happy hour...I had read that it was buy one get one free, but that is only on a few select taps. Limited but good selection of beer, and no liquor. I had an Avery Maharaja...it was $6 and served in a tulip glass($7 when its not happy hour). Nice presentation, but the beer tasted off(I guess I should explain...this beer when I have had it before both in bottle and on tap had a really big sweet apricot and peach body, but did not have that on this tasting...I know that it is getting to the end of the season for this particular beer so it might have lost a little of that sweetness that I was expecting).The construction site comment on this page is kinda true, but they are working to make it better...you could tell that everyone had just finished working on the building...The atmosphere was a little lacking with only a couple of TV's on for background...I will definitely check this place out again in a couple weeks or so....it has potential, and with the work they are doing on it I'm sure it will become a wonderful establishment. I wish them luck.
1,098 characters
4.14
/5
rDev
-1.2%
vibe: 4 | quality: 4 | service: 4.5 | selection: 4
This bar is in a fairly convenient LES location. Near cool shops, restaurants, etc. A nice dark wood interior, with plenty of room to sit along bars and counters. Big front doors open up the whole front of the bar to the outside. Tap selection is careful and varied: Houblon Chouffe, McChouffe, Weihnstephaner Hefeweizen, Allagash White, Guinness, Sly Fox Saison, Prima Pils, SNPA, Maharaja. Maybe could use an extra IPA or pale ale, but plenty of interesting selections. If bottles are your thing, they definitely had good bottle selections as well. Service was friendly, knowledgeable and caring. All in all a fun place that will definitely keep me coming back.
663 characters
4.28
/5
rDev
+2.1%
vibe: 4 | quality: 4 | service: 4.5 | selection: 4.5
So I need to kill a few hours before I have to back downtown for a fantasy football draft, oh what to do. No beer events, DBA website, nothing that great on tap, either the Collins Bar. Remembered that I read some good reviews about this new place the Essex Ale house which is one block east of Katz Dellicatessen; pastrami mmm. So I figure /i will check it out.
Small place with an l shaped bar with 12 taps and about 20-30 bottled beers, all pretty much tasty drinkers along with the requisite lower east side canned beers; Pabst OE800, Shaefer along with the Old Chubb products. There was a third cooler with some Brahma but whatever. The tap lines were Allagash White, SNPA, Victory Golden Monkey and Prima PilsMajic Hat Night of the living Dead??, Laganitas, Raison D'Etre, Chimay Cinc Cents, Abt 12 plus a cuple of more I think. Happy hour 4-7 buy one get one free, score.
So I'm sitting on the small L side of the bar with the bartender and the next one for the next shift. and 2 guys walk in with this amazingly hot Asian woman and they pull out 5 english beers and start a tasting of these beers. Bartender pulls out a few small tasting glasses and me just minding my own business was asked to join the tasting, very cool. One of the guys was Tom who works for some beer distributer who is going to start managing the place next week and the woman was the B. United Rep. So we sat around BS'ing drinking beer and having a good time. Forgot about the time and had to run back downtown without being able to stop in for a Katz sandwhich
Tom has a lot of good ideas in tying to really make this place a beer destination with some nice beer events and changing of the taps so the selection will change.
Overall, a good place to go, if you are not a walker it will feel like it is out of the way but it is manhattan where its easy to get anywhere. Was delighted to be asked by strangers to join a tasting which is very cool for a lonely drinker. I will be checking on this situation a lot more often
2,016 characters
4.58
/5
rDev
+9.3%
vibe: 4 | quality: 4.5 | service: 5 | selection: 4.5
The culmination of a recent NYC visit was a really good session at Essex Ale House. It was a lazy Sunday and the rain provided the perfect compliment to drink some quality beer. This place has been on my radar recently after some glowing reviews on BA. My experience can be summed up by saying it was one of the best beer bar experiences I've ever had.
The atmosphere is pretty chill and laid back. Space is rather limited and the bar is a decent size, but space is used wisely. There are tables and chairs in addition to the bar area. We had the opportunity to meet the owner. He provided us with some great service and conversation. Throughout our visit we felt quite welcomed and comfortable. He made it clear that he is still working on re-vamping the layout. It was also clear that he would continue to cultivate what already is a very impressive beer selection. There is also a solid jukebox available with some good music.
I noticed around 10-12 taps. Every beer on draft is respectable. Highlights include St. Bernardus Abt 12, Chimay Cinq Cents, Dogfish Head Raison D'Etre, Victory Prima Pils, Magic Hat Ale of the Living Dead, Sierra Nevada Pale Ale, Guinness and Allagash White. The St. Bernardus Abt 12 was on point, it was so good.
I'm not sure how many bottles are available, but I would have to think somewhere around 50 or so. Some bottle highlights include Trappistes Rochefort 10, Westmalle Tripel, Anchor Old Foghorn, Duvel, Lindemans Framboise and North Coast Old Rasputin & Red Seal Ale. I was blown away by the beer prices. All beers are very reasonable, especially for New York.
Service delivery here was extremely noteworthy and deserves major credit. Our bartender was super friendly, attentive and knowledgeable. She appeared genuinely interested in expanding her knowledge of beer and the craft beer scene in general. Another definite highlight is the glassware collection. It's awesome and all beers are served in appropriate glassware, which I always love to see.
Essex Ale House made a positive impression and guarantees to be my new Lower East Side beer bar. Honestly, I can't wait to get back. The quality of the beers that I had were fresh, the selection is incredible and the service was amazing. Recommended.
2,265 characters

4.08
/5
rDev
-2.6%
vibe: 3.5 | quality: 4 | service: 4.5 | selection: 4
Just a short stroll from New Beverage on Christie. Small, dumpy, lower east side spot (just south of Houston, on Essex), as mentioned before it certainly is a "work in progress", work was going on when I was there a recent afternoon. Friendly barkeep, 12 taps including Houblon Choufe (!), Abt 12, Allagash White, Raison D'etre, Prima Pils, Weihenstephen, and other quality choices, about 40 bottles, all (or at least most) very BA worthy.
An amazing thing about this place is the prices on some of their offerings; they have Arrogant Bastard and Ruination bombers for $7! Also 22oz draft pours of Weihenstephen were $5.
A lot of correct glassware being used, got to love a place that offers Houblon Choufe in corresponding glass ($7), plus after ordering 2, the 3rd was on the house…makes for a blurry afternoon (I'm on vacation), but a good deal one of the planet's tastiest brews.
Put this place on your list to go check out/support and/or include on a lower east side crawl……..DBA, Hop Devil/Belgian rm., Standings, Croxleys, and Burp Castle all are within a short walk
1,089 characters
4.35
/5
rDev
+3.8%
vibe: 3.5 | quality: 4 | service: 5 | selection: 4.5
It's easy to see this place is still a work-in-progress; however, they're off to a great start. About a dozen taps, pouring some goodies like: La Chouffe, St. Bernardous Abt 12, Chimay tripel, Dogfish Aprihop, Victory Hop Devil and Allagash White. I had an Abt 12, which costs far less than expected (I think it was supposed to be $7, but paid even less). There was a 2-for-1 special on the Allagash white, so I had two of those as well (for $5 maybe?) Beers were poured in their appropriate glassware. Impressive bottle selection posted on the wall, categorized by country. Overall, the beer tasted clean and the prices were more than reasonable. The service was outstanding. Samples were happily given out, as were "discounts" from one bartender who seemed to appreciate our sincere interest.
794 characters
Essex Ale House in New York, NY
Place rating:
4.19
out of
5
with
13
ratings