The Front Door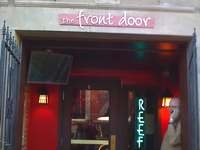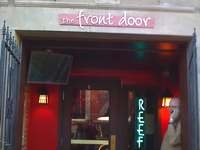 Bar, Eatery, Beer-to-go
105 S 6th St
Boise
,
Idaho
, 83702-5950
United States
(208) 287-9201 |
map
thefrontdoorboise.com
Notes:
3.28
/5
rDev
-23%
vibe: 3.25 | quality: 3.25 | service: 3.5 | selection: 3 | food: 3.5
Nice little place in the bar district, decent pub grub and rotating taps. Build your own flight option a nice touch. Pizza was alright, small but cozy. I imagine it is quite hopping on the weekends.
198 characters
4.26
/5
rDev 0%
vibe: 4 | quality: 4.25 | service: 4.5 | selection: 4.25 | food: 4
I visited The Front Door on a recent business trip to the Boise area. It was pretty highly rated on BA for the area, but I was a little tentative since the most recent review was about three years old. I knew it was going to be a good choice when I walked in and saw both 2013 and 2014 Abyss on tap... very cool find for someone from the East coast that never sees this beer, even though I find it to be overrated. They had a small collection of about 20 well-managed taps with a good variety of styles and local vs. national. The food was pretty solid... great jalapeño poppers and pretty good pizzas. I would definitely swing by there to check out the tap list if I was in the area again.
698 characters

4.4
/5
rDev
+3.3%
vibe: 3.5 | quality: 4.5 | service: 4.5 | selection: 4.5 | food: 4.5
My wife and I frequent the front door quite a bit. We don't go out much these days, but the beer selection is usually top notch. They generally have only about 10 beers on tap with a cask selection, but the beers are generally high quality beers.
This Thurday (12/22/2011) was extra special. I called the night prior to make sure they had the Abyss on tap. Last year I missed out, and I also missed out on a keg of Abyss that blew a week earlier. They had not only the 2011 Abyss, but the 2010 Abyss on tap. $6 for an 8oz pour, but we are talking about as hard to find- highly rated beer as you can find. They also had the Double Bastard by Stone, a Pyramid Super Snow Cap (1 review to date and that was from the brewery), Delerium Tremens, Deschutes Stoic, Old Rasputin (nitro), and other more local, but excellent seasonal beers.
The Pizza is always wonderful, especially if you like the thin crust. They have fantastic selections. We generally just get the pizza, so I will not comment about other foods. Some of the best pizza in town and the best selection of beer (quality not number of taps). The best part is that the servers all seem to be very knowledgeable about the beer and are happy to pour samplers. We love sitting at the bar.
This day they did not have many Ales or lighter beers, so
1,301 characters
3.94
/5
rDev
-7.5%
vibe: 3.5 | quality: 4 | service: 4 | selection: 4
This is a smaller space than the outside would lead you to believe. There is a small wood bar that seats about 6 and there are another 6 or so tables for another 30 or so folks. There is a Semi open kitchen to the right of the bar.
They offer 16 taps, 1 cask plus some really nice bottle selections. I think any beer fan will find plenty to like here.
The staff was nice enough and knows beer.
The bar was playing an all 80s soundtrack that had the bartender singing along with.
I stopped by for happy hour on Wednesday. Including my co-worker & myself there were 6 people in the place. Maybe we hit it at a bad time? Perhaps the small crowd was ok as I noticed only one uni-sex washroom.
I didn't try the food this time, but will next time I stop by.
761 characters

4
/5
rDev
-6.1%
vibe: 4 | quality: 4 | service: 4 | selection: 4 | food: 4
Review of trip on 1/11/11.
A friend and I decided to hit this place and I showed up a little early to scope it out for an official review.
Front Door is located in a good spot, but hard to get to at certain times. Parking was great for me; everyone was leaving their downtown offices and heading home, so I go a good spot and put 75 cents in the meter to get me to 6pm.
The restaraunt is small, there are about 6 booths and the same amount of 4-person tables. Some beer paraphenilia, and a tap list that looks great: some Ninkasi, North Coast, Rogue, Grand Teton, '09 Abyss, 2010 Jubel and Dissident, a ntiro tap of Jubalale and a cask of Laganitas Hop Stoopid. Also, their bottle list is pretty good (maybe the best for Boise?) with lots of American and Belgian ales, and quite a few German stlyes too.
All of the beer we ordered came out full and not a half-inch low as other people have pointed out. I was watching for this.
Waitress was a youngish but helpful gal who kept up with refills of water and beer pretty well.
Food was good, stuffed crab mushrooms and we split a medium pizza. The pizza is front and center and the pizza selections was pretty good, but there are also some salads and other appetizers as well.
Both the beer (example: $4.50 for an 8oz pour of Quad) and food (mushrooms $9, medium pizza $15) seemed a touch pricey.
Around 5pm the place was nearly empty, and there was some college backetball and European soccer on the tv's. When we left around 7, the place was packed and it was a lot louder in there.
Overall, I like the place, and they do a great job with keeping the Deschutes Reserve Series around, which I love. However, I prefer Bittercreek, their tap list is larger and just as diverse, and they offer a more well-rounded menu and a larger facility. However, for good pizza and good beer with quite a selection of both, look no further.
1,883 characters
3.8
/5
rDev
-10.8%
vibe: 3.5 | quality: 4 | service: 4 | selection: 3.5
Visited 11.10.2010.
Located in downtown Boise, street parking in the immediate area is pretty tough to come by, didn't feel like paying to park, shoved my SUV into a too small parking spot, but given the reviews of this place I was determined. Old brick building shared with some Polynesian themed bar (ugh) , the Front Door features a ten seat bar and about the same number of two-top tables with bar stools instead of chairs. While I didn't eat, the pizzas looked quite good, though expensive, no points for using a dough press instead of hand toss. Not a lot of beerheads, some locals and young folk looking for a beer before minor league hockey game down the street, asking a lot of questions about the beer. The taplist was dominated by fresh hop beers which bothered me this late in the season. However they did have NB La Folie, and GI Matilda on tap, along with usual PNW suspects re Widmer, Rogue, Deschutes, etc. Pretty good but limited selection of bottles featuring a lot of Belgians. I'd like to go back again when the taplist wasn't so fresh hop centric and next time I'll have the pizza. Reasonable prices and decent service. However, in no way, shape or form, is this a world class beer destination as my visit to DC later in the week aptly pointed out. Worth a try, but my preference is for the Bittercreek 'complex' a few blocks away.
1,353 characters
4.5
/5
rDev
+5.6%
vibe: 4.5 | quality: 4.5 | service: 4.5 | selection: 4.5 | food: 4.5
As a prologue to the 2010 Olympic Beer Tour we stopped into the Front Door in downtown Boise. I will warn you right away, I'm a regular and therefore a little bias so I will try to stick to the facts. 15 taps, really good pizza, friendly and knowledgeable staff and a pretty good location once you find it
When I arrived tonight Mike was already at a table and had ordered an Anderson Valley 20th Anniversary IPA, I opted for the S.N. Kellerweis. I could have chosen the Franziskaner Hefeweizen but decided to go with Team USA. The line-up of taps this night was typical of what you will find every night, a Northwest/West Coast slant with a strong European presence. What you will not find is anything manufactured by Coors or Anheuser-Busch. Even though the place is small they must move quite a bit of beer because the taps are never the same two nights in a row. Something that is consistent is their selection of bottled beers. The choice in bottles seems to lean heavily towards the Europeans, Belgians' in particular. They also rotate in seasonal beers.
The service is typically fast and has always been friendly. More importantly, they know their beer. They also have a pretty good idea of what glass to serve it in and what temperature to keep their coolers. The kitchen staff knows beer as well. The food is excellent with a focus on their pizza. Sorry, no burgers or fries
The Front Door is not very big (maybe 12 tables) and it is a little hard to find. The hard to find part might need some explanation. The Front Door is located near the corner of 6th and Main in downtown Boise. On a weekend evening it seems as if everyone ends up at this intersection. The entrance is set back from 6th street and shares its front door with The Reef (the much larger restaurant/bar/club located up stairs. The Front Door is very low-key. No neon signs, just look for the Taps. If you're serious about the beer I would recommend stopping in during the day, before 6:00 PM, or waiting until after the dinner crowd has thinned out. If you find the place is packed, there are a couple other good beer choices nearby. Tom Grainey's next door or Bittercreek Ale House two blocks away on 8th are good options. For the OBT, our next stop is Issaquah.
2,245 characters

4.43
/5
rDev
+4%
vibe: 3.5 | quality: 4 | service: 4.5 | selection: 5 | food: 5
I recently went to their grand teton brewers night dinner. This was the best meal I have ever had in my life. I don't say that without meaning it.
My first time in this bar I couldn't get out quick enough simply because the amount of eragance in the place. It turned out it was just the bartender that night a couple years ago. Since then it has been top notch....
I suggest you try the pulled pork or find a dish with the peanutbutter mashed potatos. Amazing....
They have a desire to grow a strong beer community here in Boise and that is great...
553 characters

4.55
/5
rDev
+6.8%
vibe: 4.5 | quality: 4.5 | service: 4.5 | selection: 4.5 | food: 5
This was the site of the big meet-up between CouchSurfers and Beer advocates. Sam (Inflatable Chair) and his friend from North Carolina; Phil, my host and his friend, Jenn, plus your humble narrator were all in attendance. A small world continued to shrink.
Coming in through the door, a long vestibule took us off to the left to go into the pizzeria and bar area. Sam and his friend were already in a corner padded seat by the window along the back wall, so we simply joined them. The smell of baking pizzas was wonderful and once we had our drink orders in, we turned our attention to eating.
The bar and its fifteen (15) taps was all of the way aft with the kitchen off to the far right. The center of the space was taken up by high tables and chairs. The menu stated that the beer menu offered "domestic-free bottles since 2006." Ha! I was elated to find Laughing Dog Huckleberry Ale on draft.
900 characters

4.5
/5
rDev
+5.6%
vibe: 4.5 | quality: 4.5 | service: 4.5 | selection: 4.5
I've never been a fan of "Salt Lake City North". Being a native of North Idaho, I suppose it comes with the upbringing. But, this weekend I finally found something to respect in the Idaho capital city. Thanks to fellow BeerAdvocates, I learned of the Front Door alehouse - and made the trek to visit.
What I found was a great little place for a pint. They had 15 beers on tap and many more in the fridge (sadly, their cask was out for the night). As I only had time for one, I chose something I hadn't had before - Grand Teton, Black Cauldron Imperial Stout.
Located only a few blocks from the Capitol Building (in the busy Old Boise neighborhood), the brick-walled pub was quite intimate, with only 8-10 tables and a small bar for seating (I later discovered a smaller room behind the bar with another 3-4 tables). Overall, the place had a very comfortable and inviting atmosphere.
Although I didn't opt for any food while I was there, what I saw looked delicious. When I make it back to Boise, I'll definitely stop for a snack and a pint. I'd recommend the same to you.
1,074 characters
4.88
/5
rDev
+14.6%
vibe: 5 | quality: 5 | service: 5 | selection: 4.5 | food: 5
Finally a place in Boise that appreciates good beer. It's a smaller size pub with a fantastic selection of micro's. They have 12 or so beers on tap that are always in rotation. We got to try a few beers that were on limited release (The Abyss, so good). The manager and bartender were very personable and knowledgeable about the beers. Everyone was very courteous and helpful about what beers to try and why. The selection is fairly nice for such a small place. They are definitely a quality over quantity establishment. Other than the on tap beers, they have a bottle selection of some of the Rogue regular's and XS's, Stone Brewery, some fancy Belgium's, etc... The other upside to this place is the food. The pizza is unbelievable, no other way to say it. This is definitely a hidden gem in Boise that deserves to be checked out if you love beer and food!
EDIT: The more I go to this place the more I love it... Wish I could go higher than 5...
950 characters
The Front Door in Boise, ID
Place rating:
4.26
out of
5
with
15
ratings