O'Neals Pub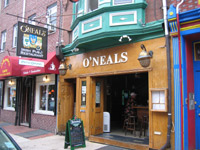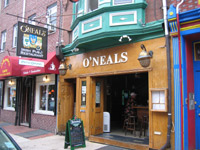 PLACE INFO
Type:
Bar, Eatery
611 South Third Street
Philadelphia
,
Pennsylvania
, 19147
United States
(215) 574-9495 |
map
onealspub.com
Notes:
No notes at this time.
Added by BeerAdvocate
PLACE STATS
Reviews:

10

Ratings:

pDev:

7.07%
HISTOGRAM
View: Place Reviews
Ratings: 12 | Reviews: 10

4.38
/5
rDev
+10.6%
vibe: 3.5 | quality: 4.5 | service: 4.5 | selection: 4.5
The Bataan Death March through Philly (see that, Ev, I'm not LOCAL, despite having grown up in Lancaster) continued, but we were nearing the end and none too soon, either.
O'Neal's was just south of South Street and it has been a local fixture for a long time. They had a folding window/door overlooking the street that was open on my latest visit. The doorway, with a Celtic cross built into its design, was just north of the folding door. The "L"-shaped wooden bar was just to the right upon entering. The back bar was bisected by a cooler, the top three shelves of which were dedicated to micros and a few quality imports. They had a dozen drafts, most notably including Sly Fox O'Reilley's Stout on Nitro-pour and a cask (!) of Yards ESA. Headed aft, there were six restaurant tables and chairs, and all of the way aft, the kitchen. Out back was a small biergarten. Upstairs had a second bar with a short stage and a bay window overlooking the street.
959 characters

4.38
/5
rDev
+10.6%
vibe: 4 | quality: 4.5 | service: 4.5 | selection: 4 | food: 5
*Secret alert!* O'Neals Pub 1/2 block off South Street is a killer joint for good beer and great - NO! - Excellent food.
If you happen to be in and about South Street in Philadelphia (if you're from here then you call it Philadelphia and NOT Philly) then O'Neals is a must stop. Not only do they have a cool interior that is relaxing and dark comfy, but their selection is well matching any bar in the city with two giant towers and a constant rotating cask that usually sports a Yards beer such as Love Stout or ESA, to Vic'ry Hop Devil and others. A few ho-hummers on draught but also a few gems like Brooklyn Saison, Sly Fox, assorted Belgians and regulars like Boddingtons.
The food is cheap and killer. We split a salmon plate and steak dinner. Both were frigging awesome. I should be paid to write this! It was that good. Four beers and two dinners were about $35 smackerz! And a bonus: Just off cool South Street. Throw some mad BA love to O'Neals if in town.
Last call: Could you bring your Mother here? Nope. Too much like a movie set bar replete with shoddy restrooms and mobster booths in the back. Go with an easy going date or before seeing a show at the TLA and you wallet will forgive you but your liver won't.
1,235 characters
3.64
/5
rDev
-8.1%
vibe: 3.75 | quality: 3.5 | service: 4 | selection: 3.25 | food: 4
Nice friendly atmosphere just a block off of busy South Street. Small tap list, lots of macro brews, but fairly lengthy bottle list, both import and domestic. Menu has traditional pub grub, including a nice shepherd's pie. One cask offering is also available.
259 characters

4.06
/5
rDev
+2.5%
vibe: 4.5 | quality: 4 | service: 4 | selection: 4
O'Neals Pub is a very attractive establishment. The front of the building opens up with big folding wooden, windowed doors that let you walk right in, instead of using the little door on the left. This pleased me as far too many places in Center City have that cramped, narrow feeling to them. This opening really helped change that feeling.
Once inside, we grabbed a seat at the bar right in front of the hand-pump. Looks like Yards ESA is on. On either side of us were tap towers spouting some local favorites and other tasty brews. Directly in front of us was a wide cooler with an enticing display of local favs here as well. Sadly, the cooler was a little foggy so the proud majesty of SEPAs brewing tradition couldn't beam through unhindered. A squint could make out what was there behind the fog. To each side of the cooler were some simple shelves full of liquor bottles and glassware. Looking around a little more revealed a well done reliance on dark hardwoods. Nothing too fancy, but real simple, solid, honest wood work in the walls and the ceiling which sported some nice stained-glass lamps. Breaking this theme was the wide tan tiled floor. Also there were what seemed to be omnipresent, but inconspicuous televisions. There were everywhere, but they didn't attract your attention. I'm not sure how they pulled that one off, but they did it, and I appreciate it. On a quick walking tour of the place, the back had a few older looking booths and the kitchen pickup window, making the rear look a lot like an old diner or deli. Further back was the deck. This was an enclosed area with a few tables with big umbrellas in the middle of them. This area was swarmed by creeping vines, giving it a great biergarten look. Thanks to Mayor Street, the Philadelphia area smokers will be out here a little bit more. Lucky them. Back inside, the upstairs looked a lot like the first floor but with some darts and a pool table.
The beers on-tap were SNPA, Amstel Light, Yuengling, Stella, O'Reilly's Irish Stout (which we nabbed), Hoegaarden, Weyerbacher's Hefe, Stone IPA, Boddingtons, Flying Fish Farmhouse, Stoudt's Pils, Woodchuck, and the Yards on cask. Very nice. The bottles were very nice as well, most of which were locals.
The bartender was quick with the drinks and really seemed to be up on his beers. We didn't stay there all that long, so I can't say too much about him.
Over all, I liked this place. The beer selection is really impressive and from what Ev says below, their food sounds pretty good. If you're in the area, check this place out for sure.
2,595 characters
4.3
/5
rDev
+8.6%
vibe: 4 | quality: 4.5 | service: 4 | selection: 4.5
Right off South Street, this two story sports bar has 13 taps (1 hand pump) and a very good selection of bottled beer. 5 or 6 of the taps are usually reserved for local breweries (which, in this town is a good thing), but they always manage to have a Belgian, English, and German on tap as well as something from the West Coast. The atmosphere has a laid back vibe to it, although it can get very crowded late night. Patio is open in the summer months. Reasonably priced. Overall, one of my favorite bars in Philadelphia.
525 characters

4
/5
rDev
+1%
vibe: 4.5 | quality: 4 | service: 4 | selection: 4 | food: 3.5
O'neals has slowly replaced the dark horse as my go to place for sporting events, more than likely for its inclusion to the runup of the phillies world series victory.
Atmoshphere is almost always great, probably biast because i come here fore games, but crowd is always into games and drinking semi responsibily. Anyway, its great for a game or a game of darts.
Quality has always been good, enough attention to brews and food and games.
Service has also been very good, no long waits for drinks and very attentive even during great games.
Selection is one step above average, always great beers on draft and in bottle, they could focus just a bit more towards selection and this place could be my go to, but understand they need t o keep the crowds from south happy.
The food from what i have had has been good, solid bar food.
Overall, good quality and reasonablly priced. Definitely a good stop fora philly beer aficinado on a late evening on south street.
966 characters
4.03
/5
rDev
+1.8%
vibe: 4 | quality: 4 | service: 4 | selection: 4.5 | food: 3
I went here for lunch today with my buddy Tom, it's been a very long time since I was down here. The website states they around 19 taps and alot of locals brews. I saw around 15 or so taps. The Ist floor is really big with 7 tv's, and a nice deck area out back, the upstairs has a gaming area. The beer selection was great considering other bars along South Street, 13 taps and around 90-100 beers in bottles also. I had a Stoudts Scarlet Lady and a Yuengling Porter to go along with my perogies, emm! both were very good. This is a good stop when ever your down South Street.
578 characters
3.98
/5
rDev
+0.5%
vibe: 3.5 | quality: 4 | service: 4 | selection: 4.5 | food: 3
This was my first trip to O'Neals. I was put off a little at first by the darkness of the interior on a bright sunny Saturday afternoon, but the sight of those 13 taps brightened me up. The service was a little non-friendly at first but the barman warmed up as he realized that we were serious about the beer and looking to have a good time. The selection was great. I sat right in front of the beer cooler and the hand pump, which happened to have the DFH 60 Minute on tap. There were many other good ones, the Rogue Dead Guy Ale and Weihenstrphaner Hefewissenbier were the winners for the day, but they also had the Victory Vienna Lager on tap. There were many local favorites in the cooler and a nice selection of Unibroue.
We shared a simple Turkey sandwich so it's hard to rate the food. The sandwich had fresh ingredients including a spicy mayo that was excellent. It came with homemade potato salad also excellent. A down note for the food was that I was hoping to try their chili, which I've heard raves about but they don't serve any soups in the summer. The food selection is mostly pub grub with a few exceptions.
All in all a pleasurable place to pass some time with a good beer and the ball game on TV.
1,222 characters

3.55
/5
rDev
-10.4%
vibe: 3 | quality: 3 | service: 4 | selection: 4
Hit O'Neals with some friends last night, but have stopped in a few times before. Met the owner once - I recall him taking some pride in having a nice selection (which he does). The downstairs bar was a little overlit than I'd prefer, bathrooms a bit too small & messy. Beer selection is good. Service was good. Prices are about par for anything on South Street or around Center City. Crowd was definitely mixed but had no issues or problems whatsoever. Not sure if I'd try the food - never heard anyone ever mention this place as an eating destination, strictly a beer place. I'd come back to place again.
606 characters
3.86
/5
rDev
-2.5%
vibe: 4 | quality: 4 | service: 3.5 | selection: 4
My brother, his friend, and I met my cousin and some of his friends in Philly. They wanted to check out south street. I was the DD, so I wasn't going to be doing a lot of drinking. But I wanted to get at least something decent. So I suggested O'Neals based on its good BA rating.
We ended up going upstairs because it was pretty crowded downstairs. Which worked out well. We were practically the only people up there -- South St in general was not too crowded, especially for a Friday night. There was a DJ upstairs - not blaring music, though. Easy to hold a conversation over. And he played to our group's somewhat dorky tastes, fun stuff.
The place in general had a pretty good feel. It was kind of narrow and reaches back into the building a bit. Pretty well lit though.
I ended up getting a beer downstairs and bringing it up. They had at least a dozen taps downstairs. Plenty were macro-y stuff. But more than enough good choices - Mad Elf, Yards IPA, La Chouffe, couple others I've forgotten. I ordered a La Chouffe which was served in a Chimay chalice. I would probably have gotten a Mad Elf too had I not been the driver. Definitely a pleasant experience after being dragged to Fat Tuesdays.
1,203 characters
O'Neals Pub in Philadelphia, PA
Place rating:
3.96
out of
5
with
12
ratings