Beyond Braggot

Sprecher Brewing Company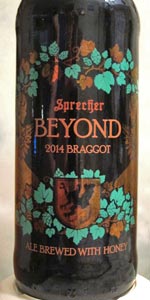 Write a Review
Beer Geek Stats:
| Print Shelf Talker
Style:

ABV:

11%

Score:

Avg:

3.59

| pDev:

16.71%

Reviews:

11

Ratings:

From:

Avail:

Winter

Wants

Gots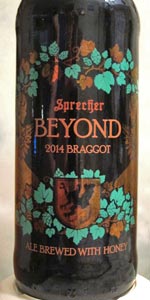 Notes:
2.54
/5
rDev
-29.2%
look: 3.75 | smell: 2.75 | taste: 2 | feel: 3.5 | overall: 2.5
Appearance - The beer poured a golden orange color with white bubbles crowning the pour.
Smell - The beer smelled like dishwater with a floral soap.
Taste - I would best describe the taste profile as honey menthol dishwater. With the floral soapiness comes an off- putting mint flavor that conjures up memories of Newport Cigarettes.
Mouthfeel - Even when I could not appreciate the taste, the feel had a nice viscosity.
Overall - For the sake of Sprecher, I hope this bottle went bad and did not reflect the intended profile.
534 characters
3.78
/5
rDev
+5.3%
look: 3.75 | smell: 3.75 | taste: 3.75 | feel: 4 | overall: 3.75
A - Brown orange body, translucent but not transparent, with white head, just a wisp, fading away to nothing, and no lacing.
S - Huge hit of alcohol warmth, tea notes from the hops.
T - Caramel and tea, a touch of hop bitterness in the close, and throughout strong alcohol.
M - Mild carbonation, warmth on the tongue, a bit of dryness on the tongue.
O - Too boozy for my taste. Surprisingly clean though, making it easier than its ABV would suggest.
454 characters
3.95
/5
rDev
+10%
look: 2.75 | smell: 4.5 | taste: 4 | feel: 3.5 | overall: 3.75
Bottle, lengthy bottle code largely illegible. DFH Tulip.
A: pours a hazy, turbid, dark amber, milky even. Some large bubbles cling to the side, but no visible carbonation and no head. BJCP says clarity should be good to brilliant, with a light to moderate head...
S: Sweeeeeet! A vinous, honeyed, syrupy, coffee cake like smell. Slightly fruity caramel? Mouthwatering. That said, I would say the honey and beer character are complementary, tilting toward honey. It does still smell like beer.
T: arrives sweet and not as malty as you would expect from the color. Mid palate is floral honey, slightly vinous, slightly floral, toffee, cinnamon crumble, Joyva sesame seed honey bars. Finish goes honey sweet to lightly bitter, a woody/herbal hop bitterness, then clean alcohol, like vodka. Alcohol lingers.
M: syrupy. Lighter end of full-bodied with basically no carbonation. Slick, but manages to clean up nicely. Alcohol warms on the way down.
O: this is somewhat like a barleywine, but without the layers of malt complexity and more straight-on honey sweetness. Like a honey-flavored old ale. I am really thrilled that I got to try this, and if I catch another braggot out there I think I will buy it and toss it down in the cellar for some cold January night. But this is not something I could see myself drinking regularly, or even annually. That said, for 11%, it is not a difficult beer to drink, and for one made with honey is not cloying in the least. That on its own is a tremendous achievement.
1,509 characters
3.9
/5
rDev
+8.6%
look: 4 | smell: 4 | taste: 4 | feel: 4 | overall: 3.5
12 ounce bottle into snifter, bottled on 2/7/2014. Pours slightly hazy deep orange/amber/light copper color with a 1 finger dense cream colored head with good retention, that reduces to a small cap that lingers. Nice spotty soapy lacing clings around that glass, with a fair amount of streaming carbonation. Aromas of big honey, caramel, brown sugar, lemon, orange, golden raisin, apricot, wood, pepper, clove, lightly toasted bread, herbal, floral, grass, and yeast earthiness. Very nice aromas with good balance and complexity of honey, bready malt, fruity yeast, and light-moderate citrus/pine hop notes; with great strength. A bit of booze in the aromas as it warms. Flavors of big honey, caramel, brown sugar, lemon, orange, golden raisin, apricot, wood, pepper, clove, lightly toasted bread, herbal, floral, grass, and yeast earthiness. Light pine/herbal/spicy bitterness on the finish; with lingering notes of honey, caramel, brown sugar, lemon, orange, golden raisin, apricot, wood, pepper, clove, lightly toasted bread, herbal, floral, grass, and yeast earthiness on the finish for a while. Very nice complexity, robustness, and balance of honey, bready malt, fruity yeast, and light-moderate citrus/pine hop flavors; with a great malt/bitterness balance, and minimal lingering hop astringency after the finish. Light dryness from lingering bitterness, lightly increasing through the glass. Light-medium carbonation and medium-full body; with a very smooth, moderately creamy/slick, and lightly sticky/syrupy/resinous balanced mouthfeel that is nice. Alcohol is very well hidden; a mild warmth lingering after the finish, with minimal booziness. Overall this is a very nice Braggot. All around nice complexity, robustness, and balance of honey, bready malt, fruity yeast, and light-moderate citrus/pine hop flavors; very smooth and easy to sip on for the big ABV. Seems to be a fairly simple approach on the style. Not much malt complexity; but very well balanced with honey, hops, and yeast notes. Like a cross between blonde barleywine and mead. A very enjoyable offering, and great style example.
2,108 characters
4.16
/5
rDev
+15.9%
look: 4 | smell: 4.25 | taste: 4.25 | feel: 4 | overall: 4
Poured from 12-oz bottle into wine glass. Slightly hazy honey-colored pour, thin white head that leaves some spotty lacing. Aroma reminiscent of a doppelbock. This is sweet to the taste, but very clean and dry on the finish. An interesting style, nicely executed.
263 characters
4.16
/5
rDev
+15.9%
look: 3.25 | smell: 4 | taste: 4.25 | feel: 4.5 | overall: 4.25
Pours a clear, copper color. 1/5 inch head of a white color. Decent retention and slight lacing. Smells of strong honey, citrus hops, sweet malt, yeast, wood, and slight grass. Fits the style of a Braggot. Mouth feel is smooth and clean, with a low carbonation level. Tastes of honey, sweet malt, alcohol, hint of hop, slight pale malt, wood, and slight grass. Overall, good strong honey flavor; best Braggot I've ever had.
423 characters

4.26
/5
rDev
+18.7%
look: 4 | smell: 4.25 | taste: 4.25 | feel: 4 | overall: 4.5
12oz bottle poured into a snifter. 2014 bottling. Date stamp 0000 38095 140561731
Appearance: A deep amber color. Such strong color makes me think its hazy but I just need to hold it up to the light to see the color better and the light showing this is a clear but dark enough to begin to cloud the light out. Off white thin head upon poured died back fairly quickly to leave a ring at the edge and an occasional island of lacing.
Smell: Complex. Fruit, floral, herbal, bready, honey, boozy.
Tastet: Lots of flavors. There is during the sip of this something woody to me which creates an unusual smell/taste sensation for me. The taste reminds me of the smell of a lumber yard. How's that for a beer that gives you synethesia? But nose and taste are connected so maybe not so weird. Along with that woody taste/aroma, there is honey-lemon tea, bready sweetness from the malt, some alcohol notes, and some bitterness at the end. And then about a minute after the sip blooming in my mouth is a definite orange and citrus + a hint of pine bitter/hop taste that starts to form. Very very unusual, but I am finding I rather like it.
Mouthfeel: Slick and slightly creamy. Light carbonation and a bit sticky.
Overall / Drinkability: A definite slow sipper. Pretty quickly after the first few sips I can start to feel the alcohol. So one is enough per night. But so very interesting that I keep wanting to go back and sip more and figure out all the flavors. I think I should have laid in another bottle of this and let it age. This has such complexity that I think it could keep me interested for a very long time. Truly and amazing beer.
1,640 characters
3.71
/5
rDev
+3.3%
look: 4.25 | smell: 3.75 | taste: 3.5 | feel: 4.5 | overall: 3.5
12 oz bottle poured into a Sprecher snifter.
11% ABV, 2014, "This product can benefit from extended aging when properly stored."
A - Fantastic clarity allows Beyond's bright, gorgeous ember color to glow like the core of a fire pit. The short but dense off-white cap of foam that forms lingers for quite some time considering the alcohol contained in this beer.
S - For a light-in-color beer, 11% is a feat so it comes as no surprise that there's a little fusel alcohol warmth to this beer but the hints of nail polish remover are subtle in comparison to the bold maltiness going on. Toasted bread generously smeared with wildflower honey is sprinkled with a blend of spices that don't call out any particular kind.
T - Beyond is as malty as they come for how light this beer appears; a combination of fresh white bread sprinkled with spice and drizzled with pine sap balled up and slices of toasted white bread slathered with melted caramel and thinly spread honey combine for a sticky sweet flavor. The honey is almost completely fermented out into alcohol, however, leaving little left for taste and, like the aroma warns, solvent alcohol crosses the tongue in flavor, leaving an odd delicate fruitiness on the palate.
M - Due to the sheer maltiness and honey to ferment up to 11% for how light the beer looks, there's plenty of residual sugar left over; that is to say, this is a full-bodied beer. Light carbonation keeps Beyond from feeling flat or syrupy while warming alcohol adds a touch of thinning characteristic to the finish for somewhat of a balance. It's reminiscent of a gently spiced mead meets an English Barleywine - Braggot!
O - I commend Sprecher for stepping outside their box with Beyond - this is clearly a far cry from most of the beers they produce in terms of both style and alcohol percentage, of course experimentation doesn't always yield incredible results. Beyond is a Braggot, a style of beer not-so-often brewed that incorporates large quantities of honey (or beer blended with mead and spices). In Beyond, both aromatically and in flavor, the honey seems to be almost entirely fermented out leaving little little more than a lip-smacking sweetness behind to co-exist with the large malt bill. The combination of the two isn't breathtaking but it's certainly not awful either - it could use some time for the alcohol to mellow - I think that time would do this beer some justice. At the end of the day, Beyond might be polarizing to most because of it's uniqueness but, take a brief look into what a Braggot was and possibly could be (as it often varies by those who blend it on site) and you'll see Sprecher's Beyond is an attempt to be pondered if not respected for it's dangerous drinkability.
2,734 characters

3.84
/5
rDev
+7%
look: 3.75 | smell: 4 | taste: 3.75 | feel: 4 | overall: 3.75
Came in a nice snifter - copper colored and a good head. My first of this style. The honey dryness and long mouthfeel is evident with the distinctive malt taking part as well.
I enjoyed the beer but went into it without much for preconceived notions of what it's supposed to be.
Well worth drinking and something I'd recommend to others.
341 characters

3.93
/5
rDev
+9.5%
look: 3.75 | smell: 3.75 | taste: 4 | feel: 4 | overall: 4
12oz bottle of the 2014 bottling of Beyond. Thanks to Matt for bringing this one over. Poured into a Lawson's snifter today, 3/29/2014.
App- Pours a clear, fairly bubbly amber-copper body with a minimal half finger white head with minimal retention. No lacing. Looks very much like a mead, actually.
Smell- Fairly sweet, a good bit of sweet honey with clean bready pilsner malts. A bit of citrus and pine hop presence. Not complex, but certainly a nice nose.
Flavour- very similar to Kuhnhenn's braggot. Honey, faint mead-esque sweet booziness, bready caramel toffee malt sweetness slightly cut by some semi-fruity hoppiness and some earthiness. Mostly sweet and mead-ish, but certainly very interesting.
Mouthfeel- Closer to a mead than an ale in the sense that it's smooth but thick with low carbonation. Slightly boozy but not overly so. Very easy to drink, way too easy for a 11% ABV beer...
Overall- Despite the fact that this is a Sprecher beer, this is actually pretty good for the style though I've only had Kuhnhenn's take. It's up there with Kuhnhenn's version, which was boozier and just as interesting.
1,120 characters

1.29
/5
rDev
-64.1%
look: 3.75 | smell: 1 | taste: 1 | feel: 2.25 | overall: 1
I used to write reviews all the time, I really did, but it's so much more convenient to just rate and move on and still convey a sense of what you think of a beer so I just don't review anymore.
I'm breaking my silence to review this beer for one reason only: to warn others.
I just bought a 12 oz. bottle of this for $6 on a whim. I've had a few braggots and I've found them challenging and interesting, a fun beer if anything. I enjoy dissecting them and picking apart their characteristics. This one is different. At first waft, there are hints of toffee and caramel, a lot like something that's been bourbon barrel aged. Very welcome and exciting. First sip and it's zesty, medium carbonation with residual honey sweetness through and through and an indecipherable supporting herb. Not hops necessarily, but something tangy. Three sips later and it's literally decomposing in my hand. Something chemically, I can't put my finger on it, but it came out of fucking nowhere. Now it dominates the nose and palate, it's like when you were a kid and you saw a dead animal and you were fascinated, then you caught that first whiff, and then you couldn't escape that smell. Like, even when you ran in the opposite direction, it followed you like a fucking poltergeist. This is my poltergeist. I've pinpointed the aroma: its old mothballs. The newer mothballs smell like they can at least get you high, in the way only a sheltered kid who is repeatedly forced to visit his detached grandmother can understand. The new mothballs smell like, "Anything is better than whatever I'm doing right now," like it's not good but it's better than smelling anything else in the house. This smells like old mothballs, like ones that have lost the gasoline/rubber cement nasal umami and are only left with an amalgamation of whatever other aromas are in your grandma's closet, along with gross mothballs. This is my first drain pour in god knows how long, probably since I drank a Cave Creek Chili Beer. I would drink a Cave Creek right now if it would wash the taste of this toxic pollutant out of my brain. I'm going to buy another and put it in my closet to prevent insects from eating my coats.
Appearance is nice.
2,202 characters
Beyond Braggot from Sprecher Brewing Company
Beer rating:
82
out of
100
with
45
ratings