Bootlegger's Bourbon Barrel Hard Root Beer
| Sprecher Brewing Company
BA SCORE
81
good
13
Reviews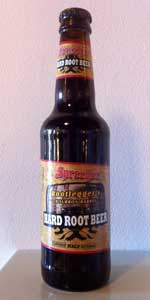 BEER INFO
Brewed by:
Sprecher Brewing Company
Wisconsin
,
United States
sprecherbrewery.com
Style:
Cream Ale
Alcohol by volume (ABV):
5.00%
Availability:
Year-round
Notes / Commercial Description:
This is NOT a beer. It will be deleted. DO NOT REVIEW.
Added by zaraspook on 09-15-2013
This beer is retired; no longer brewed.
Reviews: 13 | Ratings: 75

3.89
/5
rDev
+13.4%
look: 4 | smell: 3.75 | taste: 4 | feel: 4 | overall: 3.75
A - A standard pour yields an active billowing forthiness that settles at about two fingers worth of audibly fizzy slightly creamy khaki colored head with a rocky top... Average retention gives way to a thick ultra creamy layer of lacing with a couple of big chunky bubbles sitting on top... The color is a murky medium-to-dark brown... Still with no discernible carbonation... Not a bad looking brew by any means...
S - The dominate aroma is that of moderately sweet root beer... There are also some light woody notes beneath the surface that add nice depth and complexity... A hint of vanilla... Perhaps some banana notes as well...
T - Root beer... Brown sugar... Vanilla... A slight bourbon kick... Some faint caramel notes... There are even some very faint cinnamon notes on the finish... While this one is uber sweet, it's never cloying... Very different... Very interesting... Very enjoyable...
M - On the lighter side of medium bodied... Limited carbonation... A bit chewy... A bit sticky... Smooth... A bit sultry... Very nice...
D - Is it root beer? Is it beer? Doesn't matter what it is, just that it's a very enjoyable drink... Very unique... I have never encountered anything like this in the rest of beerdom... This is something that I can recommend and will gladly indulge in again... A bit of a desert beer... A job very well done by Sprecher... Note, the first glass or two is fine, but then it becomes a wee bit cloying and tough to finish...
1,466 characters
3.34
/5
rDev
-2.6%
look: 3.25 | smell: 3 | taste: 3 | feel: 3.75 | overall: 4.25
I realize nobody knows what to make of this, but to me it is just a goofy novelty. It would have been cooler if they would have somehow made this yeasty or something.
It opens flatter than it should be but it laces up the glass. The aroma is a little hard to stomach as is the taste and aftertaste. It's sweet like pop with a bit of bourbon barrel taste.
It would have also been cool if they had made this real boozy. Instead, it is just something to avoid.
460 characters

3.85
/5
rDev
+12.2%
look: 3.75 | smell: 3.75 | taste: 4 | feel: 3.75 | overall: 3.75
Bottle
Dark brown, thin layer
Smells like a sweet root beer
Good tasting root beer with a kick. The bourbon barrel aging imparts a different, distinctive but delicious taste to the sweet root beer taste. Medium mouthfeel.
Sweet and good. Worth repeating for a different change of taste. root beer with a kick, I like it!
326 characters
4.65
/5
rDev
+35.6%
look: 4.5 | smell: 4.5 | taste: 5 | feel: 4 | overall: 4.5
Wow Just like root beer. Pour into a glass and it looks and smells just like reg. root beer but don't let the kid mistake it. Really like the taste. Smells just like root beer. This brewer also make soda pop and there reg. root beer is great and the hard root beer taste just like it.
284 characters
3.69
/5
rDev
+7.6%
look: 3.75 | smell: 3.5 | taste: 3.75 | feel: 3.75 | overall: 3.75
12-oz bottle into nonic pub glass
A - 1 finger of light tan head over a body of deep brown
S - root beer, touch of alcohol
T - sweet root beer, notes of bourbon and wood
M - creamy medium body, medium carbonation (low carbonation compared to your typical root beer)
O - I'm surprised to find this listed on BA since it's not really beer. As a root beer it's very good. The alcohol and bourbon barrel really make it stand out. I'm not going to bother comparing it to a genuine beer--apples to oranges.
505 characters

1.74
/5
rDev
-49.3%
look: 3 | smell: 2.75 | taste: 1 | feel: 3 | overall: 1
One time years ago I accidentally picked up the wrong cup and took a big sip of somebody's old Skoal dip spit instead of my drink, which I had set down next to the spit cup. It was a horrifying experience. This Sprecher product tastes like that, which says as much about it as you need to know. Wintergreen, sweet something, and "off".
I love root beer and have always wanted to try an alcoholic one, so I was really glad to find this. I wonder what I would think of it if I had never had the spit-drinking incident, but alas, I can never know. I think it would still be bad.
I toughed this out for a good few sips after the first one but ultimately had to pour it out. Now I'm stuck with three more of them. I think I will put them in some random person's mailbox.
769 characters

2.91
/5
rDev
-15.2%
look: 3.25 | smell: 3.5 | taste: 2.5 | feel: 3.25 | overall: 2.75
I really wanted to like this beer, since I like a good root beer with a kick. Perhaps I just favor root beers with more of a licorice or wintergreen flavor, but this Hard Root Beer did nothing for me. When I tried it, all I got was a malt and cream flavor, which unfortunately isn't quite my thing.
298 characters

4
/5
rDev
+16.6%
look: 4 | smell: 4 | taste: 4 | feel: 4 | overall: 4
I was hoping for more of a beer, nonetheless I did enjoy this very sweet hard root beer. It is a dark color that just like root beer. very sweet, If you would have not told me it had an alcohol content, I would have chalked it up as a very good root beer.
255 characters
4.35
/5
rDev
+26.8%
look: 4 | smell: 4.5 | taste: 4.25 | feel: 4.25 | overall: 4.5
Look:
-Slightly dark
-No head
-No carbonation
Smell:
-Like root beer
-Slight alcohol smell
-Malty
Taste:
-Slight soda
-Malt on the back end
Mouth Feel:
-Like a soda
-Enjoyable
178 characters
4.56
/5
rDev
+32.9%
look: 4.25 | smell: 5 | taste: 4.5 | feel: 4 | overall: 4.5
This was such a nice surprise. I was stoked to find a store selling this and knew I had to have it.
The root beer taste is great, but it the bourbon flavor adds so much to the overall brew. It's surprising how much I enjoy this (granted, I am a big root beer fan in general).
The bottle pours your generic root beer color and you get all the same, great smells that come associated. You can certainly smell the alcohol, but it's not unpleasant at all.
The interesting thing is that there is not nearly as much carbonation as you'd find in a normal soda. I think that I'd like a bit more.
But in all honesty, this is a great root beer and the 5% alcohol isn't going to kill you if you have a couple of them. I imagine that this would be an outstanding summer drink and it goes great with the fall season as well.
817 characters
1.38
/5
rDev
-59.8%
look: 4 | smell: 1 | taste: 1 | feel: 3 | overall: 1
This is the worst "beer" I've had in roughly 24 months (I don't keep great notes, or even any notes, so more exact timing is difficult).
This doesn't taste like root beer. And yet in a blind taste test of 6 root beers, I chose Sprecher Root Beer as my favorite. So, this is nothing like their root beer, if you consider that any sort of internally consistent proof.
This is also nothing like...beer.
The initial hit is fine, even good, and really makes you think, "Hm, this could be...the one!" Then the beverage covers the rest of your tongue and you. cannot. hide. It's like the beverage has a psychotic break on your tongue and devolves into nonsense.
If you've ever drunk Steel Reserve, then you'll understand a big part of my taste test. If I detect Steel Reserve on the back-end mouth-feel/taste (hot, malt liquorish, oh-they-just-want-me-to-get-drunk-as-cheaply-as-possible), then it's probably not going to rank high as a great taster. This beverage tastes like a mix of maple-y soy sauce mixed with a big can of Steel Reserve as it flies apart on the back end of your palate. It's also a little over-fermented, but that's what gives it a root-beerish mouth-feel (that I agree it has a-plenty). The bubbles make it storm over your taste buds like those little scrubbing bubbles from bathtub commercial fame. If it were a great taste, then...great. But it's not.
I believe I added this to my beer bottle collection last year, and yet it is already retired. Does that mean "Limited Edition" or "Sucktastic"? Pursuing the truth of that is left to the reader, and I hope there is no more of this product anywhere in the world such that the reader can actually follow through with that exercise.
1,703 characters
5
/5
rDev
+45.8%
look: 5 | smell: 5 | taste: 5 | feel: 5 | overall: 5
Really good beer, for a rootbeer beer I couldnt ask for anything better. You should try it, might give a wicked hang over though. Bought it the first time just seeing it at the beer distributor but have since recommended it to several friends. You cant really tell it has alcohal.
280 characters
4.25
/5
rDev
+23.9%
Poors dark and deep like you would expect a root beer to pour with a decent frothy head to boot. Early tastes of root beer and vanilla, with the drop off showing the alcohol that's behind it. A very drinkable beer to accompany a variety of meals, though I find myself drinking it with pizza or dessert mostly. Something is lost from traditional root beer that I can't quite put my finger on, but in it's class stands as a very good brew.
437 characters
Bootlegger's Bourbon Barrel Hard Root Beer from Sprecher Brewing Company
3.43
out of
5
based on
75
ratings.