Dopple Bock
| Sprecher Brewing Company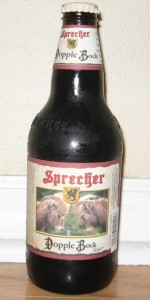 BEER INFO
Brewed by:
Sprecher Brewing Company
Wisconsin
,
United States
sprecherbrewery.com
Style:
Doppelbock
Alcohol by volume (ABV):
7.85%
Availability:
Winter
Notes / Commercial Description:
No notes at this time.
Added by BeerAdvocate on 03-18-2002
Reviews: 111 | Ratings: 180
4.28
/5
rDev
+10.9%
look: 4.5 | smell: 4 | taste: 4.5 | feel: 4.5 | overall: 4
Poured into a Sprecher glass during the first intermission of Sharks/Flames Game 6. The game sucked, the beer did not.
Appearance: Very dark with a small but creamy and unwavering tan colored head
Aroma: Roasted malt, coffee, prune.
Taste: Rich and malty, notes of toffee, coffee, and a nice hop bitterness to balance it out.
Mouthfeel: Thick and creamy, very smooth.
Drinkability: I should say so. No wonder my brother won't leave Milwaukee.
Note to self: visit brother more often.
489 characters
4.05
/5
rDev
+4.9%
look: 4 | smell: 4 | taste: 4 | feel: 4.5 | overall: 4
drained last night with Marquette's final four hopes. Solid offering from Sprecher who specializes in German style offerings. Toasty caramal malts with a nice balance long finish and quite smooth drinking ability. Very nice beer and one that I would seek out again in Milwauke or Philly.
287 characters
4.42
/5
rDev
+14.5%
look: 4 | smell: 4.5 | taste: 4.5 | feel: 4 | overall: 4.5
On Tap
Pours out a Dark, dense brown with a good off-white head leaving great lacing. Great malty aromas with hints of caramel. Big but balanced mouthfeel with a hint of sourness of dark fruits. As it warms, it gives off even more spiciness. One of the finest Dopple bocks I've tasted.
286 characters
2.49
/5
rDev
-35.5%
look: 3.5 | smell: 2 | taste: 2.5 | feel: 3 | overall: 2.5
I had high expectations for this beer but came away disappointed. The smell was muted and the taste was not robust with a bit of astringency. Mrs. Marvin was so put off by the taste that she didn't finish her glass (which is quite uncommon).
I have had several great Sprecher beers (most notable the Russion Imperial Stout and Black Bavarian) but this won't find its way back into our house.
392 characters
3.51
/5
rDev
-9.1%
look: 4 | smell: 3 | taste: 3.5 | feel: 3.5 | overall: 4
A- Dark brown almost black body that is slightly light penetrable. It holds head much like my bald father holds the hair crown on his head...scant lacing.
S-Roasty, sweet and slightly alcoholy strong.
T-On the draw I noticed a bit of rasin, roasted malts, and a tad bit of honey finishing with a smoothly lingering dryness.
M-Malty, Syrupy, and solid.
D-It is very drinkable I am a bock/ alt fan and would like to expierence more of them!
438 characters
3.84
/5
rDev
-0.5%
look: 3 | smell: 4 | taste: 4 | feel: 4 | overall: 3.5
Pours a deep dark brown with a small light beige head that disappears quickly. Aroma is of sweet malt and fruit. Thick, rich & sweet malty taste along with some molasses and caramel flavors. A hint of alcohol taste is also present. The mouthfeel is smooth and creamy but the body is much lighter than other doppelbocks I've had. A warming alcohol bite is noticeable as it goes down.
382 characters
4.32
/5
rDev
+11.9%
look: 4 | smell: 4.5 | taste: 4.5 | feel: 4 | overall: 4
The Sprecher Dopple Bock pours a deep copper and has very decent lacing. The smell is bright for this style and resonates of a deeper substance. Flavor is really pleasing. Cocoa hints as well as coffee with a slightly nutty finish. This beer strikes a unique balance of interest and style. One of Sprecher's best.
313 characters
3.94
/5
rDev
+2.1%
look: 3 | smell: 4 | taste: 4 | feel: 4 | overall: 4
A - Pours a deep brown with ruby hues. Off-white short head doesn't last long with a thin film around the edges
S - Dark fruits, sweet tart cherry, some roasted malt
T - Sweet, malty with a bit of roasted quality about it. Dark fruits, raisins, a bit boozy. Some cherry character
M - On the lighter side of a medium body. Wet, smooth, a bit of heat as it warms
D - Tasty brew! Would definitely buy again. Don't know if I would want to drink more than one in a session, but very enjoyable
492 characters
4.34
/5
rDev
+12.4%
look: 4 | smell: 4.25 | taste: 4.5 | feel: 4.25 | overall: 4.25
This Dopple Bock pours a deep copper/amber and has a thin tan head which dissipates fairly quickly. The aroma is sweet with dark fruit and a bit of alcohol (not bad). Dark fruit continues into the flavor profile and is complimented nicely by a nutty sweetness. The beer finishes sweet and fast with dryness lingering on the back of the tongue. There is a slight alcohol warmth which goes great on a cold evening. If I ice-fished, this might be the beer I take along.
Price was great @ $6.49/4
494 characters
3.49
/5
rDev
-9.6%
look: 4.5 | smell: 3 | taste: 3.5 | feel: 3 | overall: 4
A - The way it looks belies it all-around if you ask me. In a glass and held up to a good light, the ruby red color screams, " Drink me!" Lacing when poured is quite spider-webbed - nice!
S - Curious because nose is light. Malt but with some citrus notes and coriander. Alcohol present but not overwhelming.
T - Again, a little strange like the smell. Mirror image of smell. Cellared maybe, but this one is a twist-off so probably not wise.
M - A bit thin for a doppel. Somehow, this beer is falling a bit short of it's style high points.
D - I've had it before and been more pleased. Maybe it was the batch, and maybe the "small batch" difference is why I can't write more to its praise. Still, I ain't dumping it down the drain (not that I would any beer). Actually, after a glass, it seems a little more satisfying - just not quite.
839 characters
4.4
/5
rDev
+14%
look: 4.5 | smell: 4.5 | taste: 4 | feel: 4.5 | overall: 5
Went to the Sprecher Brewery in Milwaukee over the weekend. Kind of a madhouse, as they were having an annual "Sodas with Santa" event for local kids and there was a Packers game on to boot. If you want to see how Wisconsin families throw down on a Sunday afternoon, this is it.
Anyway, I tried four or five of the beers they had on tap (very generous samples by the way, and only $4 for the privilege) and this was easily my favorite so I got a $10 growler to bring back to Chicago.
After getting it home, I let it be for about 24 hours then cracked it open and poured into an Imperial pint glass. Still had good carbonation and produced a nice foamy half-inch head. Dark amber in color, very malty. Very high alcohol content, but with a misleading sweetness...I could have finished the entire jug on my own if I hadn't reminded myself that I had a paper due the next day.
875 characters
Dopple Bock from Sprecher Brewing Company
3.86
out of
5
based on
180
ratings.