Critical Hit
| Ninkasi Brewing Company
BA SCORE
83
good
32
Reviews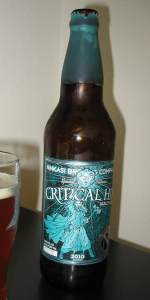 BEER INFO
Brewed by:
Ninkasi Brewing Company
Oregon
,
United States
ninkasibrewing.com
Style:
American Barleywine
Alcohol by volume (ABV):
11.70%
Availability:
Rotating
Notes / Commercial Description:
No notes at this time.
Added by barleywinefiend on 03-22-2010
Reviews: 32 | Ratings: 96

2.51
/5
rDev
-30.5%
look: 4 | smell: 3 | taste: 2 | feel: 2.5 | overall: 2.5
Clear, dark copper and thin tan head with good retention. Caramel sweetness and floral hop aroma. Hop bitterness up front with citrus and floral with caramel and a subtle chocolate in the middle. Long hop linger. Slick, sticky feel.
This seems to be a basic but very over-hopped Barleywine that must have been hopped 6 ways from Sunday to be this hoppy after 2 years. There's no good combination of flavor and the hop bitterness just overpowers any flavor in it. Maybe this will be better in another year or 7 and definitely needs more of a complex malt combination because otherwise it seems more like an Imperial IPA. This is way too expensive and a poor beer as well. Just goes to show, throw a cool label with a serial number on it and some wax on the top and suckers will shell out $13 for a crappy beer.
812 characters

3.92
/5
rDev
+8.6%
look: 3.5 | smell: 4 | taste: 4 | feel: 3.5 | overall: 4
(Shortened) Pours a nice and solid one finger head into my standard pint glass. The head is mostly medium bubbles, but a decent amount of small bubbles as well. The head is just a hair off white, slightly tan, with some yellow in it. Not very creamy looking. Not really any other descriptive characteristics to it other than "average", it's not too soapy, nor pillowy, just average. The lacing looks like it will be good, but we will have to see for sure as I get down the glass. Head retention is pretty decent, I still have about a quarter finger of head left. Overall not a bad looking head, somewhat average as far as bubbles go, but pretty nice none the less. The body is pretty damn cloudy. I know this has 100+ IBU's, so I'm expecting it to have a lot of IPA characteristics, the appearance for sure does. It's very cloudy, the visibility is almost zero through the beer. The color is a dark orange, almost like a maple color. Hints of gold and brown in the color as well. From what I can see the carbonation looks pretty low. Overall it's a slightly different looking beer, but heck it's a 100+ IBU barleywine, that's not normal either. We will see how the lacing turns out, but overall it's a good looking beer so far. Well it for sure smells like a barleywine. On the nose you get a huge fruity smell to start things off, mangos, pears, apples. For sure a lighter fruit smell, pretty nice actually, it compliments the beer nicely. There is for sure a alcohol presence on the nose, but it is somewhat covered up by a big sweetness that is present as well. That's not necessarily a good thing because overly sweet beers are annoying too, but it is better than having a beer that tastes so boozy you can barely put it down your throat. Honestly I'm really not getting that big hop smell that I should be getting with a 100+ IBU beer. I don't really care that much, because the beer still smells good, it's just a little annoying because that was a big part to Ninkasi's marketing of this beer. I mean there are a little but of hops, but they are extremely covered up by the smell of fruit, alcohol and sweetness. A little small maltyness as well, but again it's immensely covered up. Overall it's a good smelling beer, I really enjoy the fruit complexity and the overall complexity of the beer. It's really not an unusual smell for a barleywine either, the lack of hops and malts, but there should be more considering the marketing. Anyways, overall a good smelling beer, if I was a bigger fan of barleywines it might get a 4.5. Well I am going to be in for a long night with this beer, HOLY CRAP! 11.7% ABV?!?!?! This beer tastes like 6% or 7% ABV, this is insane. I mean the alcohol presence is just way below what it should be, A+ there. I mean yo can taste the alcohol, there is a little in the taste, and a little more in the aftertaste, but crap it's low all considering. As for the rest of the taste, FRUIT. I get a whole lot of fruit here, honestly it tastes more like cider than beer. Mangos, peaches, apples, pears, a lot of light fruit here. Pretty big sweetness to go along with that, but not a gross sweetness at all. I mean the hops in this beer is just excruciatingly small, I mean this tastes like an amber level of hops to me. Like I said, not a problem really, but they marketed it incorrectly. Tiny malt flavor, but like the hops, extremely covered up by the other flavors. Really it's just mostly all fruit, followed by some alcohol and sweetness. It's a good flavor, but honestly considering everything, it's a little watery on the flavor. I mean the fruit is there, and in some ways it's very complex, and full of flavor. But in other ways it's slightly watery in flavor. It's not the end of the world, it's still a good flavor, but it should be noted that it's not the 100% full flavor you get out of a world class beer. Overall good flavor. I've only had a few barleywines, and I can't quite remember the mouthfeel. The mouthfeel of this beer somewhat works with the overall feel of the beer, but I still don't really like it. The carbonation is extremely low, like it's barely there at all, one of the lowest carbonated (if not the lowest) beers I've EVER had in my ENTIRE life. The body has a tiny bit of thickness to it for about a second, and then it's just watery, and I never like that. I mean, like I said it kinda works for the style, cause it's a slow drinking beer, but I would enjoy something thicker and slightly more carbonated. I'm going to give it a 3.5 because it works for the overall feel of the beer, but let it be known that that is an extremely generous rating. The drinkability, like I said, is extremely good, probably the best alcohol-to-drinkability-ratio-beer, I have ever had. It's not easy to drink, don't get me wrong, but it's light years easier than it should be. Overall this is a good beer, it's somewhat unique in a few areas.
4,891 characters

3.92
/5
rDev
+8.6%
look: 3.5 | smell: 4 | taste: 4 | feel: 3.5 | overall: 4
22oz waxed bomber. 2010 Reserve. Bottle Number: 2912/5000. Served in a tulip.
Pours a hazed dark copper. A lot of minute suspended sediment. A finger of beige foam forms and dissipates to a small dense ring. Spots of lacing.
Strong aroma on this one. Dry brown bread malt, floral perfumy hops, sweet fruits like apple, pear, and banana. A big dose of alcohol as well.
Flavor starts dry, with sweet fruits from the nose coming on fairly quickly. Things bloom nicely in the middle of the flavor with lots of floral resiny hops. A lot of bitterness, both tasted and felt, has a real citrus quality as well. There is a sweet caramel malt presence that lingers through the finish. Not surprisingly you taste alcohol in the finish, but it is rather well blended.
Medium-full bodied with lowish carbonation. Fairly heavy on the palate. Appropriate for the strength of this beer, just wish for a touch more carbonation. Very warming, heat hits you after only a couple of sips.
The first beer I've encountered with a 20-sided die on the label. Not that I know what that is... I swear.
1,081 characters
3.52
/5
rDev
-2.5%
look: 3.75 | smell: 3.5 | taste: 3.5 | feel: 3.5 | overall: 3.5
New Review "2011 Reserve bottle #239/6200 " so says the label.. Poured into my HotD goblet. decent off white head... nice lacing and cap atop a clear light copper brew.
Nose is very hoppy... a nice balance of toasty maltiness... Pretty good PNW nose... Much better integrated than my last review.
Flavor is very well meshed between the toasty/light caramel malts and the hoppy bitterness and hoppy flavors... Hops show as more pithy citrus notes but a subtle piney hoppiness also raises its head.
Body is a solid medium with a light/medium carbonation... mouthfeel is definitely PNW with a residual hoppy oiliness..
Pretty well done... I had a 2013 Bigfoot last night, and I think Critical Hit certainly holds it own.
3.75/3.5/3.5/3.5/3.5
***
22 picked up at the COOP .... bottle # 2729/5000 ... Paid a pricey $12ish... Poured into my little Cigar City snifter.... short lasting head, but it still provides nice sheets of lacing but a pretty thin cap... the brew is a fairly clear orange/lite amber.
nose seems to be a bit all over the place... aromatic citrus hoppiness with a good floral overtone... toasty maltiness with some minor caramel... pretty boozy.... a bit of something that I identify as "apricot" ..
Flavor is pretty thin... toasty pale malt sweetness with a bruising bitterness that really begins mid palate and doesn't let up until about :20 after the swallow... hops are more nondescript than the nose, I still get mild citrus, but an ever so slight piney quality edges it out.. long finish, bitter and mildly sweet... EtOH is swinging a large path...
the sweetness is there, but it doesn't jive at all with the body... the body is light/medium (especially for the style).. I think the booze is cutting through this one pretty readily... I hesitate to say fusel alcohols, but it is damn hot right now.
I have a bottle for the cellar and a couple more on hold at a bottle shop until I can make it across town.... but honestly, I doubt I will open another one of these for a couple years... That said, I don't believe this is going to get much better. Time in the bottle is going to do nothing for the body and the lack of flavor... Decent first release for an American Barleywine, but it needs to be dialed in significantly with more body and flavor.
3.5/3/3/3/3
I really wanted to like this one more.... Ninkasi is doing cool work for sure, but I am curious how this one crept through the cracks.... I would have kegged it all and let the draft lines flow.
2,488 characters
3.42
/5
rDev
-5.3%
look: 3.5 | smell: 4 | taste: 3 | feel: 3.5 | overall: 3.5
I tried the 2010 Reserve. Served from a 22-oz. bottle into a large tumbler. This is one to let warm up a bit before you drink it.
A: Cloudy, amber pour. Nice head, fades fairly quickly leaving yeasty bubbles. Some lace but not that much on side of glass.
S: Strong alcohol scent. Caramel, honey aroma, with a floral, piney hops scent on the back end. Dried apricots/raisins, too.
T: High alcohol content is apparent. This would be good to set down for a couple more years I think. Sweet and sour flavor, with some umami underneath. Finishes quite bitter with the hops.
M: This is a chewy beer, with a medium-high amount of carbonation. Alcohol content makes it almost more like drinking a mead.
O: I liked this big beer qutie a bit. I have one more bottle, that I am going to age until XMas 2013.
801 characters
3.55
/5
rDev
-1.7%
look: 3.5 | smell: 3.5 | taste: 3.5 | feel: 4 | overall: 3.5
Appearance: (3.5)
- A rather clear amber colored pour. About a finger of off-white foamy head which has settled to a big bubbly spotty mess in the glass. Not bad looking at all, but not what I really expected. I am used to more cloudy, darker barleywines.
Smell: (3.5)
- Sweet caramel grain notes which seems to be rather tucked away in the brew. Certainly some strong alcohol and rubbing alcohol aromas. There is a nice fruity and citrus-like hop presence as well. Seems hot and fresh.
Taste: (3.5)
- Sweet malts, bready caramel and quite biscuity. Bitter grassy hops with an earthy flare. The alcohol presence is quite noticeable and hot.. but the flavor isn't quite rubbing alcohol.. though close. It does have a character of its own which is hard to describe. Overall hot, and needs to sit.
Mouth Feel: (4.0)
- Nice medium to full body and is a little creamy and well carbonated. It's explosive bitterness really dries the tongue, but the sweetness lends a lasting chewy character. Overall quite a decent feel to it.
Overall: (3.5)
- Not bad.. and in usual Ninkasi tradition, this puppy is bitter! Lots of early boil hops going on here. It's a bit strong, and could certainly use some time in a cold cellar. Though I don't feel this barleywine would get any better, it just may calm down the alcohol notes a bit. Certainly a good attempt though.
1,357 characters

3.28
/5
rDev
-9.1%
look: 3 | smell: 2.5 | taste: 3.5 | feel: 4 | overall: 3.5
Poured into an 8oz Snifter at the Bier Stein
A - Ruddy deep amber almost red w/ nice off-white head that disipates into a thin cap. Small amount of lacing, nice legs. Fairly clear.
S - Not much to the smell for a Ninkasi or an American BW. Lots of sweet malts, very faint citrus, not much hops in the nose. Kinda earthy. Some floral hops as it warms. Slight oxidation.
T - Big malt tast, caramel, sweet dark fruits, some fig and dates. Sweet, with a big bitter finish. Warming sensation, spicy alcohol under the tongue, though the almost 12% is still well hidden until it warms up some.
M - Nice full body, good carbonation, sweet w/ a slightyly dryish bitter finish, prickles and burns under the tongue. Bitterness lingers quite a while after finishing.
O - Not my favorite, but a good beer none the less. I enjoyed it. I would have another (not right now mind you) if I find it again and am in the mood for something that big and heavy. Solid BW, but still kinda low on the hops beyond bittering.
1,003 characters
Critical Hit from Ninkasi Brewing Company
3.61
out of
5
based on
96
ratings.