Renewale - 2013 Extra Special Bitter
| Ninkasi Brewing Company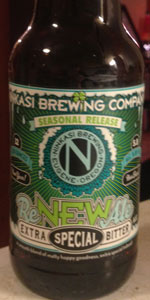 BEER INFO
Brewed by:
Ninkasi Brewing Company
Oregon
,
United States
ninkasibrewing.com
Style:
Extra Special / Strong Bitter (ESB)
Alcohol by volume (ABV):
5.80%
Availability:
Winter
Notes / Commercial Description:
No notes at this time.
Added by Reidrover on 12-29-2012
Reviews: 15 | Ratings: 61

3.47
/5
rDev
-7.7%
look: 4 | smell: 3.25 | taste: 3.5 | feel: 3.5 | overall: 3.5
Clear dark amber colored ale with a tall and tan colored head.
Mild smelling, herbal hops and mild malt aromas. Some burnt sugar and caramel in the aroma.
Starts out mildly malty and assertively bitter. On the dry side with an agreeable herbal bitterness. Little bit of caramel and butter with a slight leather taste to it. Hard water mineral flavor.
Mouthfeel is OK.
Overall an agreeable and tasty bitter. A mild beer that I could drink all day.
451 characters
3.5
/5
rDev
-6.9%
look: 3.5 | smell: 3.5 | taste: 3.5 | feel: 3.5 | overall: 3.5
Poured into 9oz pilsener glass. Poured a clean, clear medium amber color with just a thin cap of tan head that had low retention and lacing.
The aroma was mostly sweet malts, with a bit of biscuit in there, and some floral, earthy hops. The taste was basically the same blend, nicely typical for an American take on the style, but hoppier than a British example.
The body was OK as well, medium, but with a bit of sharpness from the hops. Drinkability was good, it's on tap around town, so I'll probably have a few more. Overall, a nice beer, worth trying if you see it, probably not worth seeking out.
604 characters
3.54
/5
rDev
-5.9%
look: 3.25 | smell: 3.5 | taste: 3.5 | feel: 3.5 | overall: 3.75
12oz picked up tonight at Brewer's Haven on the way home from work.. Poured into my HotD goblet... clear dark copper brew with a sorta yellowish head... only a couple spots of lacing.. okay.
Nose is toasty with some grassy hoppiness... a bit of something that I associate with fruity esters, but are hard to discern.
A bit bitter for the style but okay given the PNW origin.. hop flavors show fairly strong grassy notes... toasty malts and some fermented out caramel..
Body is light with light/medium carbonation.. seems appropriate.
very drinkable.. nicely done.. but anybody hoping for a Continental ESB will bitch and be disappointed.. A well made beer with a nod to England with a firm hand in Cascadia.
3.25/3.5/3.5/3.5/3.75
735 characters
3.55
/5
rDev
-5.6%
look: 4.25 | smell: 3.5 | taste: 3.5 | feel: 3.5 | overall: 3.5
A: This one's a looker - beautiful crystal clear deep amber/umber topped with a creamy tan billowy head.
S: Yeast up front with a some smooth malt chaser. Some funky wet wood scent and sweet burnt sugars.
T: Sweet caramel malts followed by yeasts reminiscent of English brews, like wet damp wood, like a wet forest. End notes of pity bitters that compound as you sip.
M: Nice level of carbonation and medium viscosity.
O: Overall it's a ESB that sings true to the style, enjoyable bitters and smooth malts. Not my personal favourite and I don't enjoy the British yeastiness as much and I enjoy the West Coast style, but a good representation of an ESB overall.
663 characters
3.61
/5
rDev
-4%
look: 3.25 | smell: 3.5 | taste: 3.75 | feel: 3.75 | overall: 3.5
Excellent bitter, on tap at Payette. Perfect hops bitterness. short and sharp/ Amber body with thin foamy head. Would fit right in at a British pub....
151 characters

3.7
/5
rDev
-1.6%
look: 3.5 | smell: 3.5 | taste: 4 | feel: 3.5 | overall: 3.5
22 oz bottle bought from "Habits" cig store in Salem. $3.99 Deep ,clear amber coloured beer with a lovely creme coloured head. Light spicy hop and caramel in aroma Very smooth like it says..caramel and fruity lightly resiny hop, definatly earthy and a little tobacco. Nice Palate is fine but honestly could use a bit more carbonation An OK ESB..leaning well on the trad English Premium Bitter side
397 characters
3.73
/5
rDev
-0.8%
look: 4 | smell: 3.5 | taste: 3.5 | feel: 4.5 | overall: 4
12oz brown bottle purchased at The Beir Stein in Eugene. Poured into my lucky Ninkasi pint glass.
A: very clear copper with no head but a splotchy bit of white foam.
S: sweet malt up front and just a hint of hops. Very English smelling. Not much else going on it seems pretty simple. Expected of the style. Smells clean, like it might be good drinking.
T: sold malt body with that little bit of that almost dank English malt. Big hops on the end, almost too big but I guess that is expected from a Ninkasi brew. Acceptable in,an ESB.
M: really heavy almost chewey. Smooth with a bit of carb. Very good.
O: impressed, the hops are a bit heavy handed but you know Ninkasi will do what Ninkasi will do. All in all it is a pretty good ESB. I want to pick up a six pack now.
774 characters
3.74
/5
rDev
-0.5%
look: 3.5 | smell: 3.25 | taste: 4.25 | feel: 3.5 | overall: 3.5
Clear dark amber with an off white three fingers of head. Actually lost a small amount from head overflow. Rings of lacing.
Smell is slightly floral and dank.
Taste is slight malt sweetness with a big resinous hop hit that flows like a wave of tasty bitterness over the tongue. Very much an English ESB with a Northwest hoppy punch added.
Mouthfeel is medium or a bit more. Carbonation was fine.
Overall am glad to find a local ESB I can find at the local market. I hope it is not just a short term special or seasonal. And yes I do miss the Deschutes ESB also. I guess I wasn't drinking enough of it!
601 characters

3.78
/5
rDev
+0.5%
look: 3.75 | smell: 3.25 | taste: 4 | feel: 4.25 | overall: 3.75
I'm not generally really big on ESBs, so, there's that.
The pour is pretty beer-like. Amber colour, little head, minor retention, minimal lacing. It doesn't look bad, but nothing sets it apart IMO. It looks like beer!
Predominantly malt and yeast on the nose. Some straw, a little floral hops in the backdrop, but this is mostly malts.
This is much more balanced than the nose would suggest. There's certainly a malt presence, but it's less prominent than in the nose Slightly sweeter than the nose, as well. Caramel, bread, some floral hops come through in phases finishing with the bitterness. The aftertaste is more bready, however (but still with the bitter hops in there as well).
Not my favourite style, but a quite drinkable example thereof. Worth picking up I would say
781 characters

3.86
/5
rDev
+2.7%
look: 2.5 | smell: 4 | taste: 4 | feel: 3.5 | overall: 4
Thin head on a clear, copper colored body.
The aroma is grainy and honey, but quite bold for a lager.
The taste has a building bitterness that is balanced with a mild sweetness. The finish is a dry bitterness and a little bready.
Low carbonation and medium body.
A really enjoyable beer and quite drinkable.
307 characters
3.88
/5
rDev
+3.2%
look: 4.5 | smell: 4 | taste: 3.75 | feel: 4 | overall: 3.75
Appearance is nice. Pours a clear dark copper with an off white head that hangs around for a few minutes and produces some nice lacing. Smell is overwhelmingly malty, although I was just cooking and had residual spices smell all over my hands, so maybe there was more. Flavor is a bit watery on the front end, the bready malts come through in the middle, and there is a subtle hops bitterness on the finish. The flavor is good but could be more aggressive. Medium bodied but meaty enough to enjoy. Overall a good beer and worth another try. Ninkasi is amazing and rarely disappoints.
583 characters

4.02
/5
rDev
+6.9%
look: 4.25 | smell: 4 | taste: 4 | feel: 3.5 | overall: 4.25
12oz : tulip
Pours a clear, coppery orange with a thick, craggy off white head and nice, spotty lacing.
Grassy, lightly floral hops, clean caramel, biscuit malt backing.
Biscuit and caramel malts upfront, followed quickly by grassy, floral hops. Quite nice.
Medium body, with average carbonation.
I really enjoyed this ESB. Easy drinking, but still a lot of flavor.
370 characters
4.12
/5
rDev
+9.6%
look: 4 | smell: 4.5 | taste: 4 | feel: 4 | overall: 4
22oz bomber into Ninkasi pint glass
Three full fingers of head form atop this crystal-clear rust-brown extra special ale. I can smell the fresh hops even before my nose approaches the glass. Upon close-range sniffing, pineapple esters waft effortlessly into the nostrils. Caramel malt gives way to tropical fruit as the beer works its way through the mouth. Earthiness grounds the sweet flavors into a smooth, well-balanced taste. Foam deposited by the head laces the sides of the glassware and all is good with the world.
This is a good, fruity ESB. The mouthfeel is of medium body and fine bubbles. The aftertaste is tingly and slightly tart. Citrus is not evident until the very end. The hops are tasty but not overpowering of the yeast. Yum
747 characters

4.21
/5
rDev
+12%
look: 5 | smell: 4 | taste: 4 | feel: 4.5 | overall: 4.5
ESB is my go-to style... and so when the brewery down the road (Deschutes) discontinued one of their original beers, in June 2012 (ESB...at least in stores/bottles) I started looking for a replacement. With this Ninkasi offering, I've found it.
The color is spot on, which really excited me from the first moment. Then the great malt backbone delivers as hoped for, followed by a nice hop finish. A little different balance than the Deschutes retiree, just a bit more hop flavor....but still, this brew does a great job of providing that wonderful balance that makes ESB's the great style that it is. Thanks Ninkasi.
618 characters
4.3
/5
rDev
+14.4%
look: 4.25 | smell: 4.25 | taste: 4.5 | feel: 4.25 | overall: 4
Clear dark bronze in color. Big sudsy tan white head, persist for minute or so. Aromas are sweet and malty, comparable to bread. Flavor has a slight roasted quality. Big hop punch at the end. Very clean hop taste, sounds strange but it made my mouth feel clean for some reason. Some subtle sweetness is there also. Very good beer, enjoyed alot.
344 characters
Renewale - 2013 Extra Special Bitter from Ninkasi Brewing Company
3.76
out of
5
based on
61
ratings.