Oktoberfest Dortmund-Style Lager
| Ninkasi Brewing Company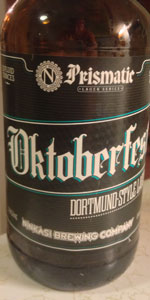 BEER INFO
Brewed by:
Ninkasi Brewing Company
Oregon
,
United States
ninkasibrewing.com
Style:
Dortmunder / Export Lager
Alcohol by volume (ABV):
5.10%
Availability:
Limited (brewed once)
Notes / Commercial Description:
No notes at this time.
Added by JohnGalt1 on 09-06-2013
This beer is retired; no longer brewed.
Reviews: 9 | Ratings: 37
3.75
/5
rDev
-1.8%
look: 3.75 | smell: 3.75 | taste: 3.75 | feel: 3.75 | overall: 3.75
unconventional take on oktoberfest beer here, this isnt a marzen. its in the dortmunder style, and i like it a whole lot more than others ive had (great lakes flavorless brew comes to mind). this is crystal clear, i mean totally transparently barley yellow golden, with mellow bubbles rising up into a half inch of snow white head. airy and light. the nose is slightly sweet german malt, but its too light and delicate to be sugary, and the lager yeast is there with a biscuit doughy character, dry too. the flavor is just like the nose, with an almost cream ale middle to it, before the lager yeast gets established. i have never had a beer like this, its so light but not bland in the least, and while im not sure about its applicability in the fall, octoberfest is in september anyway, and thats still mostly summer, so rock on ninkasi for making an in season seasonal (increasingly uncommon). supremely refreshing beer, something id like to share with my molson drinking father, this is a conversion or gateway beer for sure. mass appeal, mass deliciousness. ill buy this if it comes around this season.
1,107 characters

3.35
/5
rDev
-12.3%
look: 4 | smell: 3.25 | taste: 3.25 | feel: 3.25 | overall: 3.5
A Dortmund-style lager from the Prismatic lager series. Poured into a Fullers pint. The foam is actually rather lively. Pale golden color. A faint skunk and funk aroma. Extremely light body.
I have to say that this tastes European, and I don't mean that in a complimentary way. It has that odd skunky sort of hop flavor that seems to evaporate into a flat malty stew. After some sipping it does improve and seems more like a Pilsener that has lost its way. There is a pleasant aftertaste of resiny hops with a perfumey hop hint. A little sweetness threads through the pale maltiness. Rather thin and sharp.
I try new Ninkasi beers with a sense of expectation, but for some reason or another I am usually hoping for something more interesting. From the 16 oz can purchased at Bottleworks in Seattle.
800 characters
3.96
/5
rDev
+3.7%
look: 3.75 | smell: 4 | taste: 4 | feel: 3.75 | overall: 4
Picked up the 12oz tonight at the COOP... Pours with a short lasting white head... decent cap and spotty lacing... the head could have stuck around longer IMO... The brew is polished gold.
Nose is grainy Pils malt with a bigger Noble hop presence for the style... but I would expect nothing less from a PNW brewery...
Flavor is nice malt/hop balance... a bit sweet and bitter... very drinkable... a bit of mineral presence IMO.
Light/medium body with a lighter than expected carbonation.... still very well done.
This is one of the best Stateside takes on a Dortmunder that I have probably ever had.
3.75/4/4/3.75/4
631 characters

3.66
/5
rDev
-4.2%
look: 4.25 | smell: 3.25 | taste: 3.75 | feel: 3.75 | overall: 3.75
Poured a nice two plus finger of head on a clear, light straw colored body.
The aroma is slightly metallic with dry grain.
The taste has a mild bitterness at first, moves to dry and moderate. There's little spice in the middle. Simple with a clean finish.
The texture is crisp with moderate carbonation.
Enjoyable.
315 characters

3.79
/5
rDev
-0.8%
look: 4 | smell: 3.75 | taste: 3.75 | feel: 4 | overall: 3.75
Another generous gift from my brother out in Oregon.
12 oz bottle served cold into a pint glass.
Ninkasi's Oktoberfest is a very pale yellow color with good clarity and thin white head.
Aroma is sweet and malty, mild with a pilsner quality to it. Very little in the way of hops.
Flavor is also mild but well balanced. Pale malts and slightly spicy hops contribute to a subtle lager yeast backbone.
Mouthfeel is light in body and nicely carbonated. Balanced and easy drinking.
Overall a good Oktoberfest and another solid brew from Ninkasi.
546 characters

3.9
/5
rDev
+2.1%
look: 3.75 | smell: 3.75 | taste: 4 | feel: 3.75 | overall: 4
12oz : tulip
Clear golden yellow with a foamy white head.
Grassy, lightly spicey hops well balanced with grainy, slightly sweet, bready pilsner malts.
Medium body, fizzy, foamy carbonation.
Well done for the style. Subtle, delicate hop and malt complexities that can be missed if one doesn't take the time to appreciate them.
329 characters
3.92
/5
rDev
+2.6%
look: 4 | smell: 4.5 | taste: 3.5 | feel: 4 | overall: 4
Served from the bottle into a pilsner glass.
A- Poured a very clear and pale golden color, tons of streaming carbonation, fluffy bright white head that left some webbed lacing.
S- Big fresh floral, grassy, and pilsner malt notes. Cracker and biscuit malt notes, some lemon notes and slightly peppery.
T- Big grainy, peppery, and pilsner malt character. Some lemon, floral, and grassy notes, slight cracker malt notes.
M- Pretty crisp, mostly dry, refreshing, prickly carbonation, and lighter bodied.
O- Very fresh aroma and fresh tasting dortmunder. Spot on for the style and well balanced among the hops and malts.
623 characters
3.86
/5
rDev
+1%
look: 3.5 | smell: 3.75 | taste: 4 | feel: 4 | overall: 3.75
Appearance- Pours up about a finger's worth of head which is quickly dissipating. The head is a pure cotton white while the body is a pale golden straw which shows weak lemon characteristics when held up to the light. No lacing is left behind.
Nose- Pretty standard lager nose. Grain, biscuit, cereal, and cracker. A slight sweetness that hints at white grapes. A slight tartness that echoes lemon. Fairly subdued. Swirling shows some corn and cornflake.
Taste- Very reflective of the nose but even breadier. Nice warm grain and barley which becomes even richer on the finish. At the moment, this tastes like an AAL if any of those were ever vibrant and fresh. This has bright flavor profile of malt, biscuit, cereal, and even cornflake. Hops reside lightly in the background giving a little bit of mineral (chalk) and then add some spice, earth, and herb to the finish. Very nice dry finish wraps this all up quite neatly. Some light citrus notes (orange and lemon) and even some orange peel which mixes with a woody hop bitterness that starts to show in the linger. Solid beer and very good representation of the style. Some white grape that is buffeted by the slight hop bitterness.
Mouthfeel- Light bodied with tons of carbonation. The extra zip works well with the finish.
Drinkability- Very easygoing. Definitely a crisp and refreshing beer. Standard Ninkasi price of around 9 bucks a six-pack.
Overall- I am not the biggest fan of lagers but this is one I would have again. Definitely worth a try.
1,513 characters

4.3
/5
rDev
+12.6%
look: 5 | smell: 3.75 | taste: 4.5 | feel: 4.5 | overall: 4.25
Nice bitter noble hop background with the classic herbal notes that go with it and a long grainy finish. Beautiful crystal clear golden body with an attractive billowy head. Smells great and moderately bodied. Less malty than Great Lakes Dortmunder Gold and hoppier to boot. You know, PNW style.
Really well done and a great take on the style. I don't think I've bought multiple six packs of the same beer this year, but this'll be one for sure.
447 characters
Oktoberfest Dortmund-Style Lager from Ninkasi Brewing Company
3.82
out of
5
based on
37
ratings.