Ninkasi Brewing Company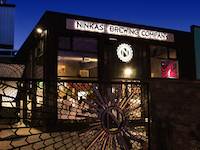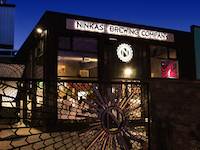 Brewery, Bar, Eatery, Beer-to-go
272 Van Buren St.
Eugene
,
Oregon
, 97402
United States
(541) 344-2739 |
map
ninkasibrewing.com
Notes: The Ninkasi tasting room, located in the brewery building, opened in November 2009.
Tasting Room Hours
Sun-Wed: Noon-9pm
Thurs-Sat: Noon-10pm
Dock Sales Hours
Mon-Fri: 9:30am-5:30pm
Saturday: Noon-4:30pm
Buzzsaw68 from Oregon
4.16
/5
rDev
-0.2%
vibe: 4 | quality: 4.5 | service: 4 | selection: 4
One of my favorite breweries in Eugene, Oregon. The location isn't in the best part of the city, but that area has improved along way. Ninkasi is a pinnacle in the Eugene area and Western Oregon beer lovers community. It's a really cool looking modern atmosphere with open stone fire pits fueled by gas. Tasting room is small with a dozen or so seats, which is ok because there is ample seating outside. No food served by them, but a food cart is right next it and one is also across the street. Good food. The tap selection is always changing with seasonal beers which keeps interest in return visits to taste them on draft. They also keep their staple beers always on tap (Total Domination etc.). Cleanliness is well maintained, the staff is extremely knowledgeable and helpful to those who are new to tasting craft beers and those who want something different. They'll let you sample anything before buying. Great company! Locally Owned! Good people! A must for any Eugene visit or brew tour.
Feb 27, 2016

YpsiKimo from Michigan
3.96
/5
rDev
-5%
vibe: 3 | quality: 4.25 | service: 4.5 | selection: 3.5
Came here in mid September with a friend who was a Eugene Restauranteur. Enjoyed the beer tremendously. Liked the outdoor seating but the fire could've been warmer.
Jan 29, 2016

DoctorZombies from Florida
4.37
/5
rDev
+4.8%
vibe: 4 | quality: 4.5 | service: 4.5 | selection: 4.25
Very busy tasting room on a Friday afternoon. Still, great service. Tasty flight, and I really liked the tasting cards for each beer. Eclectic vibe with college kids and older folks, all enjoying beer in the sunshine.
May 30, 2015

Naugled from New York
4.44
/5
rDev
+6.5%
vibe: 4 | quality: 4.5 | service: 4.25 | selection: 4.75
Stopped by for a quick sampling, the beer was good, but the place seems to be lacking character, I mean they are trying to build character but it seemed forced to me.
Apr 01, 2015

stouts4me from Illinois
4.25
/5
rDev
+1.9%
Got the grand tour from a BA buddy, this place is huge! They have like, 5 blocks of buildings, and growing.
The tasting room is real nice, plenty of merch, nice selection for you to choose your beers from.
Great outdoors area for kicking back and enjoying some Tricerahops on the weekend.
Aug 24, 2014

MLucky from California
3.25
/5
rDev
-22.1%
vibe: 2 | quality: 4.5 | service: 3 | selection: 3 | food: 2
First off, I want to make it clear the ranking is for the tap room as a place to visit, not for Ninkasi beer, which is almost uniformly excellent. But I'm posting this as a bit of a warning for people who might be travelling through and considering making a stop.
Ninkasi's tap room is a block or two away from their production facility in a neighborhood that realtors would politely refer to as "in transition." (In other words, right now it sucks, though I suppose it has potential to get better.) There are lots of people just kind of milling around who look like they're homeless, addicted to meth, crazy, or all of the above. When we pulled up, there was a pile of trash someone had just dumped on the corner, and two people going through it, picking things out. There was a guy walking in the street, leaning over to look inside parked cars, obviously checking to see if there was anything worth taking. It didn't seem like a safe place to leave your car parked (the tap room has no parking lot, so you're parking in the street a block of two away), especially when we had a lot of valuable stuff with us on our vacation.
The tap room itself is nice enough, and there's a very nice outdoor seating area. The tap list, on this day anyway, didn't have anything unusual or exclusive. I understand they serve some food but none of the 15-20 people there seemed to be eating. But we didn't hang around.
Ninkasi makes great beer, but there's not much reason to come to their tap room to drink it, as there are probably dozens of better locations to enjoy it in Eugene alone. If you're travelling down I-5 and considering a stop, I'd say just keep rolling.
Aug 04, 2014

tjensen3618 from California
3.68
/5
rDev
-11.8%
vibe: 4.5 | quality: 4.5 | service: 3.5 | selection: 2.5
Stopped by Ninkasi on our way back from Portland.
This is a newer construction modern looking building, very cool looking. Walked into the lobby and ordered a few beers to bring out to the patio. The patio is all concrete with gas fireplaces and concrete benches and tables to sit at, I could imagine this being the place to be at night.
Beers were tasty as Ninkasi normally makes them, it seems they have food, but its not a prominent feature at all, I didnt even really noticed that they offered food.
I enjoyed our stop here, I imagine that this is what Stone Brewing would do if they had 1/20th of the space that they currently have, a very cool place to hang and have a beer.
Nov 12, 2011

bradleyp from Illinois
4.3
/5
rDev
+3.1%
vibe: 4 | quality: 4.5 | service: 4.5 | selection: 4
This place is in the Whitaker neighborhood near downtown Eugene. This is where a large amount of homeless people hang around, so if you park your car here, be sure to lock it up, and hide all your valuables.
Cool little tasting room with a bar, and several tables to chill at and have a beer with some friends or co-workers. Very friendly staff, who are pretty knowledgable in what they are serving. I love Ninkasi beers, so I have to say the selection is pretty top notch. On occasion, they'll have some beers that you can only find at the tasting room, which is another reason to check this place out. I've never had any food there, in fact I don't think they even serve food at the tasting room. You could probably get pretzels.
Good prices for a pint.
May 22, 2011
John_M from Oregon
3.75
/5
rDev
-10.1%
vibe: 3.5 | quality: 4.5 | service: 3.5 | selection: 3.5 | food: 3
Stopped by the brewery tasting room coming back from the coast.
The brewery tasting room has a modernistic feel to it, with high ceilings and a minimalist vibe. It's fairly small as well, though fortunately there is a good size outdoor patio area for sitting out and enjoying a beer or three when weather permits. On this particular day the weather was gorgeous (low 70's with a very light breeze and no humidity), and so there was a good size crowd outside sipping Ninkasi's excellent beers. The quality of the beers was across the board excellent, with not a dud in the bunch. My friend isn't quite the hophead I am, but she quite enjoyed the pale ale, the summer (Radiant) ale and cream ale. As for me, I stayed with the always excellent tricerahops and delicious Maiden the Shade, both of which were very fresh. As for selection, I think they were pouring roughly 8 beers this day. As Jeff pointed out in his review, it would be nice if Ninkasi had a couple of brewery only beers on tap here, to sort of make it worth the trouble of driving to the tasting room. I would have to agree with that as well. While I had a very nice time here, I really can't imagine why I'd want to come by again, unless I happened to be in the area or lived in the neighborhood.
In any event... service was fine, what there was of it. You order your beer at the counter inside, and then you take it back to your table, whether it be inside or outside. Waits in line can be a tad long at times, as the wait staff often are required to provide brewery information and beer style info for those unfamiliar with Ninkasi. Food is very limited, consisting of soup, chili and large pretzels (I don't believe there is a kitchen per se... just a microwave and hot pot for the soup and chili). Prices were pretty reasonable I thought. Pints were $5 and 12 ounces glasses were $4.
On this particular day (a Saturday), there was live music out on the patio area, which I gather is common in the summertime. This is very much a no frills operation, but it's othewise a very comfortable place to relax and enjoy a beer, especially if you are a fan of Ninkasi beer (which I confess I am).
Aug 22, 2010
jdense from Oregon
3.31
/5
rDev
-20.6%
vibe: 4 | quality: 4 | service: 2 | selection: 3.5
Visited the new tasting room 7.18.2010 in the afternoon.
A rather new brewing facility in the historic Whittaker neighborhood of Eugene, the Ninkasi tasting room features 8 taps, all the regular beers and one seasonal, which was not on tap when I visited. There was a eight seat bar featuring custom woodwork, 5 tables inside and 10 stylish concrete picnic tables outside with a firepit, an interesting looking outside space. After wondering into the office I was redirected into the tasting room, where I encountered a less than friendly and helpful barkeep, who was intent on spending time in conversation with a couple of the bar, trying to hope noone came in so he could have his cigarette break, then hurry back in to make time with a shapely coed who came into to say hi while I stood there waiting for a beer. Not cool dude, you wouldn't last a day in a bar in PDX. I was pretty disappointed in the selection, was expecting several experimental/one-offs. The only food to speak of were pasties from a Eugene purveyor which I didn't try. The 4.00 pint price was no bargain. While I am sure this place will be wildly successful once school is back in session, Jamie might consider a bit more quality control over his bar staff, who made this a rather mundane experience. Given the lack of special beers and poor service, I doubt if I'll return.
Jul 19, 2010
Norfawkers from Virginia
4.44
/5
rDev
+6.5%
vibe: 4 | quality: 4.5 | service: 4.5 | selection: 4.5
This is a relatively new facility located in one of the more out-of-the-way neighborhoods in Eugene. Just ask for directions. As they continue to build, be mindful of the construction as you enter but once inside you'll find a nice little tasting room, typical of other similar brewing operations. They offer a decent sampler of 6 beers of your choice including the seasonal ones. The staff is knowledgable and conversant in tasting notes and suggestions.
Although they serve the beer on tap, they only distribute in 22oz bottles so if you like the stuff you may be hauling out a case of bombers.
The beer is great and unique and definitely worth a visit if visting or passing through Eugene.
Jul 11, 2010
Ninkasi Brewing Company in Eugene, OR
Brewery rating:
3.84
out of
5
with
9188
ratings