Sinister Minister
| Barley Island Brewing Company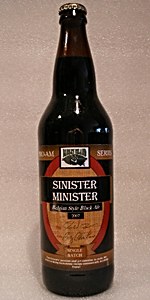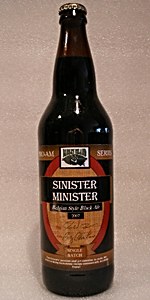 BEER INFO
Brewed by:
Barley Island Brewing Company
Indiana
,
United States
barleyisland.com
Style:
Belgian Dark Ale
Alcohol by volume (ABV):
6.70%
Availability:
Limited (brewed once)
Notes / Commercial Description:
No notes at this time.
Added by merlin48 on 12-06-2007
This beer is retired; no longer brewed.
HISTOGRAM
Ratings: 14 | Reviews: 13
Reviews by roadhouse:
3.8
/5
rDev
-1.6%
look: 4 | smell: 4 | taste: 3.5 | feel: 4 | overall: 4
22 oz. bomber into a New Belgium tulip glass
Pours a very deep mahogany color with a one inch light tan head. The retention is decent, it keeps a skim throughout. A bit of lacing as well.
Aroma is lightly sweet with some brown sugary tones, a fruit character of prunes and figs, a bit of peppery spiciness, and slight breadiness.
Taste is lightly roasty up front with the fruit character coming out in the middle again kind of pruney with light fig. A bit of a watery taste in the finish though with light spiciness.
Mouthfeel is quite light, high carbonation makes it pretty creamy, typical of many Belgians.
Not too bad considering it was brewed in 2007. I liked it better than many of the other Belgian Dark Ales I've had.
731 characters
More User Reviews:
3.83
/5
rDev
-0.8%
look: 4 | smell: 3.5 | taste: 4 | feel: 3.5 | overall: 4
22 oz bottle, the brewery's entry in the Pro-Am series at the 2007 GABF, billed as a Belgian Black Ale. Pours a mostly clear, dark chestnut body with a one inch khaki head. The head eventually falls into a lasting cap with some rings of lace clinging to the goblet.
Aroma is subdued. Perfumey florals, anise, and a dark fruity maltiness comprise the muted nose.
Body is bit thin. Light medium at best with a moderate carbonation.
Taste has some dark roasty bitterness, candy sugar, dark fruits, anise, and some floral hops.
Nicely complex and quite enjoyable but I'm not familiar enough with the style they're shooting for to say whether they've nailed it. A very interesting brew here, at least.
700 characters
3.6
/5
rDev
-6.7%
look: 3.5 | smell: 3.5 | taste: 3.5 | feel: 3.5 | overall: 4
2007 Pro-Am release.
Dark mahogany with a sliver of ruby around the edge when held to the light. Thin cap of tan foam that fades into a ring.
At room temperature there is some oatmeal raisin, possible plum aromas, but fairly muted. When cool it was hard to pull out much.
Mild sweetness, plum flavor, dryer in the finish. Mild alcohol note when holding on the palate. Sort of a ghostly feel, wispy and fading. Not very estery like I would expect a Belgian-style ale to be.
Similar to 1554, it's adequately drinkable, nothing too adventurous though.
556 characters

3.95
/5
rDev
+2.3%
look: 4 | smell: 4 | taste: 4 | feel: 3.5 | overall: 4
22 ounce bottle from the Barley Island Pro-Am Series (2007). Served in a snifter, the beer pours a dark chestnut/black color with about an inch off-white/tan head. Head retention and lacing are both good. Aroma is sweet and spicy, it smells like cloves, plums, raisins, candy sugar and nutmeg. The taste is similar to the aroma, but there's also some pepper and molasses in there. Nice lingering sweet/spicy finish, too. Mouthfeel/body is medium with low/medium carbonation, and it is a little bit on the thin side. Drinkability is good, it's smooth and goes down easy. Alcohol isn't very noticable. Overall I think it's a good beer. If I come across another bottle of this I'd pick it up again.
695 characters
4.05
/5
rDev
+4.9%
look: 4 | smell: 4 | taste: 4 | feel: 4.5 | overall: 4
A very strong pour gets an inch and a half of very active carmel colored crackling foam. It fades to a skim in a couple of minutes leaving no lace. Body is black as night but does have deep leathery brown tones on the edges. Belgian yeast is the main attribute to the nose but also includes fresh soft dark fruit. Yeasty and silky as it enters the mouth. Lots of dry dark fruit tones have a bit of sour feel mid-palat. High levels of carbonation keeps this beer zesty throughout. Mouthfeel falls off from a creamy feel to a dry slightly bitter sour feel which is very even. This brew is nicely drinkable and I would guess the alchol level to be about 6%.
654 characters
4.03
/5
rDev
+4.4%
look: 4.5 | smell: 4 | taste: 4 | feel: 4 | overall: 4
Belgian black ale, you got to love that. I was really not sure what to expect going into this one. It could have gone either way with that, but I was very pleased with the direction that it took. Served chilled and poured into a snifter, this one was consumed on 04/15/2009.
The pour was black as night as I would have expected given the name, with a really nice head of f light tan that rose up at least two inches before finally settling down into a thin layer that coated the hell out of the glass and really only settled down about an inch after that. The aroma was much like a Saison, which was a welcome surprise. Light with a nice spice note to it and a really well done light hop note even sitting in there. A decent touch of dark fruit, prunes and apples that came up through the nose as it starts to warm. Nice smooth body and easy flavor as I take the first sips. Light roasted malts, hints of peppery spice and a really nice touch of fruit all played very well together. Very light body, much more so then I would have thought was actually a plus here and made this one dangerously drinkable.'
Overall this was a very, very solid beer. Something that was very unique and definitely one of a kind. I would have no issue at all with going after this one again any time, too bad it was a one off.
1,313 characters

3.88
/5
rDev
+0.5%
look: 4 | smell: 3.5 | taste: 4 | feel: 4 | overall: 4
Viggo shared this one. thanks eric!
22oz bottle. sampled feb 27/09.
pours deep brown, nearly black actually, with a small very dense tan head. the head quickly drops to a ring around the glass and leaves lots of spotty lace.
aroma is neat. fruity and floral, making me think more saison than anything else. bit of caramel. touch of coffee and chocolate. touch of alcohol. white bread and cracker.
taste is nice. lightly toasted white bread and cracker. floral and slightly perfumey. fruity. bit of belgian yeast. i'm still thinking saision here, albeit a dark one. bit of raisin and plum. touch of alcohol. bit of leathery funk too.
mouthfeel is good. medium-light body with a fairly dry finish. just over medium carbonation level.
drinkability is good. nice balance. i like the fruity depth that it has and the touch of funk. really seems like a black saison, and a good one.
882 characters
3.7
/5
rDev
-4.1%
look: 3.5 | smell: 3.5 | taste: 4 | feel: 3.5 | overall: 3.5
22oz bottle acquired in trade with Sephiroth (thanks!).
Poured a deeper reddish brown color with an averaged sized off white head. Aromas of roast, some chocolate, toasted grains, and light coffee. Tastes of licorice, chocolate, caramel, chocolate, lighter roast, and some spices.
Notes from 9/3/08
301 characters

3.86
/5
rDev 0%
look: 4.5 | smell: 3.5 | taste: 4 | feel: 3.5 | overall: 4
22 oz bottle picked up in Indiana.
Pours a clear dark ruby red, brilliant in the corners, thick light tan head forms, settles to a thick ring and layer, tons of lacing on the glass, really pretty looking. Smell is sweet, caramel and candi sugar, dark fruits, raisins, strawberries/rhubarb, light roast, biscuits, very toasty, oats, anise, pretty nice. Taste is wacky, very sweet at first, anise and brown sugar, fruit candies, cherries, toast and biscuits, light roast, very fruity in the finish, orange peel, some spice, light bit of vanilla, pretty neat. Mouthfeel is light bodied with medium carbonation, pretty interesting flavour combinations if not very exciting. Easy to drink and a cool concept though.
711 characters

3.48
/5
rDev
-9.8%
look: 4 | smell: 3.5 | taste: 3.5 | feel: 3 | overall: 3.5
2007 Bottle Date; Sampled January 2009
An average pour into my 25cl tulip glass leaves me with three-fingers of lightly browned, light tan colored head. The beer is quite a dark brown, almost black color that shows a brilliantly clear, rich ruby hue to it when held up to the light. The aroma has a fruitiness to it up front, but then has a meaty malt character to it that is a bit surprising to me. Aromas of toasted, roasted, almost smoky, dark malt a deep toasted nuttiness (almost like peanut butter). After a bit the nutty note in the finish seems like it has gone a little rancid. The aroma on this is not bad, but it is really interesting, I have never quite smelled a beer like this before.
Lightly sweet, again with a fruit note that reminds me of prunes and raisins. The beer picks up a hint of tartness in the middle that continues to accentuated the fruit flavors. This beer feels a little light as it first hits the tongue, but it picks up a viscousness as it rolls across the tongue and actually finishes with a fair amount of heft. That interesting, slightly rancid nuttiness of the aroma is much subdued in the flavor; there is a touch of it here that is almost more of an oral-nasal sense than anything. Dark malt notes tend to temper that dark fruit notes a bit and also provide a touch of burnt grain bitterness as well as a touch of burnt acidity and perhaps some tannic astringency. This could use some spiciness to it; it is somehow Belgian-style and some fermentation spiciness would provide a lot more balance to this beer. As the beer warms up the fruitiness begins to take on a cola like edge.
Other than the fact that the aroma is really starting to annoy me, this isn't a bad beer; I keep on thinking I should be able to exactly identify this note in the aroma, but I can't quite place my finger on it.
1,832 characters
4.12
/5
rDev
+6.7%
look: 4 | smell: 4.5 | taste: 4 | feel: 4 | overall: 4
Barley Island Sinister Minister Pro-Am
22oz. brown bomber
Poured into a snifter. Sinister Minister pours an extremely rich mahogany, with a slightly tan head, with a low retention rate, which leads to decent lacing. Aromas are of sweet malts, raisins, candi sugar, spices like cinnamon, nutmeg and clove. Sweet malty taste, spices, fall fruits, molasses. It kind of reminds me of a less carbonated Trois Pistoles. Crisp, clean and smooth mouthfeel. Not as carbonated which is nice. Very good drinkability. This is the first pro-am I have had, and it is a great one to start with.
580 characters
4
/5
rDev
+3.6%
look: 4 | smell: 4 | taste: 4 | feel: 4 | overall: 4
Bottle 2007 from Keg Liqour.
Poured a hazy brown color with an average off-white head that mostly lasted with good lacing. Good aroma of roasted dark chocolate malt. Medium body with smooth dry texture. Good roasted bittersweet flavor with a complex bittersweet finish of medium duration.
Interesting complex brew.
316 characters
3.6
/5
rDev
-6.7%
look: 3.5 | smell: 3.5 | taste: 3.5 | feel: 4.5 | overall: 3.5
Bottle from JCwatts over at ratebeer - thanks John! Poured into a chalice.
A: Deep brown, but transparent in some places, some thin runny lacing.
A: Toasted malts, too harsh alcohol, sweet dextrins, yeasty earthiness.
T: Some tartness, toasted astringencies, bready, slightly yeasty and peppery, a few strong walnuts and almond notes, milkyness, the malts range from lightly roasted (grainy, bready) to toasted (harsher astringencies ). Brown sugar. Interesting.
M: Very even, big bodied, medium-to-thin as far as runniness goes.
D: A few too many harsh astringency notes for me, but still, very interesting. A lot of malt notes are interesting, so I'd have to recommend it. Nice.
687 characters
Sinister Minister from Barley Island Brewing Company
Beer rating:
3.86
out of
5
with
14
ratings