Brennan's Market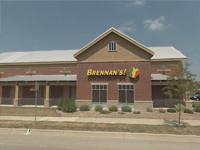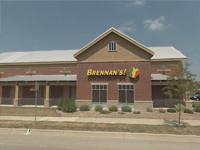 PLACE INFO
Type:
Store
8210 Watts Road
Madison
,
Wisconsin
, 53719
United States
(608) 833-2893 |
map
brennansmarket.com
Notes:
No notes at this time.
Added by DragYourBone on 08-21-2006
Ratings: 11 | Reviews: 9
Reviews by MilwaukeeCrusher:
4.21
/5
rDev
+9.9%
vibe: 3.5 | quality: 4 | service: 4 | selection: 5
I already knew what to expect at Brennan's, as I have stopped at the other place in town for a few years as well as once in Monroe. If you're looking for beer geeks to help you out with choices, this isn't probably the place. The main reason to visit is because they get many beers not found in most if not all of Wisconsin such as Avery. On this visit, I was disappointed that they no longer get the El Toro beers from California, notably their IPA. Also hoping that they had the Pako IPA from Snake River, I looked only to find most of their other releases. I asked someone there who knew about the El Toro beer and said yes distribution had been pulled but recommended Pako IPA which they were currently sold out of. He then called the other store and secured some for me. So as far as in other visits, the service in this instance exceeded expectations. Once again, this place gets high scores simply because of the chance they give to try new beers otherwise not available.
978 characters
More User Reviews:
4.08
/5
rDev
+6.5%
vibe: 3.5 | quality: 4 | service: 4.5 | selection: 4


2.3
/5
rDev
-39.9%
vibe: 4 | quality: 2.5 | service: 1 | selection: 2 | food: 4
I traveled 10 miles to check out Brennan's Market for two reasons. First, they are the only place in Wisconsin that sells Avery brand beer, and I wanted to try the recently released Czar RIS. Second, I was told they had great food.
To start with the positive, the food sold there was absolutely delicious. I ended up buying some Swiss-Guyer-Cherry cheese spread they had, and it was amazing. The place is like an up-scale Whole Foods.
The Beer, however, was awful. First off, their "top shelf" brand available was Flying Dog and Avery. Each brewery has solid offerings, but nothing that will blow your mind.
My real critique was that their "beer people" did not know what they were talking about. I asked about the Czar and was told they were "sold out for the season." I asked them to check and they said they knew it was. Turns out, however, that the Czar was only first shipped in four days AFTER I visited. I found this out by calling the other Brennan's Market. I then called back the one I originally went to and they confirmed they just got their season's first shipment of Czar in.
So maybe it's just bad/lazy customer service. Maybe their beer person didn't know what they hell they were talking about. Either way, I'm not going back there for beer after I get my hands on a Czar.
1,294 characters

4
/5
rDev
+4.4%
I visited Brennan's searching for a porter in a resealable cask, and wound up buying a mixed 6-pack of microbrews for $7.99 (a bit cheaper than Woodman's and HyVee)...the selection is somewhat limited (probably 40-50 varieties in all), and the mix-and-match are not chilled...I stayed away from the spring seasonal beers and went with 4 Porters, 1 Marzen, and 1 Cream Ale, hoping that they hadn't been out too long. They have their own brand brewed locally by Capital Brewing, which I opted not to try at this time, but seem to add a few seasonal beers during the year.
569 characters

4.15
/5
rDev
+8.4%
My visit to the Monroe location last year left me with a very positive impression, and my visit to the Watts Road location in the early part of this past summer has me thinking good thought about this growing retailer.
The retail space at this location is quite large and wit summer upon us the place felt like a beer cave upon entry; bottles on the dry shelves were quite cool to the touch. I spoke at some length with the beer buyer (Chris) and he told me they often pull bottle off said dry shelves and for sampling, no further chilling being necessary : )
The mix-a-six selection here is rather extensive considering the brands and breweries being offered, and I was happy to re-visit some of the Brennan's exclusives.
The Wisconsin craft selection was top notch -- about the only thing I didn't see was III Dachshunds.
Unless my memory is too fuzzy the now somewhat-familiar brands from the Stone line (filtering through everywhere else) were the only sixers missing from their large cold box. Chris shared a story about the Stone sales reps scouting his selection which I could appreciate, and maybe on my next visit they'll be in the mix-a-six and cold box, too!
Service at the checkout and elsewhere in the store matched that which I experienced in the beer department, and had me looking forward to a repeat visit when I'm next in the area.
1,355 characters
3.65
/5
rDev
-4.7%
Original review 1/08, entered at wrong location.
Brennan's appeared out of the blue when I was touring Madison once without a map. I was looking for Woodman's, but wound up here first.
It was a nice little supermarket, and I was able to pick up some good WI cheeses that were out for sampling. There was an older guy in the beer area, and he was giving suggestions to people. There were alot of singles here, but the selection was narrow and more focused on Colorado stuff like Avery and Flying Dog. They had a few New Glarus and Central Waters, a huge surplus of Oscar's stout and Sand Creek's cranberry beer, but not many other WI micros or limited items. Maybe only the current Unplugged.
In conclusion, I don't plan to stop here again, but if you are a local getting some groceries, you can grab a mixed sixer here too.
828 characters
4
/5
rDev
+4.4%
As other have mentioned, this is a great place to go for cheese, meat, as well as produce. But usually, I'm there just for the beer.
As far as that goes, they seem to specialize in Colorado beers. Mainly Avery, and now it seems they are getting more Flying Dog as well. They also have started carrying a bit of Wisconsin Micro's, like Lake Louie, and some New Glarus as well. On my most recent trip, I purchased bombers of Avery's Ale to the Chief, Collaboration not Litigation, and Fifteen, at $6.99 each. That seems a little expensive, but I didn't mind, as I have not found any of these beers anywhere else. I also saw some beer from Millstream Brewing Company in Amana, Iowa that I will be trying soon.
Service is usually very good, I almost always have someone ask me if I need any help with beer, and even if I say no thank you, they talk with me for a few minutes, and they seem very educated from what I can gather.
All in all, this is a great store for cheese/meats/produce, and as far as beer goes, it is great in it's own way. They do what they do, and they do it well. If only they had La Folie...
1,113 characters
3.9
/5
rDev
+1.8%
The newest Brennen's on the far west side. And it's the best of the lot in Madison. If you stop here without buying some cheese you're fucking retarded.
Beer and wine play a second fiddle, but are prominently featured. There are quite a few exclusives here to the Madison area, even if they aren't necessarily hugely exciting. They also carry full lines of most WI/Madison staples: New Glarus, Tyranena, Capital, Cetral Waters, Ale Asylum, Lake Louie (these last two are relatively new to Brennen's and mark a major upgrade). Big Avery focus, with stuff that other places don't have (15, Collaboration Not Litigation, Mephistopheles). A lot of stuff is laid out as singles on a long uncooled rack (though not the WI stuff), and I've run into spoiled beer in this format at their University Ave and the now-closed Northport locations. So it is an issue here as well, even though everything I've had from this store has been fine so far. Prices are on par with most places in town, $7-$8 sixpack including mix-your-owns. $6 for Avery and Great Divide bombers. The biggest steals were the $7.99 4-packs of Flying Dog big beers (DIPA, Barleywine, Tripel, and Imperial Porter). That's at least a buck and a half cheaper than anyplace else, and two$ for the DIPA and Barleywine.
I was approached by the beer/wine guy Chris and had a insightful conversation about beer (both available in store and otherwise) as well as the direction he wanted to go with the selection. He has beer talkers up in front of most of the beers (including some from this site) as well a food pairings. Great guy and I hope he gets his way, because he has some exciting things in store.
1,658 characters
4.3
/5
rDev
+12.3%
Q- it is a great market place for cheese wine fruit and beer
S- their service is great, there are constant beer and wine samples for any beers when they get new shipments in. they always have wine samples ready for sampling.
Selection - They have only a limited number of breweries that they carry relatively to steves liquors, but they carry a very thorough selection of those breweries that they do have. Their wine selection is alot better then their beer selection, but ive still picked up some great beers there. Also, they put the beer advocate ratings up in front of alot of their beers
They are a little pricey, but there is worse, i think its 8 for a 6 pack, whether it was a mixpack or a regular 6 pack
715 characters
3.5
/5
rDev
-8.6%
This is the new Brennan's on the far West side of Madison (the closest one is the one on University Ave near Middleton).
This store is much like the one on University only larger with more variety. There were many craft breweries mainly American on display (alot of Avery) and some imported four and six packers (I purchased some Duvel and Avery White Rascal for a beach trip).
The singles were again mainly from the same American breweries.
I'll have to try some of these breweries out sometime soon.
The meat dept is quite good and the cheese selection is astounding - I never know what to get.
The staff is nice, but answering questions can be a hit or miss, but they were able to point me to people who totally owned the question - Thanks for the Avery recommendation!
Overall this is more than a beer/wine store and is a good stop if you want to get fresh fruit, meat, cheese, wine. Although it is more on the pricey side (though not steep - sometime you have to pay for quality).
1,000 characters
Brennan's Market in Madison, WI
Place rating:
72.7%
out of
100
with
11
ratings