Herbal Ale
| BluCreek Brewing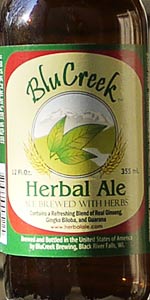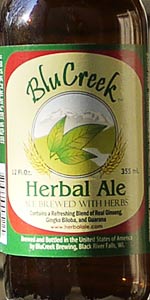 BEER INFO
Brewed by:
BluCreek Brewing
Wisconsin
,
United States
blucreek.com
Style:
American Pale Wheat Ale
Alcohol by volume (ABV):
4.00%
Availability:
Year-round
Notes / Commercial Description:
No notes at this time.
Added by BeerAdvocate on 01-22-2007
HISTOGRAM
Ratings: 12 | Reviews: 12
Reviews by match1112:
3.32
/5
rDev
+17.7%
look: 3 | smell: 3.5 | taste: 3 | feel: 4 | overall: 3.5
poured into pint glass. cloudy amber color with no head. smelled of garden herbs and slight traces of malts. call me crazy but its not bad, not over powering and goes down easy. paired well with chicken burritos for dinner, the herbs in both played nicely with one another. overall a decent beer as far as this style goes.
322 characters
More User Reviews:
3.12
/5
rDev
+10.6%
look: 3 | smell: 3.5 | taste: 3 | feel: 3 | overall: 3
(Served in an American pint glass)
A- This beer has a crystal clear apricot body with a thin white ring of head supported by big bubbles that gentle glide to the surface.
S- The soft note of caramel malt has a soft honey comb note to it. There is a soft medicinal note to the finish.
T- The light dry caramel malt note as a light biscuit quality and a bitterness at the finish that is more astringent and medicinal than hoppy. There is a light woody note like dry mushrooms is in there aswell.
M- This beer has a medium mouthfeel with a big fizz finish.
D- This beer is a bit bland with a medicinal quality that is a bit odd.
634 characters
2.6
/5
rDev
-7.8%
look: 2 | smell: 2 | taste: 3 | feel: 3 | overall: 2.5
Poured into a tapered pint glass, it pours a murky orange-gold. Thin pond scum skim across the surface. Floating gritty sediment in suspension, though I was careful not to pour the last ounce or so, due to the unknown age of the bottle. Julian code "9338" on the bottom, so it could be well over 2 yrs. old. "www.herbalale.com" on the label is an invalid url...
Smells swampy, like wet vegetation decomposing in water. Sweet graham cracker and odd floral notes. Doesn't bode well for the first sip.
Tastes pretty odd. Definitely "herbal" like a weird supplement you'd find at a health food store. Echinacea and bitter dried ginseng root, soggy graham cracker. Watery and bland feel, light bitterness. Is it a Gruit? Who knows... not worth buying, even to try it.
765 characters
2.97
/5
rDev
+5.3%
look: 2.5 | smell: 3 | taste: 3 | feel: 3 | overall: 3
12 oz brown bottle not dated
BluCreek Herbal Ale poured a slightly hazy amber color that produced almost no head at all. The very small head dissipated in a matter of seconds leaving no lacing. The light aroma is of caramel, and herbal scents. The taste is in-line with the nose - light sweet caramel and light medicinal herbal flavor from the ginseng. Mouth feel is light-medium with moderate carbonation, a little crisp and dry.
BluCreek Herbal Ale is not a bad brew, just a little too bland for my taste. Perhaps better on a warm summer day.
546 characters
3.45
/5
rDev
+22.3%
look: 3.5 | smell: 3.5 | taste: 3.5 | feel: 3 | overall: 3.5
12oz bottle.
Poured a darker and cloudy orange/amber color with a smaller sized off white head. Aromas of a general herbalness, floral, caramel, and grass. Tastes of grass, caramel, and light herbs. The description scared me - but the herbal side to this one was on the subtle and not overpowering side.
Notes from 7/18/06
326 characters
2.64
/5
rDev
-6.4%
look: 2.5 | smell: 3.5 | taste: 2 | feel: 2.5 | overall: 3
12 oz. bottle into glass tulip.
40°F
$1.50 / ea.
A: Cloudy amber body topped with a big loose head that quickly dissipates leaving light lacing and a thin creamy cover. Very cloudy even by wheat standards.
S: Lemon, honey, and a distinct sour character. Not sure what to expect, but the aroma would be perfect for a saison! Hop aroma is nonexistent, but fits the style.
T: Oxidized cardboard flavor as far as I can tell, but it could be the spicing as well. I'm not sure. If it tasted as good as it smelled I would have been very happy, but it comes across as flat and boring. Might be better fresh, though I have no way of telling when the beer was produced.
M: Light body with moderate carbonation. Crisp, but a definite sour presence. I don't mind the sour, but it doesn't belong in an American Pale Wheat Ale.
D: Not something I would spit out, but not something to seek out either. I actually enjoy the flavor and presence overall, but there is definitely something just a little "off".
O: Looks like a small brewery. They have some work to do, but the concept is interesting. I would try them again some time in the future.
1,137 characters
2.38
/5
rDev
-15.6%
look: 4 | smell: 3.5 | taste: 2 | feel: 1 | overall: 2
After seeing this beer hanging around, I decided to add it to a mixed six.
A- a little darker and cloudier than a macro lager. Head dies quickly.
S- corn, grass, and medicine.
T- flat, dry. Like the king of macros with a hint of bitter lettuce.
MF - Prickly and unsatisfying.
D- one is enough.
298 characters
2.92
/5
rDev
+3.5%
look: 3 | smell: 3.5 | taste: 2.5 | feel: 3 | overall: 3
Semi-cloudy darker golden straw color, hardly any head at all worth mentioning, no lacing, smells of a toasted wheat malt, faint spiced herbal melange which is almost tea-like in feel, and a good dollop of sweet honey. If only the herbals and malt were slightly more aggressive, this nose could have been pretty damn nice. Taste follows the nose in lockstep, but also includes an odd mineral astringency component that sort of doesn't belong amongst the herbal flavors IMHO. Body is thin, watery, and poorly carbonated, not very bubbly at ALL.
I can see the intentions of what is trying to be developed here, but it still needs some workshopping to get there.
659 characters

3.26
/5
rDev
+15.6%
look: 2 | smell: 3.5 | taste: 3.5 | feel: 4 | overall: 2.5
$1.49 / Bottle
JR Liquor
Stevens Point, Wisconsin
Appearance - Let me just start out by saying, "huh?" There are little floaty thingys in this beer. I don't know what to make that. At first glance the Herbal Ale looks to be an amber hue with an suble oragne glow. Topped with a 1/4 inch of white head that lasts for a minute or two. Then, the floaty thingys.
Smell - The hops are eveident in the scent but there is something uncommon there as well.
Taste - The hoppiness covers up any real distinctiveness this Madtown brewer may have had. However, there's an aftertaste not common to any brew I frequent. The sharpness in the the flavor is rather impressive. Take a few more slow sips and you'll come accross very different flavors from start to finish.
Mouthfeel - Smooth, but considering the difference in flavors throughout each gulp the location of the impact on the tongue remains the same. Maybe that's an impressive feat. I'll go with that.
~ I'm sorry but the floaty thingys really turn me away from the brew. If not for that I'd likely purchase this beer again. Most likley, this was a one night stand.
1,130 characters
1.73
/5
rDev
-38.7%
look: 1.5 | smell: 1 | taste: 1.5 | feel: 3 | overall: 2.5
Pours a clear, pee yellow color into my poor glass. Head is nice and retention is decent. Smells like grass with a certain funk that I just can't put my finger on. Some faint metallic notes accompanied by a small wheaty front, with a push of tea, and/or some sort of malt?.?. Mouthfeel is very thin and feels very, very, very watery. Drinkability is floor level, you are better off with an Arizona Tea.
402 characters

2.31
/5
rDev
-18.1%
look: 3 | smell: 2 | taste: 2.5 | feel: 2.5 | overall: 2
Hazy, pulpy nectarine body with a small, soapy, tight khaki head. Not much on the nose. Mushy fruits, toasted grain and maybe some old vitamins. Slightly astringent grain and toasted malt mix with apple-ish fruit. Mild herbal/vitamin twang. Not terrible, but not too good. Moderate, soapy body. Meh.
299 characters
3.14
/5
rDev
+11.3%
look: 2 | smell: 3 | taste: 3.5 | feel: 2 | overall: 3.5
Poured from a 12oz bottle to pint glass.
A: Semi-hazy amber color with a very small white head that dissipates quickly and leaves no lacing.
S: Caramel, honey and herbal/floral scents.
T&M: Decent malt/hop balance. Little bit of caramel. Very floral finish. Not very well carbonated at all, would have made it a much better drink.
Overall: Not horrible but nothing I'd ever seek out again, if it were carbonated better I'm sure it would be a much better beer.
463 characters
Herbal Ale from BluCreek Brewing
Beer rating:
2.82
out of
5
with
12
ratings