Pacemaker Porter
| Flyers Restaurant And Brewery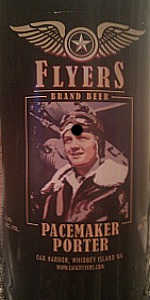 BEER INFO
Brewed by:
Flyers Restaurant And Brewery
Washington
,
United States
eatatflyers.com
Style:
American Porter
Alcohol by volume (ABV):
5.50%
Availability:
Year-round
Notes / Commercial Description:
No notes at this time.
Added by Derek on 08-11-2007
Ratings: 34 | Reviews: 14


2.97
/5
rDev
-22.7%
look: 4 | smell: 4.5 | taste: 2 | feel: 2.5 | overall: 3
22oz. bottle poured into a snifter.
A: Super dark brown, maybe black but a little light comes through giving dark brown highlights. Half finger mocha colored head with decent retention. Very nice lacing.
S: Big chocolate and roasted coffee/espresso. That's it. Nothing more needed. Awesome aroma.
T: A smooth creamy chocolate to start. Then a roasted espresso bitterness takes over. Goes downhill from there. Don't know how to describe it, maybe a metallic sourness, or maybe what I would expect glass to taste like. Very acidic going down.
M: A little thin for a porter. No creaminess. Very acidic.
O: Wow. Great looking beer. Top notch aroma. And total utter disappointment after that. There is no bottling date, so I don't know if this is out dated or what. I don't think I've ever had a "skunked beer", or whatever you'd call it, so I can't really say. I love Porters, definitely do not love this one.
910 characters
4.05
/5
rDev
+5.5%
look: 4 | smell: 4 | taste: 4 | feel: 4.5 | overall: 4
Thanks to Dave for the bomber. This porter opens with a big dark chocolate (lighter, like 35% cacao) character with a dry citrus pepper finish. As it warms, the hops build for sort of a chocolate orange rind character. This is an interesting porter, and that's tough to find. Give this a try.
292 characters

3.92
/5
rDev
+2.1%
look: 3.5 | smell: 4 | taste: 4 | feel: 3.5 | overall: 4
Flyers Brewery--Skagit River Brewery Custom Bottling--Flyers Brand Beer Pacemaker Porter-2010 22 oz. Bottle. 5.50% ABV. 25 IBU's? (3.75 / 5.0) Big creamy lacy espresso head. Opaque deep dark black color. Roasted floral chocolate mild espresso front. Creamy mellow cloying sweet malty roasted dark chocolate pudding mild fruit rich doughy robust Porter body. Sediment hint. Mild hop dry citrus hint end. Sampled 3/4/2011. Purchased fro $4.99 at The Greenwood Market, Seattle on 12/29/2010.
488 characters

4.08
/5
rDev
+6.3%
look: 4.5 | smell: 4 | taste: 4 | feel: 4.5 | overall: 4
Ok I will admit before I start I have a love affair with porter recently.
So we stopped by and had the world flight at Pikes brewery in downtown Seattle tonight. this was a great option...
smelled like chockalott and bourbon...
Color is black as night
smooth without a any bite
i didn't notice any head even though i am sure it had one.
Drinkablity is high in my books....
377 characters
4.52
/5
rDev
+17.7%
look: 4 | smell: 4.5 | taste: 4.5 | feel: 4 | overall: 5
I get sooo tired of hearing about how this or that beer won an award at some big brewing shindig. And then I drink a beer like this and realize that some beers deserve glowing accolades. Pacemaker has variously won gold and silver at NABA, GABF, and the WBC. But the good news is that it's an excellent beer on tap at Flyers brewpub. And that's as it should be.
Pacemaker has bold contours, abundant flavor, and a skillful composition of brown malt sweetness and overt roastiness. It is the customary shade of brown with mild lather and shares a similar fragrance corresponding to its flavor. The beer's capacity to express flavor would seem to know no bounds. Everything is brilliant, bold, and beautiful. It's exactly what a porter should be.
746 characters
3.88
/5
rDev
+1%
look: 4 | smell: 3.5 | taste: 4 | feel: 4 | overall: 4
Served in an Imperial pint glass. Poured an opaque black, with just a bit of light coming through. Poured with over an inch of full, dark tan head that had good retention and left minimal lacing.
The rich, malty aroma reaches the nose first, and smells like a porter should, just fuller. The flavors are also as expected, with the smooth roasted tastes most prevalent, and a slight smokey taste on the finish.
The body was full, rich and smooth. Drinkability was also smooth and easy, having several wouldn't be an issue. A very well done example of the style, worth seeking out.
581 characters

3.82
/5
rDev
-0.5%
look: 3.5 | smell: 4 | taste: 4 | feel: 3.5 | overall: 3.5
A robust porter in style...
A: Black with chestnut highlights, light tan head, good retention, light lace.
S: Coffee, molases, dark chocolate.
T: Coffee, black-strap molases, dark chocolate, slight roasted acidity, slight licorous.
M: Moderate body & carbonation, hint of chalky acidity, dry finish.
D: Big, bold flavour is a little much to session.
364 characters
Pacemaker Porter from Flyers Restaurant And Brewery
3.84
out of
5
based on
34
ratings.