Flyers Restaurant And Brewery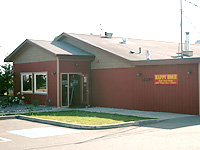 PLACE INFO
Type:
Brewery, Bar, Eatery
32295 State Route 20
Oak Harbor
,
Washington
, 98277
United States
(360) 675-5858 |
map
eatatflyers.com
Notes:
No notes at this time.
Added by eballard on 08-29-2006
Reviews: 9 | Ratings: 14
Reviews by RedDiamond:
4.05
/5
rDev
+11.3%
vibe: 3 | quality: 4.5 | service: 4 | selection: 4 | food: 4
Along with Chuckanut, Flyers regularly brews some of the best beers north of Seattle. A few models are perhaps routine. But time and again they distinguish themselves for their bold, fresh flavors and compelling drinkability. Flyers' pale, porter, and brown ales are among the best in the region and their others are reliably good.
The restaurant dates back to WWII and is located in town a few miles south of the naval air station. The proximity to the air base accounts for the aeronautical theme, the framed images of fighter jets, suspended airplane models and aviation beer names. The mid-century architecture resembles something of a family restaurant. Picture a Denny's converted to a brewpub and you get some sense of it. The bar is a former lunch counter. Behind it is the glass-enclosed brewery and behind that is a banquet room with a pot bellied stove.
Though Flyers serves booze, they're more of a restaurant than a bar. There are no bar games or neon and children are welcome. Ten house taps serve the customary array of beer styles. Be sure to ask about their four seasonal beers as they aren't listed on the menu. Look for the black wooden tap handles shaped like an airplane propeller. Guest taps from the likes of Deschutes are also on hand.
I'll attest that they cook some fine burgers (mine was a grilled chicken burger) but Flyers also prepares a full menu of steaks, seafood, and pizza. Though the 1944 family restaurant architecture feels restrictive, my only real complaint is that they serve their own beers in glasses with other breweries' logos on them. Lose the Full Sail and Georgetown glassware. But keep the good Flyers' beers flowing.
1,669 characters
More User Reviews:
1
/5
rDev
-72.5%
vibe: 1 | quality: 1 | service: 1 | selection: 1 | food: 1

4.04
/5
rDev
+11%
vibe: 4 | quality: 4.5 | service: 3.75 | selection: 4 | food: 3.5
Great bitter!
13 characters
3.63
/5
rDev
-0.3%
vibe: 3.25 | quality: 3.5 | service: 4 | selection: 3.5 | food: 3.75


2.93
/5
rDev
-19.5%
vibe: 4 | quality: 3.5 | service: 1.5 | selection: 3 | food: 3.5
I like the feel and look of this place. I went there once after a half day of work for lunch and the service wasn't good at all. Once I got my food, which was good, it took forever to get the waitress back over and even for the check. It would have been different if we weren't literally the only people in there. I'll have to go back again sometime and hopefully update this review. I also didn't agree with the high prices there. I hear a lot of people say the same thing.
474 characters
3.14
/5
rDev
-13.7%
vibe: 3 | quality: 3 | service: 3 | selection: 3.5
A: Place was very busy on a Sunday afternoon. Small place and really the only major brewery/beer bar on an island packed fujll of military folks so it is expected to be swamped. Not much beer talk, just more of a rest./bar with real not brewery vibe to it if that makes sense.
Q: I had a Pacemaker Porter which was pretty average. Never really had a good or great beer from here, just average.
S: Was ok. At the bar the server was busy and nothing on tap besides the standard lineup.
S: About 14 handles, 10 being house beers at $5 pinr for an average beer. No thanks. There was no where to look for what was on draft. I sat at there bar and the writing on the tap handles was so small you could not read it. You pretty much had to ask or guess what was on tap. Nothing Earthshattering on this day. When I did ask for seasonals the guy looked at me funny like I was speaking a foreign language and said "No".
F: No try
924 characters

3.4
/5
rDev
-6.6%
vibe: 4 | quality: 3 | service: 3.5 | selection: 3.5 | food: 3.5
Being the only brewpub in town, this place always has a decent amount of business at any given time. Most of the customers seem to be enjoying themselves, and due to the fact that Oak Harbor is a Navy town, most servicemembers can always seem to find someone there who knows someone, as I have discovered in many trips there. I've made many stops here, whether it be to get a meal with a local craft brew (a rarity on the Rock) or just for a quick pint. The beer selection, while overall not the best in the business, has a constantly changing lineup featuring home brews and various craft beers from other notable breweries including Stone, Alaskan, Redhook, etc. As for the locally brewed selection, my most frequently sampled ones include the Pacemaker Porter, First Flight Amber Ale, Barnstormer Brown (probably my favorite of the list) and the discontinued Afterburner Mach 2 IPA. Once every blue moon I would open up to a Sick Duck Imperial Stout, which seemed to always be in high demand. The service was decent, with friendly staff for the most part, and I never had to wait too long for food. The food was a bit more costly than I care for, even though I took a liking to the sweet potato fries on more than one occasion, and the clam chowder was outstanding- yet the rest of their fare seemed to be fairly average to me. The proximity to the base leads to an interesting aviation-themed atmosphere, adding to it's popularity with servicemembers, their families and retirees alike. I've been to much better brewpubs, but if you want something close to home and support local businesses, this place is worth checking out.
1,629 characters
3.33
/5
rDev
-8.5%
vibe: 4 | quality: 3 | service: 3 | selection: 3.5 | food: 4
They brew some pretty good beers here. Im a fan of the afterburner IPA. My biggest complaint is that it seems like everytime i want to try a different beer, they are out of it. Not a big enough bar area as well. I believe many people go here cause its technically the only brewery in Oak Harbor. Everytime i go here i have a decent time but im not too impressed. Service is not the best, but for the most part its friendly. They also have few descent beers not on tap. I believe you pay more mainly for the atmosphere. Not bad though.
534 characters
4.33
/5
rDev
+19%
vibe: 4.5 | quality: 4.5 | service: 4 | selection: 4.5 | food: 4
I'm very fond of this place. The brewery that used to be here, well the three times I came never had any of their own beers on tap. It seems as if it took a long time to remodel this space but was worth the wait. The porter is top notch. One of the best porters I've ever had. The Belgian Golden is wonderful. I have found Flyers beers to be above average all around. The food is good, even if the cook wouldn't cook my medium rare. Sometimes the military guys can be boisterous, but hey, I was young and loud once too. At least they are learning there is beer beyond the stuff advertised during nascar. You should check this place out.
636 characters
3.78
/5
rDev
+3.8%
vibe: 3.5 | quality: 4 | service: 4.5 | selection: 3 | food: 3.5
Stopped in at Flyers for lunch on our way to Anacortes. Location is right on 20 heading out of town towards Anacortes.
Fairly new construction, yet the atmosphere had a rather warm feel to it. The place was really hopping on a Friday afternoon, but we did find a table.
Our server did a fine job, particularly considering how busy the place was, and was quite friendly.
I only tried the Imperial Stout, which was actually quite good. So good in fact I had a couple instead of sampling the other beers.
My hamburger, cooked in a wood fired oven, was a little dry, the wifes pulled pork sandwich was really good.
We will certainly stop at Flyers again on our next trip to Anacortes, and try some more of their beers and food. Seems like a place with promise.
763 characters
3.3
/5
rDev
-9.3%
vibe: 3 | quality: 3.5 | service: 3.5 | selection: 3
We did a one-two-three punch on a Friday afternoon between Anacortes, here and Diamond Knot in Mukilteo. Flyers is not a bad place by any standards, although I think it pales in comparison to the other two. The place is pretty new, so I suppose it's still finding its groove.
Atmosphere was okay, but nothing special. Renovated old buildings always seem to have so much more character than new construction, which I guess this was. The aviation theme and the proximity to the local naval air station meant that the bar was full of young Navy types. They all seemed to be chowing down on a lot of good-looking food, although we didn't try any.
Our bartender wasn't what I would call beer-knowlegeable, but the GM/owner was around and took the time to talk some about his brews. There were seven on tap. It's rare that I'll find a brown and an amber to be a pub's best offerings, but I did enjoy both of these and were the best of the bunch. My standards for IPAs have gone up recently, and this one didn't make the grade. I didn't feel the need to get a growler of anything to take with us.
Trying to succeed as a brewpub in the Seattle area means you're on a very crowded playing field, and right now I'm not seeing anything really special to set this new place apart. If it were in a less beer-intensive area, it would probably stand out a whole lot more. I'm sure the Navy base will keep this place hopping, and hopefully with some more experience these nice guys will pull ahead of the pack.
1,503 characters
4.2
/5
rDev
+15.4%
vibe: 4 | quality: 4.5 | service: 4 | selection: 4 | food: 4.5
Small brewery that many locals don't even know about!
Nice guest tap selection. We got a sampler, which had 5 of their beers and about 7 or 8 others, including Victory Hop Devil, Stone Smoked Porter, Guinness, and a few others (no crap on tap).
Their beer was pretty good, but they were out of IPA and award-winning porter, so I don't feel like I got to fully experience the place.
High-quality food. Great salad and fresh salmon with veggies and rice. No complaints at all.
Freindly service. She helped out all she could with the beer, although she was limited on knowledge. Points for trying.
Out of the way for many, but very good and highly recommended. Navy base is close, so help spread the word!
720 characters
Flyers Restaurant And Brewery in Oak Harbor, WA
3.5
out of
5
based on
139
ratings.