Moose Point Porter
| Kassik's Kenai Brew Stop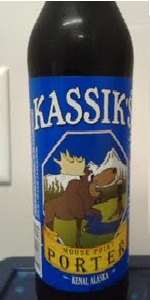 BEER INFO
Brewed by:
Kassik's Kenai Brew Stop
Alaska
,
United States
kassiksbrew.com
Style:
American Porter
Alcohol by volume (ABV):
5.20%
Availability:
Year-round
Notes / Commercial Description:
A delightfully deceiving signature brew! Moose Point Porter has a dark and heavy appearance with a surprisingly light and clean finish.
Added by BeerAdvocate on 11-06-2007
Reviews: 9 | Ratings: 22
3.71
/5
rDev
-5.1%
look: 4 | smell: 3.5 | taste: 3.75 | feel: 3.75 | overall: 3.75
Good dar color. Pale tan head.
Nose is a bit larger. Uninspiring.
Taste is good, malty, mild, not sweet.
Mouth feel is moderately, woyldnt mind more richness and less carbonation.
Finish is short and a little "American" lager, but inoffensive.
Good for session Porter, but not exciting.
286 characters
4.15
/5
rDev
+6.1%
look: 4 | smell: 4 | taste: 4.25 | feel: 4 | overall: 4.25
Pours a deep thick brown with a tan covered rocky head. Has a chocolate and light roast nose. Has a well balanced chocolate sweet with roasted malt character. Has a smooth texture that turns to roast at the backend. Nice porter.
230 characters
4.14
/5
rDev
+5.9%
look: 5 | smell: 4 | taste: 4 | feel: 4.25 | overall: 4.25
Pretty straight forward porter, nothing too special. There are hints of coffee and chocolate which become more pronounced as the beer warms up. Pours nearly black, somewhat smooth mouthfeel with slight acidity. I would recommend it to anyone who wants a relatively straight-shooting porter.
290 characters
3.6
/5
rDev
-7.9%
look: 4.25 | smell: 3.5 | taste: 3.5 | feel: 3 | overall: 4
Wow this is a really dark porter! Very black with a hint of dark ruby red sneaking through in a bright enough light. I'm getting a lot of roasted smells with a hint of sweetness. Starts off with a coffee taste which leads to a slight chocolate bitterness then quickly moves on to a mapley sweet finish. I'd say medium body, nicely carbonated. Worth a try for porter fans.
375 characters
3.93
/5
rDev
+0.5%
look: 4.5 | smell: 4 | taste: 4 | feel: 4 | overall: 3.5
Thanks to rudzud for sharing this interesting looking beer.
Big fluffy darker colored creamy 1 finger head, fades at a med pace with lots of lacing, pitch black color.
Nose is nice, lots of dark malts, some roast, hint of black patent I think, heavy crystal malt, light caramel and vanilla, light campfire smoke, dark chocolate, a light cereal grain malt gives it a cocoa crisp cereal like, slight hint of coffee, plenty of caramel.
Taste is very complex and fairly sweet. Light roast, cocoa, some creamy milk chocolate, light campfire smoke, oats, the big chocolate and dark malts tickles my gums a bit. Again light cereal malt, some caramel and chewy malt, again oatmeal but a little thinner. Plenty of dark roasty malts. Finish is still fairly sweet and a bit syrupy, not too dry, more roast, cocoa, caramel, light smoke and some bitterness from the malts lingering.
Mouth is med to fuller bodied, little creamy decent carb.
Overall ok. Started nice but got a little too sweet and syrupy. If it was attenuated a bit more it would be a lot better.
1,054 characters
3.68
/5
rDev
-5.9%
look: 4 | smell: 3.5 | taste: 3.5 | feel: 4 | overall: 4
Received from lakersfan. Shared with JLindros.
A - Poured into a Kate the Great tulip a deep dark dark brown almost black pour with a two finger khaki head that fades to leave light side lacing and thin wisps.
S - Aromas are quite robust light smoke and subtle chocolate. Nice roasted malts.
T - Taste is alot sweeter than I thought it would be. No smoke, but nice roasted malts some light vanilla. Light caramel like flavours. Really sweet.
M - Mouthfeel is nicely carbonated to keep things crisp and light in the tongue. Drinkable albeit sweet.
O - Overall not a bad porter by any means just alot sweeter than I was accustomed and was hoping for.
653 characters

4.22
/5
rDev
+7.9%
look: 4 | smell: 4.5 | taste: 4 | feel: 4 | overall: 4.5
22oz bomber
A). Pours with a big tan head. Tight. Creamy. Opaque body. Good head retention with semi-sticky lacing on the drink down.
S) Chocolate. Coffee. Roasted grains. Bready.
T) Coffee. Roasted malts. Chocolate. Nice hop bite in the finish.
M) Full body. Chalky. Gritty. Dry with some tannic notes in the finish.
O) A well crafted porter. I will definitely drink more of this!
383 characters

3.91
/5
rDev 0%
look: 4.5 | smell: 3.5 | taste: 4 | feel: 4 | overall: 4
22oz bomber into a pint glass. Bottle has a date of 05072011. Probably a bottled date. Pours a thick dark chocolate/cola brown with a voluminous off-white creamy head of about three fingers. Very nice head retention and glass stickage.
Aroma is dark chocolate, cocoa powder, roasted malts/grains. Fairly muted, however.
Taste is lots of roasted malts with some bitter chocolate notes. Toasted grains and a bitter finish.
Mouthfeel is full and substantial. Smooth and easy drinking, finishes clean.
Overall, this beer really seems to epitomize the porter style. Fresh, well-made and easy drinking dark brew. Recommended for Alaskan porter fans.
647 characters
3.98
/5
rDev
+1.8%
look: 4.5 | smell: 4 | taste: 4 | feel: 3.5 | overall: 4
served on-tap at the Resurrection Road House in Seward, AK.
appears black with ruby highlights. nice thick khaki-colored head.
aroma is very roasty, a little cocoa. taste features your typical porter flavors of roasted coffee and chocolate. nice balance, not too sweet or dry either way. thicker body, smooth carbonation.
overall, the best porter I had while in Alaska.
375 characters
Moose Point Porter from Kassik's Kenai Brew Stop
3.91
out of
5
based on
22
ratings.