Skilak Scottish
| Kenai River Brewing Co.
BA SCORE
83
good
10
Reviews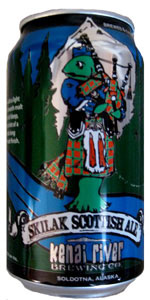 BEER INFO
Brewed by:
Kenai River Brewing Co.
Alaska
,
United States
kenairiverbrewing.com
Style:
Scottish Ale
Alcohol by volume (ABV):
5.80%
Availability:
Year-round
Notes / Commercial Description:
Pours with a light beige head on a dark amber beer. Aroma is of smooth malt along with a smoky background leading to a mouthful of deep, roasted malt flavor. Ends long and smooth with a sweet malt aftertaste.
Added by mcallister on 02-28-2007
Reviews: 10 | Ratings: 34
3.48
/5
rDev
-3.9%
look: 2 | smell: 4 | taste: 3.75 | feel: 2 | overall: 3.5
Appearance: Not a fan of the way this pours - all head, with the cloudy rust-colored liquid gradually building; of course, the stickage and lacing are impressive but that is beside the point
Smell: Caramel and peat, with hints of licorice and smoke
Taste: Caramel and licorice forward, with the smoky peat flavor developing somewhat; the finish is on the sweet side, as to be expected, and there is a lot of flavor, but the peat was stronger in the aroma than in the flavor
Mouthfeel: Medium body but listless and flabby
Overall: Perhaps I got a bad can as the huge head and flabby mouthfeel were a surprise; otherwise the beer is not bad and is a nice change of pace after lots of hops and sours
Thanks, itracy63, for the opportunity
745 characters

4.18
/5
rDev
+15.5%
look: 4.5 | smell: 4 | taste: 4.5 | feel: 3.5 | overall: 4
Man, "Lately it occurs to me: What a long, strange trip it's been," and while the Grateful Dead took it from Robert Johnson, I CAN personally attribute it to indiapaleale, who apart from BigBry and tone77, has managed to further the madness more than anyone else. # 500. Well, that may seem like just a number, but when I embarked on The CANQuest (TM), I naively saw it as a lark with limited CANsequences. Little did I realize that I had stupidly positioned myself on the tip of the sword, but neither did I realized how many others were already there! 500 CANned beers later and I could not have done it without indiapaleale ... My debt CANnot be repaid, brother. You are unquestionably the King of CANs, while I am merely the Joker in the deck. Mine is your foil, but long may you reign!
From the CAN: "Our dark amber beer pours with a light beige head. An aroma of smooth malt is matched by a mouthful of deep, roasted malt flavor with a hint of a smoky background. It ends long and smooth with a sweet malt finish."
My utmost thanks to indiapaleale for his provision of CAN # 500 on The CANQuest!
The Crack & Glug came off without any notable difficulty and I had a finger of "beige head" with moderate retention. Color was a deep brown with ruby highlights. Nose was sugary/malty sweet with smoky notes of maple syrup. Mouthfeel was very full with notes of maple syrup, wood smoke and pine hops on the tongue. Finish was smoky as all get-out and I began to think of the animals who would run at such a scent, deterring them from the precious malt. Smoke, in beer, is a good thing and in CANs, is even better! Take this out camping and see if you are bothered by vermin. This is for Beer Pests only!
# 500 has been hereby broached!
1,740 characters
3.63
/5
rDev
+0.3%
look: 4 | smell: 3.5 | taste: 3.5 | feel: 3.5 | overall: 4
A big shout out to woodychandler for yet another canned beer.
Poured from a 12 oz. can. Has a dark brown color with a 1/2 inch head. Smell is sweet, malty. Taste has plenty of malts, some sweetness, a bit of smoke. Feels medium bodied in the mouth and overall is a fine quality beer.
284 characters

1.84
/5
rDev
-49.2%
look: 3.5 | smell: 2 | taste: 1.5 | feel: 3.5 | overall: 1
On draught at Humpy's, served in a Nonic, Skilak Scottish is mahogany with a small off-white head that leaves scattered lace.
Smell is major band-aides. There's a little sweet malt, and a hint of smoke.
Taste is off, this is seriously flawed. Big band-aide, very doughy too. Peaty smoke provides a phenolic bite. I had to send it back after a few oz.
Mouthfeel was medium bodied, slick.
Drinkability was bad, sent back.
427 characters
4
/5
rDev
+10.5%
look: 4 | smell: 4 | taste: 4 | feel: 4 | overall: 4
Pour - dark, dark amber almost brown in appearance. This is a serious looking beer once its out of the can. Head is about a half inch of off-white foam. You can see some tiny little bubble flying upwards but that is about all you can see in the dark abyss that is this brew.
Aroma - fresh sweet malt, caramel, Tootsie Rolls, coffee grounds and some subtle hints of smoke.
Taste - smooth from the get go, this practically flies down my throat. It's got some nice tangy sweetness and lots of malt flavor with pretty much the perfect kiss of smokiness. Personally I love a Scottish Ale that has some smoke to it, it just seems to go very well with the profile of this style of beer. Some sweetness sticks on your tongue after each sip and the finish is crisp with some of that smoke staying with you.
Overall - Very drinkable, not too sweet, balanced and delicious. I can't say enough about the smokiness that this beer presents. It's not a lot but it provides so much to this particular beer. Love it.
Would I buy more of it? - absolutely. However, this would require a trip to Alaska. One day I'll make it up there and visit Doug in Soldotna and drink this on tap somewhere. One day.
1,192 characters
3.86
/5
rDev
+6.6%
look: 4 | smell: 3 | taste: 4 | feel: 4 | overall: 4.5
Had on tap at chair 5
Pours a deep purpley red with good off white head. Peaty smell with some slight smoke. Taste follows. Good malty flavor right off the bat, but not as much body as I would like to see in this one. This is defenitely of the sessionable variety as far as scottish ales go. Nice subtle smokiness and some decent hop bitterness I wasn't expecting. Mouthfeel is on the thin side, but it works well with the rest of the brews characteristics. Drinkability is very high, perfectly sessionable. Overall a very good scottish ale for those looking to drink more than a few. Would like to see it a little bit thicker, but it fits right in how it is. A good brew, one I will revisit at the bar again.
710 characters
4
/5
rDev
+10.5%
I had this in a pint glass.
The appearance was a dark hazy brown color with a one finger white foamy head that dissipated within about a minute leaving some light lacing sticking but trickling after a while.
The smell was slightly smoky, light peat, light cocoa.
The taste was basically the same. There was a light smooth smoky aftertaste.
The mouthfeel had a full creamy smoky smoothness over topping my tongue nicely.
Overall, I like this one for me but am honestly trying to figure out this Scottish ale style.
519 characters
3.95
/5
rDev
+9.1%
look: 3.75 | smell: 4.25 | taste: 4 | feel: 3.5 | overall: 3.75
Look: Dark dark dark. No light comes through. Had to really work for some kind of head. Not sure if I poured into a bad glass, or just a bad can, but almost not bad. Has a good feel of carb kn the tongue though.
Smell: Smokey and licorice
Taste: Smokey, licorice, sweet, slight bitter bite. Not really a boozy taste but it shows in the end in the after taste. For fans of imperial stouts and smoked porters. Tastefully one of the better ones ive had in a while. I think this is maybe my second Scottish ive had, and its wonderful.
Mouth: It is rather watery at first, but there is a good amount of carbonation. Its not the most satisfying feel ive had.
Overall: Its satisfying in smell and flavors, just not the most enjoyable as it sloshes around my tongue. Ive had some way better Alaskan beers in the Anchorage area and farther north. Second brewery from the Kenai Peninsula ive tried and is my favorite of the two.
922 characters
1.45
/5
rDev
-59.9%
look: 1.5 | smell: 1.5 | taste: 1 | feel: 3 | overall: 1.5
Poured out of a can into a pint glass.
Appearance is very cloudy, dark brown, off white head.
Smell of of heavy peat, very atypical of scotch beers, correct for scotch whisky, but this is beer. Some caramels.
Taste is very off. Heavy Band-aid phenolics, really yeasty and peaty.
Mouthfeel was medium bodied with the correct carbonation for the style.
Overall the heavy peat is off for the style and the band-aid phenolic is very overpowering anything else that might be here. Not what I expect from a commercial brewery. Couldn't get past the first glass.
560 characters
1.96
/5
rDev
-45.9%
look: 3 | smell: 2 | taste: 1.5 | feel: 3 | overall: 2
While I appreciate a weighty Scotch Ale (I am a fan of Great Divide's Claymore) this ale is seriously peaty and leaves a bitter licorice mouth only devoted stout drinkers relish. I couldn't taste much beyond that.... Low carbonation and little head bring little to the nose but the smoke.... My wife says it is growing on her and continues to enjoy consuming the six we purchased so there may be an audience for this beer yet. Yes, I still mourn the loss of Prinz Breu and want to support all Alaska local breweries, but not through the purchase of this over priced (close enough to $11) six pack.
597 characters
Skilak Scottish from Kenai River Brewing Co.
3.62
out of
5
based on
34
ratings.