J.J. Brewsky's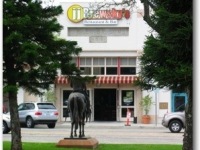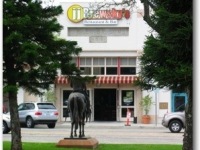 PLACE INFO
Type:
Bar, Eatery
2433 Ventura Blvd
Camarillo
,
California
, 93010
United States
(805) 482-5249
// CLOSED //
Notes:
No notes at this time.
Added by HighOctane on 09-02-2006
PLACE STATS
Reviews:

13

Ratings:

pDev:

14.07%
HISTOGRAM
View: Place Reviews
Ratings: 13 | Reviews: 13
Reviews by tjensen3618:

3.28
/5
rDev
-19%
vibe: 3.5 | quality: 4 | service: 2.5 | selection: 3 | food: 3.5
I've been here on several occasions for lunch because it happens to be right down the street from my office. Nice looking run of the mill type restaurant, with a large impressive bar area.
I have mixed feelings about the beers here, on one hand they do have the best selection of beers on tap in Ventura County, on the other, it's so under utilized in terms of taps and selections. For instance, they have a hand-pump, and i have never once been when they had a cask on; they have 2 sets of taps, totaling maybe 30 taps, however they'll have 2 handles of their 5 most popular beers rather than giving greater variety; Except for the Sierra Nevada draft only beers and the Firestone Seasonals (which are cool to have) the taps don't seem to change much. It just seems like, having craft beer is their gimmick rather than it being the passion and driving force of this place.
The food is decent, kind of like good restaurant chain type food. The service has been hit and miss for me.
Overall I like the place pretty well and will be back for lunch in the future.
1,063 characters
More User Reviews:
4.3
/5
rDev
+6.2%
vibe: 4.5 | quality: 4 | service: 4 | selection: 5 | food: 4
If you are looking for craft beers that you really can't find in too many places throughout Ventura County, this is the place to go. With Green Flash, Kern River, Tap It, Stone, Bear Republic, Telegraph, Surf, and other on tap, it's the best place to go to get craft beers. Food is great, good selections, great specials and promotions through the week. Service could be a little better and more attentive. Quality is good and shows in a lot of their homemade stuff they have on the menu. I go to this place regularly to see what they might have on tap or a surprise, but definitely go for what they regularly have which is great.
634 characters
3.3
/5
rDev
-18.5%
vibe: 3.5 | quality: 3 | service: 3.5 | selection: 3.5 | food: 3
The food is fairly priced and tasty.
The bar area is quite roomy, but the outdoor area is quite small.
As a big beer geek I had high expectations with this place, but was a little let down. Most of the beer on tap here you may buy at any major grocery store. Their "guest" beers may sound good but I know many places where its available year-round.
No doubt about it, JJs is the place to go for the best selections of beer in the city of Camarillo. But most of the population here are casual drinkers and will find this place as an oasis.
540 characters

3.18
/5
rDev
-21.5%
vibe: 3.5 | quality: 3 | service: 2.5 | selection: 4 | food: 3
First off, the beer selection here was solid. I was pleasantly surprised by my visit after hitting a nearby outlet center. I had Bigfoot in January that I presume was 09 and Velvet Mirken that they would give a 22 oz pour! GF had Telegraph California Ale and switched to VM after tasting mine. Saw Greenflash, Stone and Sierra Nevada well represented, as well.
Atmosphere was typical large room with a long bar. Very clean place, so much so that I think that it deserves mention. But where this place fell short had to do with execution. It was a slow Sunday night with less than 10 customers, including ourselves. Bartender came by quickly and we asked for water while we thought about what to drink. There was no offer of a beer list and I didn't see any sort of board listing of the beers, so it required that I walk the full length of the bar to look at two different sets of taps (not being lazy, just saying that a list or board is something to consider...or make sure the bartenders offer them if you actually do have them). Sat back down with GF and we waited close to 15 minutes for a return visit to take our beer order (again, there are less than 10 people in this bar). When it came time for my GF's second beer, the regular bartender had been replaced by a guy behind the bar. He (as was the case with the bartender) spent his whole time chatting with a small group of friends at the far end of the bar. Maybe he wasn't even a proper bartender, but we had made eye contact, gave a wave and had an empty glass pushed forward on the bar. Even if he wasn't a bartender, would it be too hard to just explain what is going on because the regular bartender had obviously been missing for about 15 minutes. To her credit, I later saw that she was running food from the kitchen, but what was with the guy just looking at us and not saying a word and then just continued to joke with the guys at the other end of the bar?
Food: GF and I ordered two different burgers. Mine medium with regular fries, hers medium-well with curly fries. The plates came out with the wrong fries on each. Not a big problem, we just switched the burgers. My burger was cooked fine, but GF's was much rarer than mine and she was the one who asked for it cooked medium well. For people who are a little skittish about pink meat, that was a bummer for her to have a burger still mooing, but she was a trooper and ate half because we were too close to closing for her to have another option and mine wouldn't have been that different for her.
For beers, I would say that Camarillo is lucky to have an option like JJ Brewskys, but the service and the kitchen just need some tweaking. Loads of potential here and obviously a lot of thought is going into the beer and the menu. Also, what is up with this place closing at 9:00 on a Sunday?! They have one of the largest shopping centers in CA just a mile down the same road and that place closes at 8:00. I think that Brewskys is missing a huge opportunity. How many guys have no problem going with their wives and GFs to the Carlsbad outlet center because they strike a deal that there will be a visit to Pizza Port afterwards? This place is far closer to their local shops and could easily be that end destination for guys similarly being dragged to shop in Camarillo.
3,302 characters

4.44
/5
rDev
+9.6%
vibe: 4 | quality: 4.5 | service: 4.5 | selection: 4.5
Wow, was it ever bizarre being in Ventura County again! Five years from 1992 to 1997 and none of it existed back then. Bob the Ref, Scotty Bro, Moe, Larry - all names from the past.
In the present, they were just a short walk up Ventura Boulevard from the Amtrak/Metrolink station (what, you WANT to drive US 101?) with a fenced-in patio area and a left facing doorway next to the patio. Entering, the m.d.s. was to the immediate left with a chalkboard detailing available drafts in the right overhead. Several high tables and chairs sat below said (color) chalkboard, between the double-door entry onto the patio and the bar. The bar was 3/8 of an octagon, topped with dark green marble flecked with mica.
The bar was a beautiful carved wood affair with three flat screens center, 1 right and 1 left for a total of 5. I think that I addressed the question of monitors before, but for the uninitiated - muted or Closed Captioned is fine, blaring to the point that I cannot think/talk/interact is NOT on! Here - muted. Perfect.
Continuing aft, right, past the bar were the kitchen with some barrels, dried hops vines, and a mural of grape vines in the overhead. The lavs were all of the way aft, left, as indicated by the Flying Fickle Finger of Fate. Still in the bar area, a line of high tables and chairs center fronted a short wall with the restaurant area to the left. Looking up, in the overhead, were a couple of skylights providing natural lighting. It may have been a Clean, Well-lighted Place for Beer, but I can hang with natural light. A glance into the restaurant area revealed booths along the far left wall, high tables and chairs along the center dividing wall, and standard tables and chairs between them.
Beers: Twenty-one (21) on tap; 1 cask; around 25 plus in bottle. First off, hats off to a focus on CA craft breweries! They strive to offer the best draft selection in Ventura County and I have no doubt that they are successful. Further, I have long been a supported of buy local, drink local, go Navy, so theirs is in alignment with my philosophy. I was astounded to see that Ventura and Santa Barbara have breweries, and better yet, they were represented here. BTs ranged from Belgium (St. Bernardus, Chimay, Duchesse) to American (Anderson Valley, Victory).
2,289 characters
3.39
/5
rDev
-16.3%
vibe: 3.5 | quality: 4 | service: 2 | selection: 4
Stopped by on a Sunday evening for a quick beer with the sister-in-law, who just turned 21, and the wife.
We got there at about 8:20pm knowing they closed at 9pm. Crowd was somewhat sparse, but not as dead as one might think for a Sunday night. The bartender let us know they were about 10 min. away from last call. Huh? She was nice enough and made good suggestions to our non-craft beer drinking sister-in-law. The reason for the low service score will be explained in a minute.
Selection was quite good. Only 3-4 taps that I could see dedicated to macros. The rest were CA beers. Good choices of Firestone Walker, Lost Coast, Stone, etc. I had the Telegraph California Ale in a 22oz. pour. Nice. The 2 ladies had 16oz. beers @ $5.50 each and mine was $6.95. Not terribly cheap, but not bad either.
Didn't have any food as the kitchen was already closed. But, we were just going for an after dinner drink anyway.
My issue with the service was 2 fold. 1.) the bar doesn't close until 9pm, so why have last call at 8:30? 8:45 maybe, but 8:30 is too early. 2.) At 8:50pm they were turning the lights out on us and we weren't the last ones in the building either.
So, I would still recommend a stop if in the area, but be aware of their closing times. And subtract 10-15 minutes.
1,277 characters
4.13
/5
rDev
+2%
vibe: 4 | quality: 4 | service: 4 | selection: 4.5 | food: 4
Visited on Wednesday, 10/08/08 at noon.
There is ample street parking near this food and beverage emporium. The eatery is located in an historic building in Camarillo, across the street from a lovely park (and boarded up school) and not far from the 101 freeway.
The room is expansive and had the potential to be a boom box if the joint were crowded. It was not on my visit. Booths are comfortable.
Not many folks were drinking craft beer during my visit, but seeing as how it was lunchtime on a weekday, well... The clientele seemed to be mostly local people out for a bite during their lunch hour.
The all-female host and wait staff was attentive and pretty. A lady who I took to be a manager made the rounds of all the tables, asking diners about their meals. When she spotted my Stone shirt, she lingered at the table for a good five minutes to chat me up, trying to get a beer geek's perspective on the place.
To accompany my beer, I had the West Coast Cuban Sandwich with coleslaw. The sandwich struck me as a bit dry at the beginning, but by the time I was finished, the pulled pork, ham, cheese, pickle and ciabtta bread concoction had won me over. The cole slaw, while fresh, pretty much just tasted like shredded cabbage and mayo.
My friend's Cobb salad was given the thumbs-up by him.
Food prices were all in the ten dollar range, with few choices under and lots over. Still, the quality and service justified the prices.
There are twenty taps, and the management tries to get unusual things in there that beer geeks will enjoy. I had a Firestone Saucerful of Merkins, Sierra Nevada Super 7 and The Bruery's Humulus Bruin. They always have a few hard to find drafts, it seems.
Overall, I would say this place is worth the drive if it's the closest good beer establishment to you, or worth pulling off the 101 for if you have an hour or two to kill (or you have a designated driver!).
1,903 characters

4.4
/5
rDev
+8.6%
vibe: 4 | quality: 4.5 | service: 4 | selection: 5 | food: 4
I was last here on 08-24-08 in the late afternoon (approx. 4pm). Fairly empty, but that's to be expected on the Sunday afternoon. I was glad it was empty, because this place can fill up quickly.
The floor plan is very open. Tables inside & out. An expansive bar with 20 or so taps. They specialize in California crraft brews & the football-sized chalkboard inside the front door givs you an up-to-the-minute selection. Some noticeable brews: Firetone's Strawberry Blonde, Little Opal, and Unfiltered Double Barrel Ale. Sierra Nevada Crystal Wheat, Stone Ruination, Oaked Arrogant Bastard and the 12th Anniv. Ballast Point Calico Amber Ale, Green Flash Imperial IPA, 2 selections from Telegraph, a few beers from local breweries in Carpenteria and Ventura, Lost Coast Great White and I can't remember them all.
They put a cask on the engine on Friday night, but I have yet to make it out for that (YET, I stress). They have a bottle collection apparently, but I get too caught up in the taps I couldn't tell you the choices.
The regular taps are available for the folks who hate change: Newcastle, Guinness, a few light macros, etc.
Service has always been good here. The food is fantastic. This last time out, I had a Seared Ahi Tuna Salad that paired extremely well with the Firestone Lil' Opal saison.
The averages are right for this place. If you're anywhere in between 1000 Oaks and Ventura, throw this joint into your GPS. It's worth it.
1,447 characters
4.66
/5
rDev
+15.1%
vibe: 4.5 | quality: 5 | service: 4 | selection: 5
Drove over sixty miles just to go here today and try the Super 7 Pilsner brewed for them by Sierra Nevada, pretty much right off the 101 in a cool little mom and pop neighborhood, place was big and I noticed a lot of tables and booths when I walked in, so it seemed like more of a restaraunt than anything else, after going to the bathroom I sat down at the huge bar and noticed about twenty taps and a dozen bottles on the wall, bottles were not that impressive with some macros, a Chimay, Barney Flats Oatmeal Stout, Victory Hop Devil, Stone Levitation Ale, and a few others, the tap selection on the other hand was unbelievable and I had not seen fifty percent of the beers they had available anywhere else, the Firestone Walker is what caught my eye in particular, they had their Strawberry Blonde, Little Opal, and Unfiltered Double Barrel Ale, I could not believe my eyes, I contemplated getting a hotel and just spending the night out here because I wanted to try so many beers but needed to try home, unfortunately I was only able to have the SN, another Sierra Nevada that caught my eye was Crystal Wheat, other taps included Stone Ruination and Oaked Arrogant Bastard, Ballast Point Calico Amber Ale, Green Flash Imperial IPA, two brews from Telegraph, a few beers from local breweries in Carpenteria and Ventura, Lost Coast Great White, and a cask that went on a few minutes before I got there of Telegraph Bourbon Barrel Porter, prices were a little high but I do not mind paying it with that lineup, place was immaculate and had several flat screen TVS, which I sat in front of and watched ESPN for the half an hour or so I was there, bartender was real nice and offered me a few tasters, the owner even gave me a more detailed description of the beer I came to try and was quite proud of the results, did not even look at a food menu or eat because I did so right before coming, the crowd was businessman and families, only a couple people at the bar, it was a real cool vibe in a neat area, I cannot wait to go back and try those Firestones soon
2,060 characters
4.53
/5
rDev
+11.9%
vibe: 4 | quality: 4.5 | service: 4.5 | selection: 5 | food: 4
Liked it! Great taphouse. They had a very wide variety from Bigfoot, Stone 11th Anv, Oaked Bastard, Racer 5, Telegraph, Stone Smoked Porter, Green Flash IIPA, Lil Devil and much more. A range from Belgias to Bwine! Happy hour is from 3PM to 5PM? I think. They also had a great bottle selection ranging from more macro but also had some locals and other West Coast brews. Nice place with a little patio outside. Nice tables and a rather long bar. Plenty of room. The day we were in they were filming something for Dr. Phil, yeah, Dr. Phil. The bartender was nice and accomadating as well. Best taphouse between LA and San Fran in my opinion
639 characters
4.2
/5
rDev
+3.7%
vibe: 4 | quality: 4.5 | service: 4 | selection: 4 | food: 4.5
To comment first on the value: this is California, I guess $6 for a pint shouldn't surprise me, especially since I had a 12 oz bottle of Oaked Arrogant Bastard the night before for $7 at a hotel.
Being a visitor to the area, it was a pleasant surprise to find this place. Other reviewers said not to go out of your way and perhaps I would agree with them if they were staying in Anaheim; however, it is apparent that they rotate seasonal beers, even if they are from some of the bigger craft breweries. For example, they had Sierra Nevada Pale Ale, but also had their Harvest Ale. Arrogant Bastard from Stone Brewing was on tap, but so was their Smoked Porter and XI Anniversary. I was also glad to see a couple of beers from Santa Barbara since driving there is over 45 minutes each way. There were also beers on tap from Carpinteria.
I had the Kobe burger; it was better than the one I had at Rogue in San Francisco. If you're within 30 minutes of this place, I highly recommend it.
986 characters
5
/5
rDev
+23.5%
vibe: 5 | quality: 5 | service: 5 | selection: 5 | food: 5
First time attending the establishment, and it was for their monthly Beer Dinner. The featured brewery was Firstone Walker out of Paso Robles, CA. The proprietor, Jeff Walker (no relation to Dave Walker of Firestone Walker) was ever so kind enough to make me his guest at the dinner for donating some of my great organically grown greenhouse tomatoes for the dinner.
Upon arriving you could tell this was a fun place, the bar was to the left wich was chock full of taps from local breweries (Mid Coastal and Southern California). The people were eating, drinking, and having fun.
I was greated by Jeff and he soon seated me at the table for the Beer Dinner. This was my first official beer dinner and boy let me tell you it was just awesome. It was a very delicious experience...the food, the beer, and it was made possible due to the great atmosphere that Jeff has made with his establishment. He is really making a grass roots movement and drawing in droves of pubilc folk and introducing them to great craft beer by using the avenue of great food pairings to do so. He is dedicated to craft beer and spreading the word about it and it shows. The man was a machine that night! I can not wait to sign up for the next Dinner in the series. For me, this night was perfect in every aspect, so I rated JJs very high as I had a blast.
Jeff was very personable and pleasent to talk to about beer. I recommend anyone visiting the Ventura, Oxnard, or Camarillo area to stop by and take a pint of some awesome California craft beer. And if you live in the area, make sure to join JJs in one of the monthly Beer Dinners... you will be glad you did.
1,649 characters
3.88
/5
rDev
-4.2%
vibe: 4.5 | quality: 4 | service: 4 | selection: 3.5 | food: 3.5
This is a great place...if you're in Camarillo. JJ's appears to have renovated a rather old building in the somewhat historic "old town" section of Camarillo. The exterior is not very attractive, but they've done a hell of a good job decorating the inside. There's nice red (cherry?) wood furnishings and trim, high ceilings with painted murals and skylights. A long, beautifully presented and well-stocked bar is the focal point, while there is plenty of booth seating on the other side of the room, partially divided to cut down on noise.
The beer selection is good for this neck of the woods, but it's not outstanding in the grand scheme of things. There's your stand Coors Light and such, mixed in with a few interesting brews like Stone's Arrogant Bastard and a couple local brews from Telegraph of Santa Barbara. There's obviously a genuine effort being made to bring good beer to the neighborhood and that should be applauded.
I do feel I should bring up one point. All three of the reviews prior to mine are overwhelmingly positive and come from reviewers whose only review to date is for JJ's. Now I will admit JJ's is a good place, but I would hate for someone to drive hours out of their way to come here with great expectations due to the reviews of overzealous fans and find it's only just as good as their own local pub. JJ Brewsky's is a great place for locals and well worth stopping by if you're traveling along the 101 through Camarillo.
***
(5/7/07) - Since my original review JJ's has been busy hosting numerous beer diners and showing an overall desire to bring craft beer to the area. Kudos!
1,625 characters
J.J. Brewsky's in Camarillo, CA
Place rating:
4.05
out of
5
with
13
ratings