Beverages & more!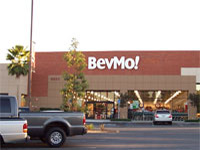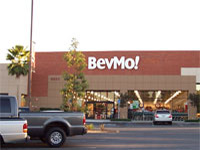 Store
6820 Katella Ave.
Cypress
,
California
, 90630
United States
(714) 891-1242 |
map
bevmo.com
Notes:
Reviews by Beerandraiderfan:
Beerandraiderfan from Nevada
3.73
/5
rDev
-7.4%
vibe: 4 | quality: 4 | service: 3.5 | selection: 3.5
Located in a shopping mall type place next to a Staples or Office Depot type place. Beer all the way in the back. Clean store, well organized, beer all the way in the back. Good quality stuff, I actually spent more on liquor than I did beer for the first time in years (Everclear, Buffalo Trace & some Russian vodka).
Quality of beers was legit. Standard Bevmo selection. No Cantillon, despite what other reviews said. Disappointed to see hermitage stuff dominating the place. Service was just fine, leaves you alone.
I think I picked up some Stone IRS while I was here and something else that escapes me. Worthy stop, nothing special, probably slightly above your average bevmo.
Sep 14, 2011
More User Reviews:

ivegot3Dvision from Oregon
4.67
/5
rDev
+15.9%
vibe: 4.75 | quality: 4.5 | service: 4.75 | selection: 4.75
I go here quite often and they have a VERY good beer selection.
Feb 14, 2015
GrumpyJunglist from California
2.33
/5
rDev
-42.2%
vibe: 2.5 | quality: 2.5 | service: 2.5 | selection: 2 | food: 2
This place used to be good, but the beer guy there was let go. used to get good advice all the time. don't know what their management was thinking. at any rate, pretty much a let down now, their staff is clueless to beer. all the staff is trained to do is up sell with no idea what they are trying to sell you. i really wonder about bevmo's business philosophy, they must not be that savvy with beer. even their wine selection isnt that good anymore, overshadowed by total wines. save yourself some time and look elsewhere.
Dec 27, 2011
bierkoning from California
4.14
/5
rDev
+2.7%
vibe: 4 | quality: 4 | service: 4 | selection: 4.5
Decent prices, some are even good when they're on sale and/or you're a Club Bev member (which I am) it's only a few miles from my house, so I feel a little lucky to have such a great shop near by!
Staff has always been clean, nice smelling and helpful! Had some great suggestions for rare and foreign beers that turned out pretty good.
Also good selection and pricing on non-beer items, if anyone cares, on whiskey, wine, gin, and bourbon (my top choices for liquor)
Always have some fun stuff there too, seasonals, giant bottles, special releases, etc.
Highly recommended.
Jul 28, 2011
Halcyondays from California
3.8
/5
rDev
-5.7%
A little bit of a drive up Bolsa Chica Rd./Valley View St. to Katella takes me to BevMo Cypress. Similar to the Huntington Beach locale, they have a large selection of California and other U.S. micros, Belgians (including the legendary Cantillon), Germans, Polish and English beers. During May they were having a big sell off of Christmas/Winter beers for $3.99 a six-pack (got some Avery Old Jubilation) and Anchor Christmas 2006 for $6.99 for a 1.5L Magnum. However, since I've been here in June this seems to have ended. Still, their selection is top notch for this area, and I've yet to have a bad beer from them. They also have a better selction of glassware than the HB location, with Duvel tulips, Paulaner mugs, and Hennepin glasses among other things. Prices are regular BevMo, not too expensive. All and all a good choice for beer in the Cypress/Garden Grove/Stanton area. (6/2007 review)
Edit 8/30/10, they had Dogtoberfest in, one of my favourite Oktoberfests, haven't seen it in the Southland since '07, I get it home and realise it's the '09 and virtually undrinkable. This is complete bullshit. Why on earth would you put this on the shelves in this condition. I'm out $10, but I'm telling the other BAs be sure to check the dates. BevMo has lost my business for the foreseeable future, this is unacceptable. If Patrick was still there this would never have happened. And really since Patrick left this location has dropped off, really no better than the HB locale. I'm severely dropping the quality score and the service score (somewhat). Cypress used to be the best BevMo and one of the best bottle shops in North Orange County, but I'm seriously pissed at them right now.
Update (9/16/10) - Andrew at Cypress BeerMailed me personally and rectified the situation with an apology and a refund so I thank him for that. I no longer harbor any ill will towards the store and have no problems shopping there in the future. I am adjusting the scores to reflect the current situation.
Aug 31, 2010
sweetbrew82 from California
4
/5
rDev
-0.7%
Visited on 11-26-08
I actually made my first visit to this spot with my buddy from Long Beach, as we were looking for a little something to take his mind off of his "newborn baby blues". The atmosphere in this place is much better than some of the other BevMo's I have visited. I couldn't put my finger on it, but the vibe was just better.
The selection was pretty standard for BevMo on this particular date. It was the day before Turkey Day, so the shelves were pretty depleted. But, I did pick up a sixer of Hop Wallop, which the Brea location never has, and a bottle of Santas Little Helper. They also had a bottle of Hop Trip that I immediately placed in my basket. I am pretty sure that this was the first place I had been to that actually had this. So, that was the highlight of the visit for me.
The service was decent, but nothing to marvel at. The guy at the register was pretty friendly, and commented that he really loved both the Hop Wallop, and the Santa's Little Helper, so I figured that he knew about beer. But, when I asked him if he knew when the Abyss was going to arrive, he looked quite puzzled and obviously had no idea what I was talking about. Nothing wrong with that, but I do wish that more of the BevMo employees would be more knowledgeable about the products that they're selling.
Overall, I liked this BevMo a little more than the Brea location, as they had a better selection of stuff that other BevMo's just don't have. I will have to make it a point to visit this location a lot more often. I actually told another one of my friends in Long Beach (who currently shops at the HB location) to stop by the Cypress location and check it out. He did, and no longer even bothers to shop at the HB spot anymore! Recommended for sure.
Dec 13, 2008
DoubleJ from Wisconsin
4.15
/5
rDev
+3%
I stopped by here after dinner at Beachwood BBQ to 1)restock my fridge, and 2) to see what the fuss was about at this location. I have to say I was impressed with the selection. I was greeted at the door when I walked in, which was a nice way to get things started. After using the restroom, I headed straight for the beer section and stocked up. Most BevMo's have a good selection of beer, but this location was noticably better than most I've run into. I was surprised to see Stone XI Anniversary on display. I was also surprised to see a good number of unknown German rauchbiers (I grabbed a couple), some lesser known German wheat ales, Alaskan Smoked Porter, Maui Brewing, and many others. Checkout was quick and the shelves were dust-free. An easy recommendation in west Orange County.
Oct 18, 2008

opwog from Minnesota
4.65
/5
rDev
+15.4%
BevMo's seem to be everywhere now, but this Cypress store really stands out for beer. The staff is completely up on what is out, what is coming up and what is long gone. They also know how to order up on limited beers and tend to have bottles long after everybody else is out. I use to live by the HB BevMo and I never got the feeling that anybody there knew anything about beer. In fact one time one of the supposed beer guys really started to become argumentative when he was insisting that Moylan's White Christmas was the same as their Hopsicle, only with a different label. The reason that it mattered was that they had a sign for the Hopsicle for $2.99, but had the White Christmas on the display, with no actual Hopsicle in the store.
But that nightmare was HB and this review is about Cypress, where I now know that I can count on having intelligent conversations about the beers that I am buying.
Aug 14, 2008
charlzm from California
4.5
/5
rDev
+11.7%
Visited a few weeks ago to pick up Deschutes Black Butte XX. The beer guys at this BevMo "get it" and will gladly talk beer with you for a minute or two, though they are busy with work and all... I know I spoke to Jeff and another guy whose name I can't recall.
They seemed jazzed to be selling a good, rare-ish beer!
Anyway, I had a great experience ordering online and picking up COLD bottles in the store! Everything went off without a hitch. I will definitely make this my go-to BevMo when it comes to limited releases.
Aug 07, 2008
LongBeachHopHead from California
4.35
/5
rDev
+7.9%
Beverages and More - Cypress, Ca
"BevMo" is how the sign reads in front of the store. Most others are "Beverages and More" This one is BevMo! This is set up like every BevMo. Beer in the back corner...once I ran past all of the wine and spirits, I found the normal BevMo stock. Allagash, Bear Republic, Stone, Moylans/Marin, Chimay, Unibroue, Rogue, Reaper, Flying Dog, Speakeasy, Alesmith etc...One good find was the Dorado DUIPA from Ballast Point that I was looking for. In all, the place was very clean, still smelled like paint and had all the great beer that I so enjoy BevMo for. Thanks BevMo for bringing great beer so close. I'm glad I found this one, its 8.3 milies from my house and Huntington Beach BevMo is 8.0 miles! When are they going to put one in Long Beach..!? 500,000 people!
Very well managed, service was great, found beer in great condition and prices beat or rival any local establishment. Check it out...
Oct 21, 2006
Beverages & more! in Cypress, CA
Place rating:
4.03
out of
5
with
10
ratings