Raxx Barbecue & Brewing Co.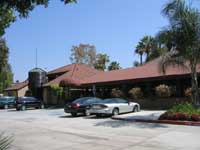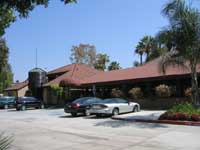 PLACE INFO
Type:
Brewery, Bar, Eatery
3397 Mission Inn Ave
Riverside
,
California
, 92501
United States
(951) 784-2739
// CLOSED //
Notes:
No notes at this time.
Added by xlperro on 09-05-2006
HISTOGRAM
Ratings: 8 | Reviews: 8
Reviews by aerozeppl:

2.5
/5
rDev
-11.3%
vibe: 3 | quality: 2.5 | service: 3 | selection: 2 | food: 2
Was brought here as the girlfriend is from the area and had told me about how good Riverside Brewing Company was. Well when we got here is was now know as Raxx. That would be fine I like BBQ. The problem is that beyond being a bit on the pricy side the food was really not that great. They also overhauled their menu and removed some old time favorites. They did still have frickles which were enjoyed. The beer was nothing to write home about. Bland ales. The orange blossom ale was the highlight but everything else was forgettable. I also saw quite a bit of BMC bottles being drank at a brewpub which is never a good sign. Really can't recommend this place and it was highly touted when it was Riverside brewing.
715 characters
More User Reviews:
3.18
/5
rDev
+12.8%
vibe: 3 | quality: 3 | service: 3.5 | selection: 3 | food: 3.5
Arrived at 11:30am on Monday, 2/11/08. Prompt seating from an experienced waitress. Order taken relatively quickly and food arrived pretty fast as well. The ambiance is low rent House of Blues. Heck, we even mistook the place at first for a school from the outside due to lack of signage and some grade school style paper cutout hearts pasted on the windows (for Valentine's Day). I had a combo with tri tip and hot links with dirty rice and seasoned fries (well, salt IS a seasoning). My friend had a similar combo with ribs, tri tip, baked beans and mac & cheese. We also ordered peach cobbler for dessert and split it but, since there was no ice cream as the menu indicated, we tried the bread pudding as well. All the food was fairly well exectued with some minor quibbles (tri tip a little chewy/dry though still quite tasty, the aforementioned lack of seasoning on the seasoned fries). The beers were a different story. I had the six beer taster. The waitress got them a little mixed up when she brought them and it took some detective work to figure out the wheat from the IPA - not a good sign. A couple of the beers were a tad better than average for a brewpub and a couple of the beers were downright poor. Overall, not a place I envision ever visiting again, due to its distance from me and my lack of need to ever visit Riverside.
1,342 characters

2.95
/5
rDev
+4.6%
vibe: 2.5 | quality: 3 | service: 3 | selection: 3 | food: 3
Back in the day, the Riverside Brewing Co. was a pretty good restaurant, a hoppin' night spot on the weekends, and brewed a pretty darn good beer... Then came RAXX and everything went south,no pun intended. I'd been touting RBC to the significant other and finally was able to bring him here... the weekend it changed to RAXX. Overpriced so-so BBQ, beer that had become uninspired (their seasonal orange blossom ale was heavenly) and the night life was gone.
I have not returned since this fateful last visit and don't have any burning desire to so either. There's better BBQ to be had around the corner. But heck, if you happen to be in Riverside, stop by and order a sampler to judge for yourself.
700 characters
3.11
/5
rDev
+10.3%
vibe: 3 | quality: 2.5 | service: 3.5 | selection: 3.5
Stopped here after another trip to More Beer. I decided to check it out because of all the negative things I read on this site about this place. Well, the food looked and smelled delicious, I love bbq. The fact is though, that I didn't try it so I can't comment on the actual quality of the food.
The atmosphere was strange, half the restaraunt is a quiet dark bar area and the other half is a sit down restaraunt. The bartender was real nice and informative and helped us out. The beer itself was sub-par. The IPA was alright but the rest I could do with out. I thought it was interesting that this drunk guy that came up to us at the bar and started talking about the beers they make there was actually the brewer. It didn't inspire confidence that the brewer was walking around to the customers defending his own beer. It was interesting to try some new beer but now that I've done that I think I'll try some different things, say, not from riverside.
956 characters
1.85
/5
rDev
-34.4%
vibe: 3 | quality: 2 | service: 1 | selection: 2 | food: 2
I went here because I had a buy one, get one free coupon for dinner
Their food was not that good at all, especially the sandwich I got
Beer selection was poor as swell, had four of their own beers, Guiness, Samuel Adams, Heineken, Newcastle, and the normal Budweiser and Miller
Craft beer was pretty much nonexistent here
Located right next to the 91 Freeway in Riverside, eat at Babylon if you are in this area and want good food, a couple blocks away, but as far as beer goes, the only thing near here really is La Bodega and it is kind of expensive
Would not go back to this place for food or beer, and unless you are in the area and are starving or extremely thirtsty, I would advise you not to either
710 characters
2.45
/5
rDev
-13.1%
vibe: 3 | quality: 2 | service: 3 | selection: 2 | food: 3
As a craft beer fan, I was directed here to what was once Riverside Brewing while on business trip to the area from the east coast. Unfortunately, what I got was RAXX! (Exclamation point added for emphasis only).
Upon seating, I asked the Boston accented waitress for a beer list. She said they didn't have one, but she rattled off a few styles. Pale ale, Blonde, Hefe, IPA, Amber, Porter... I chose the IPA.
A co-worker and I split a pitcher of it, in fact, and it was OK. Not great, but OK. The food was over-priced in my opinion, even for SoCal. I got a Tri-Tip sandwich, a local favorite, and was moderately pleased with it but the sauce was far too sweet to be taken seriously.
To cap off the finished pitcher, we tried the porter. It was rather bland.
At the end of the night I asked the waitress why there wasn't a beer list or at least why the master brewer of the establishment didn't take pride in his/her work. She explained that since the change of ownership (to Raxx) there was no brewer or brewing on premises and that all of their beer was brought in from "other breweries" without going into specifics. In other words, this is no brewpub. It's a Bar-B-Q place with beer. Nothing more, nothing less. And based on that, I was disappointed, since the brew tuns were in full, worthless view.
The bartender stopped to talked to us for a while since we were from the East Coast. He said he was from Rochester, NY but was moving on to fulfilling a life-long dream to be a pit boss in a Vegas casino. I didn't bring up the beer thing.
I would not recommend this place to anyone looking for a local beer; at least until some brewing is done on-site.
1,665 characters
3.28
/5
rDev
+16.3%
vibe: 4 | quality: 3 | service: 3 | selection: 3.5 | food: 3.5
I stopped here for lunch and had a very good first imoression. Sorry it would not last long. The restaurant/brewery is southern BBQ based. While nice, it was not exceptional.
The waitress was efficient, nice, but not friendly. Probably would get a different personalitgy for the weekend. Overall, service was quick, but average.
I started with a 6 taster sampling. The blonde tasted of a low quality Hollywood Blonde. Good for the Bud/Miller crown. The hefeweizen was decent, but too fruity for style. The IPA lacked any decent malt, and was all citrusy hops. No complexity or style. The pale ale also lacked inspiration. The porter was roasty and chocolaty. Very nice.
I have had much better BBQ. The sauce was very sweet, without any tang. If you like KC Masterpiece, you will like this sauce.
800 characters
3.23
/5
rDev
+14.5%
vibe: 3 | quality: 3 | service: 3.5 | selection: 3 | food: 4
In mid 2006, the former Riverside Brewing Company (which has been around since 1994) changed ownership for the 3rd or 4th time, and it was renamed Raxx Barbecue, with a totally new menu (BBQ based). The beer remains about the same, decent, but a shadow of its former glory.
As RBC, I had given up on this place, and had stopped going here. It is so close to home, and yes, it was that bad. I like BBQ, so my wife and I had dinner.
Atmosphere- an old "Citrus Exchange" building from the early 1900's- cool to see repurposing. 3 main ( and one small) sections- a decent sized bar area, 1 large and one small outside picnic table areas off the bar, and a restaurant section. The decor is decent, but the acoustics in the bar area are still terrible. LOUD! The restaurant area looks nicer (only open certain hours) and I recommend going there over the bar area, just so you can hear yourself think.
Quality: Much improved, but sad in some ways. The beer list is better than it was (see below) and was of decent quality. But the focus of this place is "restaurant and bar", not "brewery and beer".
Service- our server was quite nice, prompt and helpful. Much improved.
Selection: 4 taps of on-site brewed beer: Orange Blossom Blonde, Pale Ale, Amber, Stout, and Hefe. A couple of bottled Green Flash from San Diego, and that's the craft beer choice. Lots of BMC/Heiny/Guinness types too. We had the pale and the stout, and the stout was decent (improved over recent quality) and the stout was OK. Note: a friend of mine tried it later and said the stout was downright bad. So I guess they have some consistency issues to resolve. But overall, it's not a very good selection and not enough focus on this place being a brewery.
Food: HUGE improvement. Southern style BBQ with both sweetness and serious tang going on. The only problem is that they were out of catfish for my southern wife (how is that possible?).
Overall, much improved, and I am happy it has improved, but it still isn't up to what I hope it could be. Keep going RBC- I mean RAXX!!!
2,064 characters
Raxx Barbecue & Brewing Co. in Riverside, CA
Brewery rating:
0
out of
5
with
0
ratings