Arbor Brasserie Greff Blonde
| Arbor Brewing Company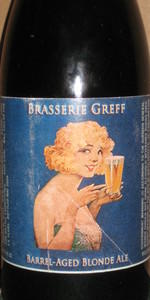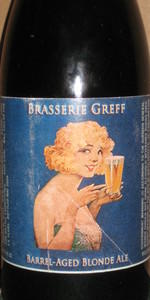 BEER INFO
Brewed by:
Arbor Brewing Company
Michigan
,
United States
arborbrewing.com
Style:
Belgian Pale Ale
Alcohol by volume (ABV):
5.75%
Availability:
Rotating
Notes / Commercial Description:
No notes at this time.
Added by weeare138 on 07-14-2006
HISTOGRAM
Ratings: 10 | Reviews: 9
None found.
More User Reviews:
3.38
/5
rDev
-13.1%
look: 3.5 | smell: 3 | taste: 3.5 | feel: 3.5 | overall: 3.5
Unofficial version brewed down the street. Unfiltered.No smell, a bit of reddish colour. Though decently drinkable, nothing special.Good carbonation. Bit of wheat and yeast and on sweet side, malted down bit of citrus sourness, berry fruit,peach chunks, interesting mouthfeel .
277 characters
3.74
/5
rDev
-3.9%
look: 3 | smell: 4 | taste: 3.5 | feel: 4 | overall: 4
Thanks to hopdog for this 750 ml corked & caged bottle...
Appears a transparent golden orange with a small amount of carbonation stemming from the tiny yeast remnants found at the bottom of the glass. The small white head fades into a light, foamy collar. A few small streaks of lace are left around the glass.
Smell is of a Belgian yeast strain highlighting orange, nectarines, and a gentle amount of spice.
Taste is of the same aromas with a slight sourness that seems to be alright for the style.
Mouthfeel is light, yeasty, with sweetness up front that fades out into a semi dry finish.
594 characters
4.17
/5
rDev
+7.2%
look: 3.5 | smell: 4 | taste: 4.5 | feel: 4 | overall: 4
750ml corked bottle labeled bottled on March '06.
Poured a medium golden color with a small sized white head. Some small floaters. Aromas on the fruity side with light yeast. Tastes of citrus, fruity, light yeast, and some spices. This one was a pleasant surprise!
Notes from 7/14/06
286 characters

4.07
/5
rDev
+4.6%
look: 4 | smell: 4.5 | taste: 4 | feel: 3.5 | overall: 4
Thanks to Derek for sending me this beer awhile back.
A: The cork comes out with a fair amount of difficulty and there's a slight gushing, but luckily I had a glass ready. The pour is a cloudy orange color with a large, dense, white head.
S: The nose offers up some slightly sweet and bread forward malts, but there is a definite citric component that provides a touch of tartness. There are also some pears, apples, and white/green grapes. Quite complex and interesting.
T: Lots of different fruit and earth notes on the tongue. Some pears, sweet apples, and lightly tart grapes and lemons. There is some grass and hay too, along with a dry, bretty character that provides just a hint of funk. The malt is lightly sweet and sort of cracker-like. Unfortunately, the beer is severely overcarbonated which doesn't help out the flavor.
M: The body is medium with an intense level of carbonation that ventures into the realm of excessive.
D: I've had this beer twice now and enjoyed it much more this time around. Very nice and quite a bit more complex than I had recalled.
1,074 characters
4
/5
rDev
+2.8%
look: 4 | smell: 4 | taste: 4 | feel: 4 | overall: 4
Was told this was the 2009 version of this beer. Sampled the other night at Dyan's place.
The beer pours an orange, apple cider color with good head retenion and decent lacing. On the nose I get considerable sour funk, coupled with apple peel, graham cracker and even a hint of ginger. The beer smells pretty good, though I'm a bit worried about the sour funk aspect of the nose. On the palate, it turns out I had nothing to fear. At the most I got some very light sour, coupled with bread, pie crust and underlying spice. Mouthfeel is medium bodied, with a fairly long, fairly soft and creamy finish. There is some very light sweetness in this beer, which tends to counter the slight sour component very nicely. Drinkability is very good, with the alcohol barely noticelable.
Hammm. Definitely an unusual and intriguing beer. Glad I had the opportunity to try this one.
872 characters
4.05
/5
rDev
+4.1%
look: 4.5 | smell: 4.5 | taste: 4 | feel: 4 | overall: 3.5
Thank you, Devin. You bring these Greffe sours out and I have no clue what the fuck they are, but enjoy them.
Hazy orange with a massive white head with big bubbles, the head recedes leaving tons of glorious lacing.
The nose is musty, barnyardy, Bretty, grassy and spicy with cinnamon and ginger. Honey, graham crackers, green apple, and some bandaid, this just smells wild. The palate opens vinous and tard with plenty of Brett-like grassy hay, moderate barnyard character. Honey and bready sweetness appears mid-palate, this is mildly thin and watery, Mild raisin/fruity oxidation is present. Medium in body with moderate carbonation,I get just a little butter. Great stuff.
678 characters

3.65
/5
rDev
-6.2%
look: 4 | smell: 4 | taste: 3.5 | feel: 3.5 | overall: 3.5
Bottled May 2009; Sampled September 2009
This 750ml bottle has a ridiculously difficult cork to remove. The beer is quite well carbonated as an extremely careful / soft pour still yields a four finger thick, light tan, off-white colored head. The head leaves a lot of lacing on the sides of the glass and subsides with an interesting, deeply pockmarked surface. The beer is a murky amber color that shows a hazed, though not opaque, copper-amber hue when held up to the light as well as a ton of streaming bubbles. The aroma smells first an foremost of fruit (ripe pear, ripe-aromatic apples, floral plums, tart white wine grapes), there is a backdrop of oak that provides a touch of spice , an earthiness and some pepper as well as some woody tannic character and the finish has a grassy, touch of cracker-like grain to it. The nose is really quite floral and quite fruity, it is really pretty distinct; as it warms notes of sour-apple jolly rancher start to become noticeable, as does a green, unripe fruit note, a touch of mustiness and a light, musky Brettanomyces character if you dig for it. It only smells lightly tart though, and from the aroma I wouldn't necessarily guess it was a sour beer.
Lightly tart tasting, certainly not anything near aggressive; in fact I wouldn't really characterize this as a sour beer, though it does have a light tartness to it. Fruity tasting, as the aroma suggested, with notes of floral pear, ripe apple and some lightly tart / sweet plum notes being the most noticeable. This actually has a certain quality that reminds me of Apple Cider (I think some oxidized malt might be accentuating this). A touch of earthy spiciness in the finish shows the coriander note. Despite being quite dry, the fruitiness and floral aspects contribute a perceived sweetness. There is a touch of grassiness, and a floral note that makes me think of wildflowers, perhaps a touch of honeysuckle and some orange blossom notes (possibly brought out by the orange peel). The oak is very subtle in the flavor, it starts to come out a bit more as the beer warms; it lends to the spiciness of the finish and contributes a hint of tannic structure to the body. This is not nearly as funky as something influenced by Hanssens; there is some very soft mustiness, as well as a touch of Brettanomyces butyric character in the finish. The body of this beer is on the light side, but there is still some residual malt body as well as a touch of oak-driven fullness.
This is definitely a bit dark to be classified as a Blonde of any sort, but that is certainly a minor point and not really even a quibble. This is quite drinkable, even quite tasty, but I can't quite help but feel a little disappointed. The description had me thinking this was going to be a sour beer, but it really isn't. Even the funkiness is on the soft side, in fact if one had to pigeon hole this into a style, I would say it fits quite well as a rustic, farmhouse Saison; the soft tartness and funkiness seem characteristic of what can happen in this style over time. I think I would have enjoyed this beer more if my expectations had been led in that direction. The mix of fruity, earthy, spicy, musty, grassy and subtly oaky play quite well together in this beer. I find myself enjoying this beer after my expectations have been given some time to shift.
3,339 characters


4.5
/5
rDev
+15.7%
look: 4.5 | smell: 4.5 | taste: 4.5 | feel: 4.5 | overall: 4.5
Served in a tulip glass, the beer is opaque dark brown to maroon in color--not black--with a tall, pretty light brown head. Nose is sweet and sour--strong but pleasant Brett and malty sweetness underneath. The mouthfeel is light and grainy with lots of malt backbone. Sour cherry and lactic acid in the mouth--warm and settles nicely. Dry twang off the back of the tongue. Billed as a Rodenbach style and is in the ballpark if you don't know Rodenbach really well. Extremely please and a fun, early find on the night in Ann Arbor. Draft clearly better than the sample--glad I tried it. Bartender said the draft was good but the bottle was better--so I bought one for later. Hopefully, I'll update this with the bottle review when I crack it open later.
752 characters
3.83
/5
rDev
-1.5%
look: 4 | smell: 3.5 | taste: 4 | feel: 3.5 | overall: 4
Draft at HopCat.
Poured clear copper color with an average frothy white head that mostly lasted with good lacing. Moderate orange citrus and coriander aroma. Medium body with a slick texture. Medium spicy sweet flavor with a medium sweet finish of moderate duration.
Complex drinkable brew.
292 characters
Arbor Brasserie Greff Blonde from Arbor Brewing Company
Beer rating:
3.89
out of
5
with
10
ratings