Ryeclops Imperial Rye
| Arbor Brewing Company
BA SCORE
84
good
15
Reviews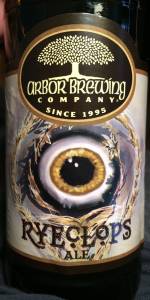 BEER INFO
Brewed by:
Arbor Brewing Company
Michigan
,
United States
arborbrewing.com
Style:
Rye Beer
Alcohol by volume (ABV):
7.70%
Availability:
Spring
Notes / Commercial Description:
Ryeclops is dominated with a mouthful of distinct rye malt character complimented by the spicy fruity hoppiness of American high-alpha simcoe hops.
Use caution when confronted with the Ryeclops, as it's delightful aroma and complex flavor camouflage a might, boozy-backboned single-hopped monster of a brew!
Added by SupaCelt on 02-03-2011
Reviews: 15 | Ratings: 58
4.54
/5
rDev
+22.4%
look: 3.5 | smell: 4.5 | taste: 4.75 | feel: 4 | overall: 4.75
No sweetness here! This is for people who like the bitter taste of beer. Simcoe single hop, with 10% rye malt. 70 IBU, but without the really sweet malts, it's an almost savory brew. I've found that rye IPAs are about my favorite beers, and this is an exceptional one. With almost 8% ABV, it has quite a kick as well.
It's a beer for tough folks who aren't afraid of a little bitterness and don't need sweetness. Try it!
★
421 characters
3.96
/5
rDev
+6.7%
look: 4 | smell: 3.5 | taste: 4.25 | feel: 3.75 | overall: 4
This being my first rye beer, I wasn't sure what to expect.
look was orange, not much head OR carbo to speak of. looks OK
smell was slightly floral with some malty overtones, not sure if i could smell the rye.
taste was pleasant with resin-y hops & I could definitely taste the rye. sweet malts & some fruity aspects.
a little sticky.... not bad though. medium body with a light finish.
Overall I gotta try more rye beers to compare. MIGHT try this one again... I am from Michigan.
★
481 characters
3.94
/5
rDev
+6.2%
look: 4 | smell: 3.75 | taste: 4 | feel: 4 | overall: 4
This "imperial rye" ale us a thick, heavily clouded dark orange with a bit of clarity in the very thinnest parts at the edges. The head is a creamy one a full finger tall that shows some stick as it drops to a heavy layer that remains. Lacing clings in a solid ring followed by a blend of patching and spotting.
The nose is initially fruity with a lot of pineapple before earth comes in with floral notes, something almost nutty, and quite a lot of spiciness. There's something almost dank, but appropriately so, weaving its way in to balance the sweetness well.
Earth, spice and must are first in the flavor before fruity hops hit. They blend and balance well in the middle, with the hops presence accumulating with each sip. Something like pumpernickel rides the middle, the rye showing strongly without overtaking the other flavors, while the hops turn more floral and seem to accentuate the spiciness and earth into the finish, which lingers well.
The body is on the border between medium and full, and there's a lush creaminess that makes the tongue uncertain at first. Ultimately it falls medium but edges into full, while a crispness evens the smoothness a bit.
★
1,174 characters

3.87
/5
rDev
+4.3%
look: 4 | smell: 3.75 | taste: 4 | feel: 3.75 | overall: 3.75
As a big fan of rye beers I was quite excited to sample this offering when I saw it on the shelf at my local bottle shop. This ale pours a deep amber color with a thick off white head that gives way to a nice film and substantial lacing. The aroma is spicy rye, hops, and a nice malty backbone. Mouthfeel is smooth, thick, and a little creamy. Almost a touch to much body. Definitely makes it a little difficult to drink more than one. The flavor is a rye lovers dream. Spicy and bitter but well balanced by the malt presence. This is a damn good rye, really lets the rye shine through and not be overpowered by any other flavors. If you like a rye, you'll love this.
★
667 characters

3.8
/5
rDev
+2.4%
look: 4 | smell: 4 | taste: 3.5 | feel: 4 | overall: 4
Logan's Alley 7 AM Happy Hour: Pours a dirty penny colour with a dusty cap of an eighth of an inch that endures. Rolling hills of lace in giant patches rim the glass.
The nose is floral. Grapefruit and other undiscernable nectar scents flourish. Perhaps apricot. Bready characters lay underneath the more bold notes.
The taste is more bitter than sweet with a lingering dryness that creeps in slowly and stays until the next swallow. Grapefruit and grains dominate with the sweet tones taking a back seat. This is not a display of a balancing act, but it is big and brash and somewhat interesting.
Mouthfeel approaches heavy. The drinkability is fine. The dryness is striking and may cut into the repeatability factor. Not the most balanced creation, yet imperial to be certain.
★
789 characters
3.8
/5
rDev
+2.4%
look: 3.5 | smell: 4 | taste: 3.75 | feel: 3.75 | overall: 3.75
Sampled at World Expo of Beer in Frankenmuth, Michigan... from a cask.
Glad I tried this beer -- I really enjoyed it. I almost went with Buzzsaw, but got this when I saw it was a cask. Being from a cask, it was a little flat, but the beer still had a slightly creamy body. The rye in here is "raw", with a fair amount of hoppiness. Nice balance, despite being loaded with rye.
Very good rye beer -- I don't know if it's actually retired or not like BA says, but I enjoyed it. Some rye beers are a mess, this one certainly is not.
★
531 characters
3.68
/5
rDev
-0.8%
look: 4 | smell: 3.5 | taste: 3.5 | feel: 4 | overall: 4
12 ounce bottle into tulip glass; no bottle dating, but is a recent release. Pours lightly hazy reddish orange color with a 1-2 finger dense light khaki head with good retention, that reduces to a small cap that lingers. Nice spotty soapy lacing clings on the glass, with some light streaming carbonation. Aromas of grapefruit, tangerine, orange peel, caramel, spicy rye, toast, floral, grass, and floral/toasted earthiness. Nice and pleasant aromas with good balance of citrus hops and caramel/rye malt sweetness; with solid strength. Taste of grapefruit, tangerine, orange peel, floral, grass, caramel, biscuit, spicy rye, toast, light pine, and floral/toasted earthiness. Fair amount of floral/pine bitterness on the finish; with lingering notes of grapefruit, tangerine, orange peel, floral, grass, caramel, biscuit, spicy rye, toast, light pine, and floral/toasted earthiness on the finish for a good bit. Nice robustness and solid complexity of juicy citrus hops and moderate caramel/rye malt sweetness; with a good bitterness/sweetness balance and zero cloying flavors after the finish. Medium carbonation and medium-full bodied; with a smooth, moderately creamy, and fairly crisp mouthfeel that is nice. Alcohol is well hidden with minimal warming present after the finish. Overall this is a nice imperial rye ipa. Good balance and robustness of juicy citrus hops and moderate caramel/bready rye malt sweetness; and very smooth to sip on for the ABV. A nicely enjoyable offering.
★
1,487 characters

3.68
/5
rDev
-0.8%
look: 4 | smell: 3.5 | taste: 3.5 | feel: 4 | overall: 4
Served on-tap at Aubree's tavern in Northville, MI, in a pint glass. Slightly hazy amber body with a half finger off-white head. A small amount of creamy lacing along the top portion of the glass.
Decent hoppy aroma up front, with some grapefruit and some minor piney notes. Some slight sweet malt aroma in the background.
The flavors mix fairly well. A really good bitter hop bite blends with some malty sweetness. The hop character is not very complex, but still tasty enough to enjoy.
Medium mouthfeel and very drinkable. I definitely enjoyed two pints. Solid brew.
★
572 characters
3.62
/5
rDev
-2.4%
look: 3.75 | smell: 3.5 | taste: 3.75 | feel: 3.5 | overall: 3.5
Appearance: a brownish orange color. Slightly hazy. A finger or so of an off white to tannish head that leaves a bit of a lacing
Smell: strong spicy rye. Some hoppiness
Taste: spicy and bitter rye along with indiscernible hop character
Mouthfeel: a bit bitter and sticky
Overall: tasty rye but two one dimensional to be great
★
329 characters

3.62
/5
rDev
-2.4%
look: 3 | smell: 3.5 | taste: 3.75 | feel: 3.5 | overall: 3.75
Appearance - 3/5
Dark orange, fairly clear, about half a finger of light beige head, which dissipates to minimal head quickly. No carbonation can be seen rising up the beer, which is disappointing, it makes the beer look dead, rather than alive.
Smell - 3.5/5
Some sweet, slightly fruity malts. Pine/resin slightly floral hops. Slight alcohol aroma.
Taste - 3.75/5
Sweet, unique malt flavor (must be the rye). I'm trying to nail down exactly what it tastes like, but it's hard to define. Perhaps some carmelized sugar with a bit of alcohol flavor. Slighty fruity, with subtle pine-resin hops.
Mouthfeel - 3.5/5
Medium body, slightly crisp, light amount of medium-light intensity carbonation. Slightly syrupy but not too much so.
Overall - 3.75/5
This was a good refreshing brew. I liked the rye malts, a bit of a flavor change-up compared with most ales.
★
858 characters
3.61
/5
rDev
-2.7%
look: 3.75 | smell: 3.25 | taste: 3.75 | feel: 3.5 | overall: 3.75
Serving: On tap, 4 oz sampler at the Corner Brewery (ABC Ypsilanti branch)
Served: 17 June 2013
Appearance: A nice deep amber color with a white head that sticks around, even in the sampler glass. Some slight lacing down the sides.
Smell: There really isn't much to mention here. Smells 'beer-y' with some hints of lightly roasty malt and some hops every now and again. The overall smell profile on this beer could certainly improve.
Taste: Incredibly smooth. The rye really makes the beer smooth and bitter to taste, which really compliments the hop characters in the beer. Like most rye beers, the hops and the malt really balance out well, and this beer is no exception.
Mouthfeel: Nice and smooth; invites another drink.
Overall: Another good option from Arbor, though certainly not their best. I would get this again.
★
827 characters

3.6
/5
rDev
-3%
look: 3.5 | smell: 3.5 | taste: 3.75 | feel: 3.5 | overall: 3.5
This was a nice deep amber, almost orange beer with a two finger head that left massive lacing on the glass. Been a while since I had a rye beer so I was looking forward to this.
Aroma was of sweet, fruity malts, dark bread, and light hops. Not the hop monster the beer notes led me to believe. They were there but the sweetness dominated.
Taste was lightly bitter with a strong, full malt body full of caramel and toffee. It was not very sweet, but I got a little bit of spiciness from the rye. Light hops came in afterward.
Mouthfeel was smooth and creamy. It was also a bit sticky and coated the tongue after the swallow.
Overall a good beer. I would not, however, have been able to tell it was a rye beer if I was not told. It seemed to be closer to a lightly hopped brown ale.
★
797 characters
3.58
/5
rDev
-3.5%
look: 4.25 | smell: 3.75 | taste: 3.5 | feel: 3.25 | overall: 3.5
Bottle poured into a nonic pint.
A- A liberal pour makes for a 2-finger, tan head. Clean, copper-brown body with light carbonation. Good sustain on the head and awesome stick on the glass.
S- My first impression is pineapple, oddly enough. Things stay fairly sweet with some grainy or bready aspects, but grapefruit and a hint of rye creep in.
T- A lot more rye than the aroma suggests, with sweetness that suggests brown sugar. I assumed there is a higher ABV at work and checking in at 7.7% is pretty hefty. The grapefruit comes in late again lending a relatively clean finish to a very sweet beer.
M- Very dry. First sip was through a foamy head. Full body, thick viscosity. Some puckering from grapefruit and rye.
O- It's alright. It seems like it trying to go too big and it drowns out the rye a bit too much in the end. Glad I tried it. Not going to seek it out. As drinkability goes, I don't think I could do another in a single sitting.
★
949 characters
3.57
/5
rDev
-3.8%
look: 3.5 | smell: 4 | taste: 3.5 | feel: 3 | overall: 3.5
Served on tap at the Old Chicago in my neighborhood. Pours a dense copper-amber color, very opaque and very inviting. The white head dissipated to paper thin rather quickly, but the lacing it left on the glass was great. The nose hits with a combination of floral hops, pines, woody grains, roasted barley and biscuits, and a hint of citrus (grapefruit, maybe) in the background. The taste is a head on collision filled with toasted grains and rye all the way. The floral tones and hops take a back seat to the malt and rye. Slightly overpowering and dry, but different and commendable for that. The body is medium, not too creamy, not too chewy, pretty much just average with a dry finish.
Not a bad beer at all. Haven't heard of it before I had it, and haven't seen it anywhere since then, but if I ever did manage to find it, I would most likely have another glass.
★
869 characters

3.16
/5
rDev
-14.8%
look: 3.75 | smell: 3.25 | taste: 3 | feel: 3.5 | overall: 3
Came to the table in a nonic a hazed amber/brown with a thinner head atop,fruity esters in the nose along with lightly toasted cereal grain,the hops and or rye were not really present.Flavors of toasted cereal and malty fruitiness,slight lactic sharpness in the finish but it doesn't pack a big punch.The imperial rye seems to be missing some rye,not a horrible beer but not something I would order again.
★
405 characters
Ryeclops Imperial Rye from Arbor Brewing Company
3.71
out of
5
based on
58
ratings.