Bigg's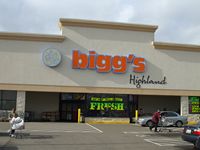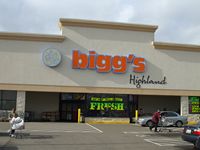 Store
3872 Paxton Avenue
Cincinnati
,
Ohio
, 45209
United States
(513) 871-6907 |
map
biggs.com
Notes:
Reviews by nlmartin:

nlmartin from Ohio
3.7
/5
rDev
+7.2%
Although my dad is not a BA he enjoys fine beer. He told me about buying Saint Bernardus and Arrogant Bastard over at Biggs. I was like sure you are buying these at Biggs. A few weeks later one of my co-workers mentioned seeing beer at Biggs he had never heard of. So I found myself at Biggs at five-thirty in the morning. After taking care of my other purchases I head over to the beer cases. I was very impressed with a section of local offerings Mount Caramel Brewery, Barrel House and Great Lakes. Going further down the row I see numerous unexpected beer goodies. They had Bells, OFallons, Saint Bernardus, Stones Arrogant Bastard and Smoked Porter, Jolly Pumpkin. Needless to say I was a bit jarred by the beers available at a Biggs. Yes the place has the usual suspects BMC, Heine, Corona ect; however, this place has a nice selection of beers available in sixers. Now the part that shocked me the most. Just about everything that was available in six packs was available as a single. This would be a very solid beer stop for anyone in the neiborhood.
Oct 21, 2006
More User Reviews:


BeerAndBourbon from Ohio
3.5
/5
rDev
+1.4%
Not exactly a beer oasis, but a good place to pick up some good brews alongside your grocery shopping. The carry all of the standard macros cold (obviously) as well as the major and local craft labels in the fridge. They have a small selection of single bottles for a create your own six pack. They've also got a decent selection of room temp beers including Saison du Pont, Brooklyn, Left Hand, Ommegang, Stone, Orval, and a relatively large selection of others.
If you're just out to pick up some brews, go to Hyde Park Wine and Spirits instead, but if you want some good cheese or food to go with that, this is a great grocery store with an ample selection.
May 11, 2010
ThaBobfather from Ohio
3.7
/5
rDev
+7.2%
The Hyde Park Bigg's is a very well lit, clean, and well organized grocery store. The beer section is very well organized and surprisingly good. Not surprisingly for Bigg's, they tend to have pretty good selections, but surprising for a grocery store that doesn't have any beer/alcohol sales specialty.
If you are in the beer section while either a distributing rep or their department head is there, you can get some pretty high quality suggestions and craft beer knowledge, but the general employee doesn't pay that much attention to it.
They have a solid indy bottle selection as well as a good sampling of 6ers and mixed 12 packs. Also they offer a "pick your own" six-pack, which is cool.
May 29, 2009
mikesgroove from South Carolina
3.7
/5
rDev
+7.2%
Ok, so I have to admit I had never heard of a Bigg's before. There was one across the street from my hotel in Mason which I acquainted myself with the first night I was there. After the good experience in that store I figured I would check this place out as well. It is a large Wal-Mart like store with a full grocery and clothes, electronics and the like. A cavernous store that I did not really think would have a good selection, however I was more then pleasantly surprised. Lots of items from Hoppin' Frog, Mt Carmel, Rogue, Avery, Southern Tier, Great Lakes, Thirsty Dog and many more. Lots of bombers both warm and cold, but the best part hands down was mix a six with everything on the shelf. Awesome way for me to get some locals without having to get a whole sixer. Overall I have to say I am not generally a fan of these giant places, but this one has the selection to back it up. I would most certainly visit this place again.
Jan 15, 2008
bergands from Ohio
3.35
/5
rDev
-2.9%
I was casually making my grocery rounds when I stumbled into a beer isle that I didn't think could actually be in a Bigg's. A large selection of cold sixers, a few bombers, and a pretty extensive selection of mix and match singles. Every beer they had as a sixer they also had as a single for 1.49 a piece. DFH, great lakes, victory, bells, just to name a few. I was suprised at what I found. I don't know if I'd make a special trip, but if you need groceries and you want to find something tasty I would stop in.
Feb 26, 2007

laintringulis from Ohio
3.7
/5
rDev
+7.2%
The world of beer has greatly improved at the grocery store! This Biggs now has a very solid selection of micros and some Belgians.
The have one long cold case with mainly bmc and more popular micros. and a long aisle plus of 6 packs and singles. They also have Mt. Caramel growlers. Bell's, Stone's, Goose Island, DFH, Great Lakes, Barrel House, Unibroque, Chimay, and Victory products just to name a few. Most of the staff isn't very beer savvy, but are willing to help look for a particular product if you want. Prices are competitive with other places. You won't find that rare, hard to find brew, but they offer a very solid selection.
Dec 11, 2006
Bigg's in Cincinnati, OH
Place rating:
3.45
out of
5
with
7
ratings