The Obsidian Dagger IPA Noire
| Dead Frog Brewing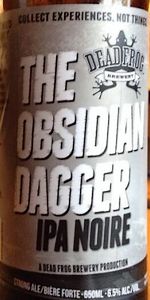 BEER INFO
Brewed by:
Dead Frog Brewing
British Columbia
,
Canada
deadfrogbrewery.com
Style:
American Black Ale
Alcohol by volume (ABV):
6.50%
Availability:
Rotating
Notes / Commercial Description:
Sparks fly when bold & beautiful tropical hops meet a brazen & daring roasted malt base. Their chemistry is undeniable and perfectly balances the hop flavours and aromas of a powerhouse IPA with the depth and intricacy of a complex dark ale.
The creator of the Fearless IPA and Commander Imperial Stout pulls no punches with his newest masterpiece. He's brought your taste buds to their knees with monstrous Imperial IPAs and made them sing with cavernously deep Imperial Brown Ales. Now he brings you his greatest triumph!
Added by chickenm on 04-12-2014
Reviews: 4 | Ratings: 11
None found.
More User Reviews:
2.99
/5
rDev
-17.4%
look: 3.5 | smell: 3.25 | taste: 2.75 | feel: 3 | overall: 3

3.19
/5
rDev
-11.9%
look: 4 | smell: 3 | taste: 3 | feel: 3.75 | overall: 3.25
A: Deep, deep brown with a couple fingers of foamy, latte-coloured head, dissipating leaving lacing around the glass.
S: No malt, all hops. With my eyes closed, I might think this was an IPA. It's appealing, but if I'm to rate according to style, this is lacking.
T: The hops are running the show. The "brazen and daring roasted malt base" mentioned on the label just isn't there for me. It's not bad -- it's actually an enjoyable enough brew -- but it's not what I was hoping for.
F: Smooth, medium-bodied.
O: This one misses the mark. With all hops and no malt flavours, it's not what an American Black Ale / Black IPA / Cascadian Dark Ale should be.
656 characters

3.55
/5
rDev
-1.9%
look: 4 | smell: 4.5 | taste: 3 | feel: 3.25 | overall: 3.5
Appearance: Super dark brown, bordering on black. Light tan coloured head is moderate with medium and large bubbles in the carbonation. The head dissipates rather quickly and does leave a fair bit of lace.
Aromatics: Interesting… my first inhale was full of grapes (a little on the sour side) and other fruity esters, and I can also sense the fresh dough bread-like yeast in the background.
Taste: The hops stand out for sure, the roasted malts are considerably understated. There is quite a bit of earthiness and the "roastedness" flavours show through in the strong coffee-like bitter. I agree with "souvenirs" that the promised roasted malt base is missing (or very well hidden behind the hops).
Feel: Fairly heavy-bodied, almost like a porter but without the creaminess.
Overall: I think if you like hoppy black ales then this is for you, if you like to have the sweet malty tones (roasted or not) then I'd probably say this one doesn't really hit that mark. I like my steak well done with a Chicago style char, and this beer kind of fits that role nicely - its full hopped flavored with that roasted char finish, so overall I don't mind it, but I do like to have a little more in terms of payoff on the malt side of the table.
1,248 characters
3.67
/5
rDev
+1.4%
look: 4 | smell: 3.75 | taste: 3.5 | feel: 3.75 | overall: 3.75
Fizzy jet with creamy tan cap. 4
Flowers, melon, and a touch of blackcurrant. 3.75
Black bread dough, char, powdery IBUs, slight cocoa, cola, dark fruit, then honeydew + tangelo rind. 3.75
Clean, lt-med, bitter. 3.75
Centennial, Columbus, Galaxy
Neither stout nor IPA: roast is low, but so is aroma. Carafa II and Special B give some raisin, but mostly serve to double up on the perceived bitterness. For a modest 50 IBUs + 6.5%, hard work. 3.75
447 characters

4.27
/5
rDev
+18%
look: 4.75 | smell: 4 | taste: 4.5 | feel: 4.25 | overall: 4

3.75
/5
rDev
+3.6%
look: 3.75 | smell: 3.75 | taste: 3.75 | feel: 3.75 | overall: 3.75
3.9
/5
rDev
+7.7%
look: 4.5 | smell: 3.75 | taste: 4 | feel: 3.75 | overall: 3.75

3.92
/5
rDev
+8.3%
look: 3.75 | smell: 4.25 | taste: 3.75 | feel: 3.75 | overall: 4
6.5% abv, 50 ibu, 650ml bottle.
A - dark brown porter like, with finger n half light brown head, lacing.
S - chocolate, roasted malt, citrus, fruity, honey, earthy,
T - mild carbonation, medium n smooth. starts with chocolate malt, smoky, honey sweetness coating, coffee infused like bitterness emerging in, till the very end. hint of nutty. finish up dry.
O - its really good! really smooth, smells like a big stout, plus the fruity. not complex on palate tho, lack of malt backbone and lasting. will get it again!
516 characters
3.68
/5
rDev
+1.7%
look: 3.75 | smell: 3.75 | taste: 3.75 | feel: 3.5 | overall: 3.5
The Obsidian Dagger IPA Noire from Dead Frog Brewing
3.62
out of
5
based on
11
ratings.