Chocolate Mint Brown Ale
| Dead Frog Brewing
BA SCORE
83
good
10
Reviews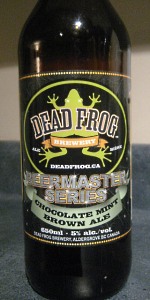 BEER INFO
Brewed by:
Dead Frog Brewing
British Columbia
,
Canada
deadfrogbrewery.com
Style:
American Brown Ale
Alcohol by volume (ABV):
5.00%
Availability:
Fall
Notes / Commercial Description:
A rich, silky, refined brown ale culminating in a subtle hint of minty euphoria.
17 IBU
Added by Kakaraht on 01-27-2011
Reviews: 10 | Ratings: 16
3.65
/5
rDev
+1.1%
look: 4 | smell: 4 | taste: 3.5 | feel: 3.5 | overall: 3.5
650 ml bomber, a format I likey very much.
This beer pours a clear, very dark cola hue, with one finger of creamy pale beige head, which leaves some random low rises of lace around the glass as it settles. It smells of nutty chocolate malt, and mild crisp mint. More mint cough drops than After Eight. The taste definitely brings back that ubiquitous Christmas confection, with bittersweet chocolate and zingy mint taking the forefront. The carbonation is moderate, the body medium light, with the airiness of the mint dragging the weight down. It finishes still pretty minty, the brown ale malt pushing against the ice from below.
A nice combination of boundary-pushing dualities - a strong backbone of brown ale sweetness, and spicy, barely tempered mint. Quite a new concoction for this Canadian palate, and a good one at that.
★
832 characters
3.67
/5
rDev
+1.7%
look: 3.5 | smell: 4 | taste: 3.5 | feel: 4 | overall: 3.5
A - Pours a dark brown with a ruby red tint, thin layer of head with some retention and sporadic lacing.
S - Fascinating on the nose, where the after eight mint competes with the caramel and toffee notes of the brown ale.
T - The brown ale comes through off the top with caramel and toffee, toasted malts and a bit of nuttiness. The chocolate mint comes through on the finish leaving a chalky mint flavour lingering on the tongue.
M - Medium bodied, goes down smooth and finishes with a touch of dryness.
O - A unique offering and glad I tried a bottle, however, this is by no means a session ale. Worth a try, but I'm not sure I'll be getting another.
★
656 characters

3.7
/5
rDev
+2.5%
look: 3.5 | smell: 3.5 | taste: 4 | feel: 3.5 | overall: 3.5
650 ml single brown bottle (as pictured above), I picked up last time I was at Zyn. Looked interesting, excited to try it. "You hold in your hand the pinnacle of brewing innovation. Brewmaster Series is a harmonious combination of premium quality beer and ingenious flavour design. We bestow upon you the finest beer in the universe! Cheers!"
"...is a rich, silky, refined brown ale culminating in a subtle hint of minty euphoria!"
Pours a very dark cola color, clear with mahogany red hilghts. Thick and creamy beige foam. Head settles down, leaving chunks of lace. It smells of chocolate malt, and some light mint. As it starts to warm in my snifter glass, the aromas become even more pronounced. The taste basically as I imagined it would be. Semi sweet chocolate and mint tingle. Aftertaste was pretty close to an After 8, though not as strong. The carbonation and body is medium to light. The brown ale malty sweetness holds up to the mint, keeping eith from being too much.
A very interesting combination of flavors, innovative for sure. You get exactly what you are expecting - chocolate mint. A nice one to share as a dessert beer.
★
1,142 characters
3.46
/5
rDev
-4.2%
look: 4 | smell: 3 | taste: 3.5 | feel: 4 | overall: 3.5
A - a clear dark rootbeer appearance, creamy tan head retained pretty well
S - nutty and grainy with a hint of mint, but all subtle aromas
T - flavour much more pronounced than the aroma, very much like a junior mint in flavour with a nutty malt backbone, although the mint does have a somewhat chemical/artificial tone about it
M - more carbonation than I expected, move from smooth to that minty refreshing feeling
D - big props for trying something different, and ending up with a pleasant result, not as good as their nut brown but still one of their better offerings I've tried
★
582 characters

3.36
/5
rDev
-6.9%
look: 4 | smell: 3 | taste: 3.5 | feel: 3 | overall: 3.5
From a 650 ml brown bottle. Pours out a translucent nut brown, creamy off-white head that slowly settles to a thick cap.
Clean toasted grain and a hit of mint greet the nose first, seperate character of chocolate lingers in the background. None of it seems to gel with one another though.
Things come together much more in the flavour though, the overall end result is that of an After Eight dinner mint. Mild dry toasty malt up front, both the chocolate and mint rise up together in the middle, while it's the chocolate that lingers on most into the aftertaste, with a nutty character as well.
Medium-bodied mouthfeel, moderate carbonation, watery texture.
I like the concept and flavour combo, just not sure if a Brown Ale is the best style choice to carry them. This hasn't fully convinced me.
★
800 characters

3.67
/5
rDev
+1.7%
look: 3.5 | smell: 4 | taste: 3.5 | feel: 4 | overall: 3.5
Dead Frog's "Chocolate Mint" Brown Ale @ 5.0% , a 650 ml bottle , served cold into a pint glass
A-medium/dark brown with a fine tan head leaving some small lace along the pint glass
S-"After Eight" chocolate mints
T-very pleasant to the taste buds , sweet(mint chocolate) , some dry roasted malts
MF-silky smooth , medium body and good carbonation
Ov-tad sweet , good dessert beer , the brown ale underneath all the sweetness is surprisingly good
cheers LampertLand
★
469 characters
3.82
/5
rDev
+5.8%
look: 3.5 | smell: 4 | taste: 4 | feel: 3.5 | overall: 3.5
A nice surprise after the slightly disappointing Christmas Beeracle. Dark, very dark for a brown ale. Almost like a porter. Weird, porous almost cola-like head.
Nice minty smell on the nose. Sweet chocolatey malts, and slightly sweet, fruity hop scent. Nice mild blend of chocolate and mint - almost like a sweeter, liquid version of an After Eight dinner mint. A little bit too sweet, but still very nice.
Nice mouthfeel, and a very good after dinner beer. Low ABV, nice mild taste...a great sessionable dessert beer.
★
520 characters
3.32
/5
rDev
-8%
look: 5 | smell: 3 | taste: 3 | feel: 4 | overall: 3.5
Bought a pair of 650 mL bottles which were on sale for $3 each. I went into this with low expectations but also with a curiosity about how they were going to mix mint into beer.
The beer looks great. It pours with a light-brown, fluffy-creamy head and a dark brown (almost black) body. Aroma is a little odd. At first there was a soapy scent. Then I found the mint which smells smooth. Otherwise it has the aroma of a normal beer. The first impression on the taste is that it is a normal brown ale, but then you detect a light mint and a chocolate taste that combines with the hops. The chocolate taste is more of a cocoa. I'm not sure what kind of mint it is (closer to spearmint or wintermint, rather than peppermint, but I'm not sure). There also seems to be a nuttiness in the flavour, too. It has a medium body and perfect carbonation (light-to-medium silky-smooth). I find feels more like a cocktail than a beer. Overall, it is extremely unique but wouldn't work well if you didn't know that mint was purposeful. Upon reflection, it tastes alright: not offensive (as long as you are expecting the mint) and a good brown ale underneath.
★
1,143 characters
3.74
/5
rDev
+3.6%
look: 3 | smell: 4 | taste: 4 | feel: 3 | overall: 3.5
CMBA is an almost opaque brown ale, producing a short lasting light brown head with very little lacing. The smell threw me off a little with the mint intensity, but a second whiff confirms all the other essential ingredients of a good ale - particularly the malt. The mint really takes over the flavour, but not in a bad way. But where's the chocolate they talk about in the name? It isn't very apparent. It's still good though. Average mouthfeel. Overall, this is a unique beer, and its pretty good.
★
500 characters
4.01
/5
rDev
+11.1%
look: 3 | smell: 4.5 | taste: 4 | feel: 3.5 | overall: 4
A: Pours a dark crisp brown, with a medium bodied head that has decent lacing
S: Smells like an after eight mint. Very pleasant and rich.
T: Mint is the forerunner, with a nice maltiness and faint chocolate. There is also hints of spice and coffee, though faint.
M: It has medium body and good carbonation very smooth. The flavor left in the mouth is really nice and refreshing.
D: Extremely drinkable, though could have been a bit more chocolaty. Still nice and refreshing. Would be good after a big meal.
★
518 characters
Chocolate Mint Brown Ale from Dead Frog Brewing
3.61
out of
5
based on
16
ratings.