French Oaked Stiff Stout
| Dead Frog Brewing
BA SCORE
82
good
10
Reviews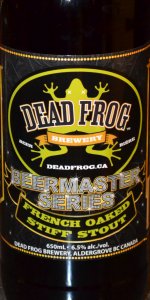 BEER INFO
Brewed by:
Dead Frog Brewing
British Columbia
,
Canada
deadfrogbrewery.com
Style:
American Stout
Alcohol by volume (ABV):
6.50%
Availability:
Limited (brewed once)
Notes / Commercial Description:
A full flavoured, complex stout combining roasted barley and chocolate malts aged on toasted french oak chips to create a rich, textured beer with a finish so stiff you'll never forget it!
26 IBU
Added by leaddog on 02-18-2012
This beer is retired; no longer brewed.
Reviews: 10 | Ratings: 16
3.47
/5
rDev
-0.9%
look: 3 | smell: 3.5 | taste: 3.5 | feel: 3.5 | overall: 3.5
Props to my bro for this selection...
A - Pours pitch black with a finger of head, little retention or lacing.
S - Rich mocha and dark cocoa, hints of espresso, a touch of smoke and a milky finish.
T - Lighter than the nose implies, the milky cocoa comes through with a touch of peaty woodiness. Certainly mild, but better than the traditional Dead Frog offerings.
M - A tad thin and could use a carbonation lift, smooth going down and wet.
O - A tasty brew and better than their other brews, but still a tad mild. Nice flavor profile and is more sweet than bitter which is nice. The oak flavors are mild and subdued, but I'm glad they're getting a bit more adventurous.
675 characters
3.42
/5
rDev
-2.3%
look: 3 | smell: 3.5 | taste: 3.5 | feel: 3 | overall: 3.5
A - pitch black with a finger of mocha head that dissipated to a thin covering with a couple spots of lacing
S - roasty, chocolate, light wood, leafy, and a touch of alcohol
T - dry chocolate and charcoal malt, leafy hops and mild barrel wood note, more of an overall porter flavour than stout
M - light smooth quality more like a porter, gets watery through the middle and finish
O - it is tasty enough and it generally hits the flavour notes that it claims, i get more porter than stout from this but not so much to punish the rating for it, not outstanding but above average relative to many of the Dead Frog brews
617 characters
3.35
/5
rDev
-4.3%
look: 3.5 | smell: 3.5 | taste: 3.5 | feel: 3 | overall: 3
A: Pours black with about 1-2 fingers of tan head which quickly dissipated to a fine ring around the glass.
S: Initial smell of roasted dark coffee and cocoa. Sweet malts in the background and a hint of vanilla. I expected to get more of the vanilla scent being that this was aged on breach oak chips.
T: Taste follows the nose with a light bitterness in the end.
M: Mouthfeel is smooth but too light for a stout. I would enjoy this more if it had a heavier feel. Alcohol is well hidden.
O: Not a bad stout, but not something I would seek out. The mouthfeel is the weakest element and I am not sure what the stiff finish is referring to as the alcohol is not noticeable.
675 characters

3.5
/5
rDev 0%
look: 3.5 | smell: 3.5 | taste: 3.5 | feel: 3.5 | overall: 3.5
Pretty good first stout from these guys. Smooth mouthfeel with the oak notes adding to rather than overpowering the beer. I agree that it is more Porter than Stout and the beer treads the line between bigger Imperials and drinking stouts.I agree that there is not a ton of complexity but I enjoyed drinking it and will buy it again.
332 characters
3.67
/5
rDev
+4.9%
look: 3 | smell: 3.5 | taste: 4 | feel: 3.5 | overall: 3.5
Pours black with faint brown highlights and decent amount of tan head. Retention is on the poor side. Aroma is dark roast malt, coffee and nutty. Hint of vanilla and fruity esters. Was hoping for more. Taste provides more entertainment, with dark roasted chocolate and coffee and a distinct nuttiness. Vanilla and fruitiness linger in the background. Mouthfeel is smooth and refreshing for a beer of this content. Overall, well done, but it could be much better. Not even on my radar as far as favorite stouts go.
513 characters

3.64
/5
rDev
+4%
look: 3 | smell: 4 | taste: 3.5 | feel: 4 | overall: 3.5
A: Black with a bit of tan head, very thin ring of retention, hint of lace.
S: Pumpernickel rye bread, coffee, roasted nut, light vanilla and fruity esters. Nice.
T: It's a nice stout, fairly dry, with a bit of oxidation. Light coffee, hints of grain and licorice, with some nice woody character. Moderate bitterness; alcohol is hidden.
M: Well-attenuated, moderate body has a slight hint of roasted acidity and a pleasantly off-dry finish.
D/O: A decent stout and the oak is done well, but I woudln't have thought it was this strong. Too bad it seems a little oxidized.
574 characters

3.45
/5
rDev
-1.4%
look: 3.5 | smell: 3.5 | taste: 3.5 | feel: 3 | overall: 3.5
650ml bomber poured into tulip 29/2/12
A near black with cola edges, short lived finger of mocha foam is gone fairly fast but leaves lots of lace where it existed
S chocolate milk with a little raisin, cold coffee and faint wood
T what I smell with a little booze and dark fruit, tastes pretty tame but decent
M pretty thin for the color with a little char on the finish, bubbles are there but not enough to make up for the thin liquid
O pretty basic stuff when compared to other oak aged brews, although there`s nothing wrong with this brew its just not exciting me like some other oak aged stiff stouts I`ve had recently
A tough sell with St. Ambroise RIS on the same shelf, I don`t feel ripped off but I doubt I`m going to drop the coin for a second
761 characters

3.23
/5
rDev
-7.7%
look: 3.5 | smell: 3 | taste: 3.5 | feel: 3 | overall: 3
Dead Frog's Brewmaster Series "French Oaked Stiff Stout" @ 6.5%
A-served cold into a stein poured a cola brown with tan head
S-roasted barley and chocolate malts , woodsy
T-rich texture , you can taste the french oak used in aging
MF-bit thin for a stout , needs more body
Ov-easy to drink , more a porter than a stout , not a stiff finish as claimed by the label
cheers LampertLand
384 characters
3.5
/5
rDev 0%
look: 3.5 | smell: 3.5 | taste: 3.5 | feel: 3.5 | overall: 3.5
650ml bottle. Plenty of bravado in the marketing-speak on the label - let's give it a practical whirl..
This beer pours a solid black, with muted amber edges, and one anemic finger of thinly foamy beige head, which slinks away rather quickly, leaving a nice Tim Burton array of webbed lace around the glass.
It smells of mild caramel malt, milk chocolate, very soft woody barrel notes, and subtly tingly earthy hops. The taste is lightly roasted chocolate malt, some softly astringent, almost sour, graininess, and an ever so slight oakiness.
The carbonation is rather sedate, the body a tepid medium weight, and generally smooth. It finishes just off-dry, the dry choco-malt and burgeoning lactic character throwing a monkey-wrench into the fray.
Huh. A few questions seem to tug away at an otherwise easy to drink, um, let's say, dark beer? Firstees, I'm getting a lot more porter notes, that the equivalent stout ones. Next, the label-proclaimed 'stiff finish' is a bit of a headscratcher - are they talking booze? If so, they are way off, to their own credit, as the slightly elevated ABV is rather well integrated. Third, the use of French oak mirrors my home winemaking experiences - nice, unassuming, and well, pleasant, but offering nothing approaching the sass of some solid American oak, bourbon-sourced or otherwise.
1,331 characters
3.29
/5
rDev
-6%
look: 2.5 | smell: 3.5 | taste: 3.5 | feel: 3 | overall: 3
Appearance- Pours a dark cola brown with a bubbly beige head that dissipates quickly.
Smell- Oak aged barrel smelll with dark chocolate notes with a hint of barley.
Taste- Dark chocolate is the predominate flavour. Slight woodiness and has a slight bitterness. Hint of the french oak flavours left on the tongue.
Mouthfeel- Medium bodied with light carbonation. A little thin for the style.
Overall- An easy drinking stout from Dead Frog. Seeing as this is their first attempt at this style, it has some good flavours but it needs a little more body for the style. It resembles a porter more so than a stout. Maybe with some age this could be better.
662 characters
French Oaked Stiff Stout from Dead Frog Brewing
3.5
out of
5
based on
16
ratings.