Winter Beeracle
| Dead Frog Brewing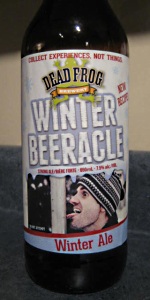 BEER INFO
Brewed by:
Dead Frog Brewing
British Columbia
,
Canada
deadfrogbrewery.com
Style:
Winter Warmer
Alcohol by volume (ABV):
7.50%
Availability:
Winter
Notes / Commercial Description:
No notes at this time.
Added by biboergosum on 12-21-2012
Reviews: 9 | Ratings: 17
4.31
/5
rDev
+21.1%
look: 3 | smell: 4.5 | taste: 4.5 | feel: 4.5 | overall: 4
A-Pours a clear brownish color with burgundy colored hues when held up against the light. The head is very relaxed, with very little foam created off of the pour....just a patchy thin layer of off white bubblework. Carbonation appears to be fine and methodical in it's ascent to the top of the glass....lacing is also modest, but shows some promise, as opposed to the head itself. Average looking at best unfortunately.
S- Very sweet smelling overall, with a dominant aroma of caramel and chocolate....reminds me of what a proper cola smells like. Blended into the aroma and wafting into my nasal cavity are milk chocolate, vanilla, rum cake, caramel, brown sugar, barley malt, and hints of dark fruit such as plums and raisins. The finish is very rich, with hop profile taking a long back seat. Very deep and alluring for sure!
T- Ahhh, this is what a true Winter Ale should taste like! Huge flavors that follow the aromas closely, with big chocolate and sweet toffee flavors abound! On the back end, I do taste the flavor of creamy vanilla, rich sweet rum....brought out by the 7.5% alcohol content, brown sugar and on the finish, the dryness of coffee even! Hop profile is minimal, but there is just a hint of citrus left behind!
M- Rich and full bodied for sure! The carbonation is very fine and each bubble burst enhances the overall flavor profile! This is like drinking a sweet, sticky dessert! Again, rum cake would be a great analogy but a dark fruit cake would be a good comparison as well!
O- This is one helluva beer, and is very accurate within the style! It's rich and full in every regard, from aromas to flavor to mouthfeel, this one does it well! The carbonation is mellow, and only exemplifies the overall character, and the alcohol content only enhances this and doesn't overbear. I know I'm enjoying this out of season, but I don't believe that this is past its' best before date....I think it may be better with age! I highly recommend this one to anyone looking for a deep brew!
★
2,004 characters

3.78
/5
rDev
+6.2%
look: 4 | smell: 4 | taste: 3.75 | feel: 3.75 | overall: 3.5
Dead Frog 'Winter Beeracle' @ 7.5% , served from a 650 ml bottle purchased for $5
A-pour is a light amber from the bottle to a dark amber in the glass with a small amount of ruby red at the bottom of the glass peeking thru a small beige head ,
S-malty , hints of vanilla
T-thick , malty , caramel ,
MF-low/mild carbonation , big full body
Ov-ok beer , decent winter warmer
prost LampertLand
★
398 characters

3.78
/5
rDev
+6.2%
look: 4.25 | smell: 3 | taste: 3.75 | feel: 4 | overall: 4.5
A: Dark brown, just a bit of head
S: Rich chocolate malt, hint of vanilla, alcohol is present in background, a lingering sweetness
T: Sweet yet robust malt, hints of chocolate and vanilla present, get a slight burnt sugar/brown sugar taste, just a slight bitterness in the background - a really festive winter ale!
M: Rich and creamy, but not too thick, very smooth finish, with a nice warmth from the alcohol, if I had a fireplace, you god damn better believe I'd be drinking this beauty in front of it, naked, wrapped in bear fur
O: Well done, Dead Frog has never dissapointed me and this winter ale is right up there with the best of them.
★
642 characters
3.72
/5
rDev
+4.5%
look: 3.5 | smell: 4 | taste: 3.5 | feel: 3.5 | overall: 4
650ml bottle. New name, new recipe, and new ABV. Seems new enough to me.
This beer pours a clear, dark bronzed amber hue, with two fingers of loosely foamy, and somewhat creamy dirty white head, which leaves a few broadly-spanning up-swells of ocean spray lace around the glass as it slowly settles.
It smells of sweet, bready caramel malt, sugary vanilla, orange creamsicle, citrus vodka, and leafy, floral hops. The taste is more big caramel/toffee malt, a kind of muddled orange juice smoothie fruitiness, vanilla cream, a soft alcohol edge, a bit of an indistinct tangy sourness, and some languid leafy, bitter hops.
The bubbles are fairly laid-back, but supportive enough, the body an adequate medium weight, with a very slight, ethereal astringency, but is otherwise smooth. It finishes off-dry, the vanilla, orange, and alcohol taking a step or three down in sweetness, the malt going sort of bready, and the hops still a bit tweaked in their saucy bitterness.
A tasty enough affair, the 'winter' influences here limited to the boozy vanilla citrus notes, which are usually more universal, but I suppose can be applied to the current season's context. Worthy of a go, as its warming aspects cannot be denied, whether you're deep into apres-ski or not.
★
1,263 characters
3.71
/5
rDev
+4.2%
look: 4 | smell: 3.5 | taste: 3.75 | feel: 3.75 | overall: 3.75
A - clear cedar brown, one thumb of tan head settled at a consistent thin cover, minimal lacing
S - deep nutty and sugary aromas, a bloodlike aspect, strong vanilla finish
T - big vanilla up front with chocolate malt assistance, some nutty and burnt sugar aspects, molasses, and hints of spice
M - medium to lightish body, smooth through the middle, with a late but pleasant warming quality
O - More impressed by this offering than I have been by anything from Dead Frog in quite some time, way better than their xmas beeracle, well worth picking one up to try
★
560 characters
3.65
/5
rDev
+2.5%
look: 3.75 | smell: 3.75 | taste: 3.5 | feel: 3.75 | overall: 3.75
This one was disappearing quickly from the shelves of the local beer store, so I picked up a 650ml bottle.
A - Deep brown with modest head. Good head retention.
S - Chocolate, sweet aroma.
T - Bitter dark chocolate, burnt caramel, vanilla, just a hint of coffee.
M - Rich feel with mild carbonation. Flavour hangs around a while.
O - An above average winter ale offering. At 7.5% ABV, it's a satisfying strong brew to enjoy après skis or after other winter activities. Recommended.
★
487 characters

3.61
/5
rDev
+1.4%
look: 3.25 | smell: 3.5 | taste: 3.75 | feel: 3.75 | overall: 3.5
7.5% abv, 26 ibu, 650ml bottle.
A - clear brown with one finger head.
S - sweet, spice, fruity, dried fruit, vanilla, biscuit, nutty, caramel. like ice bock.
T - medium body. massive cocoa, coffee flavor punch. stronger than I would expected from such light brown color. dry, not overly sweet as aroma suggests. little bit hop comes end.
O - interesting beer, like cold brew coffee. definitely fit to the season, sweet on nose, dry dark chocolate palate. 7.5% abv is well hidden. good value too, under $5 CAD.
★
509 characters
3.45
/5
rDev
-3.1%
look: 4 | smell: 4 | taste: 3.5 | feel: 2.5 | overall: 3
Dead Frog's Christmas Beeracle ruined last Christmas. I wasn't going to buy this one, but there it was under the tree. So I'm drinking the bottle on Boxing Day...for science.
It pours with moderate-to-small white-beige head and a deep dark red-brick red, but clear, body. A liquorice aroma immediately hits me. After a minute I get a refreshing evergreen (pine?) aroma, walnut, and a small (dull) amount of vanilla. The taste is unexpectedly stronger than the aroma suggests. Most evident is the dark ripe fruit (fruit cake) of most winter ales. The liquorice continues into the taste, as well as a stronger vanilla.
Overall, it is much deeper and darker than their Christmas Beeracle. It's a definite improvement but there is still more to adjust. I had to drink it slowly to appreciate it. It is a decent winter ale.
Edit the day after: I should have mentioned how strong this beer is: 750 mL at 7.5%. After drinking the bottle I enjoyed a walk, with my dog, in -34 Celsius weather.
★
988 characters

2.47
/5
rDev
-30.6%
look: 4 | smell: 2.5 | taste: 2.25 | feel: 3.25 | overall: 2
I agree with maclean25 that this beer could ruin Christmas, but I too am reviewing it for science. The appearance it quite nice, with an orangey rusty dark amber color and plenty of suds in the New Belgium snifter.
Smell it musty and earthy, with an overlay of vanilla like a car freshener dangling from the rear view mirror. This seems to have more of the Old Ale style of oxidation and sharpness. There's a distinct buttery flavor. The vanilla is stomach churningly strong. To be fair, there is plenty of roasted malt, but it soon develops a terminal bitterness that does not taste like hops from this planet.
I think this should be called Winter Beerache. This would be the right gag gift for the beer snob on your Christmas list. From the 650 ml botle purchased at the BC Liquor Store in Ladner.
★
801 characters
Winter Beeracle from Dead Frog Brewing
3.56
out of
5
based on
17
ratings.