St. Stan's Dark
| St. Stan's Brewing Co.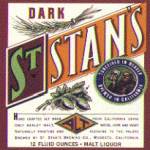 BEER INFO
Brewed by:
St. Stan's Brewing Co.
California
,
United States
ststans.com
Style:
Altbier
Alcohol by volume (ABV):
not listed
Availability:
Year-round
Notes / Commercial Description:
No notes at this time.
Added by Gusler on 07-27-2001
This beer is retired; no longer brewed.
Ratings: 10 | Reviews: 8
Reviews by beerguy101:
3.26
/5
rDev
-6.9%
look: 4 | smell: 3 | taste: 3.5 | feel: 3 | overall: 3
Dark brown color, Medium white foamy head. Aroma is malty, fruity and sweet. Touch of grains and grass. Medium bodied alt. Roasted malts, nearly no hops, little bitterness. Nice, simple beer. Good flavor.
Mouthfeel is full. Finish is clean. Aftertaste is slightly sweet.
271 characters
More User Reviews:

3.98
/5
rDev
+13.7%
look: 4 | smell: 3.5 | taste: 4 | feel: 4 | overall: 4.5
Pours a nice rich shade of ruby/dark amber, well developed lacing hanging over an off white head. Subdued nose of minty malt. True to the Alt style this one is smooth and balanced. Mouthfell is warm and luxorious, alcohol tickling the nose. Malt base is well defined and crisp German hops come in later to crispen things up and clear the palate. Sophisticated brew, yeast produces a nicely spiced and enjoyable ale. Give me a few sausages and kraut and a stein of this brew and I'll be in heavan
495 characters
2.9
/5
rDev
-17.1%
look: 3 | smell: 3 | taste: 3 | feel: 2 | overall: 3
On the pour a luminous deep ruby color, the head is mediocre in size, frothy in texture and a light tan color, the lace forms a very thin sheet. Nose is dominated by the malt, caramel sweet, pleasant as noses go, start is lightly sweet, top is skeletal in feel. Finish is temperate in its carbonation, the hops obliging in their spicy presence with the aftertaste desert dry, a bit to weak and watery for my liking so it won't garner much more than average.
458 characters

3.5
/5
rDev 0%
look: 3.5 | smell: 3.5 | taste: 3.5 | feel: 3.5 | overall: 3.5
Appearance: pours a brown color with a one finger head that falls apart. No lacing develops.
Smell: little aroma here as only some caramel sweetness is all that is detectable.
Taste: caramel, brown sugar, fruit sweetness, and a decent bitterness make up an altbier that is a bit sweeter than expected. It comes across as more of a brown ale.
Mouthfeel: lightly crisp at the start and smooth towards the finish. Aftertaste is mild and short-lived. Medium bodied.
Drinkability: easy to drink and a definite session beer. If you are looking for a big altbier, this isn't the one but it is a decent beer.
606 characters
4
/5
rDev
+14.3%
look: 4 | smell: 4 | taste: 4 | feel: 4 | overall: 4
I was in Modesto this week for work and as always found time to head to St. Stans for a pint.
This Alt is coco brown small beige head and nice lacing.
The nose is of lightly toasted malts (think whole wheat cracker) and some raisins.
The taste is fruity (raisins & plums) with sweet malts. It was clearly fresh and seems well balanced. Some caramel apple taste emerges late. Dry finish.
The mouth is very smooth & silky. A great session beer and one of the better beers I have had here. Would be easy to pair with some food.
539 characters
3.42
/5
rDev
-2.3%
look: 3 | smell: 3.5 | taste: 3.5 | feel: 3 | overall: 3.5
12 oz. glass bottle- color of murky brown, with a medium tan head short lasting - nose of malts, dark sour cherries, and – taste of malts, dark sour cherries, and some grassy notes - body is medium, and with medium carbonation – aftertaste of malt, and some sour red fruit
274 characters
3.4
/5
rDev
-2.9%
look: 3 | smell: 3 | taste: 3.5 | feel: 3 | overall: 4
A decent beer from CA. The color was dark copper/brown in color. The aroma had decent hop & malt tones. The medium body had little head to it. In the flavor were notes of coffee & chocolate. I think overall a average brew, w/ a good interpretation of the Alt beer.
264 characters
3.8
/5
rDev
+8.6%
look: 3.5 | smell: 3.5 | taste: 4 | feel: 3.5 | overall: 4
Dark cherry (the fruit, not the wood) with bright orange accents. The color didn't look all that impressive until I allowed the morning sun to work its magic. A smallish head of golden beige starts at a fat one finger--despite an increasingly vigorous pour--and leaves only a high collar of lace that doesn't stand the test of time.
Dark smells fruity and... uh... dark on first impression. On second and third impressions too. It's clear that dark malts were used (caramel, chocolate and black patent to be exact), but they haven't been used in great enough quantities. Of course that wouldn't be appropriate for the style, now would it? Speaking of style, I don't believe that I've had, or have even heard of, a dark alt before. I'm not really sure what to expect.
This is pretty good beer. The flavor is darker and spicier than anticipated. Good use of modestly toasted black malt. I suppose that something close to the same effect could be obtained by heavily toasting pale malt, but then again, maybe not. St. Stan's is much more flavorful than the vast majority of altbiers in my still somewhat limited experience.
Chocolate and dark caramel are the guts of the operation, and there's a nice, balancing hop fruitiness that provides that 'certain something' that all beer desirous of being really good needs to possess. Fuggles was the perfect choice of hop. The flavor doesn't fade all that quickly and the finish is increasingly bitter and ultimately clean.
St. Stan's Dark isn't a flamboyant, in-your-face kind of beer. It is well-crafted though and is different enough to be worth your time and money. Though I probably wouldn't drink a lot of it, I wouldn't mind if it was available locally.
1,713 characters

St. Stan's Dark from St. Stan's Brewing Co.
3.5
out of
5
based on
10
ratings.