King's Cherry Ale
| King Brewing Company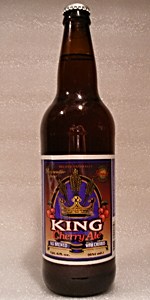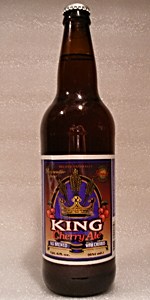 BEER INFO
Brewed by:
King Brewing Company
Michigan
,
United States
kingbrewing.info
Style:
Fruit / Vegetable Beer
Alcohol by volume (ABV):
7.00%
Availability:
Fall
Notes / Commercial Description:
No notes at this time.
Added by mjohn27603 on 12-28-2005
This beer is retired; no longer brewed.
HISTOGRAM
Ratings: 5 | Reviews: 5
Reviews by mjohn27603:
3.53
/5
rDev
+7%
look: 4 | smell: 3.5 | taste: 3.5 | feel: 3.5 | overall: 3.5
Pours pinkish out of a 1 pt. 6 fl. oz bottle. Purhcased for $5.99 for a 22oz bomber. Aroma is of malts and sourness. First sip reveals mostly a taste of grains and malts with just a touch of sweetness. The amount of cherry flavor in this one is very faint. Some dryness and acidity to the beer. Not at all like a lambic. A lot of fruit beers go over the top but this one might be too understated. This recipe seems to change every year and this year's is very light on the cherries. This one is available on tap too and I got the same understated taste at the brewer as well.
575 characters
More User Reviews:
3.43
/5
rDev
+3.9%
look: 3.5 | smell: 3 | taste: 3.5 | feel: 4 | overall: 3.5
22 oz. bottle. Pours a fairly clear, light amber color. Thin white head does not hold together for very long. Not much lace either.
Grainy aroma, with only a slight suggestion of cherry. Sort of a pale wheat with cherry aroma.
A bit of tart cherry flavor up front, and a bit grainy. The base of this beer just doesn't seem to work with the cherry.
Light body, with ample carbonation. Just does not seem to work very well, as the grainy character distracts from the cherry.
476 characters

3.26
/5
rDev
-1.2%
look: 3 | smell: 2 | taste: 3.5 | feel: 4 | overall: 4
A copper color with a filmy white head, small in stature that does not really last more than 30 seconds.
Only a slight bit of cherry if any at all. More of a macro aroma that is on the greainy side of things reminiscent of an Miller Lite.
Taste is much better. Full round mouthfeel is pleasing with a good amount of carbonation. Cherry is still not overly pronounced. Great carbonation, did I mention that. Brisk acicdity, not a complex brew but a highly refreshing drinkable one. Would never know this is 7% alcohol.
519 characters
3.16
/5
rDev
-4.2%
look: 3.5 | smell: 2.5 | taste: 3.5 | feel: 3.5 | overall: 3
A yeasty and cloudy copper color and a inch or so fluffly head that dissapaited in a patchy manner. The aroma reminded me of something between a pale wheat, Laffy Taffy and a Labatt's Blue. The cherry scent is not very strong at first whiff but seems to appear more as it sits though it never comes to the forefront.
The initial sip gave off grainy and malty flavor with the cherry taste hanging around the edges. Like the scent the fruit flavor is noticed more as it is sipped but never overstated. Hell, compared to a lot of fruit beers I've tried it's actually almost understated. Almost though meaning they could perhaps amp it up a little bit more you can taste it none the less. There's a good amount of carbonation to this brew giving it a sparkling and somewhat clean finish with a mix of malt and (slight) cherry in the aftertaste. Nothing too complex but not bad.
873 characters
3.1
/5
rDev
-6.1%
look: 3.5 | smell: 3.5 | taste: 3 | feel: 2.5 | overall: 3
Tropical sunset orange with an exceedingly fine yeasty haze that is only appreciated with backlighting. The pale orange cap is stiff, airy and crackly, leading to a quick departure and almost no lace. This is a cherry beer, right? I see no red or pink anywhere. The beer itself is nice... and the head looks a little more respectable on subsequent pours.
If I concentrate, I can pick up the suggestion of the hint of cherries in the nose. If the label was covered, it's doubtful that I could have identified this as a cherry beer at all. A huge turnabout occurs with warming, such that a below average aroma becomes an above average aroma that it unmistakably cherry-like.
The taste buds are able to pick up the 'hefty quantity' of cherries as well. Hefty? Uh... no. Whether sweet cherries or sour cherries have been utilized is difficult to determine since other ingredients are present and since the beer isn't exactly bursting with fruitiness. New Glarus Wisconsin Belgian Red has nothing to fear. This is a passable version, no more than that.
The malt backbone is a bit wobbly and doesn't provide much in terms of sweetness, malt flavor or mouthfeel. A modest amount of husky graininess peeks through the subtle dried cherry fruitiness. Why give this ale such a high ABV? It adds nothing of value, other than causing the drinker to be both blitzed and disappointed once the bomber is gone. On the positive side, alcohol isn't noted on the palate.
The mouthfeel goes from acceptable early (if a bit too sharply carbonated) to thin and watery later in the bomber. The bubbles fade quickly, leaving the beer flat in the end. Why do so many brewers have so much trouble with carbonation/mouthfeel? Maybe they need to take lessons from Great Lakes or Rogue.
I had semi-high hopes for Cherry Ale. I guess that makes me an optimist because the three King Brewing Company beers that I had prior to this one didn't exactly knock my socks off. Actually, they were all forgettable. Sorry to say, this one is destined for the craft beer memory hole as well.
2,055 characters
King's Cherry Ale from King Brewing Company
Beer rating:
3.3
out of
5
with
5
ratings