King's Hard Tail Ale
| King Brewing Company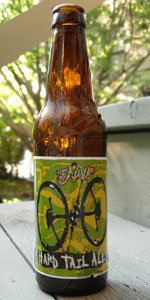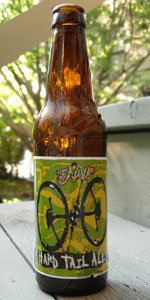 BEER INFO
Brewed by:
King Brewing Company
Michigan
,
United States
kingbrewing.info
Style:
American Pale Ale (APA)
Alcohol by volume (ABV):
not listed
Availability:
Year-round
Notes / Commercial Description:
No notes at this time.
Added by nortmand on 08-26-2007
This beer is retired; no longer brewed.
HISTOGRAM
Ratings: 8 | Reviews: 8
None found.
More User Reviews:

4.39
/5
rDev
+17.1%
look: 4 | smell: 5 | taste: 4 | feel: 4.5 | overall: 4.5
Not too sure on style, but it seems like an American IPA, couldn't find any solid info, though.
Pours a slightly hazy golden amber. Looks very nice, but the head retention/robustness could be better.
Clean citrus aromas dominate the nose. Some caramel notes as well. Very nice aroma.
Sweet biscuit malt flavors up front. Mellow grapefruit/ orange peel citrus flavors midtongue. Just a tiny bit of hop astringency. Leaves a balanced resinous bitter aftertaste.
Medium bodied with sufficient carbonation and very drinkable. This is a solid offering, definitely worth trying.
584 characters
4
/5
rDev
+6.7%
look: 4 | smell: 4 | taste: 4 | feel: 4 | overall: 4
Deep saturated orange tone, swirling into a darker shade as the yeast is poured in. Compact head of fluffy off white foam. Lightly citrus and botanicals in the aroma. Pale malts and light hops that give it a mild citrus rind flavor. Medium level of carbonation and body, very easy drinking. This is a great session pale ale, simple but very tasty and approachable.
364 characters
3.6
/5
rDev
-4%
look: 4 | smell: 4 | taste: 3 | feel: 4 | overall: 4
After the ridiculously foamy pour, it looks very inticing. Cloudy amber color. Nose was very promising with all of my favorite IPA qualities. Citrus, pine and lastly a hint of malt. Hoppiness stood out front, leading to a slight alcohol note. Closed with a unknown plastic taste not usually found in a bottle beer. It seemed to fade as the beer warmed a little. Had a good mouthfeel. Slippery with a very little alcohol burn. Drinkability would be better if said mystery taste was absent. Shows definite promise.
512 characters
3.29
/5
rDev
-12.3%
look: 2 | smell: 3 | taste: 4 | feel: 3.5 | overall: 2.5
Reviewed from notes
Sampled on 11-25-07
Pours a ridiculously foamy mess, takes forever to get the beer in the glass. Chunky yeast sits on top of the head, and adds a cloudiness to the appearance.
Smell is very citrus fruity, with a cheap and harsh character near the end. Not bad, but missing something.
Taste is surprisingly good, a sizable maltiness complements a very tart citrus in the hops.
Mouthfeel is good, very thick and resiny.
Drinkability is not very good, this beer becomes a bit harsh and acidic the more you drink it.
537 characters
4.04
/5
rDev
+7.7%
look: 3.5 | smell: 4.5 | taste: 4 | feel: 3.5 | overall: 4
A- A very nice and cloudy orange/cider looking liquid. No head to speak of, which is disappointing, because if there was one, this would be outstanding.
S- Some grassy hops with a spectacular malt backing. Really reminds me of a lot of DIPA's I've had without all the kick. A little bit of citrus on the tail end.
T- Very unique. I've never had an IPA taken this direction, but I am really digging this. The caramel hops really do an excellent job of working with the grassy and citrusy hops.
M- Thank God. Not all King beers are foamers. This has a wonderful, creamy mouthfeel. The only problem is the almost lack of carbonation. I do prefer this mouthfeel over the old ale though.
D- This really impressed me. Is not my favorite IPA by any means, but it really helped restore some faith in this brewery. Well worth a try. Get some.
838 characters
3.43
/5
rDev
-8.5%
look: 3.5 | smell: 3 | taste: 3.5 | feel: 4 | overall: 3.5
Butterscotch candy with nectarine trim. A vigorous pour netted no more than a fat one finger of foam; not surprising since the sound at crown cracking was a wimpy 'hiss' rather than a hearty 'pffft'. On the good side, the cap hangs around for a bit. On the bad side, it's less than generous in the lace deposition department. In the end, I'm enjoying the crusty band of hop scum that is currently occupying the nonic bulge.
The nose isn't hoppy enough for the stated style. An APA? Possibly, but low end. An IPA? No way. The only thing that's appreciable is a faint citric hoppiness that is probably Cascade if I was forced to guess. There might be something English in there too. It's hard to be definite given the lack of power. Warming brings melted caramel to the front of the line.
After several mouthfuls, I'm not so sure that IPA is such a bad guess (I couldn't find out any solid info either). The bitterness and the mouthfeel lead me to that conclusion more than the amount of hop flavor; which, sorry to say, is still nothing to get excited about. Maybe King needs to add the hops later in the boil, maybe they need to dry hop it, who the hell knows.
It tastes like the malt bill is predominantly pale with a (minor) helping hand from caramel malt. White grapefruit and lemon pith are well out in front, along with a surprising amount of tongue ruffling bitterness. Since I've never been one to value bitterness over flavor, my enjoyment of Hard Tail Ale is necessarily limited. If you're a quart low on alpha acids, though, dive right in.
The mouthfeel, as noted above, is the mouthfeel of a 7.0% IPA. It's at least medium for the style and is both firm and smooth. I also like the short-lived sizzle of a perfect amount of carbonation.
Hard Tail Ale is much better beer than Bavarian Weissbier. The only thing it needs (and it's a major thing) is more good hop flavor. After all, an IPA without good hop flavor is no kind of IPA at all. At least now I'm no longer despondent about the handful of other KBC offerings that are currently sitting in my cellar.
2,073 characters
3.36
/5
rDev
-10.4%
look: 4 | smell: 3 | taste: 3.5 | feel: 3 | overall: 3.5
Appearance: Pours a clear, orangey body with a small, very short-lived white head.
Smell: A simple, honest aroma of citrus and toffee with a hint of grass.
Taste: True to the aroma, the taste is of mildly sweet toffee-minded maltiness. Hoppy citrus flavor with some grassiness in there, too. Medium bitterness that lasts into the finish.
Mouthfeel: Medium-bodied. Medium carbonation.
Drinkability: A true, decent APA.
421 characters
3.87
/5
rDev
+3.2%
look: 3.5 | smell: 4 | taste: 4 | feel: 4 | overall: 3.5
I checked out the King's brewing site to see if I could find the ABV of this beer but found bad news instead. The brewery is closing after 15 years. I live about 20 minutes away. I'll have to pay my respects and drink an assload of their beer before they go. Hopefully they will sprout up somewhere else and continue brewing. Anyway, this Hard Tale Ale is an orange/gold color with a moderate big-bubbled tan head. There's some floaties if you look carefully. Good aroma. Malty pine and light citrus and maybe even a small touch of bubble gum. Very hop-oily texture and hoppy flavor. Typical pale ale bitter aftertaste. Piney and sour. Good contrasts of flavors. Good for the style but I'd switch styles after a few of these. Wash down the bitterness with a sweet lager or something.
783 characters
King's Hard Tail Ale from King Brewing Company
Beer rating:
3.75
out of
5
with
8
ratings