Molly's Chocolate Stout
| College Green Brewery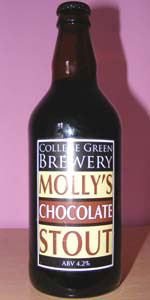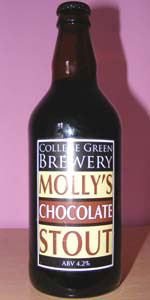 BEER INFO
Brewed by:
College Green Brewery
Northern Ireland
,
United Kingdom
Style:
English Stout
Alcohol by volume (ABV):
4.60%
Availability:
Year-round
Notes / Commercial Description:
No notes at this time.
Added by cypressbob on 10-18-2006
HISTOGRAM
Ratings: 7 | Reviews: 6
Reviews by mdagnew:
4.1
/5
rDev
+35.8%
look: 3.5 | smell: 3.5 | taste: 4.5 | feel: 4.5 | overall: 4
500ml bottle bought from GapWines, Belfast...
Poured pretty much completely black with just a hint of brown around the edges when held up to the light. Tan head poured pretty bubbly and frothy then faded quickly to thick wispy covering... some light lacing...
Aroma - Strong coffee and dark chocolate mix, lots of roasted malts with a slight hints of smoke and leather, sooty traces, quite strong tobacco notes, some cola traces, no real sweetness, very faint dark fruits - some plums and blackcurrents...
Taste - Very nice lightly roasted chocolate malts mixed with cappuccino notes, again some light smoke / peat notes, light dark treacle sweetness, some roasted / burnt nuttiness, earthy some vanilla, plum and date fruitiness, light salt, faint rosemary herbal notes...
Feel - Velvety smooth with just a hint of grittiness underneath... medium / full bodied... Very drinkable at only 4.6%...
Overall - A very good and local (to me) stout... must try this on cask when i get a chance....
995 characters
More User Reviews:
1.76
/5
rDev
-41.7%
look: 1.5 | smell: 3 | taste: 1.5 | feel: 1.5 | overall: 1
A stout with no head?? It looked like a glass of coke when poured.
Chocolate? Couldn't find it anywhere.
Very low carbonation, almost totally flat. Quite bitter aftertaste.
Bought 4 bottles of it to try and now have 3 bottles I dont want. An awful experience and very disappointed.
Good point was the price, only £1.80 per bottle.
336 characters

1.92
/5
rDev
-36.4%
look: 1.5 | smell: 2 | taste: 2 | feel: 1.5 | overall: 2
Poured from a 500ml bottle into a Guinness pint.
A: Pours a deep brown with a fugly, lifeless, wimpy head. The little head there is comprised of huge bubbles that disappear soon.
S: Smells a bit rough. No chocolate, but a lot of roast and specialty grains. A bit of hop bitterness.
T: A bit more chocolate here, but its mostly roasted barley and rough grains. Everything is very thrown about and unfinished.
D: Suffers because of the taste. Alcohol is hidden, but at 4.2% that's not much of an accomplishment. Mouthfeel is watery and weak.
Overall: Big disappointment! This beer tastes like a first batch of kit homebrew. Seriously, it tastes like barley water. College Green really has to step up their brewing process. This beer is a failure and I feel stupid for purchasing it. Next time I'll grab another bottle of O'Hara'a Leann Follain, that stuff is liquid ambrosia!
878 characters

1.54
/5
rDev
-49%
look: 1 | smell: 2 | taste: 1.5 | feel: 1 | overall: 1.5
Poured from a bottle into a generic pint glass in the Bull & Castle in Dublin.
A: Pours the most pathetic head I've ever seen; a quarter finger of bubbles sits atop the beer, and dissipates within a couple minutes. Not even a true head as the bubbles don't cover the top entirely; there's a patch devoid of bubbles. Jet black colour. It seems something is wrong with the beer even though I poured it from a just-opened bottle.
Sm: Coffee, roast, chocolate, caramel. Light.
I'm hoping this beer tastes better than the appearance and smell are indicating...
T: Lots of chocolate on the finish. Watery (the kiss of death in my reviews). Some coffee. This is the most pathetic excuse for a stout I've ever had the displeasure of tasting (and if you look at my reviews, you'll see what a fan of stout I am). What a pathetic piece of shite beer.
Mf: Watery. Shite. Terrible. Awful. Bad. Get the picture?
Dr: I will never have this again ever. Not the worst beer I've had, but probably the most disappointing.
This beer tastes like someone took a Murphy's, removed the good characteristics, poured 85% of it out, and then filled the the rest of the glass with water. Truly reprehensible. Shouldn't even be on the market. Embarassing. Pathetic. If I saw this on draught next to a Budweiser, I'd hesitate - before choosing the Budweiser. It's really that bad. What the fuck?
1,378 characters
4.22
/5
rDev
+39.7%
look: 4 | smell: 4.5 | taste: 4 | feel: 4 | overall: 4.5
On cask at the brewery/restaurant
Pours with a dark black body, little haze, foamy tan head with good retention. Some nice lacing on the way down the glass
Smell, initial aromas of smoke, espresso, some slight turkish delight in the background. Noticable roasted malt, slightly dry chalky nose
Taste, fairly low carbonation (even for cask) which actually improves drinkability. Smooth roasted malt, some noticable crystal malt, some fresh wort. Some coffee and dark chocolate bitterness on the finish, slightly chalky on the palette
A tasty, drinkable and most notably local ale. College Green have done a great job on this one, All we need now is a brewpub as opposed to just the restaurant. Just to add College Green is currently contract brewed by the Hilden brewery
773 characters
3.63
/5
rDev
+20.2%
look: 4 | smell: 3.5 | taste: 3.5 | feel: 3.5 | overall: 4
On cask at the John Hewitt, Belfast.
Pours black with a tall tawny foamy head. Big milk chocolate nose. Apple malts, tea hops, cocoa sweetness at the end, and a bit of ash. Medium body without stickiness.
More depth and body than the bottle. But still a bit light for the style, even an old school interpretation of it. If you called this a porter, would anyone notice?
371 characters
Molly's Chocolate Stout from College Green Brewery
Beer rating:
3.02
out of
5
with
7
ratings