Abbey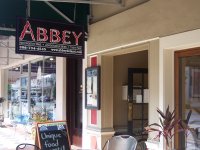 PLACE INFO
Type:
Bar, Eatery
117 N Woodland Blvd
DeLand
,
Florida
, 32720-4216
United States
(386) 734-4545 |
map
delandabbey.com
Notes:
No notes at this time.
Added by BeerAdvocate on 09-15-2006
Reviews: 12 | Ratings: 20
5
/5
rDev
+8.5%
vibe: 5 | quality: 5 | service: 5 | selection: 5 | food: 5
Abbey is a wonderful place to go and chill out with your friends and enjoy a great draft/bottled craft beer or wonderful wine. They have many rare beers as well as your tried-and-true favorites. A large draft selection and even more in bottles means that there will always be something new to try. Wines served are of good quality and the food is fresh. Service is impeccable in the staff is knowledgeable. The price is fair. This place should be one of your stops before you leave any time you're in Deland.
510 characters

4.4
/5
rDev
-4.6%
vibe: 4 | quality: 4.5 | service: 4.5 | selection: 4.5 | food: 4
Our final stop on a recent trip to Daytona Beach, and the 20 minute drive down the 400 was well worth it. Abbey is a modern, cosmopolitan beer bar with ample seating throughout its lounge, dining area, bar, and patio. On our visit we were greeted by a full house of diverse patrons. A chalkboard informs customers of the current tap offerings while the wine rack lines the wall beside the performance stage.
Upon snagging a table we received knowledgeable and attentive service from a young bald man with a goatee and pronounced southern accent. He helped me navigate the large draught lineup - 18 craft taps - and suggested a 2006 vintage bottle of Dogfish Head Raison D'Extra as an alternative to the J.W. Lees Harvest Ale, which was out of stock. He also assisted the rest of my table with food choices and ensured that everything came to us as quickly as possible. Top-notch waiter.
The beer selection is substantial with a focus on high gravity, Belgian-style brews and expensive dinner bottles from Fantome, Allagash, Dupont, Ommegang and others. I ordered a pint of Stone 10.10.10 Vertical Epic Ale and Victory Yakima Glory and a bottle of Weyerbacher Hops Infusion. The Vertical and Infusion were good while the Yakima was absolute dynamite. The menu could benefit from more 12oz bottles, session beers, and American offerings, and the prices are quite steep, but there's tons of quality stuff to be had and the existing bottle list is consistent with the bar's theme.
For food we had the Carolinian and Portuguese pulled pork, veggie mac and cheese, smoked meatloaf, salmon remoulade, and red velvet cake. All of the dishes were fresh, tasty, and affordable. As we were paying our tab we noticed a band setting up on stage, and I'm sure the live music only enhances the fun and bustling atmosphere.
Overall, Abbey is the standout beer destination in Volusia County and I will undoubtedly return here on future trips to Daytona. Great open and welcoming vibe, unrivalled selection for the area, and superb service to boot. I can't see how anybody wouldn't enjoy themselves here.
2,094 characters

4.8
/5
rDev
+4.1%
vibe: 4.5 | quality: 5 | service: 4.5 | selection: 5
The atmosphere is very satisfying. its doubles as a wine bar, so the inside is very cozy, relaxing, calm, and dim. I found myself to be very comfortable and stress free in this place.
The beers are phenomenal. I had to write this review because I feel this place deserves it, however half of me hopes more people don't find out about this place so I can get all the beer for myself!
The staff is very friendly and knowledge.
The crowd there is very refined and tempered, definitely adds to the calming atmosphere.
This is possibly my favorite bar that I've been to in Florida yet and I hope to making many returns, I just wish it weren't such a drive from house.
666 characters
4.45
/5
rDev
-3.5%
vibe: 4.5 | quality: 4.5 | service: 4.5 | selection: 4.5 | food: 4
What can I say. This place was great. Thunderball and I met here and had a few delicious brews. As for the atmosphere, it was classy enough for a date, but you didnt have to dress up or anything. Staff was very knowledgable about their beers, quick to give you suggestions. I took their suggestions and was not disappointed. I did not have any food, but what I smelled was amazing. Selection was quite vast, tons of belgians. Not enough IPA's and Barleywines though. I went there with my girlfriend. She had dinner and a drink, and I had about 5 beers and our bill was $46.00 so that wasnt bad at all. Nice location right on the downtown strip. Check it out!
658 characters

4.74
/5
rDev
+2.8%
vibe: 4 | quality: 5 | service: 5 | selection: 4.5
A wide store front along US17S with doors that could be folded open to the right and the doorway to the left. The laminate blonde "U"-shaped bar was along the right wall and fronted a cooler full of "adventurous beers" to go with their "noteworthy wine". Round high tables and swiveling CAPT's chairs were to the right of the door and along the left wall. Further aft along the left wall were coffee tables fronting couches (comfy chairs) and high backed upholstered chairs. The right wall, aft of the bar, held their wine racks, culminating in the small, short stage in the right corner. Great paintings for sale on the wall. Be sure to check out "The Abbey Girls"!
Twelve drafts and 100+ BTs, a smattering of CNs.
717 characters
4.86
/5
rDev
+5.4%
vibe: 5 | quality: 5 | service: 4.5 | selection: 5
This is an awesome place to find stuff you normally wouldn't think you could find on tap all the way in Florida.
Just tried this out the other day by suggestion from my brother. He took me there as I had traded him a Pliny the Elder for a visit to this place. I was fortunate enough that they had Hopslam on tap at the time. He says this actually frequents their taps, so points for the Abbey on this! He also said they have Maharaja on tap occasionally as well. So again, another plus!
The atmosphere is really nice. I normally frequent Redlight Redlight in Orlando. The price is better at RLRL, but the atmosphere at Abbey is second to none. It looks very classy but it's extremely laid back as well.
The service was excellent. Bartenders really seemed to know their stuff. Every question asked was answered exceptionally well.
The only thing I would say is that this place can be a bit pricey. On average, they were charging about $3 more for anything compared to RLRL.
If I'm in the area, obviously I'll come here, but any other time, it's Redlight for me!
1,067 characters

4.5
/5
rDev
-2.4%
vibe: 4.5 | quality: 4.5 | service: 4 | selection: 5
This place is a real find! An oasis in the beer wasteland that is Florida. It is so hard to find good beers there.
I visit Florida fairly regularly on business and to DeLand particularly. This place doesn't have 100 taps but what they do have is usually pretty incredible, especially for a small town like DeLand. I have had Dogfish Head Red and White on tap, Lagunitas Hairy eyeball, Gulden Drak, Schmaltz Coney Island Human Blockhead, and other things that I have never seen elsewhere. Just to give you an idea of how great these guys are I sent an email letting them know that I would be visiting from out of town and this is their response....
"Randy, email me the day before you arrive. Take your pick, and we will put it on: 120 minute, immort ale, old engine oil, Dogfish black and blue, avery czar, stone russian imperial stout."
Now THAT is customer service!!! Wow.
I highly recommend this place.
907 characters
4.45
/5
rDev
-3.5%
vibe: 4 | quality: 5 | service: 5 | selection: 4 | food: 3
I go to college in DeLand and The Abbey is the bar I visit when I am in the mood to spoil myself or if I'm on a date. On a student's budget, I would not recommend making a daily habit of drinking there, as the average beer runs about $7. This is because the beer selection is all about quality (the wine selection is too, from what I have heard). There is no Icehouse, Bud Lite, or Busch to be found here (thank God).
They have a decent collection of Belgians and other upscale beers, but a word of warning: they have not updated their menu for several months, something they desperately need to do. They have been out of several beers for at least that long but they are still on the menu, included are Rochefort 10, Achel, and Hook and Ladder.
The Abbey is a comfortable upscale dive with a cozy atmosphere and plush couches. Great lighting. It is the kind of place that you feel like you could fall asleep in. Live music on weekends. The staff is knowledgeable and friendly and is willing to discuss at great lengths any and all subjects concerning beer or wine.
Definitely worth a visit.
1,097 characters
4.63
/5
rDev
+0.4%
vibe: 3.5 | quality: 5 | service: 5 | selection: 4.5 | food: 4
I went to college in DeLand and return there every couple of years, for motorcycle events in Daytona. Well, I visited Abbey when they first opened a few years back, but waited until my most recent visit to post a review. So this is based on 3 visits over the course of approx. 3 years. With 2 great visits and one crappy one.
Overall, this is a great beer bar. The staff is knowledgeable and friendly, taking the time to discuss the beers and make recommendations based on preferred styles. That's been consistent during each visit.
The selection would be outstanding for most large cities, it's out of this world considering it's in DeLand, FL. About 13 taps with several coolers full of bottles. Great Belgian line-up and solid american micros. Plus, they serve everything in the appropriate glassware.
They now serve food, some from their kitchen and some from a restaurant they own, located just across the street. The menu is eclectic and pushes the envelope with some unusual combinations - which is great to see in DeLand. I just had some appetizers, they were tasty and I was looking forward to getting a meal UNTIL...
I really enjoyed my time talking to the staff and the other patrons. My only knock on the place would be one patron - I was told he was a relative of the owner - who showed up already intoxicated, took a seat at the bar and talked so loudly that I had to raise my voice to talk to my friends, and I was 10 stools away from the guy... If you think I'm kidding, I can tell you all about the trip he's planning on taking during the holidays, to see Phil Lesh & Bob Weir in San Francisco on New Year's Eve (he got invited by a guy he refers to as a pyscho vietnam vet). Mind you, I'm talking to my buddies during this entire time with my back to him, and I still gathered all this. So I turned and said something to the fellow, just to point out that we can overhear him and he snaps back with some comment about how all Nascar fans are inbred rednecks - personally, I couldn't name more than 3 nascar tracks if my life depended on it and the only reason I can name 3 is because I've lived within 50 miles of each of those; I've never even watched a Nascar race. So I went back to my buddies and let it go, but the fellow continued to make loud remarks to the staff, about us being in a the wrong place and not being able to appreciate the beers - maybe because we rode in on motorcycles? I'm no Garrett Oliver but I've got a 400+ bottle cellar with a better bottle selection than the bar, but I only need 1-2 bottles of each brew. Needless to say, that spoiled our time at Abbey and we soon left. I'll be darned if I'm giving my money to an establishment that treats it's patrons this way. Especially since I talked my buddies into joining me here. Atmosphere would have been a 5 if not for this, I averaged out the 3 visits (two 5's and a 1, then rounded down).
I do recommend this place,with the one caveat that if you go there and a loudmouth relative of the owner starts spouting off, please take your business elsewhere quickly. The staff will not rein him in and he will continue his rant until you leave. Guess it's good to be "in" with the owner.. There are better places in DeLand to spend your money,unfortunately, none have anywhere near the beer selection.
I am glad to see a business willing to take a chance do well, but if it was opened to give the owner's family a place to go when they are drunk and feeling their oats -then it's a poor venture for the rest of the beer world. Let's just say I'm conflicted about patronizing them again.
Cheers
3,592 characters
4.88
/5
rDev
+5.9%
vibe: 4 | quality: 5 | service: 5 | selection: 5
Recently moving to the Deltona/Orange City area, I was really let down with the bar selection in the area. I'd never been to Deland before and heard there was a college there, so I thought I may be able to find some good beer. Abbey is exactly what I was looking for.
They've got a very respectable selection of trappist beers, and a "Captain's List" of some bottles going up to the $50.00 price range. Unfortunately I'm not swimming in money so I had to stick with the more reasonably priced beer menu. If you don't know what you want, the staff will be happy to recommend something, or let you taste several beers to help you make a decision. This is also the first place that I've seen that offers a flight of beer.
I went on a night when they had some live music, and it was a nice touch to the bar's atmosphere. There are comfortable couches in the back, a very nice wood bar area, and seats out front on the sidewalk for when the weather is nice. I had already eaten when I went there, but the food that I saw others eating looked very good, and the food menu looks quite appealing.
Besides the beer, one of the biggest selling points to me was this company's statement of purpose, which is printed on the first page of their wine and beer menu (its also on their website). I think I'll be becoming a regular here.
1,326 characters
4.9
/5
rDev
+6.3%
vibe: 4.5 | quality: 5 | service: 5 | selection: 5 | food: 4.5
A very nice place, with friendly knowledgeable beer people. I had several beers that were all great. Small food menu is excellent!! I really enjoyed the Cuban sandwich. Next time I'm passing through De Land, I will be stopping here again. Oh by the way, they do not have Bud, Bud Light, Miller, Miller light, Coors light or any other crap like that. You would not come to a place like this for low quality beer. All top shelf and loving it!!!
A real find!!! Also they have a really good wine selection.
505 characters
4.72
/5
rDev
+2.4%
vibe: 4.5 | quality: 5 | service: 4.5 | selection: 5 | food: 4
This place has one of the best selections of Belgian beers in Florida and also in the Southeast. They normally carry every Trappist beer (excluding Westvleteren) and a large selection of other Abbey, tripels, dubbels and other assorted beers.
They have 8 taps that usually include about 75% extreme beers from Avery, Rogue, Dogfish etc and an assortment of other unusual craft beers and occasionally rare selections from Belgium. They also have over 100 bottled beers.
One thing that separates this place from other mega-beer bars is that the owners really love beer and try their best to impart this love to visitors. Not sure what to drink? Ask! They will provide numerous samples until you find your nirvana. They will also tell you about the brewing ingredients and the brewery, if you're interested.
This is truly a world-class beer bar.
855 characters
Abbey in DeLand, FL
4.61
out of
5
based on
20
ratings.