Barley's Taproom & Pizzeria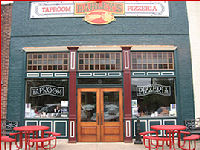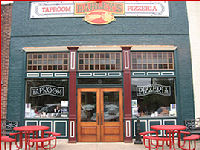 Bar, Eatery
115 West Main Street
Spindale
,
North Carolina
, 28160
United States
(828) 288-8388 |
map
barleystaproom.com
Notes:
Recent ratings and reviews.
3.58
/5
rDev
-8.2%
vibe: 3 | quality: 3.5 | service: 3.5 | selection: 4 | food: 3.5
by ChemistBrewer from North Carolina
Atmosphere: Nice place. Wood everywhere. The pictures on the walls and all the craft beer stuff around the bar adds a nice touch. Live music on the weekends.
Quality: pretty good Food, good beer for the most part. Especially for the area. Overall quality of the place has taken a hit in the last year or two. Dont know whats up with that.
Service: The bar tenders are very attentive the waitresses can be hit or miss especially if its a busy night. I would recomend sitting at the bar unless you have kids.
Selection: Hands down best beer selection in town and in Rutherford County. About 12 drafts all craft beer and lots of local craft beer. There is always Pisgah Pale ontap.
Food is good pretty ecletic and nice vegi choices. Pizza rocks and the Chipotle Blue chicken sandwich is good.
Typical pub prices.
Jun 05, 2008
3.65
/5
rDev
-6.4%
vibe: 2.5 | quality: 3.5 | service: 4 | selection: 4 | food: 3.5
by SaCkErZ9 from South Carolina
Pretty much vacuous once one walks in the doors. A large, wooden filled rectangular of a room with the bar in the back right and plenty of tables around the floor area.
Bar area was adorned with about 10 draft beers. On tap were included Brooklyn Black Choc Stout, IPA, Foothills Salem Gold, Sierra Nevada "ESB" and Celebration, a pumpkin beer of some sort, Highland Gaelic, and several others. Pretty good selection for the area. Not sure where else within 20 miles or so one can obtain a good draft selection.
I had two pieces of pizza for $2 each and a beer for $3.50. Not bad prices for a lunch if you ask me. The pizza slices are absolutely huge; enough for lunch and dinner.
Service was there and they were happy to help. Best place in the area, as far as I know; for beer anyway.
Jan 25, 2008
3.95
/5
rDev
+1.3%
vibe: 4 | quality: 3.5 | service: 4 | selection: 4 | food: 5
by mikesgroove from South Carolina
So we stopped up in Maggie Valley and decided to make a little side detour and stopped into here when we started to get hungry. Very cool small little place with a pretty respectable selection I would have to say. Some foothills, highland, rogue, great divide, and Avery to name a few and was quite impressed that all I tried seemed to taste very fresh. The service was excellent quick and efficient and very friendly and the food itself was also very good. Overall this is a very good stop for this area and I will defiantly be making a return trip on my next venture through town.
Nov 29, 2007
3.78
/5
rDev
-3.1%
vibe: 4 | quality: 4.5 | service: 3 | selection: 3.5 | food: 4
by wcudwight from North Carolina
This is not Barley's in Asheville. If you go in with those expectations you will be disappointed. With that said, this is a very nice place for a pizza and a pint.
This place is clean and nice. Lot's of wood decor with some historic pictures of the area(which I like). One of my favorites was of an old moonshine still which I am almost certain came from Rutherford County.
I counted 12 taps and about 15 bottles. All of the taps were craft beer with a nice mixture of national, regional and local breweries. This beer is quality. The bottle selection wasn't as good as the tap selection. I had the Pisgah Equinox for 3.25 a pint which is a deal to me. I don't think any of the pints were more expensive than 3.50 but I could be wrong. I rated the value inexpensive for the beer as the food price is more on the reasonable to a bit pricey side. The food is good, same selection as the Barley's in Asheville and I asume the other Barley's around. I did have a home-made potato soup that was great! I don't know if you can find home-made soups at the other Barley's locations.
Overall I would recommend this place and consider it road-trip worthy. It is a different type place than the Barley's in Asheville but still a good place to grab some grub and a pint.
By the way they close at 11.
Nov 27, 2006
3.98
/5
rDev
+2.1%
vibe: 4 | quality: 4 | service: 4.5 | selection: 3 | food: 5
by Enola from North Carolina
This Barley's was much better in the food dept than the Asheville location. The tap selection was not nearly as good but the waitress stated as the resturant took off the taps would multiply. The cleanliness of this place was outstanding too. A very clean dining area with hardwood floors and wood tables. The bar was on the right as you went in and the kitchen is in the back. I will certainly return here. If you are after beer this place is average. 12 taps but they were all craft. The food here was excellent. As you walk in the door, look down. On the floor there is a sign that says "Drugs" written in the tile with an arrow that points through the front door. I looked, but all I saw were a few taps. I would reccomend this place if you are in the tiny town of Spindale. Also there were about 15 bottles. The prices were in line with the other Barley's locations.
Sep 24, 2006
Barley's Taproom & Pizzeria in Spindale, NC
Place rating:
3.9
out of
5
with
7
ratings