Daddy Oh's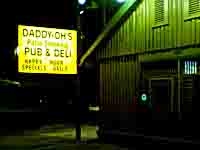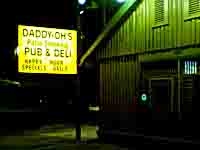 PLACE INFO
Type:
Bar, Eatery
4044 Monroe St
Toledo
,
Ohio
, 43606
United States
(419) 473-9100
// CLOSED //
Notes:
No notes at this time.
Added by frazbri on 09-17-2006
PLACE STATS
Reviews:

12

Ratings:

pDev:

13.14%
HISTOGRAM
View: Place Reviews
Ratings: 12 | Reviews: 12
Reviews by bigbubba:
3.44
/5
rDev
-7.8%
vibe: 3 | quality: 3.5 | service: 3 | selection: 4
This place looks like a lot of bars. It only stands out because of it's beer selection. It is the only place in Toledo with a selection like it. The selection was nice, they had some nice IPAs (including Double IPAs), stouts, and Belgians on tap. The beer was very cold. And I kept forgetting to tell the waitress not to serve it in a frozen glass. The waitress knew nothing about beer, which she mentioned many times. But that's only one waitress, and she was quick to give samples.
Most of the patrons at the bar were drinking Miller or something, only one other person seemed interested in the good beers.
We didn't try any food, except for the popcorn. The menu had some interesting looking items we will definitely be back for next time we get to Toledo.
767 characters
More User Reviews:
4.63
/5
rDev
+24.1%
vibe: 3 | quality: 5 | service: 4.5 | selection: 5 | food: 4.5
WOW! If you are in Toledo and you are interested in very good beer and many different choices this is a must go to location. It is kind of a whole in the wall but it is a must if looking for good beer. They have over 100 and I think it is 15 taps and only 3 are "regular" the others switch out often and also seasonally. I love to go and just try 2 or 3 beers I've sometimes never even heard of. Love it and I wish there were more places with this great of a selection in Toledo or near by.
490 characters
3.85
/5
rDev
+3.2%
vibe: 2 | quality: 4 | service: 4 | selection: 5 | food: 2
Let me start by saying that this is an unexpected location for a place serving craft beers on tap.
Daddy Oh's is small with a throw-back "grand-father's" bar atmosphere. Equipt with deer heads and stuffed fish on the walls and dusty old collector mugs shelved above the bar. The bar seats were torn and beat to hell. The bar-back was adorned with beef jerky and beer nut packages.
They only have two maco-brew; Bud and Bud light which is a good thing. The rest are 19 craft beers ranging is style from Bell's Oberon to the Arrogant Bastard. There taps change frequently and the price variance is affordable. The beers are by far the best thing about this place! The Arrogant bastard was only $3.90 during happy hour and they had many other priced around $3 per pint. They served the beers ice cold in a frosty mug which is not desired for a craft beer but I can't complain when the beers selection is so good.
Toledo needs this kind of craft beer selection at Arnie's!
Daddy Oh's is an excellent dive bar with great craft brews. Come on Arnie let's get some Arrogant Bastard at your original place! PLEASE!
1,111 characters
3.8
/5
rDev
+1.9%
vibe: 3.5 | quality: 3.5 | service: 3 | selection: 5 | food: 4
I finally stopped by this place over the weekend and I was glad I did. It's been recommended as a place that serves a lot of good beer and I wasn't disappointed. The service is nothing to take pride in, though the guys were cool enough when I did talk to them. There are no waitresses anymore and it's usually just two or three guys working at a time. I'm pretty sure that's an economic decision. I've head a lot about how it's a hole, but I think they've cleaned up the place a little over the last year or so. It's not fancy by any means, but it's clean and pretty spacious, the bar area is nice (though the menus were sticky), and there's a variety of seating. TVs are against one wall so that they can be watched from the tables or booths from the opposite wall but not if you sit against the wall they're on. Only the TV showing the ballgame has the volume turned up, so it's not distracting for those who aren't interested in watching. The nice thing was I could go with my wife and listen to her while still catching what was going on in the game. We had a pizza and it wasn't bad at all, so in my limited experience the food is good. The toppings are certainly piled on like most pizza places won't. Anyway, on to the beer selection. It's insane, and it's always being rotated, so you're guaranteed to find a variety of great craft brews. Prices vary, and I think their policies on that have changed recently as well. It goes from really very cheap to some drafts over $10. They also have 750s available of all kinds of good stuff. I had an Arrogant Bastard on tap and a bottle of Dead Guy ale for around $8. I could have had my pick from a whole lot of great brews, though. No place in Toledo has anywhere near this selection of great craft beer and I must go here fairly frequently.
1,792 characters
3.73
/5
rDev 0%
vibe: 3.5 | quality: 4 | service: 3 | selection: 4.5 | food: 3
Ah it's true this place use to be a hole but it's not too bad now. Nice thing is I'm all for a good cigar but I don't like sitting in the smoke so now that they have a smoking patio outside I can enjoy a beer and a good cigar (not at the same time lol). The crown jewel of this place is the tap and overall selection. Really quality micros all over the place. The staff doesn't know anything about beer but the owner does. It seems like the staff is just there to hand it out and if you have questions you have to talk to him because they can't help you. The food is okay. I had no problems with it. By all means though if you want a place where the atmosphere isn't nice but is comfortable that has great beers to try then you should hang out here.
749 characters
3.35
/5
rDev
-10.2%
vibe: 2 | quality: 4 | service: 3 | selection: 4 | food: 2
The inside of this place is kind of like the basement of someone who never left their parent's house. It has old, crappy
tables and chairs, random crap on the walls and a few T.V.s and it kind of smells of cigarettes even though there is a smoking ban in Ohio. The staff is friendly enough but not very helpful. The food is o.k. at best.(don't bother) The owner is nice enough but if you get him talking...lets just say that he's a reckless exaggerator. Daddy O's does have a good beer selection at very reasonable prices. From Piraat to Arogant Bastard and a few in between this place is worth a stop in the afternoon for the price alone. Be prepared to educate the staff about the beer.
689 characters
4.03
/5
rDev
+8%
vibe: 4.5 | quality: 4.5 | service: 3 | selection: 4.5 | food: 3.5
I love this bar. True, from the outside it looks like a scary dive. Until I was told that it has the best beer in town, I was afraid to go there. But inside is a different story. The rock bar is attractive. There are some booths, but that doesn't bother me. There are lots of friendly regulars. The atmosphere is very relaxed and happy.
Now that the Ohio smoking ban has been in effect for a while, the smoking inside the bar has stopped. In fact, it has never been smoky since I started going there in December 2007.
The servers do not know the beer; that is true. But if you're lucky, the owner will be around, and he'll talk your ear off about beer. He's awesome! He gave his staff New Year's Eve off, so he was our server that night. It would be nice if he took the time to educate his staff about the beers, though.
Other reviewers have listed Daddy Oh's beer offerings before. I just want to add one that was recommended and served (gratis) by the owner on NYE... Delirium Tremens... ON TAP!! Wow!
1,006 characters
3.98
/5
rDev
+6.7%
vibe: 2.5 | quality: 4 | service: 4 | selection: 4.5 | food: 4
http://www.flickr.com/photos/gorczyca/368566975/
Stopped in last night to check it out. I'm a big fan of Arrogant Bastard, and was mainly impressed to hear they had it on tap.
The atmosphere was pretty dingy - typical Toledo bar. You walk in to what looks like a restaurant, with two flat screens on the west wall. Juke Box, cigar humidor with a mid-grade cigar collection (can't remember any big named cigars in there, nothing really stood out).
We bellied up to the bar and ordered our Arrogant Bastard while we reviewed the beer selection. They had about 12-15 beers on tap. Wide variety ranging in price from 3.65-8.95. I should have swiped a menu and listed all of them, but from memory they had a Flying Dog a Bells Amber, the Arrogant Bastard, a Leini-Apple, Dog Fish 90-Min IPA, Stella, Grolsh - actually, I took a picture, but just with my phone so it's rather hard to see:
http://www.flickr.com/photos/gorczyca/368425787/
The people didn't know anything about the beers. They had Loose Cannon IPA on tap, and before I knew what it was, I asked the lady behind the bar.. she stared at the tap handle then asked a guy that was also working. He stared at it, then they asked one of the owners. He didn't even know! But, they did have a tap beer list that had an explanation for each one. I ended up with a Loose Cannon IPA from Clipper City Brewery. After that I had a Mad Hatter, New Holland Brewing - then, back to Arrogant Bastard.
Everyone was still smoking there, despite the recent no smoking ban in bars in Toledo - it wasn't very well ventilated either.. hell, even the bartender had a smoke in her mouth. As I looked around, I realized we were the only ones in there drinking good beer, everyone else had bud lights. I mentioned this to the bartender, and she pointed out a guy that was drinking Grolsh. haha. It was an older crowd too - probably a lot of regulars. Not the friendliest looking group.
We were asked to move down seats at the bar to make room for some biker lades (I would not have messed with them!).. but, jokingly I suggested them buy us a beer for moving. They did, but I heard her ask what the hell we were drinking that it cost that much.. haha. We went out to the smoking patio, which was all enclosed and not really cold, and watched some of the NHL All-Star game. I can see the patio being kind of cool in the summer, but it was small.
<edit 11.18.08> The pizza rocks. Been there several times since, the beers change up and the pizza continues to rock. The only thing, as others have mentioned, they serve the beer in ice cold frosty glasses, which may appeal to most of the crowd there, but to craft beer drinkers.. that's a big no-no.
2,688 characters
2.69
/5
rDev
-27.9%
vibe: 2 | quality: 2 | service: 2.5 | selection: 4
Feb 2008 update - the bartenders are still clueless about the beer they're serving. The beer still comes ice f-ing cold in a frosty chilled glass. Daddy Oh's is still around though. Looks like there are some regulars so hopefully it'll survive. God Toledo needs a beer bar...
Original review:
Just like everyone else in Toledo, I was really excited to hear this place was opening. The building is a log cabin of sorts. It looks nice from the outside. Inside it looks like someone without a lot of interior decorating skills just "gave it a shot". There are older looking advertising signs and the odd shoe attached to the ceiling, a neon sign here and there. Lighting is very low. There is one wall with 3 plasma screens, each tuned to a different football game. The plasmas are so bright and the surrounding lighting so low, it looks like the guests here are under the lights at a rock concert. Very distracting.
On to the beer. Good selection, especially for Toledo! 20 taps, with most of them being craft brews. Flying dog, DFH, Chouffe. Problem was that the beer came out at about 35 degrees. It was so cold I couldn't hold on to the glass! The glass of Chouffe is $9, but you get a full 16 oz. pint instead of the 10oz. chouffe glass. (Still not worth it though, I know.) One of the beers was described as being able to "kick your ass" due to the alcohol content. I would rather see better beer descriptions and better knowledge from the staff.
Nice to see T-town give it a shot, but I don't know how long this place will last. I won't be a regular.
1,558 characters
3.13
/5
rDev
-16.1%
vibe: 1.5 | quality: 3 | service: 3.5 | selection: 4 | food: 2
First, I'll start with the positives:
Daddy Oh's (what a stupid name...oops, this is the positive part...) is the only craft beer bar in metro Toledo - hell, all of Northwest Ohio at this time. I dropped in Saturday night with friends, and they had about 20 taps - about 1/2 of which were craft. I sampled a pint each of La Chouffe ($9 per pint - ouch), DFH 90 Minute, and Arrogant Bastard, all of which were fresh and tasty. Other notables on tap included Weyerbacher Heresy, Loose Cannon from Clipper City, a couple of Great Lakes brews and a few others, with BMC/Guinness/Bass/Stella/Labatts rounding out the other taps. They also have a nice bottle selection, including a bunch from Bell's and Unibroue that I recall. The service, both at the bar, and later at a table, was swift and cheerful.
Here's where it gets disappointing - this place is a dive. I can't remember a smokier bar that I've been to (maybe back in college) in years. A thick fog awaits as you try to actually TASTE your beer. The rest of the place is a hodge-podge mix of older booths and cafeteria-style chairs and tables (that are extremely uncomfortable). Our beers were served in frosty (and I mean an inch of ice running down the glass for christ sake) glasses (WTF? I'd expect that from Applebee's, not some place purporting to be a craft beer bar). The food was terrible. My "deli" sandwich consisted of glow-in-the-dark lunch meat and crappy bread. Ugh.
What a shame. Typical Toledo.
1,473 characters

4
/5
rDev
+7.2%
vibe: 4 | quality: 4 | service: 4 | selection: 4 | food: 4
The long awaited Daddy Oh's bar sits next door to Bailey's Beverage Center. There is kind of an old school bar feel to this place. It's small, dark, and very bar-like. The jukebox isn't too loud, but the selections seem to jump from hip-hop to arena rock bands. Flat screen tv's adorn the walls. The patio area serves as the cigar lounge.
In my two visits, the waitress has been friendly and helpful, but not beer knowledgable. The food menu is in three sections: appetizers, deli sandwiches, and pizzas. The appetizers are things like cracker & cheese plates, and chicken livers. The deli items are ruebens, turkey, and roast beef. The pizzas are what I'd call California style; wood fired ovens and pesto or oil instead of basic red pizza sauce. Notice, the lack of deep fried bar food. The portions are generous.
Daddy Oh's has 21 taps, most of which are craft brews. Highlights included Dortmunder Gold, Edmund Fitzgerald, Arroagant Bastard, Dirty Bastard and Weyerbacher Heresy. Pint prices ranged from $2.50 to $5.95. If I had a complaint, it would be the beers are served too cold.
I really want this place to thrive. I'm glad they aren't trying to be like every other bar. Not every place should serve burgers, fries and buffalo wings.
1,253 characters
4.08
/5
rDev
+9.4%
vibe: 3 | quality: 4.5 | service: 4 | selection: 4.5 | food: 3
Tried this place a week after they opened up. Selection was pretty good with 21 different beers on draught (which change periodically) and an additional 63 different bottled beers. I chose the Weyoun (sp?) Heresy on tap which was great.
Service was good as well. I didn't have the heart to ask the waiter about the beers (I'm pretty sure he didn't know much about them), but he was quick and helpful.
Food was ok, basic lunchmeat sandwiches and pizza. Nothing special, but it tasted fine. They do have a fruit, cheese, and cracker platter which was especially good as well.
I thought prices for both food and drinks were rather high. Hopefully this won't hurt an otherwise solid business. However with the Bailey's team and Arnie teaming up to run the place, I'm sure they'll do fine.
793 characters
Daddy Oh's in Toledo, OH
Place rating:
3.73
out of
5
with
12
ratings