Pigs Fly Pale Ale
| Bowral Brewing Company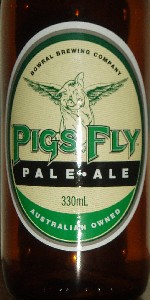 BEER INFO
Brewed by:
Bowral Brewing Company
Australia
pigsfly.net.au
Style:
English Pale Ale
Alcohol by volume (ABV):
4.60%
Availability:
Year-round
Notes / Commercial Description:
No notes at this time.
Added by vancurly on 09-17-2006
Ratings: 12 | Reviews: 8
Reviews by rizzo:
3.46
/5
rDev
+2.7%
look: 4 | smell: 3 | taste: 4 | feel: 3 | overall: 3
English Pale Ale? Reasonable hop aroma and flavour but defintely Amarillo or Cascade (Amarillo I reckon) hops. Yet another American Pale ale clone. A reasonably good example but this is getting a little boring....
Would prefer a nice light fruity ester rather than the english bready ester to go with the hops.
311 characters
More User Reviews:

3.82
/5
rDev
+13.4%
look: 3.5 | smell: 4 | taste: 4 | feel: 3.5 | overall: 3.5
Pours a nice deep golden color with a couple fingers of pale, persistent head.
Good light hoppy aroma.
Evenly balanced palate: medium-light hoppiness with quality malt and just a touch of citrus.
Easy to drink, a bit on the light side but good flavor. Could be a bit more full-bodied but holds it's own.
306 characters
2.6
/5
rDev
-22.8%
look: 2.5 | smell: 2.5 | taste: 2.5 | feel: 2.5 | overall: 3
330 ML poured into a SA Perfect Pint
A-- Poured a honey brown with a very quick fading off white head that did leave some patching lacing on the glass. Very little carbonation shown on the glass.
S-- More malt driven than hop driven, hop is very faint and this is a bit watery. Has a bit of a bread smell to this.
T-- Malt with a bit of faint hops again. Very watery taste and a little metallic as well. Not a lot to this.
M-- Has a bit of a fall feel in the mouth. Mouthfeel is good but the issue is this is a very toned down version of an EPA. No Real carbonation in mouthfeel as well
D-- Very drinkable in the summer. Great on a warm day after working and want something with a different feel than the usual VB or Tooheys crap available and you are not in the mood for Little Creatures. Drinkable at 4. 6% but just lacks really anything that sets itself apart from anything else. A very average beer that after you try once you kind of forget about. Once again proves that only a few Australian Breweries are willing to think outside the box here and create something with a punch or wow's you.
1,102 characters
4.35
/5
rDev
+29.1%
look: 4 | smell: 4 | taste: 4.5 | feel: 4.5 | overall: 4.5
Pours pale orange / amber. Slightest haze. Nice white head that lingers. Almost a dead-ringer for a hefe.
Floral hop aroma, fruity notes of plum flesh, sweet malt.
Lovely flavour.... sweet perfumy, fruity, slight bubblegum ester, notes of toast/toffee, slightly nutty.
Aftertaste of some tropical fruits...
Mouthfeel.... smooth, full bodied, malt balanced by bitterness.
Excellent beer.
404 characters
3.22
/5
rDev
-4.5%
look: 3 | smell: 3.5 | taste: 3 | feel: 4 | overall: 3
Bottle from our local Supermarket. From notes.
A - Poured a very light golden colour. Bright. Mild carbonation. Half finger of white soapy head. Film of retention. No lace.
S - Mild citrus, orange, tropical fruit. Light but decent.
T - Citrus, grass, sweet malt, orange. Not bad again, but light.
M - Medium carbonation, medium body, sweetish orange finish.
O/D - Decent. A party beer I would bring out but nothing to travel for. Just an easy drinking, light-ish PA.
471 characters

3.7
/5
rDev
+9.8%
look: 3.5 | smell: 3.5 | taste: 4 | feel: 3.5 | overall: 3.5
Got a six-pack of these from Glenhaven Road Cellars, a veritable oasis in the NorthWest beer desert of Sydney.
The brewers claim big flavours. Big when compared to macro-cr4p, but not in craft terms methinks, but the style doesn't demand it, either. Think Coopers Pale without quite as much aroma or head retention and you are not too far away....
Pours a slightly cloudy pale orange/gold. One finger head, quickly recedes. Lots of bubbles. Moderate lacing.
Interestingly enough, the first five of the 6 - drunk a while ago were not excessively hoppy on the nose, this last one however, almost an IPA aroma. An unusual development for bottle age.
Taste - Coopers-like hop driven, moderate bitterness comes thru quickly, rather than on back palate
Crisp on tongue. Light. Easy to drink. Good in summer.
Lets hear it for the little guys...
844 characters
3.01
/5
rDev
-10.7%
look: 3.5 | smell: 2.5 | taste: 3 | feel: 3 | overall: 3.5
A- pours a clear gold, with about a half cm of head.
S- kinda yeasty, get a bit of a vegemitey smell off of it. touch of malt, touch of hop, but nothing else really happening. a bit disappointing reallly.
T- theres that same vegemite in the taste, but the malts and hops come through a bit more than they do on the nose. malt isnt particularly sweet, but is kinda nondescript, hop character is citrusy. finish is a little bitter. better than the smell, but is lacking a bit.
M- light bodied, spritzy carbonation, bitterness at the back of the throat but no lasting, and then a drying finish that sticks around for a while.
D- i could have a couple of these, and enjoy, but there are so many other beers at this price point that i would go for first.
757 characters

2.88
/5
rDev
-14.5%
look: 3 | smell: 2.5 | taste: 3 | feel: 3 | overall: 3
Thanks to mulder1010 for the trade!
This poured pale and flat. Almost no head retention and not a lace to speak of.
Barely a scent at all. If I had to say anything about it's aroma I guess I would say it kinda smells like a warm spring day when you first open the windows and finally let in some fresh air after a long winter. It's reminds me of the combination of those two smells; stale & fresh.
Taste is thin, watery, nearly flavorless save for a tinge of fair malts and some prefab (and cheap) hop pellets. Boring, I guess, this beer is boring.
551 characters
Pigs Fly Pale Ale from Bowral Brewing Company
3.37
out of
5
based on
12
ratings.