Stanton Public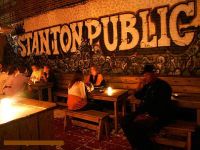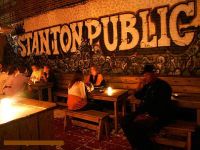 PLACE INFO
Type:
Bar, Eatery
17 Stanton Street
New York
,
New York
, 10002
United States
(212) 677-5555
// CLOSED //
Notes:
No notes at this time.
Added by BeerAdvocate on 09-18-2006
PLACE STATS
Reviews:

8

Ratings:

pDev:

3.25%
HISTOGRAM
View: Place Reviews
Ratings: 9 | Reviews: 8
Reviews by mltobin:

3.8
/5
rDev
-5%
vibe: 3.5 | quality: 4 | service: 4 | selection: 3.5
Located in the once gritty, now trendy and hip LES is Stanton Public. It has a relatively small interior, but also has some outdoor space in the back that is ideal for smokers. Beers on tap number at 16 or so, with one cask. Anderson Valley, Dogfish, Blue Point, Yuengling, others can be found on tap. A decent sized bottled list includes many classics like Schneider Aventinus, Innish & Gunn, La Fin Du Monde, Saison DuPont and more. The staff is friendly and attentive to their wide ranging clientele.
503 characters
More User Reviews:
4.11
/5
rDev
+2.8%
vibe: 4.25 | quality: 4.25 | service: 4.25 | selection: 4 | food: 3.5
4.14
/5
rDev
+3.5%
vibe: 4 | quality: 4 | service: 4.5 | selection: 4
Cool small bar in the SoHo/Bowery area. Short walk from the Bowery WF. Smallish darkish insidw bar with seating for maybe 20-30. Actual bar is small seating like 10-12. Loud music, reddish-pinkish lights. Feels like it is pretty broken in. Good tap selection of local and transcontinental craft....like 20 taps. Service was quick, despite difficulty accessing bar. There really should be a "ordering spot" at the bar much like a cocktail station. There is a really nice back patio area with seating- maybe enough for 30-35. A back bar which looks rarely used. Show movies from a PP projector on the back brick wall that also has an impressive & legible graffiti'd Stanton Public.
All in all- if you're in the area, you like craft beer(or full bar) looking for a "non-scene" chill hangout bar with a back patio.... here you go, can't go wrong.
843 characters
4
/5
rDev 0%
vibe: 4 | quality: 4 | service: 4 | selection: 4
(From notes)
Smaller place on the inside compared to some others in the area, but has a huge outdoor space in the back. Unfortunately, it was still covered during my visit. "Real" bar feel to the place, and had a more than solid tap and bottle selection. I had a cask brew as well as a Green Flash Hop Head Red on tap, for example, during my visit.
Not at all crowded on an early Saturday evening, but I could see where it would be a destination during later hours. Good happy hour deal.
Service was quick and congenial, no complaints. Definitely worth a stop if you are in the area.
588 characters
3.88
/5
rDev
-3%
vibe: 4 | quality: 4 | service: 3.5 | selection: 4 | food: 4
Stanton Public is my new favorite place in NYC on the lower east side. I guess everyone can figure out what my old favorite used to be.
I remember when you wouldn't even go down here back in the 80's!!! This was below CBGB's, and even that was a quick in-and-out! But man, has this neighborhood changed!
Anyway, 17 taps, 25 bottles, and cask ales! Relaxed, cool atmosphere. Not hip, not trendy... the real authentic. Great music (punk, rockabilly, 80's). Clean bathrooms. Nice patio/"beer garden" out back. Cheap eats. Reasonable - even inexpensive - prices. Cool bartenders and staff. Definitely worth a visit.
613 characters
4.24
/5
rDev
+6%
vibe: 3.5 | quality: 4.5 | service: 4 | selection: 4.5
Stanton Public, eh? That's where you all go now? Man, I used to hang there back in the day when it was VillEdge Publick House. That was a crazy two weeks and three days, lemme tell you. All right, so it was a little longer than that (you know I have no sense of time or space) and I'm just breaking shoes, so relax, you don't gotta get all uppity. It's not like I said that the VillEdge Publick House sign was written on a chalkboard or anything...
A small "L" shaped bar to the left seats nearly a dozen, it's bar back a large mirrored split unit, with tiered booze on one side and tiered bottled beer selections displayed on the other. Narrow glass front cupboards on both sides on the unit with all your favorite appropriate glassware. An angled Flatscreen above and to both sides of a center pull down screen for the projection TV mounted up high behind you. The not so far wall holds 5 tables adjacent to the bar sharing a common leather bench. Somewhat difficult to maneuver as there are 2 awkward but necessary pillars in the middle of the room but you make due. Between them, the tap selections are printed on a long slanted underhang blackboard that surely makes the blood rush to your head to have to write on. A candle lit bar counter runs a decent length of the rear wall beneath the "slander board"; a much larger blackboard than the one that used to be there that lists all the bottled selections and was my damn idea, so that's why it's called that. Drop lamps & spot lights, candles on the bar & tables. Beyond the here is an exterior room with a small bar, a few booths and about a half dozen tables in a patio with dba-ish roll down outdoor is indoor walls. Someone said they show movies back here, I don't know. Also, there's a downstairs room with an area for darts and a small horseshoe shaped nefarious nook that seated two, although you could easily fit a dozen drunken people here. Food menu is a handful of bar staples (burger, fries, wings, fingers, stix).
16 taps over 3 towers (a center tower holding 8 and towers of 4 to each side of it), and a cask engine on the end. A mix of good American micros (4 Avery's in a post Avery promo event, DogFishHead 90 Minute IPA, Smutty Old Brown Dog, Victory Prima Pils, Sea Dog Blueberry, Captain Lawrence Double IPA, Dales Pale Ale), imports, some better (St. Bernardus Wit, Chimay White, Delirium Tremens) than others (Guinness, Boddingtons), and a cider (Original Sin).
Also 30 bottles or so, some nice finds, mostly imports (Orval, Chimay Red & Blue, Duvel, Maredsous 10, Westmalle Dubbel & Tripel, Affligem, Delirium Nocturnum, Tripel Karmeliet, a trio of Lindemans, Deus, La Fin Du Monde, a pair of Sam Smith, Schneider Weisse, O'Hara's, Xingo), and a bunch of American micros (DogFishHead 60 Minute IPA & Punkin, Brooklyn Brown Ale, Magic Hat Mother Lager, Stone Arrogant Bastard, Keegans Old Capital, Lagunitas Censored, Harpoon). I've been fortunate enough to find the Captain Lawrence Smoked Porter on cask, and so I drink it, and it is good.
It's a solid house, really it is, and I've been told that the price of a pint has come down with the change of hands, which is always a good thing. They say they're committed to continuing the beer thing here so we'll revisit (repeatedly) and see.
3,274 characters
4.1
/5
rDev
+2.5%
vibe: 3.5 | quality: 4.5 | service: 4 | selection: 4
I decided to use the Columbus Day holiday to check out the new places in Soho - this place and Essex Ale House.
The first thing I noticed when I walked in was the smell of freshly cut wood, so this place is noticeably new. There's not much on the light green walls either, making the place feel empty in a way. 12 stools at the bar and 5 tables in front of the back wall with an appolstered bench all the way across the wall. A bunch of small stools around those tables, so you could really seat a lot of folks there. There are 3 flatscreens around the room. The back room apparently is an outdoor space when they don't have a tent covering it. I wasn't crazy about this all white room with its high-back booths. I think they'd be better off losing those booths and the all-white scheme and turn that into a beer garden with picnic tables. I think as they age and throw some breweriana on the walls, the place will be more homey. Apparently there is a downstairs room with darts, a TV and "Banquet", whatever that means, but I didn't go downstairs to see for myself.
I had 2 beers while I was there- a St. Bernardus Witbier and an Aventinus. Both were amazingly fresh tasting. Filling out the remainder of the 16 taps were Boddingtons, Brooklyn Lager, Carlsburg, Chimay, Dale's Pale, Delerium Tremens, DFH 90 min, Guiness, Original Sin Cider, Smithwicks, Smutty OBD, Stella and Stone IPA. There were 32 bottles as well. A good selection, but the 2 beers I had were truly the gems of the lineup.
The bartender was a friendly guy and I overheard him talking about ways to improve on the place, so that's good. No problem getting samples before ordering a full beer. The beers were served in their proper glassware.
It wasn't clear to me if they actually had a food menu, but they were going to put out some food for Octoberfest.
The 2 fantastic beers I had were each only $4 because I was there early when they have their half price special. I think $8 is reasonable for either of those when the special isn't on. I think they adjusted down their pricing after some previous reviewers first visited, but I didn't check the pricing on the american micros. If they are still charging $8 for american micros, then that is way too much. $6 is about as high as you can charge in that neighborhood, unless you're talking about a pricier DIPA, Imperial Stout or Barleywine.
Overall, this place looks very promising. It's great that with the addition of this place and Essex Ale House there is now a critical mass of beer bars for a fantastic bar crawl. I started my day with lunch at Heartland Brewery Union Square, walked to Villedge Publick House, then to Essex Ale House and on to Hop Devil Grill. Along the way I passed by Burp Castle, Standings and dba. Awesome bar crawl.
2,787 characters
3.86
/5
rDev
-3.5%
vibe: 4 | quality: 4 | service: 3.5 | selection: 4
Checked out this spot yesterday while cruising the LES. Very nice interior, warmly lit, comfortable booth and chairs. Good selection of beer, and you can sample 5 of them for $7. We had Stone IPA and Aventinus on draft, and Bengali Tiger on cask. Apparently people don't take advantage of the great beer this place was offering, because someone behind the counter complemented us on our selections. The Aventinus took about 5 minutes to arrive at our table, I guess it was foaming a lot or something. Other than that, no problems with service. When it came time to pay, though, I was shocked when the bartender said "$26." Apparently Stone IPA and Sixpoint Bengali Tiger were $8 apiece, and the Aventinus was $10! These prices will prevent me from returning to this bar with any regularity, unfortunately, despite its cozy atmosphere and good selections.
854 characters

4
/5
rDev 0%
vibe: 4 | quality: 4 | service: 4 | selection: 4
This new lower NYC spot is located 2 blocks uptown from New Beer, making it a natural for a visit when in the area. nice wooden bar up front, 3 flat screens with the game on. This seems to be a converted night club type place, there is a rear indoor/outside area all decorated in white with high back white booths and everything. I stayed up front and enjoyed a brew at one of the small tables. Nice tap selection (16 taps) including Six Point's Bengali Tiger (on cask), Delerium, Chimay, Saison Dupont, Aventinus (!), and selections from DFH, Stone, Bklyn, and Smutty. Looked like about 25 mostly BA worthy bottles. Friendly and knowledgeable Bar keep, correct glassware, all add up to making this place a worthwhile spot for a visit. Easy to also do a crawl with this place, Essex Ale house, DBA, Hop Devil, Standings etc. Prices did seem on the high side, luckily for me I was there during happy hour so my $8 draft (ouch) was 1/2 off, (better).
948 characters
Stanton Public in New York, NY
Place rating:
4
out of
5
with
9
ratings