Dismiss Notice
Périple
| Micro-brasserie Saint-Arnould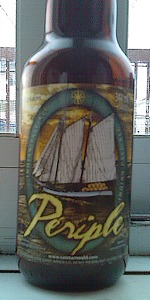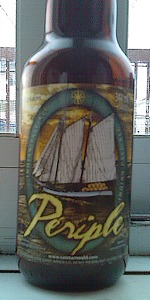 BEER INFO
Brewed by:
Micro-brasserie Saint-Arnould
Quebec
,
Canada
saintarnould.com
Style:
American IPA
Alcohol by volume (ABV):
6.50%
Availability:
Year-round
Notes / Commercial Description:
No notes at this time.
Added by papat444 on 03-29-2009
HISTOGRAM
Ratings: 12 | Reviews: 10
Reviews by DoreenAndDave:
3
/5
rDev
-0.7%
look: 3 | smell: 3 | taste: 3 | feel: 3 | overall: 3
Beer is a dark caramel with very little head. Armoa is malty with some bread and caramel. Not even a trace of hops. Taste is solidly malty. Hops provide a bitter finish, but not much hop taste or flavor. Beer is drinkable and nicely carbonated. Overall, this isn't a bad beer, but it's not noteworthy, either. It doesn't really seem like an IPA.
345 characters
More User Reviews:
3.62
/5
rDev
+19.9%
look: 3.5 | smell: 4 | taste: 3.5 | feel: 3.5 | overall: 3.5
This beer pours a deep dark ruby (40 years, heh) colour, with light tan edges, and three fingers of thick foamy beige head, which leaves minor lace as it falls away. "Pale Ale", my English-speaking ass... It smells of grapefruit and pine hops, and strong roasted caramel malt. The taste is intense bitter pine hops, roasted malt, and a bit of a booze warming. The carbonation is moderate, the body fairly creamy and solid, and it finishes dry, bitterly roasted and herbal. An interesting combo of IPA and strong brown ale, but a bit one-sided on the bitterness quotient.
570 characters
3
/5
rDev
-0.7%
look: 3 | smell: 3 | taste: 3 | feel: 3 | overall: 3
Bottle: Poured a deep hazy brown color ale with a small foamy head with average retention and minimal lacing. Aroma of grassy hops with a bitter finish and some dry malt. Taste is also dominated by some weird grassy hops and quite dominant malt backbone though grainy aftertaste is not so well balanced. Finish bitter with a full body and some average carbonation. Interesting though not something I would necessarily seek again.
429 characters
3.11
/5
rDev
+3%
look: 3.5 | smell: 2.5 | taste: 3 | feel: 4 | overall: 3.5
Périple is french for a voyage or expedition.
Poured from a 341ml. bottle.
Appearance: Deep orange-amber body with a 1 finger head. Good but not great start.
Smell: Not a big fan. Grassy but with some (barnyard?) funk and a sampling of hops. Something was a little off on the aroma.
Taste: Thankfully better than the smell. A moderate hops presence with a cereal-like aspect. Earthen with just a slight nutty feel.
Mouthfeel: Best feature of this beer for me. Smooth not too coarse with a bitterness that lasts well after my sip. Surprisingly discreet carbonation but feels good on the palate.
Drinkability: Easy to drink, especially in the warm spring sun! I might buy again but it's not the first IPA i would reach for.
Overall: A simple IPA. I would have liked a maybe more aggressive hops bite to it and more taste. Not bad but not too engaging either. I was a bit all over the place on this brew.
924 characters

3.32
/5
rDev
+9.9%
look: 2.5 | smell: 3 | taste: 3.5 | feel: 3.5 | overall: 3.5
Discovered some awesome bottle shops in Montreal, finally I get to a store where I see more than 10 beers that I have never seen before, awesome! Grabbed this with some other random singles.
A- Pours with a dark red- brown body. Small off-white head forms but fizzes away quickly. No lace in sight.
S- A fair share of hops and malts. Caramel malts are countered by hops that give off a nice orange zest and citrus note.
T- More depth here than the aroma. The malt bill consists of caramel, toasted and grainy notes. The hops round it out with herbal, pine and citrus hints, roughly in that order. Resin and pepper as well.
MF- Foamy body with a light feel. Carbonation is at a moderate level and a crisp bitterness hits the palate.
Brings depth with both malt and hops but doesn't amaze. Right down the middle.
815 characters
1
/5
rDev
-66.9%
Want a sour / bitter / little yeaste beer, you got it I tasted 2 to be sure that the first one was not infected.
It dont deserve to get an IPA lable.
You pour it, it looks like Brown sugar. Its more like if you had a porter IPA
A- Withe head no lace
S- More like a belgian beer. You smeel some sugar but not much
T- Realy unbalanced. You only feel bitterness on your tung. No residual sugar, no hop aroma but few floral notes
M- To much carbonation, more like a belgian or an hefeweissen
O- Nothing more to say,... Just stop brewing this. Your other beers are better
567 characters
2.84
/5
rDev
-6%
look: 4 | smell: 2.5 | taste: 2.5 | feel: 4 | overall: 3
Pours a copper-brown colour, with very thick off-white head. Head spilled over the glass because it kept growing after the pour. Lots of lacing around the glass. Definitely darker than a typical pale ale, but still looks nice. Smells of a weird combination of grassy and earthy hops, with a hint of citrus. Lots of caramel. Not the greatest tasting, this may be a little bit off, but I'm not completely sure. I purchased the bottle a month ago, so it isn't old. Really huge carbonation level. Just an ok beer, I won't seek out again.
533 characters
4.09
/5
rDev
+35.4%
look: 3 | smell: 4 | taste: 4 | feel: 4.5 | overall: 4.5
A - Pours a dark copper/brown with a cap of off white head. Bright with medium carbonation.
S - Really malty caramel aromas coming through. Good hop profile to compliment it too.
T - Seems more like an ESB but quite nice. Really strong malt body with that good hop kick. Biscuity, buttery, caramelly body with nice citrusy, slightly floral hops and bitterness in the finish that is just right.
M - Mild carbonation and a medium body.
D - I could have quite a few of these. Good balance and a nice abv, well done.
516 characters
2.85
/5
rDev
-5.6%
look: 3.5 | smell: 3.5 | taste: 2.5 | feel: 3 | overall: 2.5
Nothing pale about this one. Pours a dark, cloudy red/brown with 2 fingers of tan foam. Nose has some juicy grapefruit, coffee roastedness, and dark red fruit. Flavour is very bitter, with big estery fruit and apple. Lots of maltiness and hints of grass round out the flavour profile. While certainly hoppy, I'm not sure I like this one much - too much emphasis on bitterness, and the fruitiness seems overmuch. Mishmash of too strong and unbalanced flavours in my book.
470 characters

3.94
/5
rDev
+30.5%
look: 3 | smell: 4 | taste: 4 | feel: 4 | overall: 4
A: Much darker than I'd expect from an IPA, more like a scotch ale in color, only a spattering of foam over the top of the beer - 3.00, S: As the dark color seems to indicate and as the nose confirms - there is a generous dosing of caramel malt, lots of toffee and nuttiness, some citrusy hops are noticeable but they play second fiddle to the malt, tootsie roll seems an appropriate summary - 4.25, T: Solid hop bite mixes interesting with the specialty grains, tons of grapefruit and rind, charred espresso - 4.00, M: Slight grittiness and creaminess - 4.00, D: There's a lot going on in this beer, it is definitely an IPA in terms of bitterness but the specialty grains really throw a loop into the classification, I enjoy this beer and would drink it again - 4.00
767 characters
Périple from Micro-brasserie Saint-Arnould
Beer rating:
3.02
out of
5
with
12
ratings