Mikhail's Odd

Stone Brewing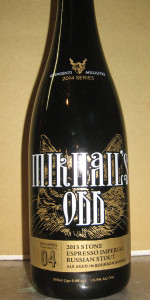 Write a Review
Beer Geek Stats:
| Print Shelf Talker
Style:

ABV:

13.9%

Score:

97

Avg:

4.47

| pDev:

8.5%

Reviews:

14

Ratings:

From:

Avail:

Retired (no longer brewed)

Wants

Gots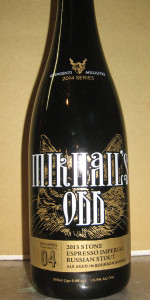 Notes: 2013 Stone Espresso Imperial Russian Stout aged in bourbon barrels.

VABA from Virginia
4.45
/5
rDev
-0.4%
look: 4.5 | smell: 4.5 | taste: 4.5 | feel: 4.5 | overall: 4.25
A-Pours a jet black color with a slight head and lacing
A-Aroma has abundant coffee hints
T-The taste follows the nose a strong coffe flavor
M-A medium bodied decently carbonated beer
O-A very well balanced stout
Dec 29, 2018

HattedClassic from Virginia
4.25
/5
rDev
-4.9%
look: 4 | smell: 4 | taste: 4.5 | feel: 4 | overall: 4.25
The beer is a good dark coffee brown mixed with a dark chocolate black. The texture is that of a slightly thick coffee.
Smell has a nice upfront chocolate with a sharp and bitterness from the espresso. Taste is ditto with a stronger espresso. Mouthfeel is good and heavy bodied but smooth and scarily drinkable. Delicious.
Dec 27, 2018

rodbeermunch from Nevada
4.44
/5
rDev
-0.7%
look: 4.75 | smell: 4.5 | taste: 4.5 | feel: 4.25 | overall: 4.25
Man this is a review for one of the best beers I've ever had, much less from the Stone brewery. Pours a thick black used motor oil kind of pour, dark black, heavily viscous. The aroma definitely kicks down a heavy dose of coffee moreso than any amount of 'espresso'. Good dark, heavy roast stuff here. Small amount of barrel notes, not huge.
Taste, wow, great medley of barrel notes, roasted malt, chocolate malt and coffee. Minor amount of charred wood and even earthy tobacco notes contributing to a great character. Very dark chocolate presence. Nothing in terms of sweetness or sugar going on here.
This is some classic shit. There's a million bourbon barrel coffee stouts out there, but this one manages to take an outstanding base beer, add a barrel and adjuncts, and bam, you still have a world class barrel aged offering. Sticky malt, coffee and bourbon, great combo.
Jan 02, 2018

Treyliff from West Virginia
4.4
/5
rDev
-1.6%
look: 4.25 | smell: 4.25 | taste: 4.5 | feel: 4.25 | overall: 4.5
Bottled 2014, holding 2013 Coffee IRS, aged in 11 months in bourbon barrels
A- pours pitch black in color with a one-finger creamy tan head that retains shortly before settling to a ring around the edge of the glass
S- rich espresso aroma up front mixes with dark chocolate malt, fudge brownie, caramel, bourbon, spicy barrel, closing with some earthy/herbal notes
T- rich dark chocolate fudge brownie mixes with strong espresso up front, adding some herbal & earthy notes. Notes of sweet caramel/toffee, burnt brown sugar, charred malt, some nuttiness, fig and raisin. The barrel aging has definitely added a new complexity, plenty of bourbon, along with barrel notes of charred oak, vanilla & spicy wood. More creamy dark chocolate on the finish
M- medium body with moderate-low carbonation leads to a foamy mouthfeel that finishes slightly creamy, just a hint of alcohol warmth on the linger
O- The original Espresso IRS was one of my favorite coffee stouts, so I was excited to try this. It's very good, but I wish I could have tried it a bit earlier, as the espresso notes aren't as strong as they were in the Espresso IRS that I had fresh when it came out
Jan 23, 2016

sittinggc from California
4.84
/5
rDev
+8.3%
look: 4.75 | smell: 4.5 | taste: 5 | feel: 4.75 | overall: 5
Been holding on to this one and finally popped it open. Poured into Teku glass.
Look: Beautiful! Pitch black with a nice brown head. Still reminds me of the first time I drank Stone IRS...it was my first stout. Hahaha...probably not the best place to start as a newbie
Smell: Strong bourbon aromas. In a nice sweet way.
Taste: The first sip is phenomenal. Based on the aroma, you may think the bourbon is gonna dominate thought but nay! The bourbon is the first thing that is apparent but it soon gives way to a nice vanilla character. So good. As you swallow, it gives way to the espresso and roastiness of the coffee and malts. Such a complex beer. Every sip is a gift from above.
Feel: Nice and chewy. Stone IRS always had the best mouthfeel and that is no different after barrel aging. This is how a stout should feel!
Overall: This is definitely a world class beer. So friggin good. I loved the original IRS with espresso but this is on another level. I'm just sad that they may never brew it again....since the base beer was an odd year release which seemed like a one off. Please Stone! Bring this bad boy back!
Oct 01, 2015
Domvan from Texas
4.66
/5
rDev
+4.3%
look: 4.25 | smell: 4.5 | taste: 4.75 | feel: 4.75 | overall: 4.75
I had been wanting this beer bad for quite some time and finally busted it open with a few buddies. The chocolate/coffee were everything I expected while the boozy mouthfeel made it that much better, this was one step up from Fyodor's, both are on top of my favorites list easy
Aug 06, 2015
Jeffo from Netherlands
4.37
/5
rDev
-2.2%
look: 4 | smell: 4.5 | taste: 4.5 | feel: 3.5 | overall: 4.5
Got this one from ScottO in a box a while back. Thanks again man!
From a 500ml bottle into a snifter
2013 imperial stout with coffee aged 11 months in Kentucky bourbon barrels
Brewed 1 March 2013
Bottled February 2014
IBU: 38
Ryan Bros Espresso roast coffee
Quingenti Millitre 2014 Series batch 4
APPEARANCE: A transparent black pour yields a 2+ finger, medium looking, bubbly tan head with good retention. Black body with no carbonation evident. Head recedes to a full cap and leaves some lacing clinging to the glass. A ring remains until the end leaving some falling dots of lacing down the glass.
SMELL: Big nose of espresso, burnt notes, milk chocolate, bourbon, oak, vanilla and coconut as well. Lots of burnt espresso over the barrel aromas. Nicely balanced and enticing for sure.
TASTE: Espresso, sweet cream and bourbon notes up front. Barrel, vanilla and coconut with espresso beans at the swallow, moving into a bold and lingering finish of burnt espresso, roasted grain, bourbon, vanilla, milk chocolate, coconut and oak flavors as well. Really nice and very well balanced.
PALATE: Medium-thinner body with medium levels of carbonation. Slightly creamy on the palate, less abrasive than the Fyodor's version, goes down with a bit of a scratch and finishes rather sticky. Some heat lingers.
OVERALL: This stuff is excellent. The addition of espresso is done really well here and works excellently with the bourbon barreled stout. While both this one and Fyodor's Classic are great brews, I think I would take this one first, as its balance and execution is more impressive overall. Either way, both are great and I was very happy to try them out. Thanks again ScottO. Highly recommended.
Mar 05, 2015

Stevedore from Oregon
4.44
/5
rDev
-0.7%
look: 4.25 | smell: 4.5 | taste: 4.5 | feel: 4 | overall: 4.5
500ml bottle. 2014 release. Poured into a snifter 11/1/2014.
A- Dark black body, half finger mocha-brown head with a nice, lasting retention. Keeps a medium-density collar on for quite a while. [4.25]
S- Coffee, bourbon, oak, vanilla, some coconut, milk chocolate. The coffee is playing nicely with the sweet base beer and the barrels, not too dominant. Very nice balance of coffee and sweet milk chocolate here. [4.5]
F- Coffee comes forward more strongly on the taste. Bitter espresso, slightly charred malt sweetness, oak, vanilla. Less coconut than in the nose. Plenty of milk chocolate to go around. Nice balance, a bit hot on the finish. [4.5]
M- Thinner end of the medium body category. A bit thinner than I remember 2013 Espresso IRS to be. Lower in carbonation as expected. Drinking a bit hot. [4]
O- Great coffee flavours that are playing well with an already excellent base stout and the bourbon barrel aging process. My only real detraction is the body which is a bit thin, but this is otherwise a very tasty imperial stout. [4.5]
Nov 02, 2014

wordemupg from Canada (AB)
4.45
/5
rDev
-0.4%
look: 4 | smell: 4.5 | taste: 4.5 | feel: 4.25 | overall: 4.5
500ml corked and caged bottle poured into tulip 1/8/14 big thanks to schnarr84 for the bottle
A jet black with a thin cola edge, noisy foam falls quickly leaving no lace as to be expected at nearly 14%, wide legs and color left behind on the glass
S great mix of bourbon, vanilla, coffee, and booze, there's some charred wood and some dark hard toffee and just a hint of cherry, chocolate liqueur, and creme brulee
T big bourbon notes and a heavy blast of sweetened dark roasted coffee, I wouldn't guess 14% but the booze is hard to miss but it works with the bourbon flavor, char without smoke, tastes massive
M thick, enough bubbles too give it some life, booze hits you head and chest but fairly smooth on the way down, mild tannins, a little numbing on the tongue and lips, chocolate fudge and bourbon linger for ages
O I love coffee and bourbon and this brew has plenty of both, intense and a little boozy but I don't mind at all, a slow sipper that's for sure
I doubt I could've picked a worse beer for this hot Summer day but I have no regrets, one of those beers I want to drink the day its bottled and again 5 years down the road.
Aug 01, 2014

wethorseblanket from California
4.44
/5
rDev
-0.7%
look: 4 | smell: 4.25 | taste: 4.5 | feel: 4.75 | overall: 4.5
Corked and caged 500ml bottle. 2014 bottling contains 2013 espresso Imp RIS aged in Kentucky Bourbon barrels.
A: Pours a deep black with just a trace of carb and no lace.
N: Boozy bourbon, vanilla, sweetness, coffee, roast, pillowy chocolate cake powder.
T: Vanilla, marshmallow, dark cherry, chocolate, toasted caramel, faint coffee.
M: Full body and light carbonation. Smooth, creamy, lush, deep roasty finish.
O: A very good creation. Well done.
Aug 01, 2014

BMMillsy from Florida
4.56
/5
rDev
+2%
look: 4.5 | smell: 4.75 | taste: 4.5 | feel: 4.5 | overall: 4.5
Corked and caged 500 ml bottle from trade, 2014 Series Batch No. 04 (2013 Espresso RIS). Pours pitch black with a half finger mocha head. Aroma of nice vanilla bourbon tones, chocolate, some coffee roast, oak, alcohol. Flavor is vanilla, bourbon, caramel, oak, chocolate, some spicy coffee notes, lingering char and bourbon on the palate. Really nice, smooth, yum. Some brief oxidization, more so than Fyodor's but not enough to take away from things and intermingled with what is left of the espresso. A beautiful beer.aybe a bit hot and this would probably improve if laid down for a little bit. Body is thick with medium low carbonation. A beautiful beer. My only complaint is that there isn't much coffee/espresso here beyond some muted earthy tones. This was released about 5 months ago so maybe that has faded. Doesn't matter though. An awesome barrel aged stout.
Jul 23, 2014
Alieniloquium from Florida
4.48
/5
rDev
+0.2%
look: 4 | smell: 4.75 | taste: 4.5 | feel: 4 | overall: 4.5
500 mL bottle poured into a snifter.
Appearance - Deep black body. Nearly inky. Small khaki head. Thin collar and a few wisps.
Smell - The coffee is very rich. Bourbon. Less intense oak than Fyodor's. Fudgy chocolate.
Taste - Sweet fudge. Rich coffee blends in. Bourbon. Dries out as the barrel sets in. Very oaky. Oak and bitter chocolate linger.
Mouthfeel - Thick. Medium carbonation.
Overall - The coffee smooths out the rough spots of Fyodor's.
Jul 08, 2014

Huhzubendah from District of Columbia
4.44
/5
rDev
-0.7%
look: 4 | smell: 4.25 | taste: 4.5 | feel: 4.75 | overall: 4.5
The beer is opaque and near black with a thin beige head that rapidly fades to nil. The aroma offers big roast and char character. Barrel presence is there too, with nice oak and booze scents. Espresso and general coffee character is subtle, much more so than expected. Coffee emerges more in the flavor, complementing the beer rather than dominating it. Thick on the palate with low carbonation. Viscous and slick. Elegant and delicious.
Jun 13, 2014

notchucknorris from California
4.68
/5
rDev
+4.7%
look: 4.5 | smell: 4.5 | taste: 4.75 | feel: 4.75 | overall: 4.75
A: Pours black with a one finger khaki colored head that drops fairly quickly. The liquid it leaves behind is thick and menacing. I like.
S: A good amount of bourbon in here, coupled with a ton of dark, rich espresso. Vanilla, toffee, caramel, oak laced with bourbon that almost stings the nostrils, charred wood and tobacco. Get in me.
T: Damn. I've been waiting a long time to finally try the BA IRS and Stone busts this out alongside it? Holy moly. Bourbon upfront with a nice hint of burnt caramel and brown sugar. A ton of espresso in the middle laced with a nice dash of pure bourbon. Finish brings some charred wood, burnt espresso, burnt brownies and some fudge. Dry, roasty and absolutely loaded with espresso on the finish. Crazy that there would be this much espresso left after a year in the barrel. A fantastic beer.
Mar 26, 2014
Mikhail's Odd from Stone Brewing
Beer rating:
97
out of
100
with
129
ratings