Sawyer's Triple
| Stone Brewing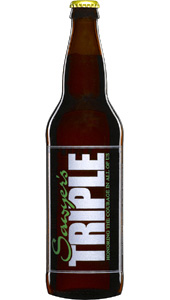 BEER INFO
Brewed by:
Stone Brewing
California
,
United States
stonebrewing.com
Style:
Tripel
Alcohol by volume (ABV):
7.60%
Availability:
Rotating
Notes / Commercial Description:
No notes at this time.
Added by xlperro on 10-04-2003
Reviews: 112 | Ratings: 139

3.48
/5
rDev
-13.2%
look: 4 | smell: 3.5 | taste: 3 | feel: 4 | overall: 4
Draft service into a half-pint goblet at Stone Bistro.
A: Clear, medium golden color with one finger of diminishing white foam head. No lacing remains on the glass.
S: Light toast is obscured somewhat by bright esters, wild mint, and fusel alcohols that impart occasional whiffs of solvent and urea.
T: Begins barely off-dry, with lightly toasted malt, delicate herbs, and some snappy anise that lends an edge. The trend is toward increasing dryness, becoming more clean, with a burst of bright apples and pears in the middle. It finishes with restrained bitterness amidst more herbaceous spice. Alcohol is occasionally detected, adding a spirituous quality that is consistent with the style (but seems inconsistent with the mildness of the other flavors found here.)
M: Thin to medium viscosity, feels more substantial on the palate than it tastes, with moderate carbonation.
D: An interesting take on the abbey tripel style--more like a tripel lite--whose sensory qualities come totally unexpected in a beer from Stone. It drinks easily enough, and leans toward the lower end of the abv range for the style, but flavors seem muted and lacking interest compared to other beers of the style. In fact, this beer may be one of Stone's mildest, tasting less assertive than the pale ale. Definitely rare and probably over-rated, Sawyer's triple is the least likely beer to be judged a Stone brew in a blind tasting.
1,416 characters
3.47
/5
rDev
-13.5%
look: 3.5 | smell: 4 | taste: 3.5 | feel: 3 | overall: 3
Golden-amber body with a slight haze wears almost no head at all which disappoints a bit for a tripel. Honest aroma consisting mostly of gentle yeast notes and mead-like maltiness (honey, flowers, clovers). Moderate spiciness, herbs and mild smokiness. Rather perfumey palate, spicy (rosemary, basil), honey attack and candi sugar dominates a mild alcohol character. Nice soft carbonation, medium bodied. Average tripel.
420 characters
3.43
/5
rDev
-14.5%
look: 3.5 | smell: 3 | taste: 3.5 | feel: 4 | overall: 3.5
Aroma: subtle spice, easters (banana) and bubble-gum.
Pours golden amber with thin white head. Easy to make a nice with a quick swirl, but fades quickly.
Flavor: similar to the nose. Pronounced flavors of sweet and pungent fruit: subtle citrus with mostly plum. There is a nice spicy finish in the throat.
Mouthfeel: medium to medium-light body. No lacing. Nice carb., though.
Drinkability: medium to medium-low. The bubble gum easters take away from the drinkability.
Overall: ok. Seems a little weak for Stone. Not my favorite. The bubble gum easters were too overpowering for me, in the nose and in the flavor. I wish there was more spice and more complexity.
670 characters

3.38
/5
rDev
-15.7%
look: 3.5 | smell: 3 | taste: 3.5 | feel: 3.5 | overall: 3.5
1123rd Review on BA
Bottle to Goblet
22 oz
Purchased from Stone @WinterStorm 2012
Shared with GuruDel
App- Freshly squeezed orange juice mixed with some yellow and golds. A bit unfiltered and a bit cloudy. No real head formed but had a nice ring of bubbles. Very small amount of cling towards the end.
Smell- Standard triple notes, but a bit faded. The yeast is still there with a small backing citrus note.
Taste- It was a pretty good triple. I just dont think its aging all that well. I am glad I got to try it as I love the style, but its a bit sweet with a softer yeast note. Has a certain flavor I can't put my finger on. The flavors are seeming to me at least of pullling apart a bit.
Mouth- A lighter medium body with a low-medium carbonation. Seemed a bit sweet on the finish with a little too much orange/lemon juice flavors.
Drink- I love the cause that this supports. I would gladly buy this beer again. It was good. I think I am just being nitpicky about it because its Stone and I love what they do.
1,019 characters
3.37
/5
rDev
-16%
look: 3 | smell: 3.5 | taste: 3.5 | feel: 3.5 | overall: 3
Thanks to seanboley for sharing this 22oz. bomber on 3/18/10.
A - Poured a clear golden body with sparse carbonation and a minimal white head that reduced to a patchy film and thin ring of retention.
S - Initial aroma is very floral and sweet with hints of rose petals, candi sugar and sweet berries.
T - Lots of sweet, fruity character right from the get-go suggesting fleshy tree fruit akin to apples and pears. A slightly spicy presence is also apparent in the middle, followed by floral notes reminiscent of rose and lavender. While a moderate alcohol warmth is apparent, the flavor is quite sweet overall... perhaps even a bit too sweet.
M - Medium bodied with a very syrupy texture. Finishes dry with a lot of residual sweetness and a hint of spicy heat on the palate.
D - Pretty tasty Belgian-style Tripel overall, although I found it to be a bit on the sweet side... kind of like a Tripel doused with liquid sugar.
927 characters
3.27
/5
rDev
-18.5%
look: 2 | smell: 2.5 | taste: 3.5 | feel: 3.5 | overall: 4
22oz bomber poured into a pint glass - tasted on 4/27/2009:
Appearance - Yellow with a moderate white head. Looks like a "fizzy" yellow beer, as per Stone. Nothing to write home about, and other Tripels have a better appearance. Good amount of lacing.
Smell - Nose is slightly floral and fruity with the typical Belgium yeast undertones. Banana is the first distinctive flavor to hit me. The other flavors are mixed together, with a blend of spices (almost like Christmas spices, but not really) as the only other smell that stands out. Not much of a nose, especially when compared to other Tripels.
Taste - Slightly sweet tones, Finishes with a significant banana aftertaste. The taste definitely has fruit undertones to match the taste. The spice flavor is most distinctive during the finish, with strong nutmeg flavors. The nutmeg flavor is quite good, but still pretty low-key. The flavors are straightforward and muted.
Mouthfeel - The sugars come out in the mouth feel, sticking to your tongue. The lingering aftertaste definitely has a banana tone to it, and sticks to your mouth/tongue like a banana. Not bad, but not great. Significant amounts of carbonation, but not excessive.
Drinkability - Very easy to drink. Decently high ABV, but noting special. Could be a sessions beer, but that would be somewhat pushing it.
Overall -- A little overkill on the banana (which is not my favorite flavor), which is a shame, because some of the other flavors and tones would be much more interesting if they came out stronger. Would definitely prefer a Belgian Tripel over this. Compared to other Stone beers, I'd definitely recommend something else from their strong selection.
1,683 characters
3.22
/5
rDev
-19.7%
look: 3 | smell: 3.5 | taste: 3 | feel: 3 | overall: 3.5
Picked this bottle up last year this time when I toured the brewery. 22oz bottle poured into a tulip. Appearance is a nice golden hue, but there is little to no carbonation which is slightly disappointing. Aroma is mostly banana and clove. Mouthfeel is tart and sharp on the tongue. Body is fairly smooth and taste is mostly banana and some mild spice. I love the premise of this beer and the fact that it is for charity, however its not an outstanding tripel. Which I find surprising considering the history that Stone has brewing Belgians.
541 characters
2.62
/5
rDev
-34.7%
look: 2.5 | smell: 3 | taste: 2.5 | feel: 2.5 | overall: 2.5
Consumed Feb 7th, 2010 at Stone World Bistro.
Mostly clear light gold, almost lemony yellow. Minimal head, slight lacing. No discernable carbonation activity in glass.
Floral, perfumey aroma.
Flavor follows nose, mostly. Slight citric lemon zest, some soft yeast. No bitterness to speak of. A shame, since there is nothing to really offset the sweetness that borders on cloying. Flavor was not as complex or strong as other reviewers have noted.
Mouthfeel is unremarkable.
Not especially drinkable as it's just too sweet. This may have finally passed its prime.
566 characters

2.53
/5
rDev
-36.9%
look: 3 | smell: 2.5 | taste: 2.5 | feel: 2.5 | overall: 2.5
From a 22 oz. bomber into a large wine glass. Pours a mostly clear light golden in color with a short lived head and just a touch of haze. Retention is brief, surrendering to a surface cap for the duration of the glass, or a surface ring more accurately as this soon looks like apple juice. You really need to force the pour if you want a good head here.
Smell is somewhat sweet and yeasty but offers little depth. Notes of sweet rollup fruits plus some alcohol. Improves with warming. Sweetness easily trumps any yeast notes here, this is the antithesis of a good Belgian in the nose. Yeast notes abound when agitated but settle down rather quickly and remain cloaked in malts of secrecy most of the time.
Taste is a bit soapy sweet and again offers only moderate depth. What's there is citric sweet to a degree, with orange notes dominating.
Decent feel and drink but not really. The beer seems rushed and has a malty sweetness that offers little reason to linger.
Surely an American Triple. Malts are uniform and without a lot of character, yet the sweetness is apparent though not complex. As I embrace Belgian Tripels I question American versions thereof.
1,167 characters
2.47
/5
rDev
-38.4%
look: 2.5 | smell: 3 | taste: 2 | feel: 3 | overall: 2.5
I really wanted to like this, it was brewed to raise money for a sick kid, well I'm glad I donated some money to the cause at least.
Pours a crystal clear golden amber, topped with a one finger white head that disappears almost immediately, leaves small bits of lacing.
Soft fruity aroma, toast, some floral and wheat notes.
A bit warming but there isn't much to the flavor - wheat, candy, bubblegum and fruit. Theres no real punch or anything to grab you, pull you in, and let you know you're drinking a tripel.
Next time I'd just mail in a check and skip the beer.
570 characters

2.39
/5
rDev
-40.4%
look: 4 | smell: 2.5 | taste: 2 | feel: 3.5 | overall: 2
A: The beer pours a clear golden orange color with a tall white head.
S: Reeks of sugar. Cloying as any beer I've smelled with over ripe bananas and spices being the only break from the sugar (not that they really help much). Bubblegum and cotton candy only add to the problem.
T: This is so sweet, it's almost got a grainy texture to it. Sugar, sugar, and more sugar with cotton candy, bubblegum, and overly ripe fruits such as bananas and apples. A strong spice character of clove that is also unpleasant.
M: Syrupy with medium carbonation.
O: Unenjoyable on all fronts. I know it's sort of a dick move to bash this beer considering its purpose, but it's just not good.
675 characters

1.92
/5
rDev
-52.1%
look: 4 | smell: 2 | taste: 2 | feel: 2 | overall: 1
Bomber into a Stone tulip. Golden-amber appearance, semi-hazy, with two fingers of pure white froth. Signature tripel appearance. The nose is bubblegum, pure bubblegum. I honestly can't pick out anything else. Whatever yeast they use for this stuff, I'm not a fan. Tastes like a bubblegum sandwich; light breadiness mixed with shitloads of bubblegum. The mouthfeel is sweet from start to finish; where's the dryness? I've never been a huge fan of Stone's attempts at Belgian ales, but damn, this one just sucks.
511 characters
Sawyer's Triple from Stone Brewing
4.01
out of
5
based on
139
ratings.