Stone 06.06.06 Vertical Epic Ale
| Stone Brewing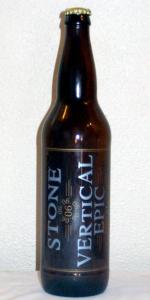 BEER INFO
Brewed by:
Stone Brewing
California
,
United States
stonebrewing.com
Style:
Belgian Strong Dark Ale
Alcohol by volume (ABV):
8.66%
Availability:
Limited (brewed once)
Notes / Commercial Description:
As with any good epic, herein lies the promise of larger-than-life experiences, heroics, and twists and turns as the adventure unfolds. This bottle conditioned ale is chapter five, and is specifically designed to be aged until sometime after December 12th, 2012. Provided you can wait that long. At that time, enjoy it in a "vertical" tasting along with its ten Stone Vertical Epic Ale brethren. Each on unique to its year of release. Each with its own "twist & turn" in the plot line. Each one release one year, one month and one day from the previous year's edition.
In this year's edition, you'll notice a deep, rich aroma of toasty malts, anise, Belgian yeast spiciness, and a hint of cedar. The toasty, dark and roasty malt flavors combine with a soft palate - courtesy of specialty dark wheat and barley malts. The body is fairly light for a beer with such a high gravity. There is a pleasant, lingering bitterness, so you know it's part of the Stone family. This ale was brewed with a specialty Belgian yeast that we're really liking here at Stone...it's the same one we used for brewing the Stone 03.03.03 Vertical Epic Ale. And as with the Stone 05.05.05 Vertical Epic Ale, all the spicy, deep, and wonderfully funky aromas and flavor characteristics in this beer come as a result of nothing more than malt, hops, water and yeast!
Added by Todd on 06-05-2006
This beer is retired; no longer brewed.
Reviews: 308 | Ratings: 487
4.35
/5
rDev
+9.6%
look: 4 | smell: 4 | taste: 4.5 | feel: 4.5 | overall: 4.5
Poured from a 22oz to glass.
A - poured dark with a light tan head; great retention and lacing.
S - Heavily roasted malt. Little hint of alcohol.
T - Heavy roasted malt and earthy tones. Oak undertones with a hint of chocolate
M - Mixture of a stout and dark brown ale.
D - Thick by oddly very drinkable. Very smooth.
My first Vertical Epic, but am looking forward to haveing more in the future.
★
401 characters

4.18
/5
rDev
+5.3%
look: 4.5 | smell: 4 | taste: 4.5 | feel: 3.5 | overall: 4
I bought three in June of 2006, kept them in the closet. I should have broken one out right then but as the year went by I forgot how many I bought.
what with the '07 coming out real soon - in some areas, these Stone's beers arrive faster than in others - I had no choice but to dig into my closet and break out the one from the previous year.
poured into a frosty mug. the body is extremely DARk with an ample size of foamy head at the top.
the maltiness made this beer stand out. can't smell nuthin by malt and more malt. wow.
now to taste...
I was expecting some bitterness but much to the lack of dismay, the '06 Vertical is a smooth ride. it brings out a good deal of malt and more malt, some with a hint of chocolate, but a good portion of maltiness.
however, the aftertaste is a different story. seems there's been a bit of some sugar added to this brew.
but I don't care - the maltiness trumps it.
★
927 characters
4.15
/5
rDev
+4.5%
look: 4.5 | smell: 4.5 | taste: 4 | feel: 4 | overall: 4
Bought this at Stone's special 80's growler fill on Sat night. Nice dark color. Almost as dark as the IRS 08 I also bought via growler. Smell: very pleasant dark fruit smell, with spicy belgian notes. Taste: raisin, maybe prune with belgian spice. Noticeable sweetness very nicely balances the light bitterness of hops. Mouthfeel: medium weight, not too highly carbonated. This may be because I drank this a few nights after buying in Escondido. Very drinkable beer that opens up well after warming up.
★
502 characters
4.5
/5
rDev
+13.4%
look: 4 | smell: 4 | taste: 5 | feel: 4 | overall: 4.5
This beer has aged well. It's mellowed out significantly - drinkability is high. It has a malty taste at first, with very little carbonation at this point. There's some interesting bitterness in the finish. Overall, an above-average BSDA. Recommended.
★
251 characters
3.85
/5
rDev
-3%
look: 4 | smell: 4 | taste: 3.5 | feel: 4.5 | overall: 4
Pre-Taste Notes: Aged 6 months. Stored in proper conditions.
Presentation: Split the bottle with fellow BA'er, JCDiflorio. He take his portion in a Chimay Goblet while I opted for a large tulip.
Appearance: Deep dark maroon with a lot of livelyness. Pours with a nice consistent head but dissipates reather quickly.
Smell: So many scent come out of this brew that it is hard to even list them. Both of us were reaching trying to grab all the ingredients. Overall it was very earthy with a yeasty hint and dare I say ... vanilla?
Taste & Mouth Feel: This beer has plenty of life in the mouthfeel department and comes alive as it travels down your gullet. The taste sticks with you for a good while.
Drinkability & Notes: It is sad that I can't drink a lot of this type of beer, because I really enjoy the taste of it. In the end, it hits me a lot like the true Belgiums. For me, one is almost too much, but still very enjoyable.
★
942 characters
4.65
/5
rDev
+17.1%
look: 4.5 | smell: 4.5 | taste: 5 | feel: 4 | overall: 4.5
A: Pours very dark, with a generous dark tan head. Looks beautiful.
S: This is one complex brew, and it can be seen in the smell: Fruity esters--mostly apple and banana--are evident. Funky Belgian yeast qualities are also strong, but not overpowering. Chocolate is present. Rich dark malt, and a hint of beef jerky. Great blend of smells in this boquet.
T: Absolutely incredible. This style is becoming one of my favorites. At first the rich dark malt makes an appearence--smooth, and it coats the tongue. Then meat and chocolate come into play. Medium-low sweetness. Low bitterness. Funky Belgian yeast and fruitiness are noticeable but subdued for the style. This beer defenitely showcases rich malt. Quite complex. Several layers of flavor.
M: Strong carbonation. Medium body. I had to swish the beer around in my glass to get the carbonation to where I like it. Coats mouth well. Smooth. Finishes slightly sweet.
D: Very drinkable. Alc content is well hidden. Nothing sticking out here, everything is very well balanced. I could have more than one bomber of this in a night no problem.
In my opinion, this is a must try, even if you don't care for this style. Stone is an amazing brewery, and this beer lives up to the reputation
★
1,248 characters
3.83
/5
rDev
-3.5%
look: 4.5 | smell: 4 | taste: 4 | feel: 3 | overall: 3.5
I am a few beers in to the night.
Very dark brown opaque pour. Very persistant light tan head.
slight oxidation in nose. a little more pleasant rasian then cardboard. more dark fruit and chocolate mostly cover it up.
Sweetness gives way to oxidatiove qualities both good and bad. Understandable after 6 years of so so storage. Still very drinkable. A dark cardomom spice flavor. Too drumnk t give very good description,
★
423 characters
Stone 06.06.06 Vertical Epic Ale from Stone Brewing
3.97
out of
5
based on
487
ratings.