Stone Old Guardian Barley Wine Style Ale 2007
| Stone Brewing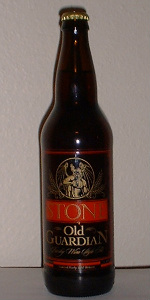 BEER INFO
Brewed by:
Stone Brewing
California
,
United States
stonebrewing.com
Style:
American Barleywine
Alcohol by volume (ABV):
11.26%
Availability:
Limited (brewed once)
Notes / Commercial Description:
No notes at this time.
Added by Wildman on 01-25-2007
This beer is retired; no longer brewed.
Reviews: 239 | Ratings: 290
3.68
/5
rDev
-10.9%
look: 4 | smell: 3.5 | taste: 4 | feel: 4 | overall: 3
Bomber poured into a pint glass
Dark burnt orange color with distinct red hues, nice color
Moderate head which dissipated quickly, not much lacing
Smell is ripe fruit, apricot, some caramel with distinct hop aromas spiking through, alcohol is hidden well
Sweet and sour flavor, candy, apricot, pear sweetness with hoppy bitterness jumping all over it, very hoppy, alcohol again is relatively well hidden by the strong flavors in this brew
Thick, viscous mouthfeel, feels like a substantial beverage
This is a heavy, high alcohol beer that should be savored, thus lowering drinkability overall. The alcohol becomes quite noticable before too long.
Overall, this is a good, young, hoppy barleywine. With time, the flavors with meld together instead of declaring themselves so boldly independent.
812 characters
3.75
/5
rDev
-9.2%
look: 4 | smell: 4 | taste: 3.5 | feel: 3.5 | overall: 4
Appearance - A deep amber/orange with a thick tan head.
Smell - Plenty of pine and citrus hops, not surprisingly. The alcohol is very noticeable through the hops.
Taste - A fruity, grape juice-like sweetness, with a bit of orange and grapefruit, pretty syrupy. Once again, the alcohol is clearly there, this time taking precedence over the hops, which themselves add to the citrus flavors and some grassy notes.
While a decent beer, it really does seem a bit young. The hops and malt seem to be too separate and have not become balanced yet. I'm sure my second bottle will be extremely enjoyable after a few months of cellaring.
639 characters
4.5
/5
rDev
+9%
look: 4.5 | smell: 4.5 | taste: 4.5 | feel: 4.5 | overall: 4.5
Poured from a bomber to my Stone pint glass. Deep amber color with small tan head.
S. Citrus and sweet caramel
T. Sweet at first then bitterness that was nice that gave a kick
M. Well carbonated and i thought this wasnt as intense as some other barley wines
D. I enjoyed this beer so much which means i could drink more of it i wish i had another bomber.
359 characters
4.42
/5
rDev
+7%
look: 4 | smell: 4.5 | taste: 4.5 | feel: 4 | overall: 4.5
A - Pours a lighter golden amber than the Great Divide Old Ruffian. Good carbonation provides a nice, quarter-inch of foam.
S - Definite berry and citrus notes prevail, with just a hint of bitter-sweet chocolate.
T - Sweet fruitiness is balance with a hoppy citrus bitterness. Alcohol esters are fairly strong, but not overpowering. Flavor balance is excellent.
M - Creamy and bubbly. Very rich.
D - This is a very tasty brew! I took my time a really savoured it. This is probably a good thing, considering the high ABV. This brew is one and done.
551 characters
4.25
/5
rDev
+2.9%
look: 4 | smell: 4 | taste: 4.5 | feel: 4.5 | overall: 4
Pours reddish brown and perfectly clear. Little to no head and not much carbonation seen in my tulip. Smell is hop oils with some malt in the background. First taste is very sweet. Caramel is very noticeable. Turns into a slick hoppy beer that really lingers and coats the mouth. Not what I was expecting after the initial taste but really interesting and keeps me coming back for more. The hop oil just lingers on the tongue. Mouthfeel is excellent. Slick, buttery and smooth. I heard this was drinking well but wasnt expecting something quite this smooth from such a big beer. Really very impressed. The drinkability is rather high for a beer with this much flavor and alcohol. Definitely packs a punch though. Be careful and enjoy.
734 characters
4.25
/5
rDev
+2.9%
look: 4 | smell: 4 | taste: 4.5 | feel: 4.5 | overall: 4
This beer appears cloudy orange with a tiny head. It smells yeasty, sweet, and alcoholic. The taste is complex. Some floral, piney hops, some alchoholic burn, some fruity, rindy flavors, , some dried fruit, some earthy bitterness. The mouthfeel is smooth, soft, bubbly, not to much burn from the alcohol.
I'm not the world's biggest barleywine fan, but I really enjoyed this one. Keeps you guessing, not too dirty, not too alcoholic, overall a very enjoyable ride. Thanks Dave at Zeno's for this tasty brew!
508 characters
4.17
/5
rDev
+1%
look: 4 | smell: 4.5 | taste: 4 | feel: 4.5 | overall: 4
"Limited Early 2007 Release"
Copper color, good head and head retention.
Smell is dominated by the malt. Very sweet smelling, like toffee, with a very distinct aroma that reminds me somewhat of anisette cookies. The hop aroma that was there when I had this fresh has almost disappeared. Surprising since this beer is about 4 months old. Alcohol is noticeable, but unlike the Stone IRS, it is well hidden and not nearly as solvent-y.
Tastes a lot like it smells, but the hops that were missing in the aroma show up in the bitterness to balance the beer out nicely. Full-bodied with good carbonation. Good but not great drinkability for a barleywine.
657 characters
3.98
/5
rDev
-3.6%
look: 4.5 | smell: 4 | taste: 4 | feel: 4.5 | overall: 3.5
Decided to review this one after exactly one year aging after picking up a few bottles of the '08 version
Color is a deep and tawny bronze with a great amount of creamy wheat colored head.
Smell is very pleasant but not overpowering with some sweet overtones of sugar or honey followed by floral hops and a hint of alcohol on the nose.
Big caramel palate with a sweet dry (tad bit grain husk) finish giving way to a big alcohol presence. Surprised this hasn't mellowed a bit since last year but the alcohol certainly leaves this one feeling a bit "hot." Hop balance on this has certainly mellowed and rounds it out beautifully with some pine notes and a smooth lingering bitterness does battle with the alcohol.
Mouthfeel is enveloping, full and wonderful with a perfect amount of carbonation.
Overall great, but a little "hotter" than I was expecting after cellaring for a year.
886 characters
3.63
/5
rDev
-12.1%
look: 4 | smell: 3.5 | taste: 4 | feel: 3.5 | overall: 3
A richly malty beer with a golden light brown coloring. A smooth and sweet flavor initially followed by a well-balanced bitterness towards the end of the palate. As far as barley wines go, this beer is an exceptional example. After cellering for one year this beer became a bit sweeter and easier to drink, definitely worth the wait.
333 characters
3.6
/5
rDev
-12.8%
look: 4 | smell: 4 | taste: 3.5 | feel: 4 | overall: 3
Appearance is brown/amber. Aromas and flavors of sweet cherry, candied pineapple, apricot, caramel, citrus and a bit of pine from the hops. Quite bitter on the mid-palate and finish. This beer is big on both the malts and the hops. In fact, the hops is really my only complaint about this beer. I know that Stone's trademark is hoppy beers, but in my opinion this beer tastes like somebody combined a recipe for a barleywine and an IPA, which is not what I wanted. If you are a hop-head and you also like strong, malty beers than this beer is for you. To me it makes the beer taste a bit out of balance and not terribly drinkable. The beauty of barleywine is the intense maltiness, so by upping the hops quotient this beer in effect subdues the malts. That being said, the beer had many interesting flavors and I believe it is worth a try.
839 characters
3.97
/5
rDev
-3.9%
look: 3.5 | smell: 4 | taste: 3.5 | feel: 4 | overall: 5
2007 early release, it says on the bottle
poured into my sniffer a hazy amber nectar with very little head, as can be expected froom a 11.3% beer. the initial smell was that of mango dipped in a jar of honey, and the sweet malt scent crept through near the end. the initial taste revealed a sweet and fruity front with a sticky malty finish, followed by a little dry bitterness. now i'm a big fan of stone's brews, which are some of the most complex and over the top beers in the american market. this one was a bit of a let down in that though the taste and mouthfeel was solid, it wasn't up to the par of some of their better brews. the thing that saved this beer from mediocrity and allows it to stand proudly next to its brethren is its spectacular drinkability. never have i had any beer close to 11% that tasted this smooth. I had to constantly remind myself that this was close to wine in abv to prevent reckless chugging. i'll take the good simple flavor and mouthfeel if it's going to be this smooth. we'll see what i think tomorrow morning.
1,051 characters
4.65
/5
rDev
+12.6%
look: 4.75 | smell: 4.75 | taste: 4.5 | feel: 4.75 | overall: 4.75
Fortunate to grab a growler and a glass at the company store. Served in a 10oz. Glass.
A: A golden copper color. Very cloudy/opaque, such that I cannot see through the glass. Thin white head retention.
S: Very malty and strong flavors of carmel. A beautiful and complex aroma. you can tell its aged well. Reminds me a little of a dry 18-year old scotch.
T: immediately, the sweet carmel and toffee hits me. Next, is a nice, smooth malt backbone, followed by a bitter, hoppy finish that lingers. I feel like I'm going to taste this for hours (but in a good way). It's amazing how the flavors are so bold after almost six years. It's definitely one of the best barleywines I've had.
M: Definitely thick and chewy. It completely coats my mouth.
Overall, fantastic! 'Nuff said.
07-22-2011 21:47:43 | More by akorsak
823 characters
4.52
/5
rDev
+9.4%
look: 4 | smell: 4.5 | taste: 5 | feel: 4 | overall: 4
Served on tap at Blind Tiger in NYC in proper, tulip glassware.
A: Pours according to style: small head that dissipates quickly, no lacing. Color is a rosy orange-red. Much more red than others in the style.
S: Sweet; hints of stone fruit and maple syrup. Little to no hop aroma. Typical of style, if a little sweeter. This has aged nicely.
T: Very, very smooth. Maple syrup up front, followed by mellow but strong alcohol, finishing with lots of molasses and sugar. A sweet brew to be sure. Hops present themselves at the finish, though linger only slightly.
M: again, very smooth. Syrupy and coating. Not chewy like a stout. Almost akin to an after dinner cordial. Fine carbonation that's present, but in the background.
D: Fairly low ABV for the style (though not the lowest I've had), but mouthfeel and overall sweetness make this an occasional brew. Drinks smoothly (can't stop using that word) so is very drinkable each sitting.
935 characters
4.15
/5
rDev
+0.5%
look: 3.5 | smell: 3.5 | taste: 4.5 | feel: 4 | overall: 4.5
Old Gaurdian is one cool Bastards brother. Like all the best brews this one is best enjoyed slowly. Sup accordingly.
A: Pours a perfectly balanced dark amber leaving a two fingered bone head that displays nearly uniform bubbles through out, which disipates to a thin four to five layers of oily bubbles fairly rapidly. Lacing is very quick to slide down the glass due to the slick nature of it's texture.
S: The first word to come to mind was grape folowed by pronounced vegetal aromas marked by fresh tomatoes, also there are russet potatoes, turnips and beets and behind that though faint some strange sour citrus hints of lemon and lime maybe grapefruit. This brew would be beautiful to use for a deep fried beer battered beet recipe. Barley pronounces itself boldly and towards the end gorgeous hops jump right off the top.
T: Remaining consistent with the aromas, this fine libation continues with the earth notes, adding a kind twist of fine pungent blue and limburger chesses and just the right amount of a hoppy kick to balance the brew. In fact my favorite part of the drink is letting it rest on the tounge for a few seconds and allowing the alcohol to do it's work on the sides of the member kicking and screaming its bitters along the way.
M: For an 11% + ABV it is suprisingly smooth. Truly perfecting the balance between the hops and the alcohol which can both be fairly harsh in the hands of the wrong brewmaster. The maker of this libation is definatley not the wrong brewmaster.
D: Yes.
1,508 characters
Stone Old Guardian Barley Wine Style Ale 2007 from Stone Brewing
4.13
out of
5
based on
290
ratings.