Stone 07.07.07 Vertical Epic Ale
| Stone Brewing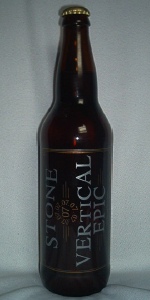 BEER INFO
Brewed by:
Stone Brewing
California
,
United States
stonebrewing.com
Style:
Belgian Strong Pale Ale
Alcohol by volume (ABV):
8.40%
Availability:
Limited (brewed once)
Notes / Commercial Description:
In this year's edition we took our inspiration from two Belgian styles: Saisons and Golden Triples. As such, the Stone 07.07.07 Vertical Epic has a deep, deep golden hue and the flavor is spicy, fruity, complex and refreshing. We used four different malts, and a subtle, yet distinct, blend of Glacier and Crystal hops to get just the right balance. Then, for the complexity, we added in some exotic spices --- including ginger, cardamom, grapefruit peel, lemon peel and orange peel (the latter three acknowledging our Southern California home) --- and a special Belgian yeast strain. All in all this is yet another case of us drawing from classic Belgian influences and cavalierly making it our own...San Diego style!
Added by taez555 on 06-19-2007
This beer is retired; no longer brewed.
Reviews: 382 | Ratings: 577
4.02
/5
rDev
+6.3%
look: 3.5 | smell: 4 | taste: 4 | feel: 3.5 | overall: 4.5
Pours a pale yellow with a smallish head in the glass that disappeared all too quickly.
Aroma is mostly farmhouse earthiness with some sour fruits and citrus hops in the end.
Taste is unbalanced unless you let it warm to 55-60 degrees. Farmhouse earthiness...big saison qualities, belguim yeasts and breadiness....sour fruits...and then the bitter citrus peel hops to finish it off. Everything in this beer works once it warms and it becomes a very, very nice cross between a Belguim Pale Ale and a Farmhouse Saison. Wonderful complexities. Each sip seems to expose another subtle spice flavor. I look forward to seeing the evolution of this Epic Ale more than any of the others because I really believe it will change emmensely in time.
739 characters

4
/5
rDev
+5.8%
look: 4 | smell: 4 | taste: 4 | feel: 4 | overall: 4
Poured this 22 oz. brown bottle into a Tripel Karmeliet glass. The body was a bright golden orange color with some chill haze that cleared as it warmed. The head was moderate and faded to a ring, which was revived with a swirl.
Smell was spicy. Orange sweetness. Earthy. Peppery.
Taste was sweet and sour. Stone fruits (no pun intended). There was an unmistakable Belgian yeastiness. Sweet citrus. the typical Stone hops-fest was subdued.
Mouthfeel was medium in carbonation and somewhat creamy. It will be interesting to experience this one in 2012.
561 characters
4.02
/5
rDev
+6.3%
look: 4 | smell: 4.5 | taste: 4 | feel: 4 | overall: 3.5
Pours a clear light amber color with a small head that falls quickly but leaves plenty of lacing on the glass. The aroma is spicy and has some alcohol notes and I smell something that reminds me of ginger. Also has lots of pepper notes. The flavor has plenty of Belgian character with a strong alcohol presence. It's fairly dry, but there is a spice flavor in there that lends to the sweetness. Pepper and spices are strong in the flavor as well as a bit of funkiness. The body is on the light end of moderate and the drinkability is ok. I'm sure it will improve with age.
572 characters

4
/5
rDev
+5.8%
look: 4 | smell: 4 | taste: 4 | feel: 4 | overall: 4
Appearance: It's an very light golden color (has a bit of an orange tint to it). Head is foamy and about one and a half fingers. Retention was a bit short and a light coat of lace remained.
Smell: Definitely has some Belgian qualities. It's most citrus sweetness blended with various spices. Citrus scents are pineapple, orange, grapefruit, and even a mild banana twist. Definitely has a nice malt presence.
Taste: This is pretty well done for a Belgian style brew. It's very spicy. Mostly peppery with some other herbal spices in the mix. Citrus flavors come through very nice and provide a sweet taste. A bit of caramel malt is noticeable, as well as a mild yeasty taste.
Mouthfeel/Drinkability: It's medium bodied and very well carbonated. Drinkability is good though I'd probably limit myself to one bomber. Overall, it's a nice offering from Stone. It'll be interesting to see how it ages.
903 characters
4
/5
rDev
+5.8%
look: 4 | smell: 4 | taste: 4 | feel: 4 | overall: 4
pours a nice dark golden color (if that makes sense!) with a white head that shrinks quickly but doesn't go all the way away. smells like a sweet belgian tripel to me. i'm not getting very much saison, but i do smell farmhousy, peppery when i take my time and let this thing warm up a little. grapefruit and orange for sure, a little banana. tastes like it smells, but even more comes through. pretty complex. a lot going on, and i will enjoy seeing how this tastes in abuot a year or so. medium body and nice carbonation. you could fool me in a blind taste test with this one. i might actually think it was belgian.
616 characters

3.98
/5
rDev
+5.3%
look: 4.5 | smell: 4 | taste: 4 | feel: 3.5 | overall: 4
Released and reviewed a bit early...but what the hey! 22fl.oz.brown bomber with silk-screened label resembling the previous V.E.'s. It pours a very bright golden amber with a thick creamy finger of white froth. Plenty good carbonation with the head settling to a solid 1/4" with staying power, leaving some interesting lace behind.
Smells like a Belgian...very sweet and spicy in the nose. I had to bump the smell up .5 as it improved with some warming. Nice and fruity with some yeasty aspects, peppery notes...sweet citrus and more rotten fruit...nice!
Subtly complex flavor wise, as this brew is only young and will no doubt age well, it still offers a great rep for it's style and also shows how an ale brewed with spices can add some dimension to the brew. The taste is like the smell, but a bit better...can't wait till it ages some as the overall mouthfeel will definetly benefit with this factor.
Nothin wrong with this brew right now...I'm enjoying it very much...the alcohol is very well hidden in the taste and nose but it certainly creeps up on you before the bomber is empty.
Good stuff that age will make better IMO...who's next?
1,155 characters
3.97
/5
rDev
+5%
look: 3.5 | smell: 4 | taste: 4 | feel: 4 | overall: 4
Sampled at... well, that's classified...
Poured a nice golden color with a rocky white head.
The aroma of the beer was very nice. A healthy dose of fruity Belgian yeast esters. Apples, pears, some pineapple too. Peppery spices and citrus notes were there in the background.
The flavor of the beer was slightly sweet with a very light maltiness to it. The beer was pretty alive with summer fruit flavors - a bit of a fruit cocktail if you will. And I mean this in a good way. The hops were fresh and floral. They mixed well with the citrus flavors in the beer and things finished a nice spicy note. Although the bottles reads as if this beer is a hybrid of many styles, the ester profile most closely resembles a bright saison. The sweetness and maltiness is much like a tripel.
The mouthfeel was medium and the carbonation was dialed in just right.
This is one of the better Vertical Epics I've had in recent years. This is a solid beer and a nice departure for Stone.
983 characters
Stone 07.07.07 Vertical Epic Ale from Stone Brewing
3.78
out of
5
based on
577
ratings.