Stone Old Guardian Barley Wine Style Ale 2008
| Stone Brewing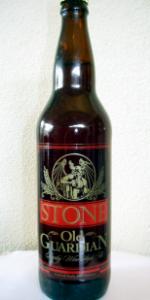 BEER INFO
Brewed by:
Stone Brewing
California
,
United States
stonebrewing.com
Style:
American Barleywine
Alcohol by volume (ABV):
11.26%
Availability:
Winter
Notes / Commercial Description:
No notes at this time.
Added by HimerMan on 01-27-2008
This beer is retired; no longer brewed.
Reviews: 259 | Ratings: 328

4.55
/5
rDev
+11.8%
look: 4.5 | smell: 4.5 | taste: 5 | feel: 4 | overall: 4
Poured a copper color with a nice foamy head. Excellent lacing as the glass emptied. Smelled of tofee and vanilla, with a slightly alcohol aroma as well, but in a nice way. I got huge vanilla on the tongue with a nice warming effect from the high ABV, just enough hops to balance things out, but not a hoppy beer per say. Mouthfeel was very staisfying. Drinkability is good due to the smoothness and excellent taste, but the buzz comes quickly, so be careful. One of the best Barleywines in bottle I've ever had.
512 characters
4.57
/5
rDev
+12.3%
look: 4 | smell: 4.5 | taste: 5 | feel: 4.5 | overall: 4
Ultra-creamy head is big enough for the style, nearly an inch thick. Color is a fiery copper-red, like sunset with bubbles.
Aroma is a wonderful balance of pungent citrus-rind hops, gooey malt sweetness, vanilla extract, and nostril-flaring sherry-like fumes. I know it's 11.26%, but if the alcohol were less prominent in the nose, and the malt and--what the heck--the hops more so, it would be a perfect 5.
Flavor is intense. Alcohol and hops provide some extremity of flavor, challenging the taste buds to "take that" and "take that!" again. Not rough, just a whole lot of each. Luckily there's a truckload of malt thrown into the recipe, making for big, round, cherry-like sweetness and a buttery glide thanks to a hugely creamy texture, like melted warm ice-cream...but just enough carbonation to keep things from getting sluggish. More flavor: vanilla ice-cream with chunks of maraschino cherry, leafy green apple-spiced pipe tobacco, grassy astringency in the finish. It's a battle to the finish between bitter, hot, sweet and creamy. Everybody wins.
As consistently mindblowing as Stone usually is, I had always been somewhat let down with Old Guardian in previous years. This one perfects the balance it had previously been lacking. It's still just a bit on the crazy-alcohol side, with a heat to match, making it anything but an occasional visit to this snifter, but it tastes so damn good that I welcome the next meeting (it's my third 2008 this year, and I have one more--whoo hoo!). California takes over as the U.S. barleywine capital, if you consider Old Guardian, as well as Green Flash and Sierra Nevada's takes on the style.
1,647 characters
4.57
/5
rDev
+12.3%
look: 4 | smell: 4.5 | taste: 5 | feel: 4.5 | overall: 4
A- Very cloudy bronze beer with huge 2.5 inch head that has a ton of retention and a ton of spider like lacing.
S- Delicous. Toffee malt and a ton of hops. Citrus (most especially grapefruit) and piny hops are the complete backend of this beer.
T- Almost like a DIPA, but a ton more balanced. This may be the best beer I've ever had. Starts out with a ton of caramel and toffee malt, followed by a HUGE hop profile like a DIPA. Very bitter, but very balanced. Never tasted anything like it. Love it.. First 5.0 I've ever given.
M- Thick and chewy... May be the thickest BW I've had. Delicious. Leaves a nice bitter aftertaste in my mouth.
D- Not very.. too thick. However, the extreme hops and balanced malt make this "drinkable" from an overall sense. Not session drinkable, but delicious drinkable.
This may move to the top of my list as my favorite beer ever. Very glad I have another bottle in the cellar. Can't wait to have it 2 years from now.
958 characters
4.59
/5
rDev
+12.8%
look: 4 | smell: 5 | taste: 4.5 | feel: 4.5 | overall: 4.5
A- Rich cloudy amber with thin white head.
Ar - Strong honey and rich malty hops
T - Rich and strong complexity reflective of aroma. A pleasing balance of eclectic bitter hops and rich honey flavors, balanced with a firm malt backbone.
M - Smooth, with near perfect viscosity relative to flavor.
D - Excellent. The alcohol is prevalent and the beer is heavy. But the bitter hop flavor lingers for a perfect length dissipating just in time for the next sip!
461 characters
4.6
/5
rDev
+13%
look: 4.5 | smell: 4.5 | taste: 5 | feel: 4.5 | overall: 4
This beer pours thick and deep amber with ample cream colored head which clings to the glass. Its smell is sweet, malty and fruity. Its taste is sweet though its hop bitterness balances well. Its mouthfeel thick but smooth at the same time. As far as drinkability goes this beer is delicious, but I was pretty toasty after one so drinking another was out of the question.
371 characters
4.69
/5
rDev
+15.2%
look: 3.75 | smell: 4.75 | taste: 5 | feel: 4.25 | overall: 4.5
Got this February 2013 in a nice bottle. Right as it's opened the smell pops out and fills the surrounding air. A very sweet smell- caramel and toffee backed by a hint of alcohol. Hazy copper liquid with the thinnest rim of bubbles circling and clinging to the edges of the glass. Taste is great flavor of dominant toffee with caramel backed by subdued bitter hops and warm alcohol. The hops carry that strong bitterness many stone beers but the aging of this puts that bitterness more as an undertone. The aftertaste is quite fun as the hoppy bitterness sticks to the mouth while the alchohol and sweet flavors can be felt streaming down the throat. 2nd glass from the bottle tastes more bread notes that really balances the overall delivery as initially it is very sweet. Hope to run into another aged bottle someday.
819 characters
4.85
/5
rDev
+19.2%
look: 5 | smell: 5 | taste: 5 | feel: 4.5 | overall: 4.5
Served in a pint glass.
Appearance: Beautiful red and orange tones, clean white head, spectacular lacing.
Smell: Floral, fruity, bitter. This beer has a strong hops nose that I found refreshing. Also, there is a strong alcohol sent initially, but this largely vanished as I drank.
Taste: Powerful, full flavor. Extremely beautiful and satisfying floral notes makes this beer surprisingly fresh. Strong alcohol taste comes on very smooth cleansing the palate and drying the mouth like a nice vodka. A truly unique experience.
Mouth Feel: Warm, crisp, a bit tart.
Drinkability: Quite complex, this beer requires a bit of work from the drinker, but 11.2% more than 2 pints would be too much regardless.
704 characters

5
/5
rDev
+22.9%
look: 5 | smell: 5 | taste: 5 | feel: 5 | overall: 5
By far my favorite edition of Old Guarding yet! The pour was slightly cloudy but had great carbonation and a beautiful frothy white head. The smell was of tangy sweet malt and spices and a bit of earthiness as well. The flavor blew me away with a perfect mix of dirty malty sweetness and just enough alcohol and hop bite to round it out. Mixed in with a nice buttery, yet perfectly carbonated mouthfeel and you have one of the quintessential Barleywines ever brewed! Will taste great now and will taste great with a bit of aging no doubt. Get your hands on it while it lasts!
575 characters
5
/5
rDev
+22.9%
look: 5 | smell: 5 | taste: 5 | feel: 5 | overall: 5
Served in a white wine style glass.
Appeared to be Amber color, although it was a dark restaurant.
Nice mouthfeel. Not too thick, not too thin
Taste of plentiful VERY toasted malts with caramel, honey, and tea flavors.
Exceptional
A sipping beer to start off the night.
269 characters
Stone Old Guardian Barley Wine Style Ale 2008 from Stone Brewing
4.07
out of
5
based on
328
ratings.