Stone Old Guardian Barley Wine Style Ale 2009
| Stone Brewing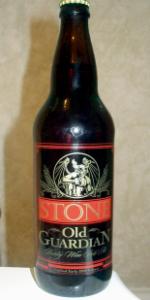 BEER INFO
Brewed by:
Stone Brewing
California
,
United States
stonebrewing.com
Style:
American Barleywine
Alcohol by volume (ABV):
11.30%
Availability:
Limited (brewed once)
Notes / Commercial Description:
No notes at this time.
Added by scottoale on 02-06-2009
This beer is retired; no longer brewed.
Reviews: 247 | Ratings: 333

4.74
/5
rDev
+16.5%
look: 4 | smell: 5 | taste: 5 | feel: 4 | overall: 4.5
Pours hazy orangy with a slow rising, lazy burst of carbonation and a modest head that falls quickly. Smell is deep, sweet malt, with rich floral hops. Flavor is sweet and bitter, like a zingy orange rind. Floral hops, sweet, tangy malt and an absorbing bitterness on the end. Mouthfeel is rich and viscous.
The only block to drinkability is its intense alcohol content, which will set you back fairly quickly, particularly given how smooth and well balanced it is.
466 characters
4.75
/5
rDev
+16.7%
look: 5 | smell: 5 | taste: 4.5 | feel: 4.5 | overall: 5
Appearance: Reddish haze
Head: Very little head that dissipates quickly
Smell: Big citric with a rich heavy sweet malt
Taste: Big dark malty citric that has a little heat on the back of the palate
Weight: Heavy to medium body with medium to low carbonation
Finish: Sweet, hops, and a nice stickiness on the lips
316 characters
4.79
/5
rDev
+17.7%
look: 4 | smell: 5 | taste: 5 | feel: 4.5 | overall: 4.5
Appearance- cloudy brown to almost orange copper in color, very thin white lacing remains after thinning off the pour, light to little carbonation,
Smell- Beautiful smell thats a mix of caramel malts and sweet yet spicy hops, very powerful and intriguing nose
Taste- a very beautiful mix of both very nice sweet malts and the spicey hops you smell on the nose, caramel and molases flavors hit you hard up front but your left with a beautiful lingering bitter hop finish, a superbly and in my opinion almost perfectly balanced beers, delightful finish, to me a near perfect beer all around
Mouthfeel- Full bodied thick and creamy, it just feels heavy and big in your mouth, enjoyably smooth feel
Drinkability- the only reason I can give it a 5.0 drinkability is because its 11.3% booozeee but watch out because its dangerous and not noticable, this is a beer for the hop heads and the not so crazy hop heads a like, beautiful balance and to me a master piece example of what a barley wine should be, yet another example for why i love stone beers
1,049 characters
4.8
/5
rDev
+17.9%
look: 5 | smell: 5 | taste: 5 | feel: 5 | overall: 4
first review EVARR, so here we go...
A - Deep amber/honey color, poured thick. small lacing
S - very sweet caramel, distinctive stone's signature hops but only for a breif moment, more on the malt end
T - starts off sweet/cainy, then the hops come in, towards the back of the pallet the hops definition comes through. then a bready character, the alchohol finds its way towards the back, strong but pleasent, actually warming once swallowed, its presence travels back up
my nasal passages thus warming them. the resiny taiste from the hops remains present after swallowed, leaving that distinctive "sour apple" flavor (almost riny citrus) taste on your lips.
M - nice full body, thinner than i was expecting considering the apearence, but none-the-less holesome. same carbonation as most of stones brews (respectfully) which really lets the flavors pop.
D - not so much drinkability considering this is definitely not a session beer. would definitely reccomend to anyone who comes across it. cant wait to see how this brew does with some aging
B(burp) - haha, heres one the kinda makes a difference to me... the burp! lets be honest, we all enjoy them... simular to the taste, the burp gives you that great bready hoppy taste along with a small carbonation presence. i bet this stuff goes very well paired with spicy (hot or flavorful) food and pizza.
i would deinitely reccomend this one to any BA .
1,409 characters

4.89
/5
rDev
+20.1%
look: 4 | smell: 5 | taste: 5 | feel: 4.5 | overall: 5
This beer pours a cloudy red-orange color. The head is a nice quarter inch cap of foam that lingers around leaving fine lacing around the glass. The aroma of a ton of malt, and a ton of hops. There is a solid caramel, and toffee backbone with vibrant citrus, pine resin, and floral hops. As far as aroma goes this is the best American Barelywine I've had in a long while. The taste is more hop forward than the aroma, which I like due to the interesting hop bill. There is a very nice mix of floral, grapefruit, and pine. There is a nice lingering bitterness, and moderate heat in the finish. The mouthfeel is full bodied with lively carbonation, and a velvety texture. Overall, this is a great beer that I will search out again.
729 characters
4.97
/5
rDev
+22.1%
look: 4.5 | smell: 5 | taste: 5 | feel: 5 | overall: 5
Appearance: Crystal clear bright mahogany. Moderate head that fades fairly quickly but never completely vanishes. Delicate, resilient lacing.
Aroma: floral, hints of pineapple and dry summer grass, gently piney hops.
Taste: Commanding hop presence with robust malt body to match. Lots of fresh and dried fruit- especially strawberry, apricot, and some citrus. Mayan cocoa (dark chocolate with chili), hot jalapeno, and pipe tobacco, especially as the taste finishes and lingers. Finish also contains grassy/floral/vegetal notes which correspond with the aroma. Herbal suggestions of Benedictine, peat smoke, and heather. There's a bit of alcohol presence, but it's not nearly as boozy-tasting as one would expect for this style.
This ale is robust, bold, complex and articulate without being too heavy handed or lopsided. As the name suggests, it's both mighty and dignified.
In short- AMAZING. I buy as many of these as I can carry whenever I find them.
958 characters
5
/5
rDev
+22.9%
look: 5 | smell: 5 | taste: 5 | feel: 5 | overall: 5
I'm in love. Drove all the way to indiana to sample some Stone beers, and found this 22 oz bomber at 3 floyds brewery. Read it was a barleywine @ 11% and had to take it for a try.
A: Light golden brown color with light carbonation. Pours slightly syrupy with definite hops rings on the surface after the head fades.
S: Hops and malt. Times ten.
T: Amazing deep malty flavor backed by a firm bitter hoppiness. Very well balanced for such a huge beer. The hops manage to be bitter without destroying your palate; i enjoyed this beer until the very end. The sweetness is not cloying.
M: Slightly syrupy, but not overwhelming. Goes down very easy for a barleywine.
D: When you order a barleywine you expect to get punched in the face with sweetness and/or bitterness. This one is right at the threshold for both.
Overall: Honestly - this is one of the most beautiful beers i have ever tried. I went directly to a liquor store and bought a case.
946 characters
Stone Old Guardian Barley Wine Style Ale 2009 from Stone Brewing
4.07
out of
5
based on
333
ratings.