Stone Old Guardian Barley Wine Style Ale 2009
| Stone Brewing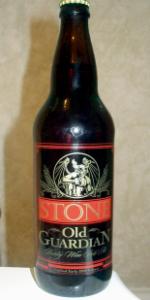 BEER INFO
Brewed by:
Stone Brewing
California
,
United States
stonebrewing.com
Style:
American Barleywine
Alcohol by volume (ABV):
11.30%
Availability:
Limited (brewed once)
Notes / Commercial Description:
No notes at this time.
Added by scottoale on 02-06-2009
This beer is retired; no longer brewed.
Reviews: 247 | Ratings: 333
3.21
/5
rDev
-21.1%
look: 4 | smell: 3 | taste: 3 | feel: 3.5 | overall: 3.5
My least favorite year of Old Guardian. Frankly, an offputting brew in many respects.
Poured a familiar amber with white foam. Smelled like medicinal herbs and pine. None of the rich caramel aroma I recall from years past.
Taste was more muted as well. Where's the rich toffee/brown sugar/roasted caramel? Where's the pine/grapefruit hop undercurrent? This was primarily somewhat weak sweet malt and a bit of resiny pine/herbal hop content.
Just very disappointing. Mouthfeel felt thinner than years past, too.
515 characters
4.35
/5
rDev
+6.9%
look: 4 | smell: 4 | taste: 4.5 | feel: 4.5 | overall: 4.5
pours a clear amber with reddish brown hues, crispy off-white head
aromas of candied sugar, piney hops, caramel malt, slight gingerbread, faint raisin notes
caramel malt upfront with a solid piney hop backbone, layers of candied sugars, slight marmalade, molasses, slight lemon hops, faint green notes, almost bourbony notes on the finish
starts medium but then gets bigger with time, solid malty body with good caramel slight sugary notes, leading to a balanced, sturdy finish, with a slight alcohol hotness
a tasty, medium bodied barleywine. not as big on the hops as per usual Stone Brews, but that works well with the malt body for a balanced, layered, tasty barleywine with good layers and a great finish. Yet again, a great stone brew
744 characters
3.88
/5
rDev
-4.7%
look: 4 | smell: 3.5 | taste: 4 | feel: 4 | overall: 4
Poured a ruddy amber with a bubbly white head that dissipated into an oily ring. Spotty lacing. Wooden, hop-syrup aroma blended with boozy caramel malt. Light carbonation gave this a solid mouthfeel that complimented the high ABV. Speaking of which, the high ABV was not completely masked, giving off a sugary alcohol warmth. The caramel was heavy, nearly candy-like. Balanced well with the resiny hops. Some apricot and kumquat flavors versus citrus tastes. Well done.
469 characters
3.5
/5
rDev
-14%
look: 3.5 | smell: 3.5 | taste: 3.5 | feel: 3.5 | overall: 3.5
Picked up a bomer from Oak Knoll Liquor in SM.
Poured a nice burnt orange color with a foamy dirty white head. Nose was hops, hops and oh..hops with some grapefruit, orange peel. Taste is ok. Mine had an oxidized taste to it. While still good not as good as previos years.
273 characters
4.33
/5
rDev
+6.4%
look: 4.5 | smell: 4 | taste: 4.5 | feel: 4 | overall: 4.5
Limited Early 2009 release in 22 oz. bombers, and it's in Georgia already, man how the times have changed. The pour was quite good to look at, as the body was deep reddish amber, and clear, and the head atop was somewhat small but durable. The smell was quite malty, with fruity aromas like fig, apricot, and pomegranate, but the hops were lurking right beneath when I inhaled deeper revealing pine and more pine. The taste was sweet at first as the malts seemed dominant, but mid sip it switched to a dry, hoppy, and boozy affair. The finish was bitter and chalky with hops driving the point across. Quite creamy in the mouth and satisfyingly dense. Glad to see an old favorite of mine locally, without having to put up with confiscatory shipping charges from the west coast.
776 characters
2.56
/5
rDev
-37.1%
look: 4 | smell: 3 | taste: 2.5 | feel: 4 | overall: 1
22 oz./ fresh '09
P: Shiny gold from the bottle, sits a deep orange-tinted amber in the glass. 2 fingered off-white head is thick & creamy with good retention. The sinking crown leaves the glass coated with lace.
A: Big whiffs of fresh hops; citrusy with a hint of floral along with caramel, rubbing alcohol, and some earth. Judging from the raw alcohol presence here, I think you could get drunk from smelling it!
T: This is quite malty sweet out of the gate with gobs of caramel, slight toffee, and booze with an earthy undertone. Hops arrive late but come with a vengeance as grapefruit, lemon rind, & pineapple swing the balance back to the bitter side for good. The result, the alcohol teams up with the alpha acids and scorches the tongue like the hills of Yorba Linda. Which any good BW should do. But in this case, the alcohol flavor is just too present, and invades on the task at hand.
M & D: Full-bodied, thick & chewy, rich & creamy, just what I expect from a Stone BW. The drinkability of this one is described pretty accurately by the score I've given: awful! If I wasn't such a cheapskate, I would have dumped it. Like drinking a glass of vodka with a beer accidentally spilled into it.
Notes: This is just way too young, in my opinion. I don't want to lose those precious hops. But I do, however, want that alcohol to sit back and relax. Right in the middle should be perfect. This is one beer that I won't be drinking fresh anymore!
1,456 characters

4.18
/5
rDev
+2.7%
look: 4.5 | smell: 4 | taste: 4.5 | feel: 3.5 | overall: 4
The limited Early 2009 Release, of course. Poured into a Duvel tulip, a chill-hazed, apricot amber-gold with a thick and creamy finger of off-white head. The head settles to the surface leaving a thick sheet of lace clinging to the glass. Great looking brew.
Caramalty and fruity sweet, with an overdose of hops lurking beneath. A slight roast and earthiness to the nose as well.
Big malty brew with a nice big hop balance. Quite tasty fresh this year, but still a bit raw and will smooth out very nicely with a year or two on it. I really like Old G thats been aged, compared to it fresh. Too much prune and fig when fresh, citrus flavor from the hops keep it in check. Needs to meld.
Big body and plenty of carbonation that's right for the style, as it holds up for ageing. It's more noticed in the mouth than visually and the mouthfeel is slightly astringent at this point. The alcohol is very well masked for a whopping 11.3% ABV.
Definetly worth trying this fresh and popping a few in the cellar for improvement. Big, bad Stone gnarleywine!
1,049 characters
Stone Old Guardian Barley Wine Style Ale 2009 from Stone Brewing
4.07
out of
5
based on
333
ratings.