Stone 13th Anniversary Ale
| Stone Brewing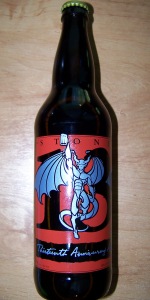 BEER INFO
Brewed by:
Stone Brewing
California
,
United States
stonebrewing.com
Style:
American Strong Ale
Alcohol by volume (ABV):
9.50%
Availability:
Limited (brewed once)
Notes / Commercial Description:
No notes at this time.
Added by seaoflament on 06-29-2009
This beer is retired; no longer brewed.
Reviews: 607 | Ratings: 723
2.46
/5
rDev
-39.4%
look: 4 | smell: 3 | taste: 2 | feel: 3 | overall: 2
Look I know Stone is that ballsy hit you over the head with hop bitterness, fuck those fizzy yellow beer type of brewers but how extreme can you get. Is this brewing niche going to both make and break them. I now there's enough breweries out there making standard styles, but the more and more extreme brews I try from these guys get less exciting except for a handful of exceptions. This was another pretty big disappointment, I have been drinking their Anniversary series since the 6th year (a baltic porter) and it got progressively better until the climax was reached in the 10th Anniv. with that awesome DIPA. However since the 11th (a black west coast IPA) that they have since fixed the problems and released as Sublimely Self Righteous Ale. I've not been blown away by their specialty releases including the Vertical Epics as well. Anyway enought of my rant here's this beer.
Appears a slightly clouded mildly opaque deep mahgany amber red hue, with a large lightly colored beige head. Large bubbles form and head retention is excellent, with specks of yeast sediment suspended within my chalice.
Aroma has a muddled layer of hops and malt big pine grapefruit and earthy hops plow through the deep amber roasted caramelized malt profile. A bit of onion and spicy garlic traits seem out of place within the hop profile as well. Some crystal malt is detected with a bit of booziness throughout each whiff.
Flavor has an acrid stale coffee bitterness in the roasted malt with the rest of the specialty malts not really making an effect on the palate. Pure hop bitterness and deranged uninspired hop flavors prowl around on the palate. A very unenjoyable drinking experience that I recently repeated trying to give this brew a second chance. To now avail I find this one hard to enjoy and finish even with friends sharing these bombers.
Mouthfeel that is left behind by the dry leafy, earthy, grapefruit peel is the morning after drinking at a brewfest hangover mouthfeel after having a couple cigars with your brews. Medium bodied carbonation no complaints nothing exciting hop oils are a bit resinous which only makes the pure bitterness camp out on the palate.
Drinkability overall is sad, and an experience I probably won't have again no direction for this over hopped unbalanced Anniversary brew by one of the pioneers of the extreme brewing revolution. This one will make you wanna grab a fizzy yellow beer maybe even a PBR.
2,443 characters
2.41
/5
rDev
-40.6%
look: 4 | smell: 3 | taste: 2 | feel: 2.5 | overall: 2
Split a 22oz bottle two ways, in brandy snifters. Reviewed 7-20-2009
Ar: Intense citrus hop, pineapple, resin, strong rough alcohol, pine, grapefruit, rough dark malt, grassy
Ap: Deep red with light brown, thin tan head, good retention, thin lace
F: toasty malt, solventy alcohol, pine, resin, strong citrus peel, unpleasant hop roughness, vegetative, tropical fruit, hop dominates taste throughout, nice malt in background, rough alcohol at the end, grassy
M: medium/high carbonation, alcohol warmth/burn, strong bitterness and resin, medium body
O: strong alcohol, way out of balance, overall very rough and unpleasant, they tried to do too much of everything, similar to yulesmith but way worse, i expect much more from stone, hops and malt clash
754 characters
2.27
/5
rDev
-44.1%
look: 4 | smell: 2 | taste: 2 | feel: 3.5 | overall: 2
Sorry, but I have to wonder what went wrong here. Did Stone really brew this? They're one of my favorite breweries, hence extreme confusion.
Pours a dark copper, looking like mahogany in the glass, forming a fluffy tan head that leaves considerable lacing.
Aroma is pleasantly hoppy at the bottle top, but turns harsh and plasticky after resting in the glass. It stinks like a homebrew made with skanky extract.
Flavor is charred and cloying, leaving unpleasant characters on the tongue. Negligible hop flavor, believe it or not.
Drinkability is rotten. The last half of this is going down the drain. This beer is a huge disappointment. Last time I brewed one this bad, I never shared it with friends. This tastes like a failed homebrew. Sad that this cost me $7. I'm going to go have one of their terrific Sublimely Self-Righteous to cleanse the palate.
859 characters
2.14
/5
rDev
-47.3%
look: 2 | smell: 3 | taste: 2 | feel: 1 | overall: 2
Not sure what the deal is here - I've had this on tap and loved it enough to cellar one, but it was terrible on Stone Winter Storm. I even had Bill pour it for christ sake!
A - Weridly thin look almost like someone had spilt coffee into the glass. Slightly hazy with a good head - but not the thick opaque drink I was expecting.
S - Not very hoppy with some of the specialty coming thru but not very much. Odd as its very heavily hopped.
T - Underwhelming. Hops are bitter in a bad way, like dull and stingy not bright and citrusy. Specialty is there but not very robust. Even after warming
M - Bad bad bad. Very thin despite the creamy head. Syrupy imperial type taste but in a bad way.
D - I thought this would be great, but quickly moved on. First time I've thought about returning a beer. Could be a bunk keg - but again it was at Stone ya know?
854 characters
1.92
/5
rDev
-52.7%
look: 4 | smell: 2 | taste: 1.5 | feel: 2 | overall: 2
A- Copper with a very dark beige head. Colossal, eruptive head. Big set of lace draperies hang from inside of the glass.
S- Fresh-squeezed, bright grapefruit juice and zest aromas race up from the glass. The problem? The hop aromas so dominate the aromatic profile of the beer that one has little chance of savoring the malt aroma or any other complexities.
T- Fresh-squeezed, bright grapefruit juice and zest flavors blitzkrieg the palate. The problem? The hop flavors so dominate the flavor profile of the beer that one has little chance of savoring the malt flavor or any other complexities.
M, D- A big beer from a great house, but I am bound to opine that the shrill hops are oppressively overbearing! I must respectfully beg the pardon of drinkers who love this overly astringent style, but it doen't appeal to me at all.
830 characters

1.83
/5
rDev
-54.9%
look: 2.5 | smell: 2 | taste: 1.5 | feel: 3 | overall: 1.5
22oz. bomber poured this into a 16oz tulip glass
A - Beer pours a dark brownish hazelnut color with a finger of off white head which retains some nice lacing around the glass. Very little carbonation is visible
S - Aroma of heavy sweet malt, bitter chocolate, muted hops and strong alcohol are all in play in this beer.
T - Overpowering malt flavor combined with what I will call an "off flavor" of bitterness to the beer. There is a strong alcohol presence with a slight hint of hops in the finish. This was a difficult beer to drink and I could not finish the bomber.
M - Light to medium carbonation with a hot flash of alcohol on board. The balance of the profile is strong malt and alcohol.
D - There were elements of the finish that were tasteful but I could not get through the overwhelming "off flavor" in the beer. It is possible that this could have been a bad bottle but I am not certain. I really enjoy the Stone offerings but this was an exception to the rule.
978 characters
1.61
/5
rDev
-60.3%
look: 3 | smell: 2 | taste: 1 | feel: 3.5 | overall: 1
Had this on tap tonight at the Falling Rock Stone event.
Dark copper color with white head. Smell and taste are hops hops and more hops. Wow, I can't remember the last time I had such a hoppy beer. It was probably the last time I had a Stone beer. Just demolishes the drinkability and flavor profile. After about four sips I had to order something different. Mouthfeel was medium bodied and medium carbonated.
410 characters
Stone 13th Anniversary Ale from Stone Brewing
4.06
out of
5
based on
723
ratings.