Stone 13th Anniversary Ale
| Stone Brewing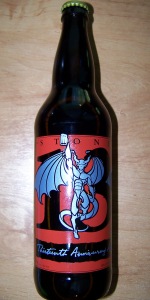 BEER INFO
Brewed by:
Stone Brewing
California
,
United States
stonebrewing.com
Style:
American Strong Ale
Alcohol by volume (ABV):
9.50%
Availability:
Limited (brewed once)
Notes / Commercial Description:
No notes at this time.
Added by seaoflament on 06-29-2009
This beer is retired; no longer brewed.
Reviews: 607 | Ratings: 723
2.7
/5
rDev
-33.5%
look: 4.5 | smell: 2 | taste: 2.5 | feel: 4.5 | overall: 2.5
This is beer birthday cake, a product of obligation and not worth it in hindsight.
It's almost too vague for an accurate depiction and the saccharine-y sweetness is overwhelming. Imagine the tried and true Stone back of the tongue bitterness smothered in store bought icing.
275 characters
3.76
/5
rDev
-7.4%
look: 3 | smell: 4.5 | taste: 3.5 | feel: 4 | overall: 3.5
i found this beer to be a typical stone beer. the color was more of an amber color, something simular to hopback by troeg. the taste was quite hoppy with a clean finish. the several different hops used created a wonderful layered aroma. personally i was disappointed by this beer, being a stone limited release project i wanted more than what i got. that being said this a wonderful expression of what good hops can do in a beer.
429 characters
4.15
/5
rDev
+2.2%
look: 4.5 | smell: 4.5 | taste: 4 | feel: 4 | overall: 4
22oz bottle pours dark blood red with full tan frothy head and lace. very nice Deep pine aroma. Taste is very good. nice mix of both Malt and hops and sweetness. pine resin stickiness really comes out as I found myself licking my lips after each mouthful. pleasant bitter aftertaste
282 characters
4.72
/5
rDev
+16.3%
look: 4.5 | smell: 5 | taste: 4.5 | feel: 4.5 | overall: 5
Bought this as a one time purchase, loving nearly all of the Stone offerings, with few exceptions. (I love the stories on the bottles, too... :P They are usually what prompts me to try something new from them...)
I was first intrigued by the "Do Not Cellar - Enjoy In 2009" phrase prominently plastered on the side of the bottle. The "fine wines" of beer, Stones like to rest usually, but who am *I* to argue? So, I followed the instructions to the letter! My first review, of hopefully many, and I hope I don't bore!
A - Dark... Beautiful, dark-reddish body. Roughly the color of a good strong cup of french-roast coffee. Very nice, dense, but short head, that disappears quickly, leaving a nice, thin lace on the glass, accompanied by a beige foam film, lasting the entire glass.
S - Hops! I love a big strong hoppy beer, and this beer did NOT disappoint. Alcohol notes are stronger than expected, but not overblown. Chocolatey undertones to the nose. By now, I was ready to taste this thing!
T - For the BudLight "afficionado", a semi-blinding flash of grapefruit peel and bitter hops, reminiscent of The Ruination IPA, but a bit more subdued. Oh, the hops! Very good bitter/floral flavor, marks this as a very high on the "Stone Favorites" list. Fantastic malt, piney, oakey, and small hints of coffee and chocolate, with even a small orage juice thing going on in there. Did I mention the hops? Alcohol notes strengthen on finish, but never seem "too much", and subue quickly.
M - A clean, but odd and difficult to describe "syrupy" or "thick" feeling. Not unpleasant in the least, it actually helps the finsh last, which in this case is really nice. Almost an asparagus taste in there, as well... Perfectly carbonated in my opinion, not a real carbonation burn at all. Clean and too short a finish, sadly. This one you won't mind enjoying slowly.
D - Alcohol notes are perfectly balanced by the hops, (both the stars of this show, and after all, why are we drinking beer?) and as mentioned, a VERY nice offering from Stone. The relative potent 9.5%ABV will warm you quickly, and it's quite a nice feeling. You will know it's on the way - no sneaking up on you with this one... :)
A highly recommended offering if you can find any. I went back to buy two more cases! Get this one while you can, folks! If a "big beer" is what you're after, they really don't come much bigger than this one! The Stone guys love to release really nice "limiteds", and this one won't disappoint.
2,487 characters
4.3
/5
rDev
+5.9%
look: 5 | smell: 5 | taste: 4.5 | feel: 4 | overall: 3
S- Bomber
A - Dark brown, when held up to the light a nice dark amber color.
S- Hops, Fruit, slight alcohol smell.
T- Great taste. Intense fruit notes from the hops, Nice acidic after taste
M - Light body, super smooth. long after taste. a beer to enjoy over time, not all at once.
D- This is one to sip over dinner or with friends. Great one to share. (or to keep to yourself) Does not hide the alcohol immensely but still has decent drink ability.
A great beer to try at least just once, one of my favorite ales. and glad i was able to pick one up when it did.
Oh I opened this one up early to share with my older brother who just got engaged!
654 characters
4.58
/5
rDev
+12.8%
look: 3 | smell: 5 | taste: 5 | feel: 4 | overall: 4
This beer is damn good..I haven't tasted this kind a beer since long time.... This feels like beer.... a original beer.. this beer made my day a better one. don't ever drink without any food.. first timer...have a snack ready before u drink this beer... i think u will love it as u go long with it. no way to start beer tasting with this,... but i love beer so I tried it.. its good
382 characters
4.33
/5
rDev
+6.7%
look: 4.5 | smell: 4 | taste: 4.5 | feel: 4 | overall: 4.5
Bought a ton of these back when it hit shelves. Drank half then, took notes, drank some more now to compare.
Appearance- Thick, hazy brown/red. Looked almost like blood at first, until the carbonation settled. A nice, thick, fluffy head with a bone-ivory color capped off the pour. Nothing about the appearance changed over the three years.
Smell- (Fresh)Enough hops to punch you in the face. Aroma is ripe with cut grass, citrus hop, grain-alcohol(you can smell the booze on this one), and lighter notes of charcoal, peat, and tobacco. (3 years later) Much of the grassy hop is gone, leaving warm and spicy hop aromas, sour grapes, biscuit, and warm leather. The charcoal is still there, but muted.
Taste- (Fresh) A metric ton of hops, maybe too much at once- Not bad or bitter-for-its-own-sake, just a LOT of different hop flavor. Caramel and raisins mask a lot of the strong alcohol, and the same smoky notes of charcoal and leather round out the finish. Aftertaste is a lingering combination of burnt biscuits and sour fruits. (3 years later) The hop punch is gone, leaving earthy, musty hop flavor without most of the bitterness. Cut wood, mushrooms, sour cherries,and lemon zest, with a streak of caramel sweetness straight down the middle of the tongue. Aftertaste is that of muted hops with pangs of zest and leather.
Mouth feel- Definitely carbonated, but not obnoxiously so. Thick, with enough residual sugars to keep the beer present long after the final sip. The higher alcohol warms the throat. Nice. Nothing about the mouth feel changed over the 3 years.
Overall- Wow. What a killer beer. I still have about a case left. At first, this beer was a little much- so much going on, and the wall of hops was almost too much to take in. This beer held up incredibly well to aging. 3 years later and it is an almost entirely different, yet equally wonderful beer. I save these for special occasions and get together- goes nicely with Cohiba Red Dots, late nights, and dimly lit poker games.
2,003 characters
Stone 13th Anniversary Ale from Stone Brewing
4.06
out of
5
based on
723
ratings.